Make Your Outdoors Great with Artificial Grass
By choosing artificial grass for your softer, greener spaces, you'll be giving your students a fun, safe place to play throughout the year. You'll also be bringing a range of wonderful benefits to your little patch of the great outdoors. By arranging for a team of Designs & Lines's suppliers and fitters to install yours, you'll also be ensuring that the work is done by a reliable, professional company that can give you everything you need.
If you're thinking of laying artificial grass for your outdoor play area, or as a new sports field for your school, contact us today. We'll be glad to provide you with a quote if you already know your specifications, or answer any questions you may have before you place your order. Our team can come to your location as soon as you're ready for the installation to take place.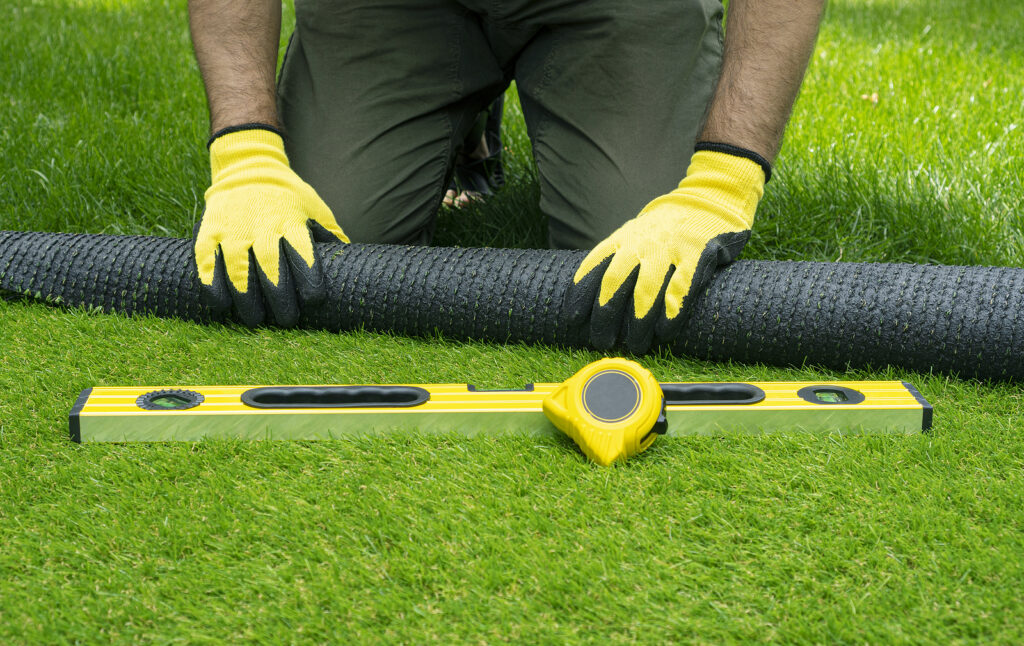 Our Artificial Grass Installations
Our artificial grass lawns can offer your pupils the ideal outdoor space, whether you need to transform your open area for sports such as football, rounders or cricket, or even if you just know they deserve a field they can enjoy at break and lunchtimes all year long. Durable, UV protected and with a "spring back" design that helps to transform the faux grass into a near-perfect imitation of the real thing, you won't find a better surface for your pupils to play on.
What We do to Supply You with Artificial Grass
We'll take great steps to ensure you receive the best faux grass for your outdoor space, as and when you need it:
As professional suppliers and installers, we will travel to your location to help you work out the dimensions of your planned area
Our fully trained and qualified fitters will be ready and waiting to fit your turf layers, wherever you would like them
We understand that you are busy, so we are fully prepared to work around your schedule when you need it
We can cut any type of artificial grass we sell to suit your area's dimensions
The Benefits of Artificial Grass in the UK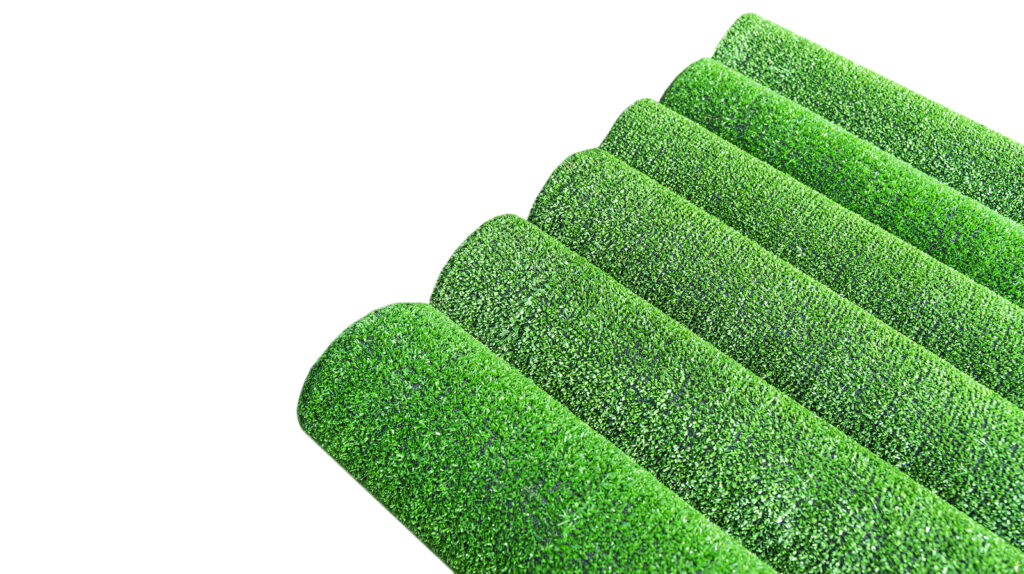 More schools, children's centres and other organisations are turning to plastic lawns and synthetic turf in the modern-day. You may wonder why this is such an exciting, positive innovation; after all, you want what's best for your pupils and you send them outside to experience nature as well as to take in the fresh air, don't you?
You may be surprised to discover a host of benefits when you decide on an artificial lawn for your outdoor space, each of which our own, professionally installed imitation offerings can provide:
The lawns are hard-wearing, for even the rowdiest of pupils to rush around on
We provide thick, premium grass layers, which do not need any sharp sand or granule infill
They're covered in silica, so mud and dirt won't stick. This keeps both the grass and your pupils looking as neat and tidy as possible!
False grass won't be affected by our unpredictable weather here in the UK, so you'll have a green outdoor space all year round
Because there is no mud, the turf cannot be dug up by animals or kicked apart by feet in football games or rugby matches
Artificial grass is hypoallergenic
The silica also prevents burns to the skin if the lawn is slipped or slid on
The appearance of imitation grass has improved greatly over the years; our premium lawns look and feel as good as real grass, and gone are the days of plastic imitations that don't look the part
Synthetic and false grass also requires little to no maintenance, meaning your groundskeepers can carry on with other important tasks
False grass needing little to no maintenance also reduces costs to your grounds' upkeep over long periods of time
The layers can be cut as you need, in order to achieve your landscaping ideas. So, if you need a full football pitch or just grass edging, it can be fit just as you need
You can fit as much or as little turf as you need, leaving you plenty of room for flowers, shrubs and bushes if you'd still like to encourage plants and wildlife
Why Choose Us to Install Artificial Grass for Your Outdoor Space?
We are proud to have worked with over 10,000 schools across the UK so far, bringing them delights, fun and all sorts of games for their outdoor spaces. We are based near Essex and London but serve the whole of the UK. We think we're just the company to supply and fit layers of turf and artificial grass products for your areas, too, giving your pupils a soft, green place to play throughout the year.
We've made a list of just some of the reasons we think we might be the right suppliers and installers of faux and imitation lawns for you:
We have worked as an independent firm for over 20 years, helping to supply games and products for any spaces required
We've had the privilege of working with a variety of organisations, from schools and children's centres, to local councils and more
We will be happy to supply and fit your chosen imitation lawn as requested, adapting any layers you need to suit your own requirements
If you have any particular landscaping ideas you'd like to achieve for your outdoor areas, we can help you bring them to life
We have a team of specialist fitters ready and waiting to travel to your location, where they will lay your premium grade artificial grass
We'll be glad to match or beat any quote that you bring to us on the cost of a similar synthetic or plastic lawn, either found online or offered to you by another company
For the Best Artificial Grass for Sports and Play
If your outdoor space is in need of new grass to keep it looking neat and tidy, even after the kids have played for an hour or more, or if you need a new, safe surface for sports and games of all kinds, we can arrange for your ideal artificial grass installation.
We are passionate about what we do here at Designs & Lines and we want nothing more than to ensure your pupils are getting the most out of their break and lunch times, even in the colder UK weather that might make playing on real grass impossible. So, an artificial lawn from us will keep your space green, safe to use and free from mud, all year round!
Our dedicated team is always on hand to answer any questions you may have about our faux grass lawns. We'll also be happy to start discussing an individual quote and specifications for your own artificial turf from the moment you get in touch. Please don't hesitate simply because your exterior has more unusual dimensions; we are certain that we can measure out the right size for your space needs.
Contact Us
Call us or send us an email today and you'll find a swift, hassle-free supply and installation service waiting for you. We understand that you'll be busy doing the most important part of your job (teaching the children, of course), so we'll handle everything from the moment we know what you'd like.
Place an order and let us know if you have any ideas for the space that you have, including exactly where the synthetic grass will be placed, and we'll take care of the rest. Our expert installers will supply and fit your new grass layers in no time at all, and can even work weekends if your outdoor area needs to be ready by breaktime on Monday.