Bright New Markings for Your Outdoor Playground
We all know that, after many years of use, even the best, most exciting playground equipment and markings will start to wear down and need replacing before they become too dull and the kids get bored at break times. This can often be sooner than many schools, nurseries and children's centres are ready for if the markings they have are made from cheap paint, which can easily be worn away from everyday use. Fortunately, here at Designs & Lines we have just the solution to keep your outdoor playground fun and fit for use for many years to come.
We have a huge selection of playground markings available for your outdoor spaces, and each of them are perfect for keeping children of all ages entertained. Whether you're looking to help them put together a fitness routine, are planning an interesting outdoor lesson or want to give them some new games to unwind with, our team will be there to assist.
Contact us when you're ready to place an order for your newest playground features and we'll be waiting to help you through the simple ordering process. We'll also be able to answer any questions you may have before the installation goes ahead.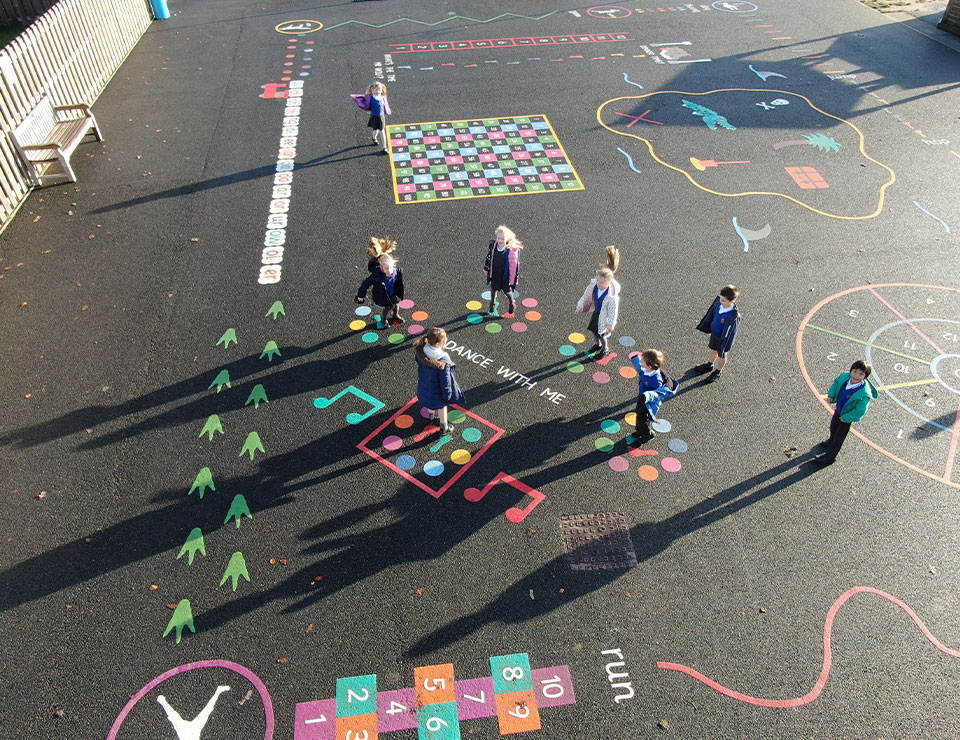 Keep Them Active with Fun Fitness and Sports Markings
It's become more important than ever to help children of all ages stay fit and healthy, and we have several sets of markings so that student groups of all ages can find their favourite sport or fitness routine. Our Sports and & Court markings, for instance, are ideal for every key stage, and we have a range so that you can teach your kids as many different sports as you would like to have in your playground. If you'd like to turn your outdoor space into a custom-made PE and sports area, we can even fit several different markings in different spaces.
Just a few of the sports and fitness markings we can offer your school include:
If you'd like to help your students set up a fitness routine, particularly if you teach pupils in Year 5 and 6 (who'll be moving on to harder PE lessons once they reach secondary school), we also have a fantastic selection of Fitness markings, trails and circles that can turn an energetic lesson into a routine they'll be eager to take up every day.
Give Them Games and Outdoor Playground Adventures
The natural benefits of being outside don't simply stop at keeping kids physically fit and healthy. By giving them time to rest, relax and let their imaginations shine through, you'll be helping school children of all ages to unwind and get ready to head back into the classroom. Our selection of Games markings can offer them the recreation they need, and by offering pastimes that can be played in a group or independently, you'll be giving them the option of practising social skills or developing their own, individual critical thinking.
If you run a toddler group or teach younger children, you might want to offer them an outdoor space which can turn playtime into an adventure. We have Roadway markings and surfacing options that could see your outdoor space turned into its own little "town", where your little ones can "drive cars" or "go shopping", all while spending time with their friends. Alternatively, we can also make your playground into a mysterious jungle trek with our selection of Animals & Prints, or get them ready for a day down on the farm.
Let Them Learn Through Educational Markings
As an educator, it's only natural that you want your children, whether they're toddlers or older kids, to have fun while they're learning. We believe the best way to do this is to give them the best resources possible when they're outside, either having their outdoor play time or being taken through an interesting lesson while the weather is good. This is why we've developed a fabulous range of markings to help them learn about a broader range of subjects, or to help them practise those subjects they'll need to know as they move through their schooling.
If you'd like to get a little bit creative with a geography lesson because maps and videos haven't quite gripped your pupils in the past, then our Weather & World collection has a wonderful range of compasses and maps to help you take them through the continents and all the cardinal points. If you'd like them to take a step or two ahead in learning their times tables, our Grids can offer you some assistance up to the 12x multiplication. There are also plenty of maths-based games to choose from, whether you'd like to keep things simple with Snakes & Ladders, or take things up a step or two by helping them to learn about coordinates.
Why Choose Us to Transform Your Outdoor Space?
We take great delight in being able to work nationwide, having collaborated with over 10,000 schools and a host of different organisations so far to bring them an exciting new selection of markings for their playground surfaces. There are many reasons we were the natural choice for flooring options, and we think we might just be the ideal team to work with you on turning your outside area into a brand-new adventure playground, too.
Below, we've listed just some of the reasons we could be the perfect firm to offer you your pick of fun, new playground markings:
We've worked as an independent firm for over 20 years, and we've designed, supplied and installed flooring and markings across the UK
We've had the pleasure of working with many schools, nurseries, children's centres, local councils and other organisations to bring their playground ideas to life
Our collection of products can easily be adapted to suit the space that you have available, including fitting the markings around current play equipment. The markings are also easily installed on most playground surfaces
We'll be happy to create custom and bespoke designs upon request
Our dedicated team of installers will be ready and waiting to fit the markings, at a time which best suits your schedule
We are price-competitive, so we will be able to match or beat any cheap prices that you bring to us, while never compromising on quality
Every Thermoplastic product we have is made to high standards, from a completely durable material
The material also falls under the list of noted safety surfaces, as it is slip-resistant. This makes it ideal for toddler groups as well as older kids
Thermoplastic is also an environmentally friendly material, and comes in a myriad of colours while being specifically manufactured to last up to 10x longer than paint
Find Your Perfect Outdoor Playground Flooring with Designs & Lines
If you've been searching for new ways to bring your outside space to life, while offering your school children or toddler groups the fresh new activities they deserve to help them learn, stay fit and have fun, you will find everything you need in our playground flooring options. We love what we do and we want nothing more than to see your outdoor space revitalised and made ready for the kids to run out there and enjoy themselves.
Our specialist playground design team will be waiting to lend a hand when you get in touch to place your order. They'll be able to help you through every part of the process, from choosing the readymade or custom designs that you just know the kids will love, to answering any questions you may have. We can help you plan everything, and our use of non-toxic, fast-drying inks means that everything you choose will be ready in no time at all. Because we price competitively, they'll also stay cheap for your budget.
We'll do everything we can to ensure that the work is free from hassle and stress, leaving you to carry out the most important job of all: teaching and looking after your children. We'll take on the hardest parts of the work; all you need to do is choose the markings you'd like for your outdoor playground and let us know where you'd like them installed. Our team will arrange everything from there, including arranging site visits, and will get it ready for your children to have their fun time in the great outdoors.