Secondary School Playground Markings
Secondary School Playground Markings for Recreation and Relaxation
When it comes to secondary school, playgrounds might not be the first locations that automatically spring to mind. However, between working hard and studying for exams, it is important for older students to have a place where they can relax, unwind and let off some steam during the school day. They may not think about playing traditional games anymore, or need the same sort of equipment, but they still need their own forms of entertainment!
This is where Designs & Lines will be delighted to step in and help, as our range of playground marking designs can bring a new lease of life to any secondary school. Our range of playground surface markings are easily adapted to suit the needs of pupils from Year 7 to Year 11, keeping them entertained for their entire lunch break and revitalising the look of your playground space even when not in use.
Bring an entirely new system of games and outdoor entertainment to your secondary school pupils today, simply by getting in touch with our specialist team and ordering a vibrant new set of playground markings. We will be more than happy to work to your schedule, including around break times and over weekends, in order to help you organise your outdoor space exactly as you want it, and in a way that will most benefit your students.
Games Markings for Outdoor Fun and Entertainment
We all know that not every pupil in a secondary school will be interested in playing football or any other sort of sport at lunchtime, or during their morning or afternoon break. However, they may still wish to relax out on the playground with their friends and have something fun to do. They may even still be bringing sports balls into school, but not feel like playing a regular game that day, so why not present them with an alternative they can still use? Our selection of Games markings for playgrounds might present you with the perfect solution, perhaps in the form of a Dartboard or 4 Way Target throw game.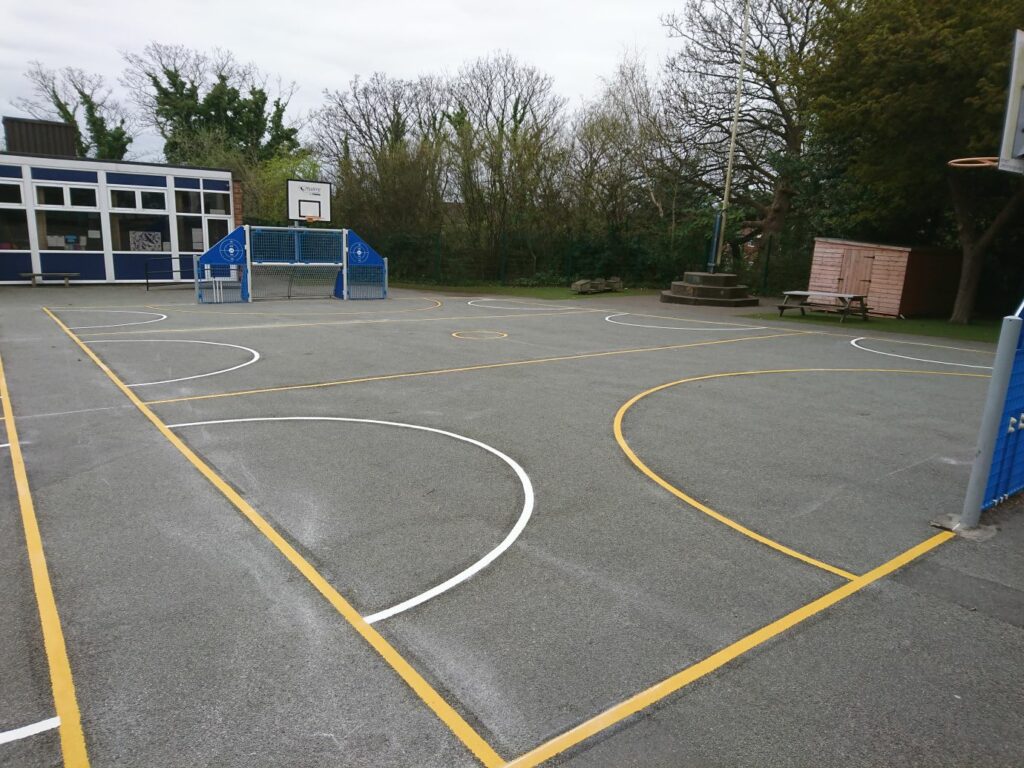 These games may not be as complex as some that your pupils will play in their own spare time, but they can easily make a light, fun distraction that will help to relax them. They may even provide some benefits to your pupils' happiness and mental health, as they can help to reduce some of the stress that often comes with learning more complicated subjects, or studying for important exams. You may even be able to combine any current playground equipment you have with our new games, doubling the use of the space and creating the opportunity for your students to think up their own pastimes.
Sports Markings for Outdoor Exercise and Fitness
When students start to attend secondary school, we know it will be easier for you and your colleagues as teachers to take them out onto the playground for a greater range of sports and PE lessons. You can easily imagine helping them to play tennis, hockey, netball and more on a flat, level surface which cannot easily be torn up or damaged by multiple pupils running around on it all at once. But why not double the amount of exercise you can accomplish in this space, by fitting a series of Fitness Spots from our Fitness Playground Markings range? These brilliantly coloured spots make the ideal locations for teaching your students about a whole range of different exercises, expanding the use of your outdoor space when the weather is nice and you can take advantage of it by having lessons outside of your gym or hall.
Of course, we also provide a range of Sports Court markings for the lessons which require them as well! We believe they might make your work just that little bit easier, too. Why not have a near-permanent Football pitch on your playground, rather than having to ask a groundsman or caretaker to repaint the lines on the school field whenever you intend to take your students outside? You'll never have to worry about the markers being moved in a game of Rounders again, either, as our own markings will always remain in place. As an added benefit, you can ask just for the bases if you would like to keep things simple, or if you would like to guide your students a little more, you can also order a pitch with lines as well.
Why Choose Us to Transform Your Outdoor Playground?
We have had the pleasure of helping over 10,000 schools across the UK to design and create their own playground markings, and there are a number of reasons why they came to us in the first place. We'll also be glad to explain why we think we might just be the right company to create markings for your secondary school as well:
We have over 20 years of experience as independent playground marking designers and installers
Our experience has earned us the privilege of working with many different schools, local councils, children's centres and other organisations
We can offer you a wide range of products that will be tailored to suit your own space, including bespoke designs
Everything created will be fitted to your playground by a team of professional installers
If you bring a price to us, we will do everything we can to match or beat it, giving you the best offer possible
We offer some of the highest quality products on the market, made from durable, long-lasting Thermoplastic
Our products can be fitted to most playground flooring surface materials
Our materials are environmentally friendly, come in a range of colours to match any equipment or designs already present, and are created to last up to 10x longer than paint
Get in Touch to Order from Us Today
If you have been looking for the right playground markings to offer your secondary school pupils a new method of relaxation, or to help improve your current set of outdoor fitness equipment, then Designs & Lines has just the right set of collections for you. We are dedicated to our work and we want nothing more than to provide you and your school with the markings that your students can use to de-stress, keeping them fresh and getting them ready to go back into the classroom once the bell has rung.
We have a team of designers and installers ready and waiting to assist with everything you need, and our non-toxic, fast-drying inks will ensure that your new playground space is ready in no time at all.
Our service is also designed to give you as few frustrations as possible; all you will have to do is contact us with an order for the designs you would like, tell us where you would like them, and we will be delighted to lend a hand with a fast delivery and professional installation.