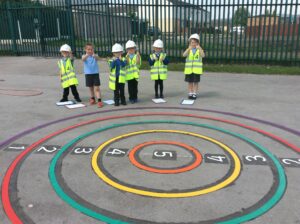 Here at Designs & Lines, we're proud of our ethical and non-toxic playground markings. We specialise in a wide variety of designs and innovative games for children of all ages to enjoy in the playground.
What are Playground Markings?
Playground markings are usually comprised of thermoplastic materials that resemble a variety of shapes, colours, words and numbers. They are an incredibly effective way of bringing life and energy to what would be a dull, grey, featureless playground.
Why Should Schools Get Playground Markings?
Playground markings are not just for show. In a world where technology is slowly taking over the minds of children, playground markings remain one of the cheaper and widely recognised playground activities that children still enjoy. Playground markings are a must-have in any playground or children's play area, as they promote socialising with other children and also encourages physical activity.
Popular Playground Marking Games
The opportunities are endless when it comes to playground markings, simply due to the interchangeability of the designs. Some of the most popular playground marking games are:
Hopscotch
Noughts and Crosses
Snakes & Ladders
Chess/Drafts
Alphabet games
There are many more games and adaptable designs that can be adapted to suit a multitude of activities. The core concept of playground markings is to bring energy and get children socialising with others. Designs such as five-a-side football pitches, roadways, characters/pictures, mazes and targets all encourage children to use their imaginations to create new games for themselves and their friends.
Contact Us for More Information
If you're looking to incorporate some of our fantastic designs within your school, play centre, park or property, please do not hesitate to get in touch! Our friendly staff are always on hand to help and if you have a particular design concept in mind, we'll do our utmost to make this a reality. Our playground markings are durable and safe, as well as being non-toxic and environmentally friendly.
So, give us a call or email us for a chat about what services we can offer you!