Vibrant and Fun Playground Markings in Essex
Wide Variety of Colours – Warranted for 4 Years – Non-Toxic 
We are Designs & Lines, a thermoplastic playground markings specialist. With over 15 years' experience in the thermoplastics industry, our playground markings are popular for are the perfect choice for brightening up any playground in Essex.
Check Out Our Brilliant Playground Markings Below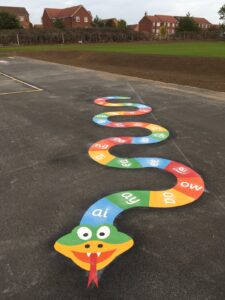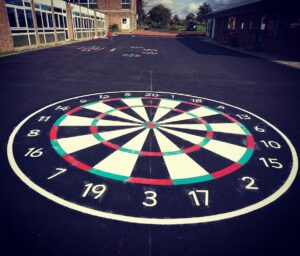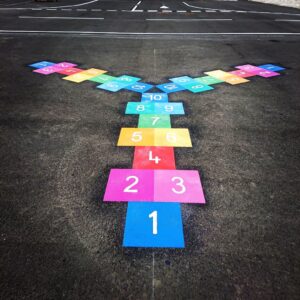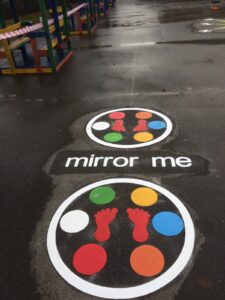 Speak to One of Our Experts to Liven Up Your Playground: 

01702 783 531
At Designs & Lines (Designs & Lines), we're constantly searching for new areas in Essex where we can redefine a school's playground. Adding personality and creative flare to a school playground can reap massive benefits, such as improved social engagement, physical fitness and problem-solving.
Do You Have a School Playground in Essex?
With over 15 years of experience in the thermoplastics industry and our work covering schools, councils and children centres, among many other organisations across the country, we're incredibly passionate about what we do here at Designs & Lines. Our ethical, non-toxic playground markings are a testament to our dedication to supplying quality markings for all schools. Here are just a few of the benefits of our playground markings:
• Ours last 10X longer than paint
• They come in a wide variety of colours and shapes
• Warranted for 4 years
• Non-toxic and environmentally friendly
• Bright, vibrant colours
If you've got a specific design in mind, we'll do our utmost to ensure it comes to fruition.
Why Get Playground Markings?
Aside from brightening up your playground, playground markings offer children the opportunity to engage socially and physically with their friends. We believe that encouraging children to partake in fun, physical activity stimulates the mind and imagination, promoting a healthier mindset and boosting confidence. While the evolution of technology has presented fun and interesting alternatives, children need to be reminded that not everything fun resides within the screen of an iPad!
Plus, playground markings are a one-time purchase, meaning that they can withstand the abusive British weather and stand the test of time. Playground markings are timeless additions to your school and at Designs & Lines, we have a wide range of styles, games and shapes to suit your needs. Have a look here at our current stock!
Designs & Lines's Hopscotch Playground Markings
Hopscotch is one of the oldest playground games in the world. At Designs & Lines, we've recreated the timeless Hopscotch design and added some extra colour to enhance the children's experience. One of the most important factors we considered when designing this, was how to draw the children's attention. So, we ensured that the colours in all of our playground markings shone brighter than our competition's. Our design does not cut corners however, as we use non-toxic substances, again ensuring that the children's health and safety is not put in jeopardy.
Our Service in Essex
We're proud to service all parts of Essex. Supplying areas with our creative playground markings assures us that we're making a difference to every child's playtime experience and this is something we're very proud of. We're able to inject our creative playground markings into any playground, no matter what the size. If you are interested in the process, or if our playground markings will fit into your Essex school, please do not hesitate to get in touch here. Our friendly staff are always happy to help!
Why Not Get in Touch?
Our team in Essex are always on hand to deliver quality service. For an informal discussion on what might be best for your playground, contact us here. Just one playground marking can change the way children see a playground. Instead of sitting on a bench playing on an iPad, they could be socialising with other pupils, engaging in fun physical activities and learning at the same time!