Meet the Playground Design Experts
We are Designs & Lines and we are here to help you make any planned playground design into a reality, in a way that fits your budget, schedule, and the space that you have. We've got a packed page full of ways you can transform your outside spaces here, too, so why not take a look below? Over 10,000 schools across the UK have so far!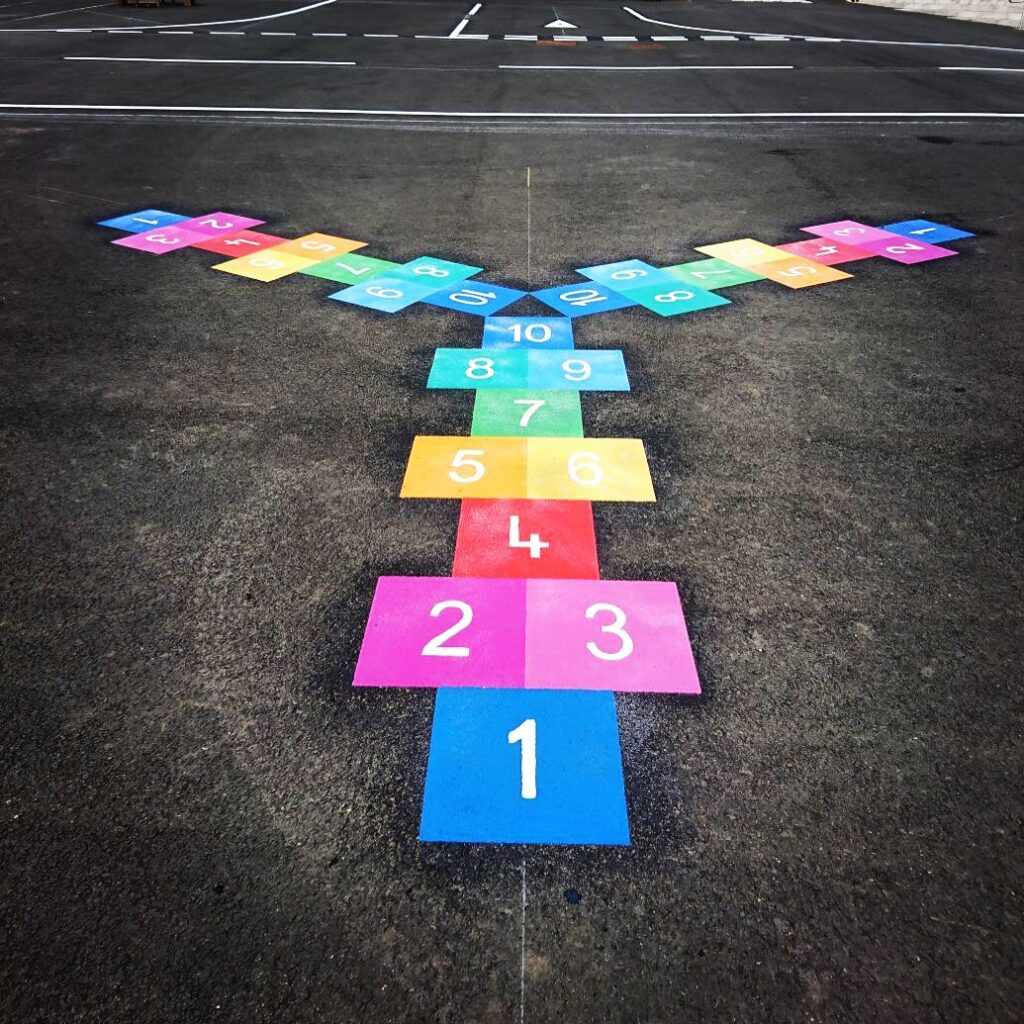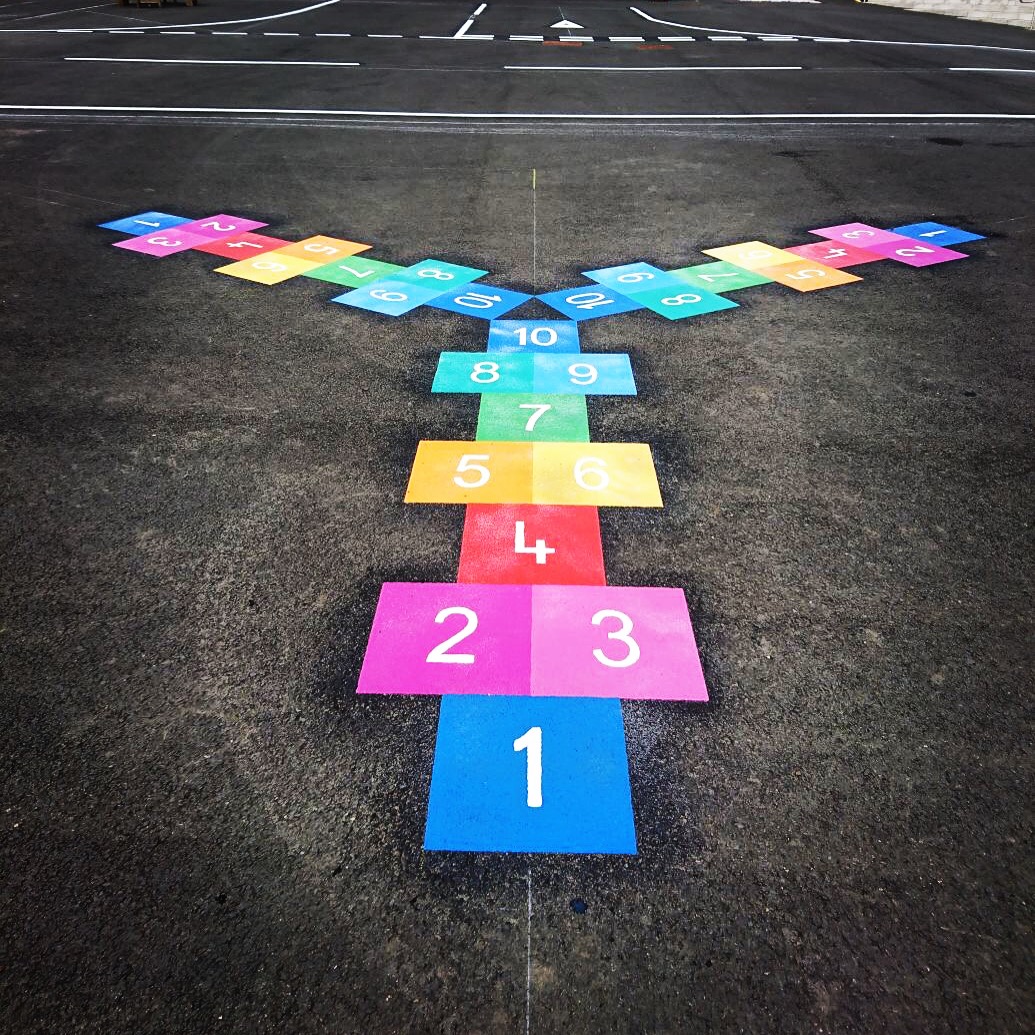 Our Playground Designs for Schools
Every playground marking we have here can be made in a myriad of bright colours and vibrant patterns to keep kids happy, learning, and keeping fit all at once! Whether your focus is on helping them build their confidence and social skills at breaktime and lunch or exercise and coordination in PE and Games, you'll find exactly what you need. We can even help you make traditional "indoor" lessons more fun by taking them into the great outdoors!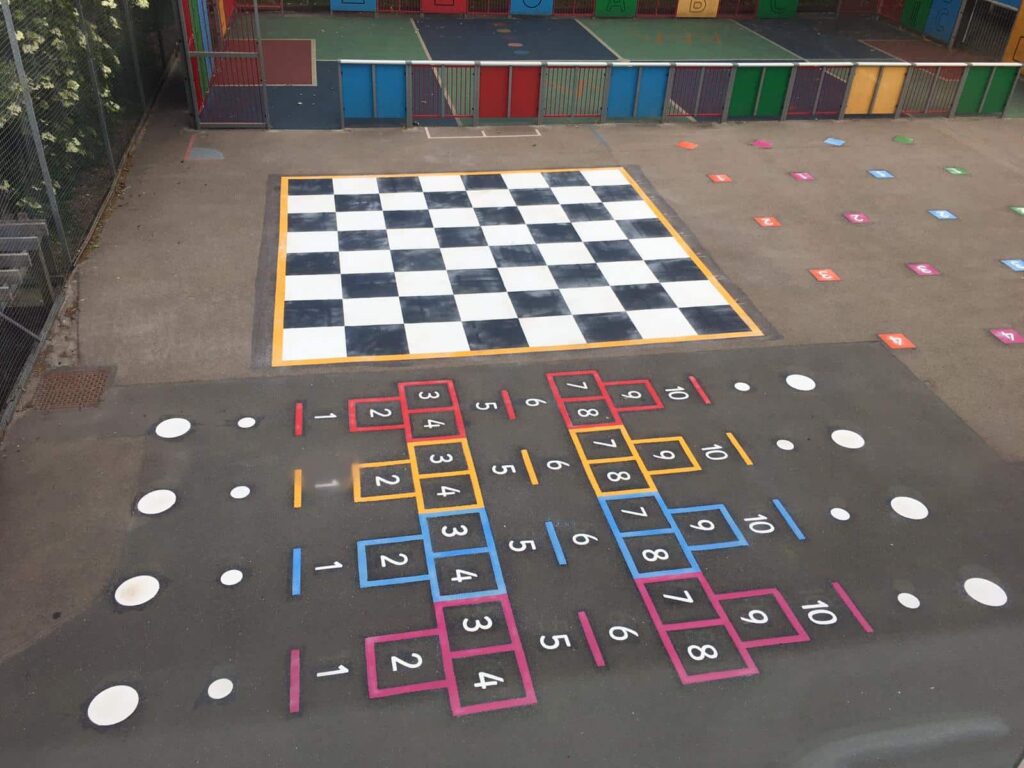 Need Some Custom-Made Markings?
If your playground already has a theme, or if you are planning on giving it a theme with a full makeover, you might be in need of some custom designs for playground markings! Our bespoke design service for custom playgrounds can offer you everything you can't already see on this website.
Do you want a modern playground kitted out in your school's colours and divided up into different learning environments? Or do you think kids of all ages and abilities should have their imaginations captured by jungles, oceans, or outer space? We can make it all.
Our On-Site Surveys
We know that not every playground layout is going to be the same. They can vary greatly in size, design, and shape, and architecture can change with themes or the needs of the school. This is why we're always glad to offer on-site surveys before we begin work on your playground design. It ensures every purchase made is just right for the space that you've got.
If you think you might need a survey before any designs are put in place, you can always speak with us. We will book you in on a date that suits your schedule best.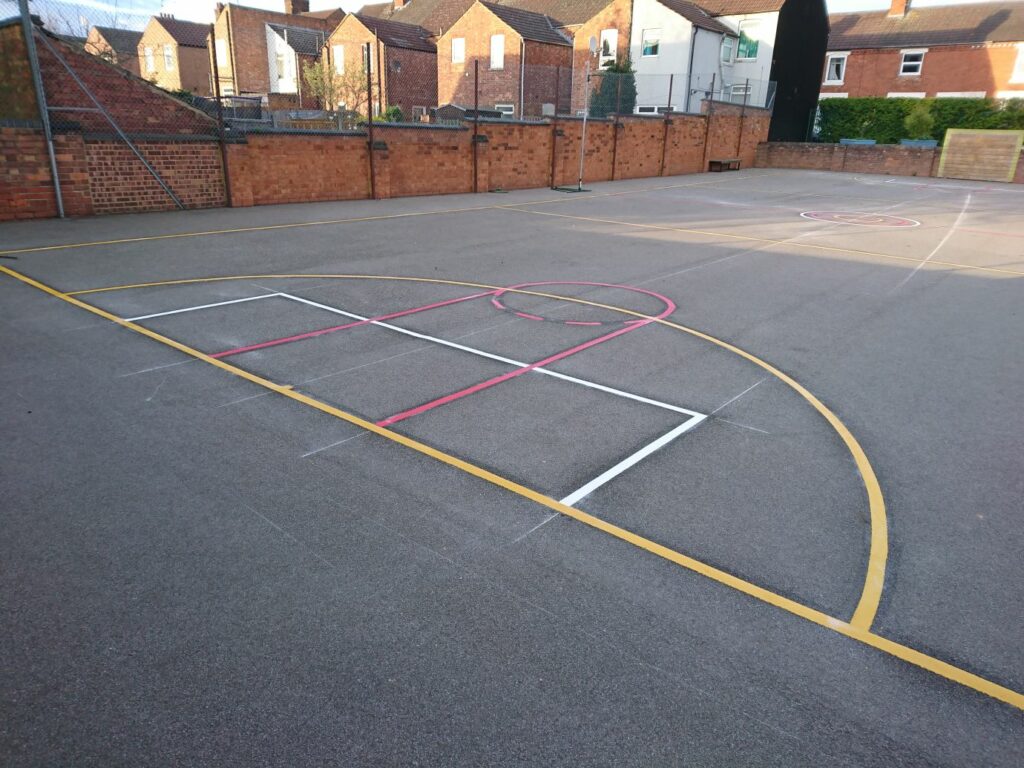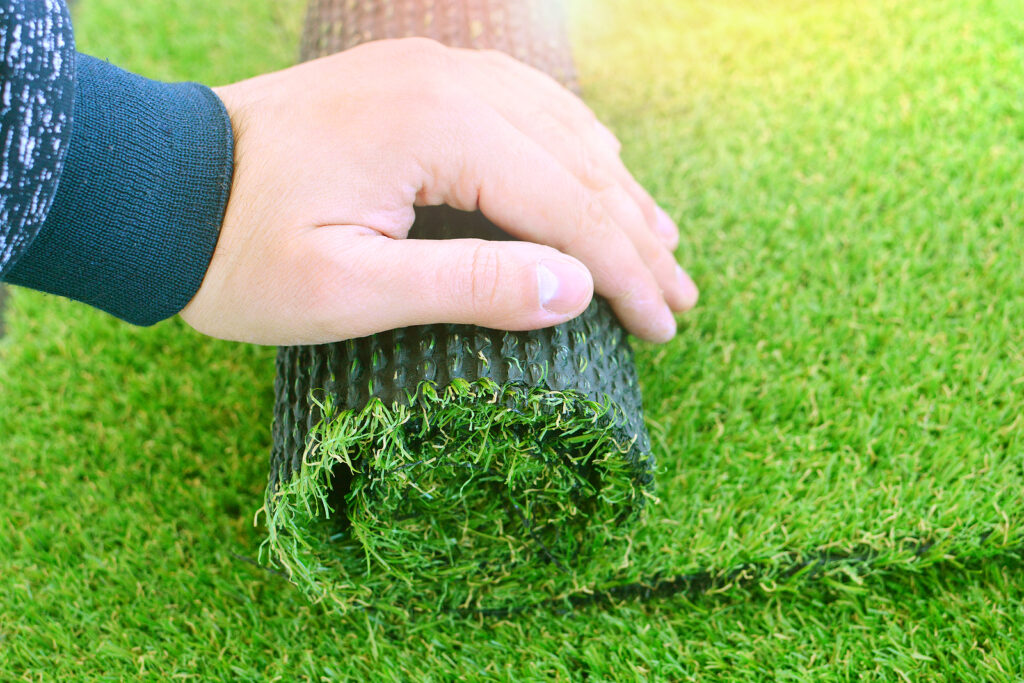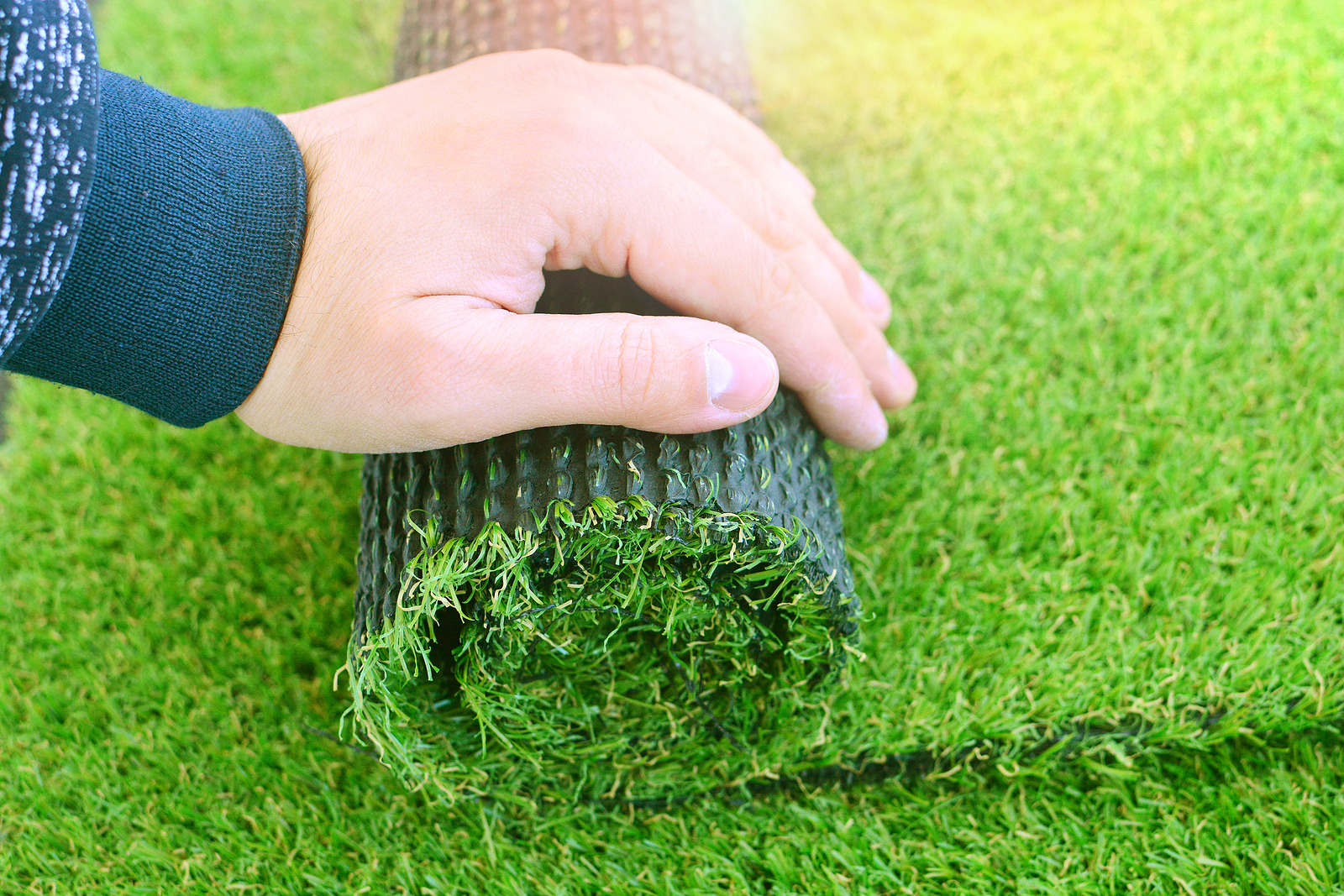 Neat, Clean, and Permanently Green Grass
If the layout of your playground isn't the best for sports, or the architecture is designed more for outdoor play than a PE lesson, you're likely to turn to your school field. This can be an issue in colder months, though, when the grass might turn to mud after too many uses.
That's where we can step in and help, by setting your school up with an artificial grass installation. This durable, permanently green feature is ideal for use all year round, and it even makes a great safety feature to soften the landing of slips and falls.
Fantastic New Sports Equipment
Having a new set of court lines or some artificial grass for safer sports is the first step towards better PE and Games lessons. But perhaps your sports equipment could do with some upgrading as well?
We've got some great gear available for football, netball, basketball, and rounders, so take a look and see if there is anything your kids need. You might just find what you need to take them to the next level – or even get them into a new favourite sport!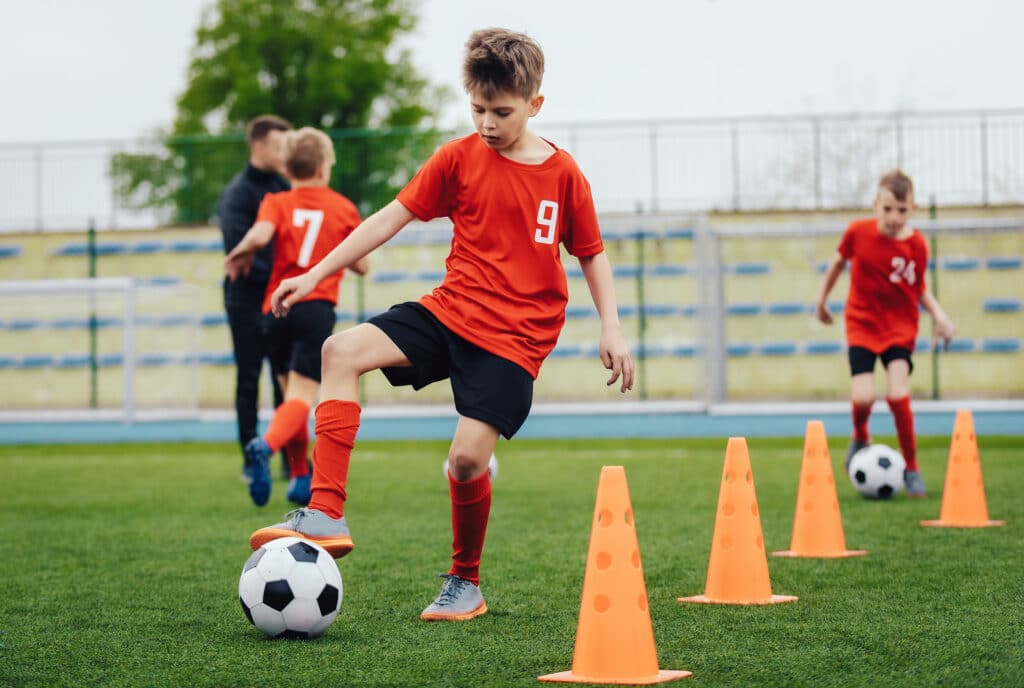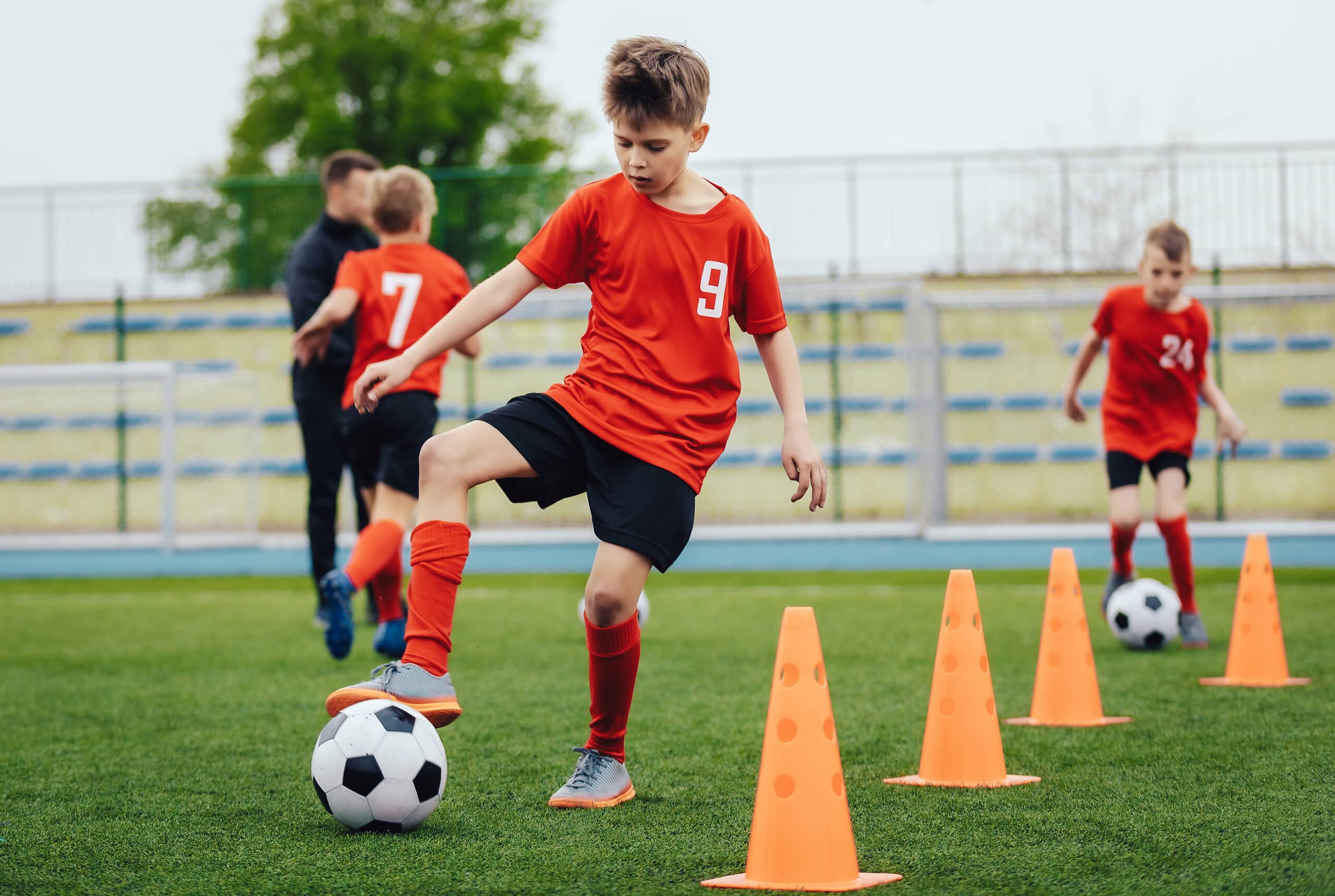 Why Choose Us for Playground Design?
We know we're the team to turn your school's outdoors into the perfect play area and space for outdoor learning:
We have over 20 years of experience in independently supplying and installing ready-made and bespoke playground markings
We've worked with a host of different organisations, from schools and nurseries to children's centres and local councils
All designs will be supplied in the colours and dimensions asked for, and fitted around all playground equipment and architecture
Our designs come in durable, high-quality thermoplastic, which has a 4-year guarantee
Our specialist installation team can travel anywhere in the UK to make sure designs are delivered and installed
The installation process is fast and can be completed whenever and wherever you need it
We're price-competitive, so if you see anything we've got for sale at a similar quality but a cheaper price, we'll be happy to match or beat it
We'll even be ready to work weekends to deliver your playground design ideas. All you'll have to do is get in touch to place your order and arrange a date for installation – we'll handle the rest, providing you with everything you need to know along the way.
Environmentally Friendly
Using only the highest quality sustainable materials our markings are non-toxic and contain no lead or chromates.
4 Year Warranty
Proudly using the best quality material we are able to offer a full 4 year warranty on all playground markings.
Durable and Safe
Our thermoplastic markings will last 8-10 times longer than paint and are also slip resistant.
Reward & Referral Scheme
We help your money go further by offering free products and referral rewards.
Let's Design Your New Playground Today!
If you're looking to transform your outside space into a fantastically fun place for play and learning, we're ready to help. Contact Designs & Lines and talk to one of our experts about the ideas you've had in mind. Whether you want a modern outdoor classroom for more memorable Maths and Science, or a themed playground packed with imaginative adventures, we can make it happen.
Give us a call or send us an email today and let's talk about playground designs.
01702 597 077
info@designsandlines.co.uk