Playground Designs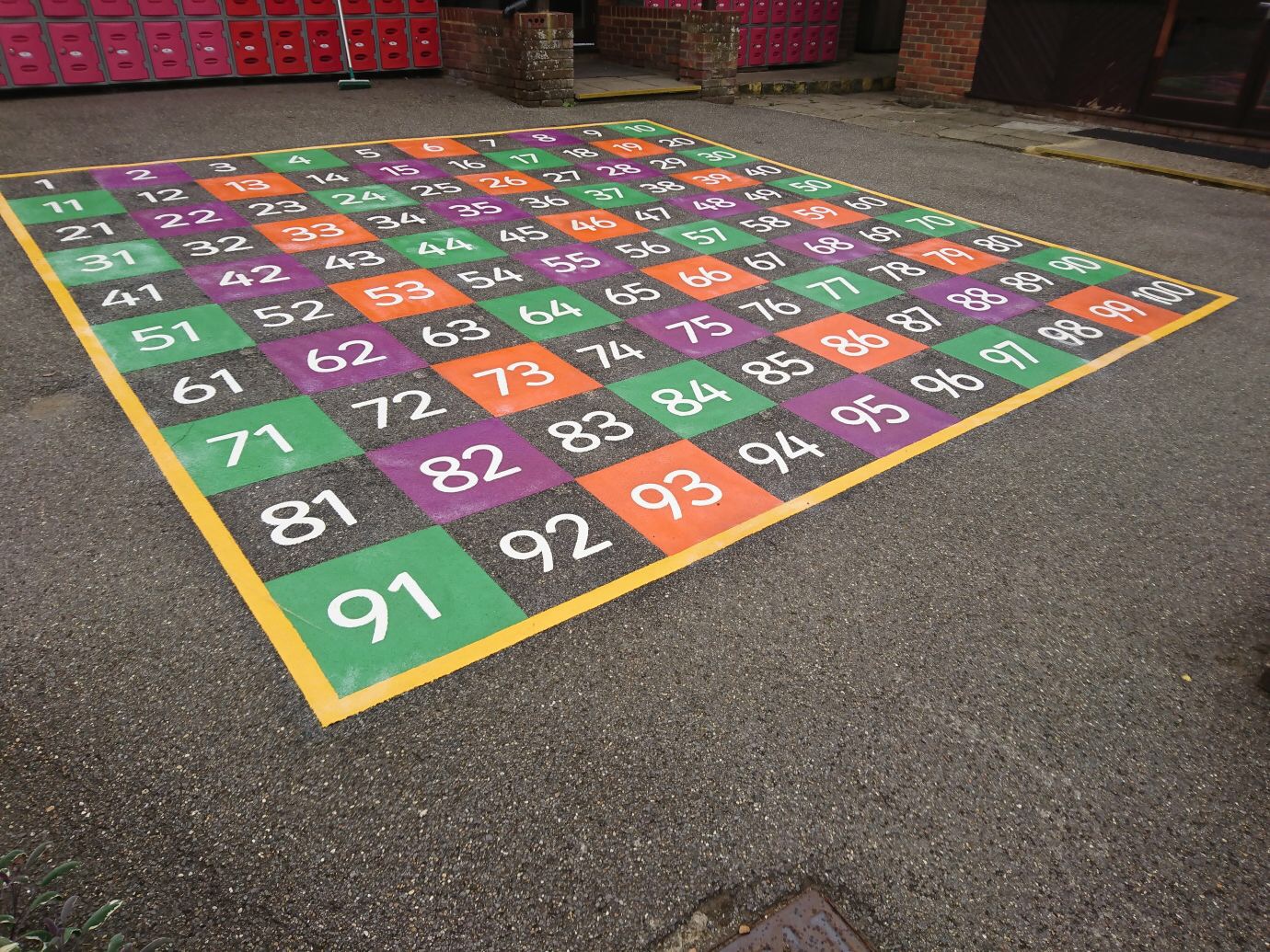 Playgrounds designed for children to play in come in many shapes and forms. Most commonly rectangular in shape, playgrounds can be designed to look like forests, pirate ships sailing the seas, spaces bursting with colour, and more with just with our playground markings! The spaces children play in can be designed specifically for exploration, mastering life skills, exploring their environment, and learning to understand the world around them.
Your playground design is so much more than simply a play space. When designing your school playground, there are a number of play elements to consider!
Design for All Different Types of Play
Every child is unique and enjoys different types of play to understand and learn about the world around them. A good playground design takes into consideration the many interests children have and provides multiple opportunities for different types of play. As you are designing your playground, consider how you can accommodate multiple types of play into the design such as: active play, imaginative play, sensory play, creative play, social play, and reflective play.
Playground researchers have actually discovered there are 16 different types of play, so use these to instruct the designing of your playground and outdoor space. If you take all of these considerations into mind during your playground design, you'll have a playground that is designed to suit every child it serves.
Create a Sense of Place in Your Playground Design
When designing a playground, you want to incorporate individual details into the design that help make your outdoor space unique. After all, if you fail to incorporate a sense of place into your playground design, your playground could literally be built anywhere. However, a playground designed with a strong sense of place in mind helps reflect the culture, location, and community it is serving.
Infuse a sense of place into your playground design by incorporating culturally-relevant designs. Add in details to the play houses to create an authentic experience. How are the houses and shops built in your community? What are the logos of local businesses? Are there any colours that are relevant to your community? Is there any local wildlife that could be added into your design? The aim in your playground design is to create it as a unique symbol of the community, an outdoor space you can be proud of, and a wonderful expression of local community.
Add Play Equipment to Your Playground
Children rarely use toys and playground equipment in the way we expect them to during play. As adults, we look at swing sets and assume they're just for swinging on and slides are just for sliding down, and monkey bars are just for traversing. However, children see things differently to the way we do. They are boundlessly creative and they always play in imaginative and wonderful ways. A good playground design should allow children to take the lead in creative play.
One of the best ways you can leave room for interpretation within your playground design is the addition of play equipment. This basically refers to movable items that can be carried, stacked, ridden on, or altered to cater to creative play. The addition of play equipment to your playground design provides endless play possibilities for children and allows them to recreate their outdoor space every single day using the movable objects provided.
Design with Flow in Mind
Playgrounds need to have a good natural flow so that children will not spend their time running in to each other. A playground that is designed well will have a good flow, where components of the playground are well-connected with paths or arrows showing the way. Not only does this allow for a good flow of traffic, but it also gives quieter and shy children the directions to explore.
Designing a playground that works well with your space can be difficult if the shape of your playground is odd. However, there are so many ways you can get creative with it. For example, you could have a path that leads all around to every play area, allowing children to explore the different play areas you have provided for them.
Don't Forget Basic Design Principles
When it comes to playground design, it is very much up personal preference. However, there are a number of design principles that you must add to your space as they are necessities and provide children with the basics they need to enjoy their outdoor space safely:
Shaded areas for hot days
Seating areas for adults and tired children
Rubbish bins to prevent the problem of litter
Storage sheds for any play equipment that needs to be securely stored over night.
Any necessary playground rules or signage.
Playground Design Can Be Expensive
We would be lying if we said playground design wasn't expensive. Although a whole new playground with new equipment, tarmac, and plenty of space is a fantastic investment, it can come with a pretty big price tag! So, if you don't have the money to completely revamp your playground with the latest equipment, swing sets, and sandpits, why not transform your space with colourful playground markings?
Thermoplastic playground markings are a great way to add colour to your space without the hefty price tag. What's more, they provide games, pictures, puzzles, and more for children to enjoy.
Playground Designs We Provide
We install impressive thermoplastic playground designs for schools and community centres around the country. The opportunities are endless when it comes to thermoplastic designs and we offer a lot of fantastic thermoplastic designs. Some of the most popular playground marking games we install are:
Hopscotch
Dance with Me
Alphabet Spiral
Mr Wolf
All of our thermoplastic playground designs are suitable for a wide range of fun games and activities. Working with schools, children centres, councils, and many other organisations around the UK, we work hard to provide thermoplastic designs and lines for outdoor spaces. Our colourful designs create an outdoor space you can be proud of. The bright colours and vibrant designs create both an outdoor learning experience and a space for children to develop their imaginations and have fun. So, we thought we'd share some examples of our thermoplastic designs with you.
We are Passionate About What We Do
Providing our customers with durable and long-lasting playground designs is what we do best. We take great pride in delivering colourful playground designs that are of the highest standard. Our brilliantly skilled and experienced team of professional installers can also produce custom or bespoke designs upon request.
High-Quality and Hard-Wearing Thermoplastics
Hard-wearing, durable, and long-lasting thermoplastic designs are something all our customers are looking for. That's why we provide thermoplastic designs are made to provide a defined and vibrant finish that is durable and long-lasting, even in extremely high congestion areas such as the new blue cycle routes in London city. Our playground and road markings can be fitted to most ceramic, block paved, metal, tarmac, and concrete surfaces and all our markings conform to BS EN 1436 (The European standard for road safety markings).
The Benefits Our Thermoplastic Designs Provide
Environmentally friendly
Available in a variety of colours
Lasts 8-10x longer than paint
Warranted for 4 years
We can achieve most designs for your individual needs.
We are proud of our high-quality, durable, and non-toxic playground designs for customers throughout the UK. Our team of thermoplastics professionals provide a wide variety of designs for you to choose from.
Below are some examples of playground designs we have completed for schools around the country.
Carol Bamford from John Clifford School – Nottingham – Installed October 2018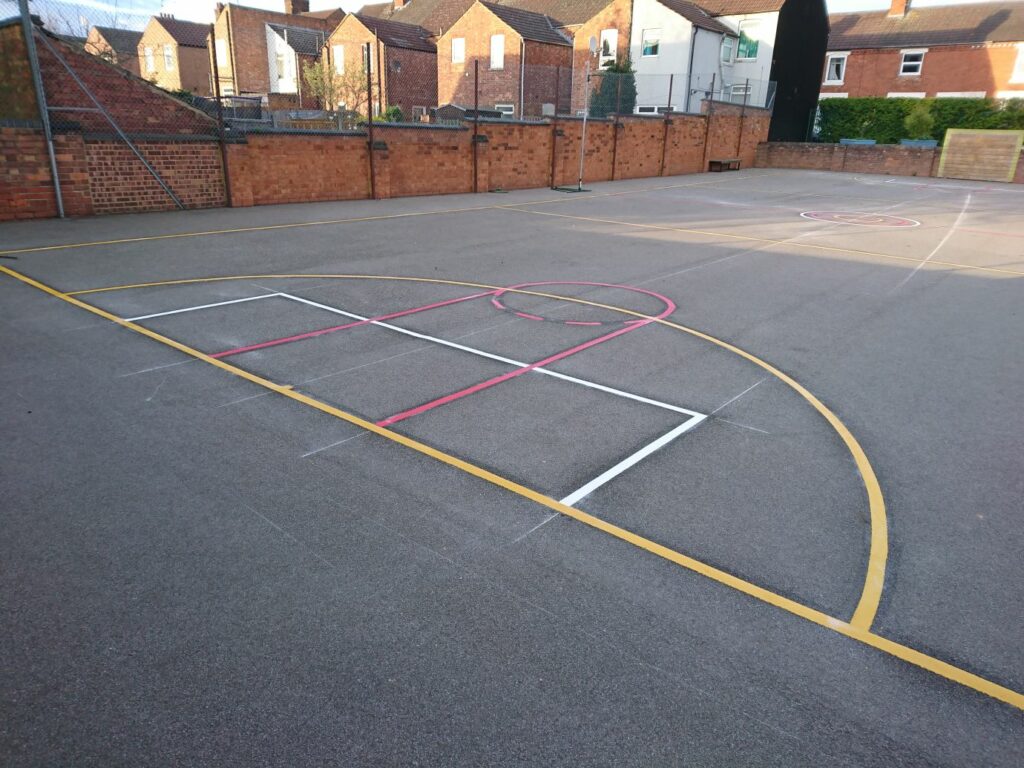 I would just like to say really big thank you to the staff at ThermoPlastic Designs. We invested in a Daily Mile Track as well as refreshing our netball court and football pitch lines and I was really impressed with the service we received, the helpful office staff and the good level of communication. The children have loved the new running track and it has really raised the level of interest in running at playtime and lunchtime as well as the designated running time. We also received a free 'Copy me' game which has gone down a storm. Thank you very much, I have really enjoyed working with you as you are really prepared to go the extra mile to provide an excellent service.
Kerina Hanson from Pennard Primary School – Wales – Installed November 2018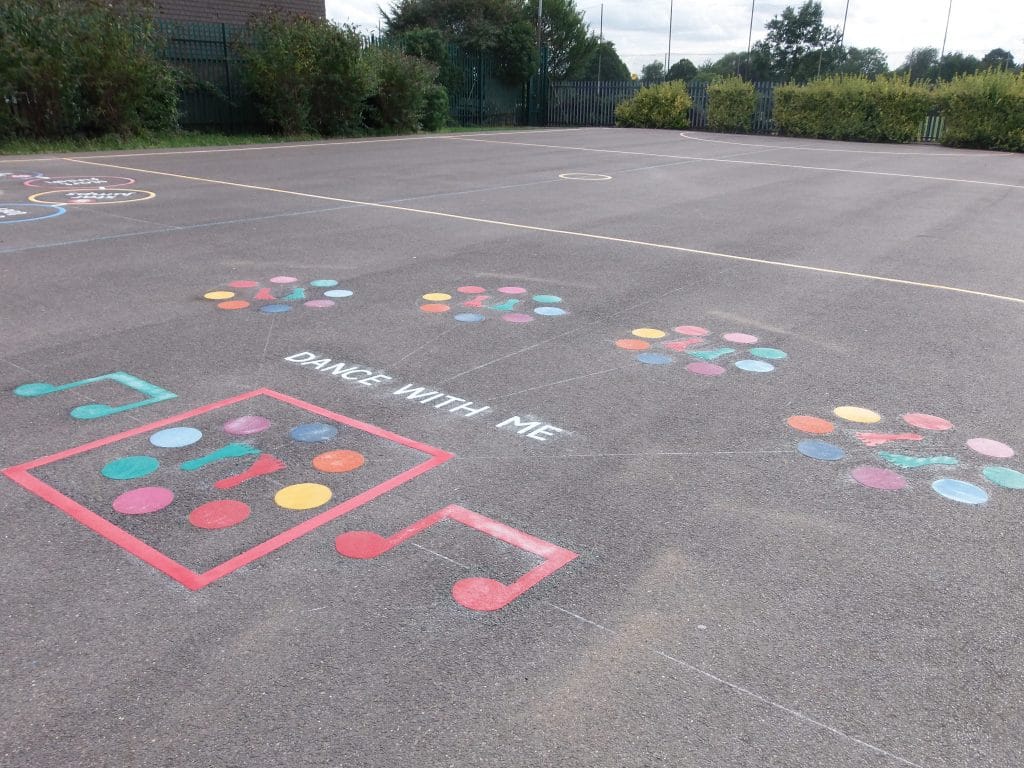 The fitters worked really hard and worked late until 7pm to get the job done. Really pleased with the markings and the overall service we received from start to finish. We will be recommending Thermoplastic Designs and Lines to other school in our area too as we have had many comments from parents and teachers on how great they look and who they were installed by.
Dianne Pye from Rushbury Primary School – Rushbury – Installed in November 2018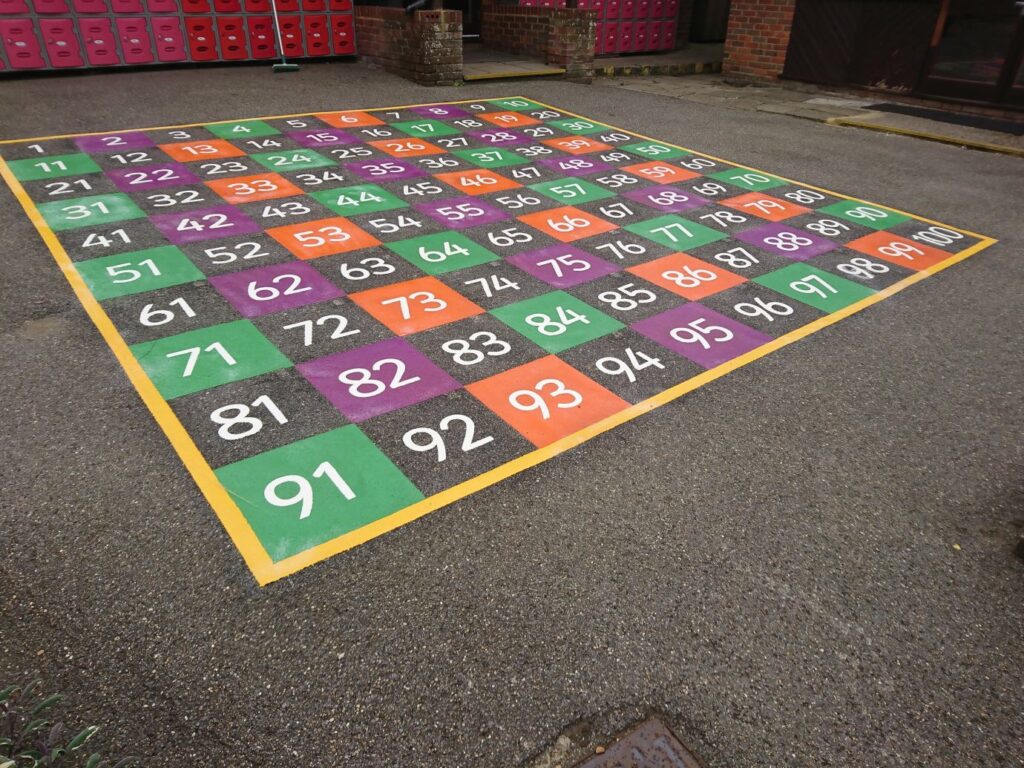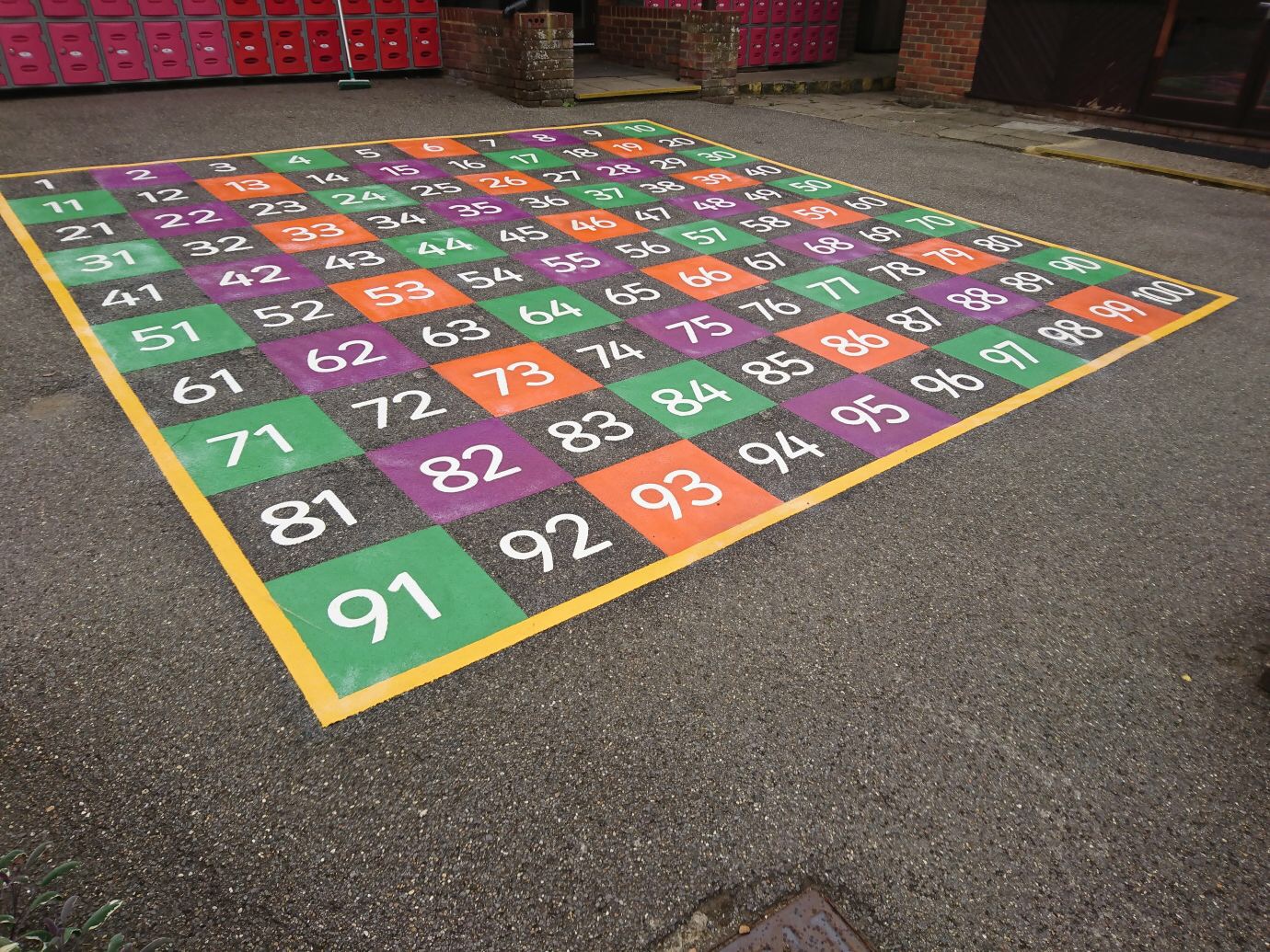 Very pleased with installation and really good work carried out. really pleased with service too!
Fiona Gough from Pilling St John School – Preston – Installed November 2018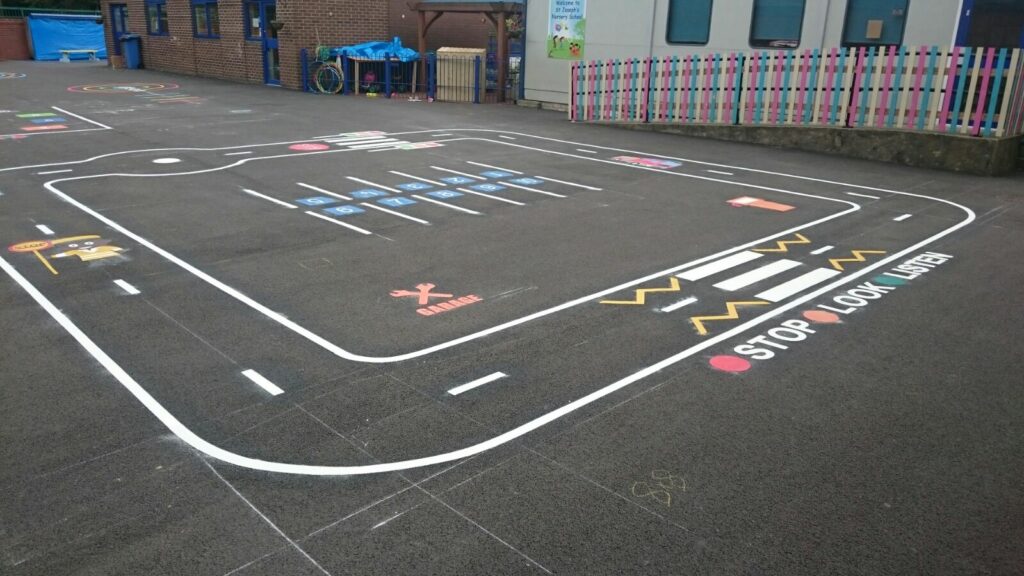 Really, really happy with the works and a Massive Thank You to the fitter Martin and his team as they were really lovely! The kids were really exited with their new playground too!
Paul Hine from Puss Bank School – Cheshire – Installed October 2018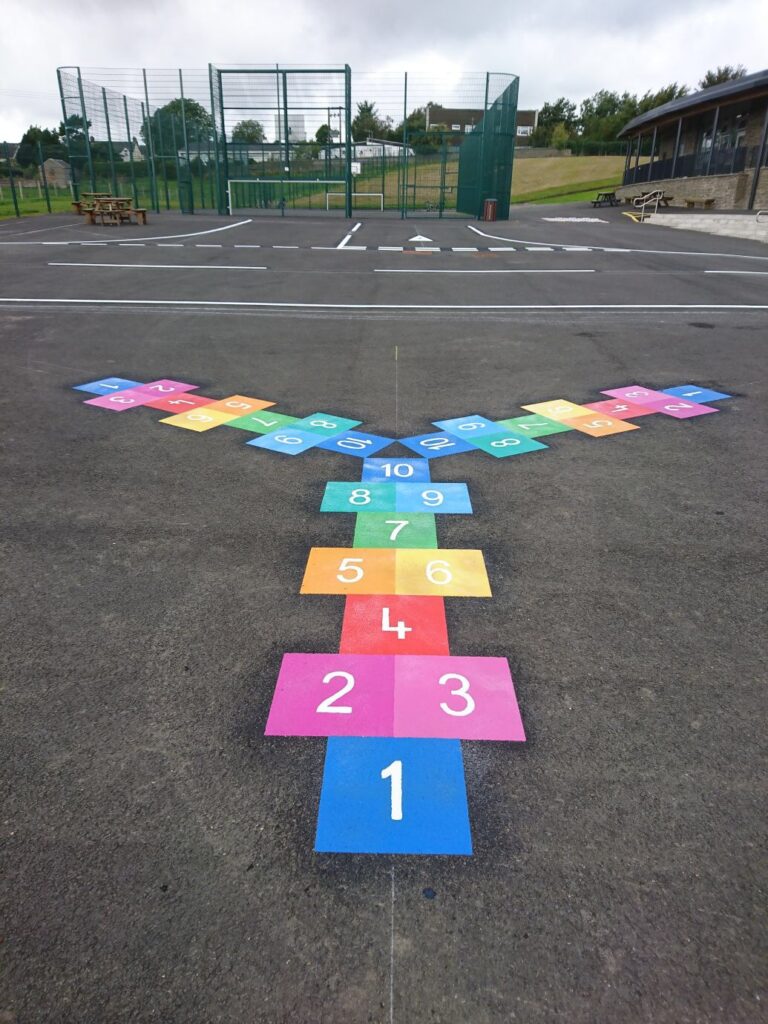 Martin and Will done a fantastic job! Martin really helped us out by suggesting how the markings should go! Thank you! They look great and the kids love the new playground markings.
Contact Us for Our Thermoplastic Installations
If you've been looking for durable and high-quality thermoplastic playground designs for your school, please do not hesitate to get in touch! Our friendly and qualified team are always available to turn your dream playground designs into a reality. Call us today for a chat and see what thermoplastic services we can offer you.