Fun and Educational Playground Road Markings
Teaching road safety to children is best done with a good set of visuals. These give the kids something to look at, so they can learn to recognise which signs are which and what they mean. Putting a set of roadway markings out on your playground takes this a step further by turning your outdoor area into a permanent place for pupils to practise.
Our playground road markings are perfect for helping this along, and with our services you will have the option of installing as many as you would like, in any number or layout, to help you carry out the most effective lessons on staying safe around roads.
Prices for playground road markings range from £11.50 per m2 to £1,045 for a full Premium Roadway that comes with everything you could need to teach your kids and let them have fun. Browse through our options and find the markings you know will transform your playground into the ideal spot for teaching your kids how to stay safe around traffic.
Teaching Safety with Our Roadway Markings
From setting up a series of signs that they will need to know, to helping them learn to recognise lollipop men and women who will help them cross, to practising crossing the road with them at a zebra or pelican crossing – our road markings for playgrounds can help with it all. We are delighted to supply a range of designs that can help kids learn to stay safe whenever they are crossing roads or walking by busy junctions. It's essential for whenever they're outside of school, whether they are out and about with their family or on a school trip with their class.
If you'd like to make the most of these road markings and turn them into something fun for leisure time as well as an educational tool, you can even have them set out in the form of a little "town" that your kids can walk and "drive" around and practise their road safety through play. This expands their imaginations while teaching them how to be safe around roads, crossing points, and junctions!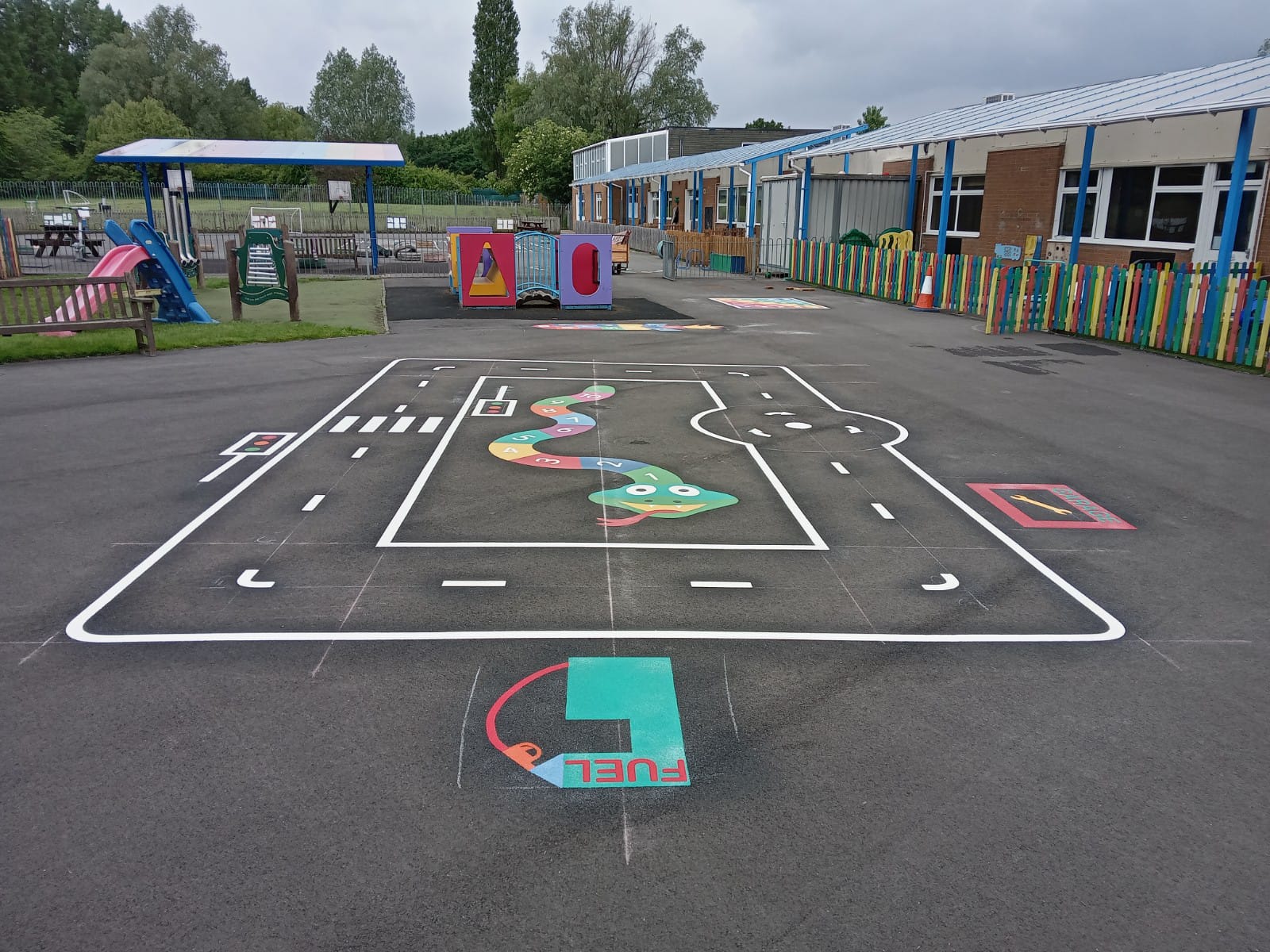 Why Choose Us for School Playground Markings?
We are passionate about the work we undertake, and we're proud to have worked with over 10,000 schools across the UK so far to bring them the top quality playground markings and designs that they need for fun and learning. It's why we're so confident that we're the team you need to get all of your easy-to-spot, easy-to-read playground road markings installed!
We're an independent supplier and installer of vibrant, high quality playground marking designs, with over 20 years of experience in our trade
We've had the privilege of working with primary schools, secondary schools, nurseries, children's centres and organisations, and even local councils
All of our designs are made using durable thermoplastic, which comes with a 4-year guarantee and lasts up to 10x longer than paint
Our thermoplastic designs are all anti-slip, meaning they are a form of safety surface
Our experienced and fully committed installation team will be fully prepared to travel anywhere in the UK to make sure your designs are delivered and installed
We are also proud to be a price-competitive firm, so you know we can offer you the best possible price for any markings you need for your playground.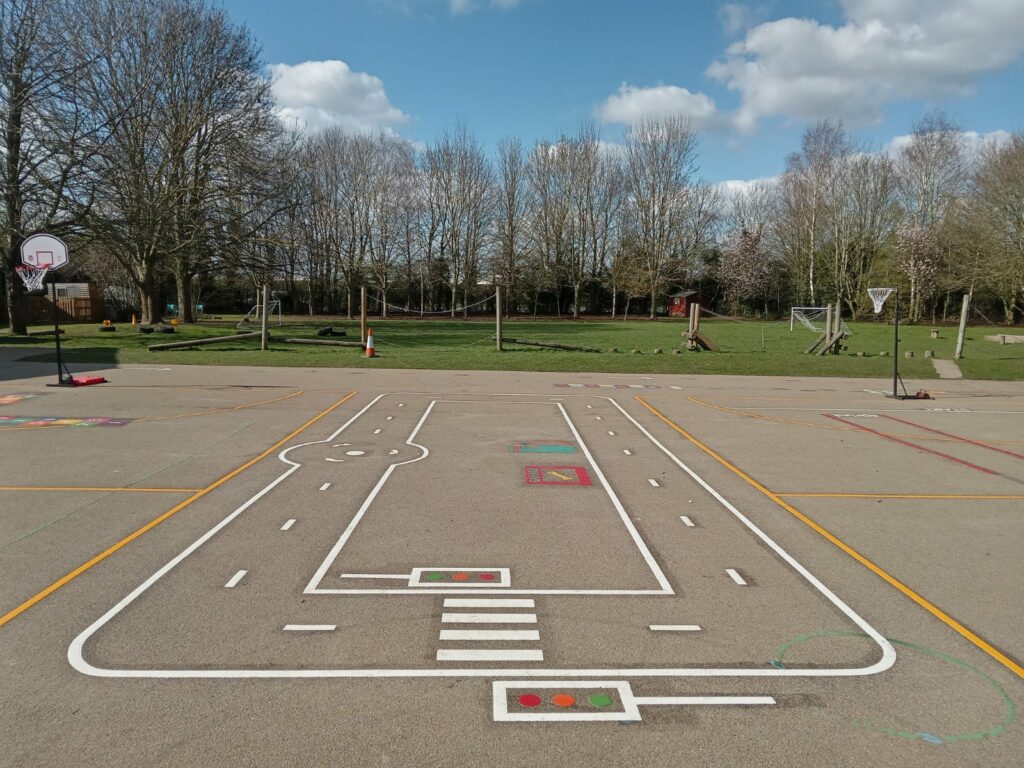 Our Bespoke Service
We understand that not every marking you've been imagining for your playground space will apparently be available on our website. You may be thinking of a particular layout that matches the size of the space that you have, or even want to create roadways that look like your own local area! Luckily, we are fully prepared to create bespoke designs from our thermoplastic playground markings. This means you can come to us with an idea already in mind and we'll be happy to get the designs installed for you!
If you're worried about the size or shape of your playground and the dimensions of each design, we'll also be glad to carry out a site survey that ensures everything fits. Contact us if you think your space will need this and we'll book you in for a survey as soon as possible.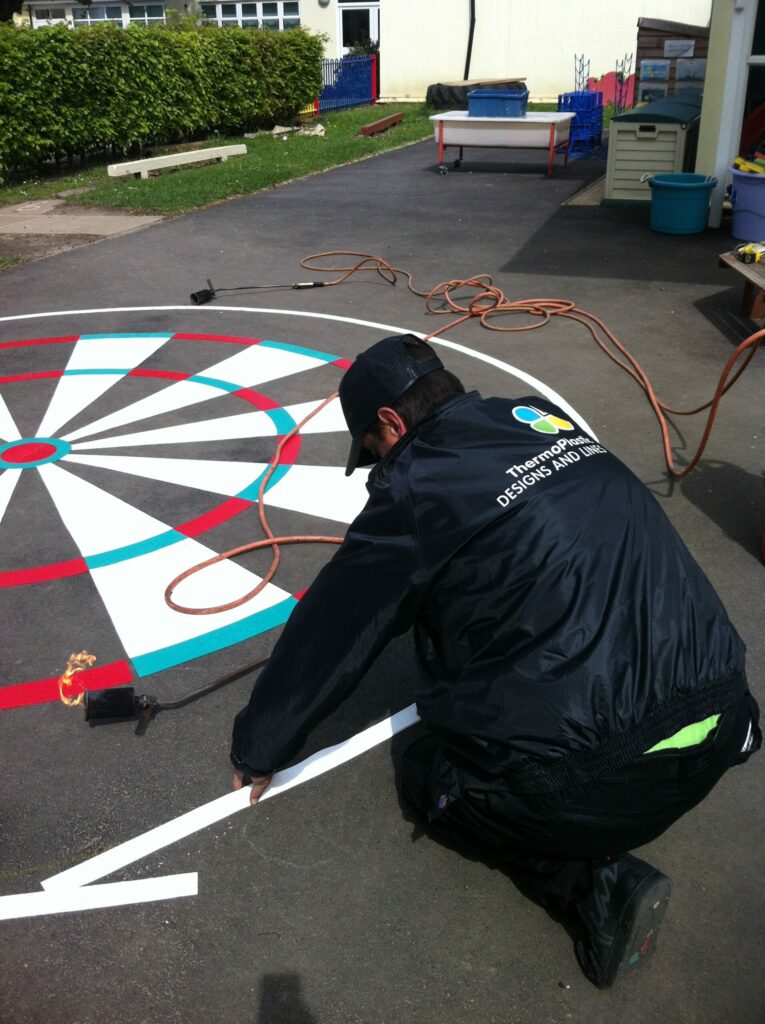 Scheduling Our Services
Getting the designs fitted won't take up too much of your time, either; our team will be ready and waiting to work around breaks, lunchtimes, and even weekends to get the job done. Whichever schedule suits you best, that's what we'll work to! You won't have to worry about finding out more information, either – we'll provide everything you need before we begin. This leaves you more time to focus on planning a set of all-important road safety lessons that your kids will never forget!
For Fun and Safety in One Set of Markings
If you're set on teaching your students all about road safety and want some bright new markings to do it well, or even if you have been imagining creating an entire "town" in your playground for kids to have fun at break times and lunch, we can help! By getting in touch with Designs & Lines and having a chat with our team, you will be able to order all of the high quality designs that you have been imagining for your outdoor space. We can even guarantee that they will bond to almost any kind of playground surface!
01702 597 077
info@designsandlines.co.uk