Fast and Hassle-Free
Playground Marking Removals
Are your worn-out and aged playground markings making your school play area look less than exciting? Designs and Lines is an independent company dedicated to the design, creation and production of vibrant and long-lasting playground, car park and sports court markings. With a dedicated and passionate team, we can provide your schools and children's organisations with a colourful and dynamic outdoor space that kids will treasure.
In addition to delivering bright, colourful and exciting patterns to your playground, we also specialise in the removal of your existing designs. Playground markings are typically created using thermoplastic that can be constructed into shapes, words, numbers or patterns and therefore require professional methods of removal.
If you are looking to revamp your dull and outdated existing playground markings, Designs and Lines is the best company to hire for removal and redesign. You can enquire today directly through our website or request a brochure to get started.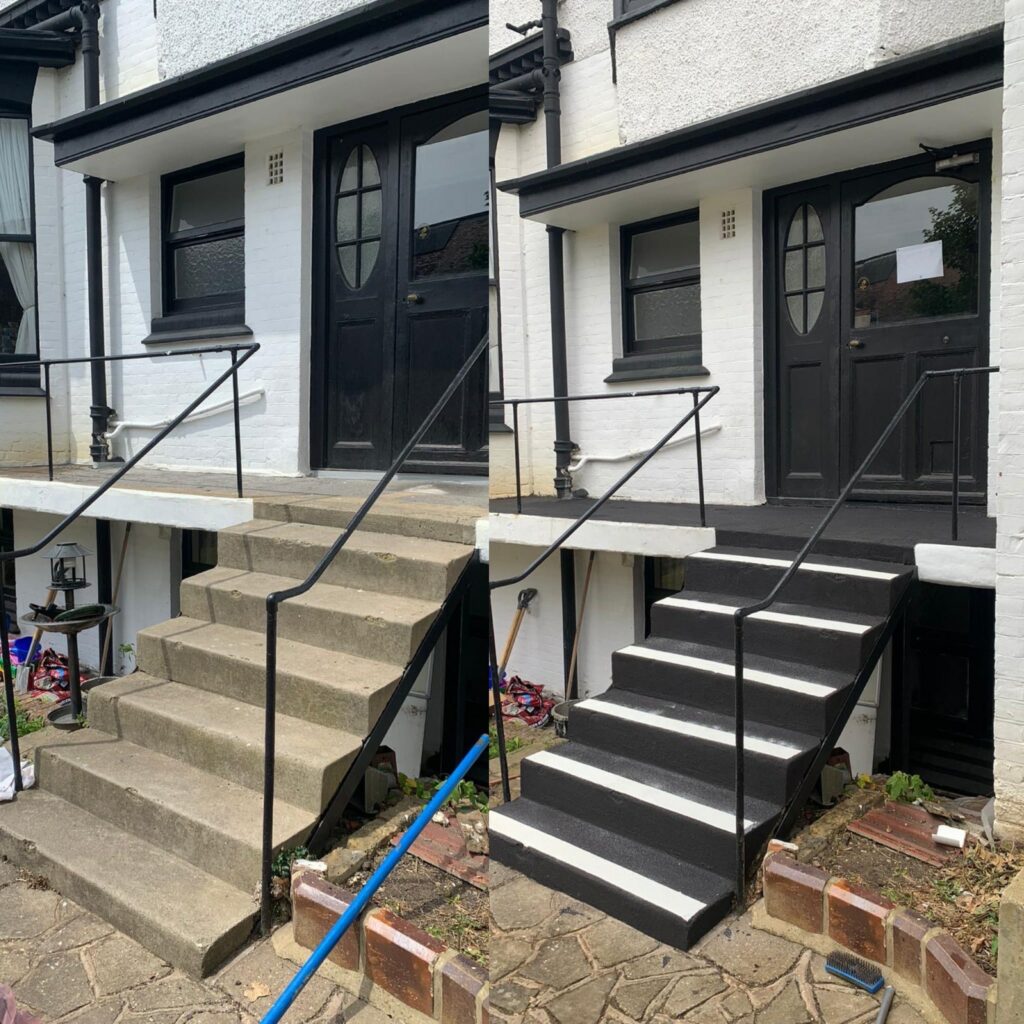 How Does Playground Marking Removal Work?
Playground marking removal can be a simple process when carried out with the correct tools and practices. We will fully assess your current markings and work closely with you to give your outdoor activity area a new lease of life. Whether you are looking to entirely remove or revamp your existing playground markings, Designs and Lines can do so with minimal disruption and at an excellent price.
There are two methods of playground marking removal that Design and Lines carry out to ensure that your previous tarmac graphics are removed with minimal hassle and disturbance:
Heat and Scrape
Our heat and scrape method is our most popular and cost-effective solution for removal. This is a method where your old playground markings are heated up to penetrate the layers of thermoplastic and essentially melted down to then be scraped off. As with any marking removal process, there could be some visibility of the previous design after removal and there will be potential scarring or burn marks on the tarmac surface. This is completely normal given the process used to carry out these works and will naturally fade in time.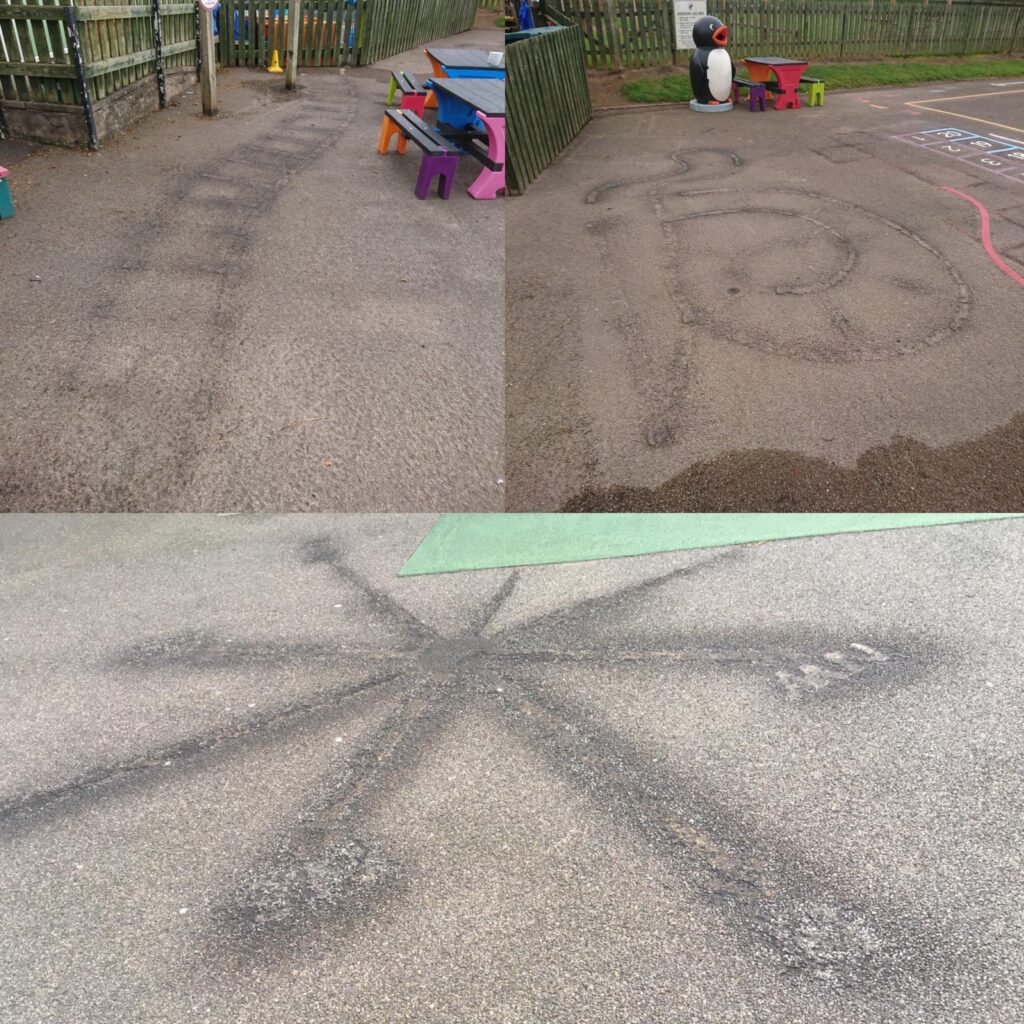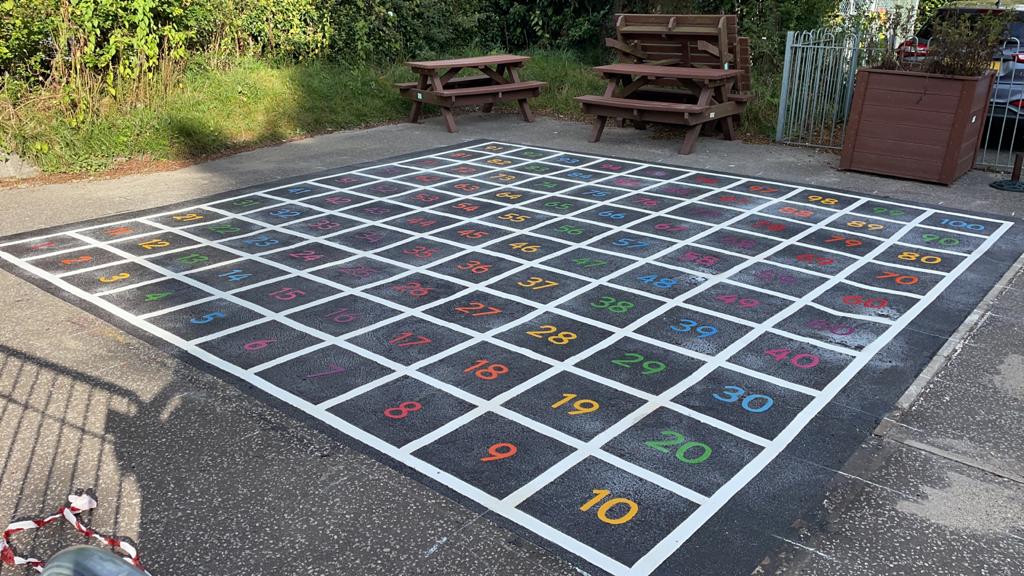 Blackout Paint
Blackout paint is a technique which consists of using a specially curated, hard-wearing, non-slip, weatherproof black coating paint which effectively erases the appearance of any existing design. Our blackout paint is often used for smaller areas or markings that require removal, or if a new marking installation does not completely cover the top of your new one. This process does not permanently remove your old markings, it disguises them to make it look like a clean tarmac surface.
Both methods that we use create long-lasting effects and complete the task of removal. Heat and scrape and blackout paint are both reliable, quick techniques that should not cause disruption to any classroom.
Water Jet Removal
Also known as "hydroblasting", this cleanup method involves using a very high-pressure water jet to blast old, worn-out lines and markings off your playground surface. Because it only uses water and doesn't make use of chemicals or abrasives, it is considered one of the most eco-friendly methods of removing markings. The process itself is slightly messy but it does leave the area completely clean at the end of it, with no leftover residual burn marks.
We should also note that this method will only be suitable for large-scale, heavily ingrained jobs. Depending on the size and scale of the work that needs to be carried out, you may find one of our other available methods to be more cost-effective for your budget.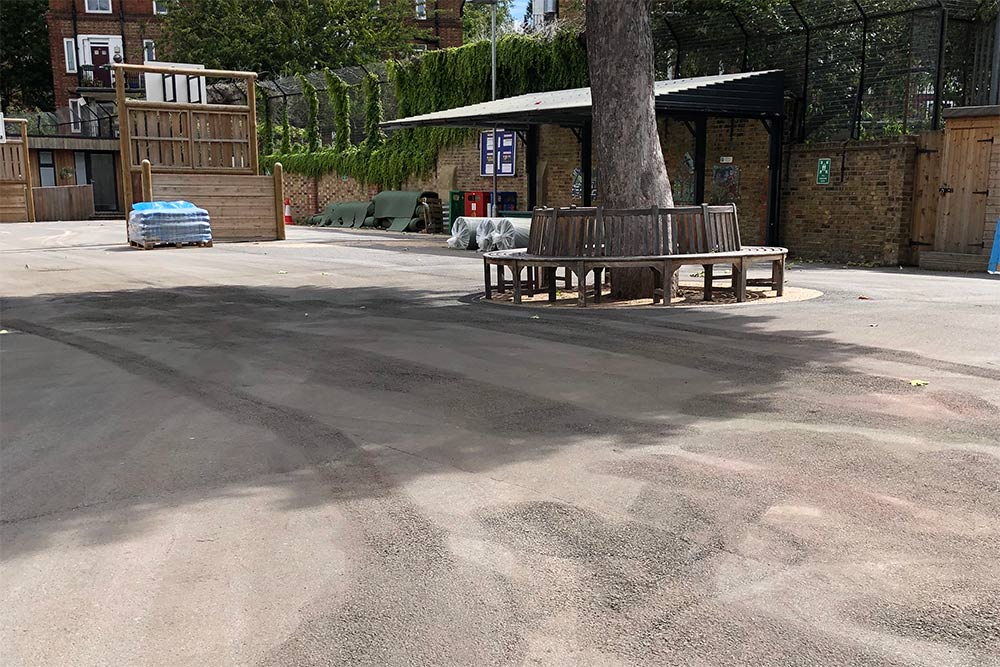 Why Choose Designs and Lines?
Designs and Lines have been using the best impact-resistant, high-performance materials we are able to offer. All of the materials that we use to create or remove your playground, car park or sports ground markings are sustainable with non-toxic properties. All thermoplastic playground markings that we install are free from lead and chromates and last 8-10 times longer than paint.
We are passionate about what we do and we take pride in delivering the absolute best. We work with nurseries, schools and other educational environments across the UK to ensure that their outdoor spaces are not only fun and vibrant but also motivating and stimulating. Designs and Lines have the power and expertise to be able to transform a grey, lifeless playground into a creative and fun learning environment.
Environmentally Friendly
Using only the highest quality sustainable materials our markings are non-toxic and contain no lead or chromates.
4 Year Warranty
Proudly using the best quality material we are able to offer a full 4 year warranty on all playground markings.
Durable and Safe
Our thermoplastic markings will last 8-10 times longer than paint and are also slip resistant.
Reward & Referral Scheme
We help your money go further by offering free products and referral rewards.
Contact Us For Your Playground Marking Removal
If you are ready to remove your old and tired existing playground markings and install new, exciting and dynamic surface graphics to encourage and motivate your children to learn and play outdoors, please do not hesitate to get in touch for your bespoke quote for removal or installation.
Designs and Lines offer a four-year warranty for all services provided alongside a five-star customer service team who are ready to answer any question or help with any vision.
01702 597 077
info@designsandlines.co.uk