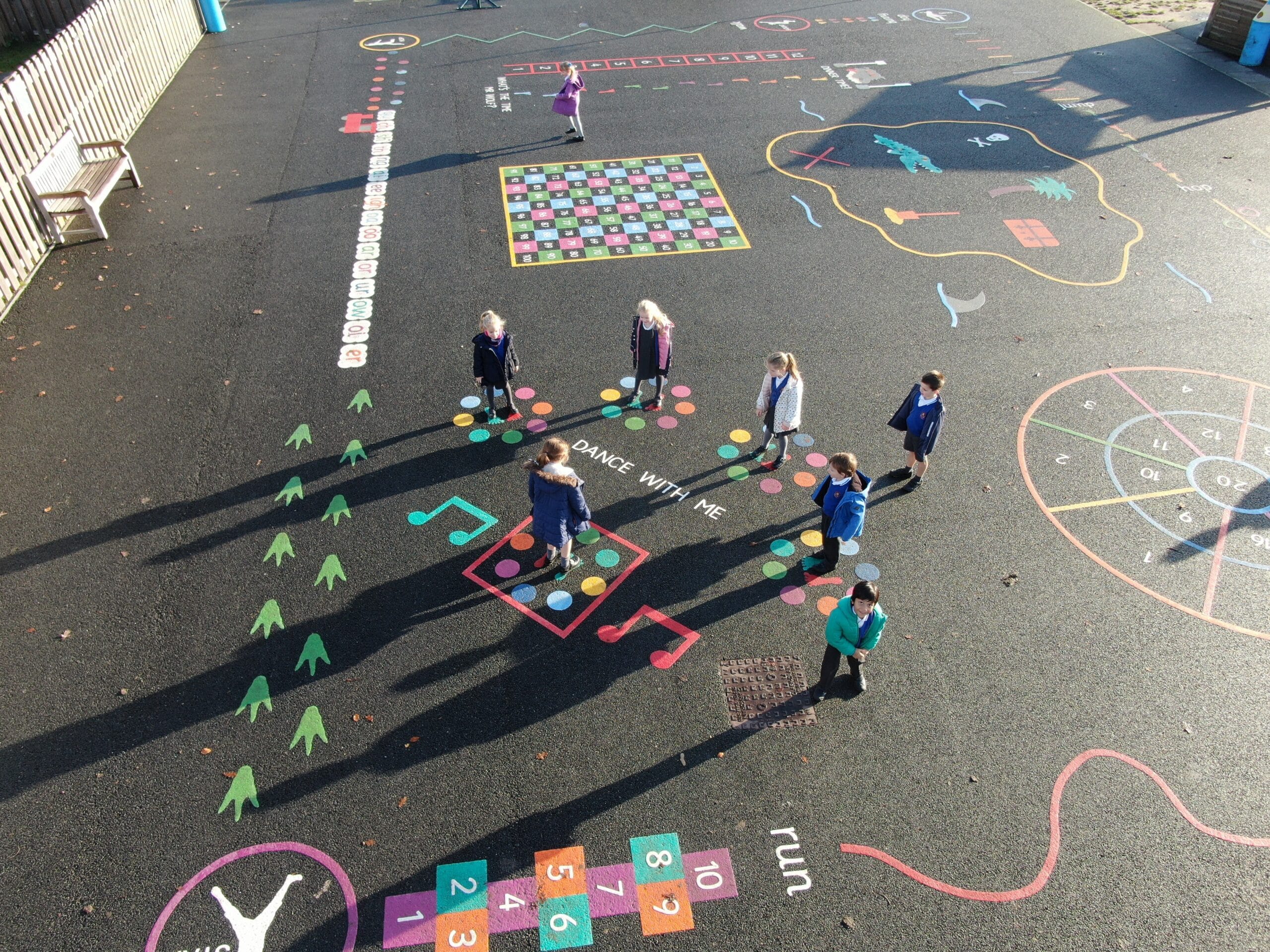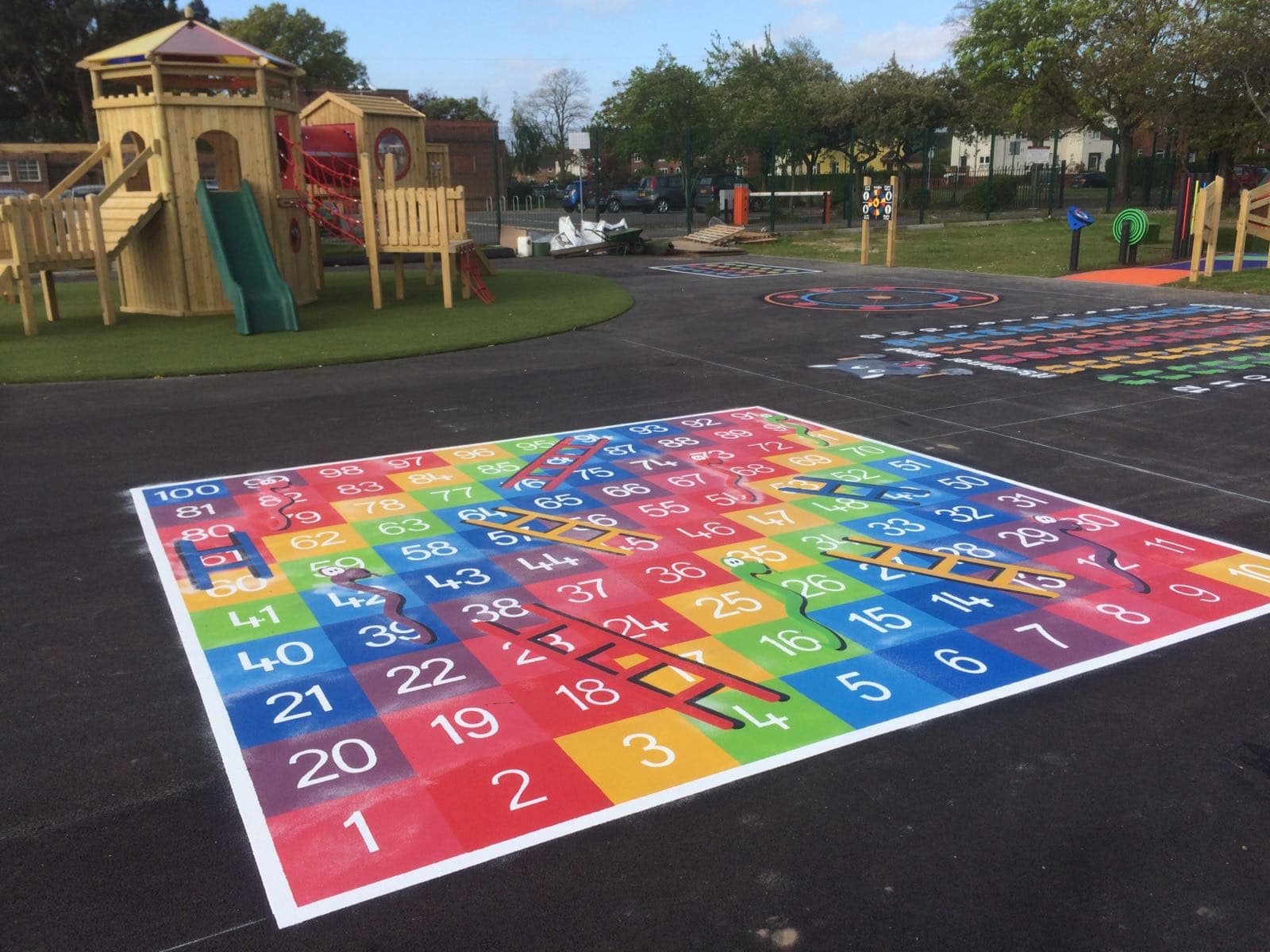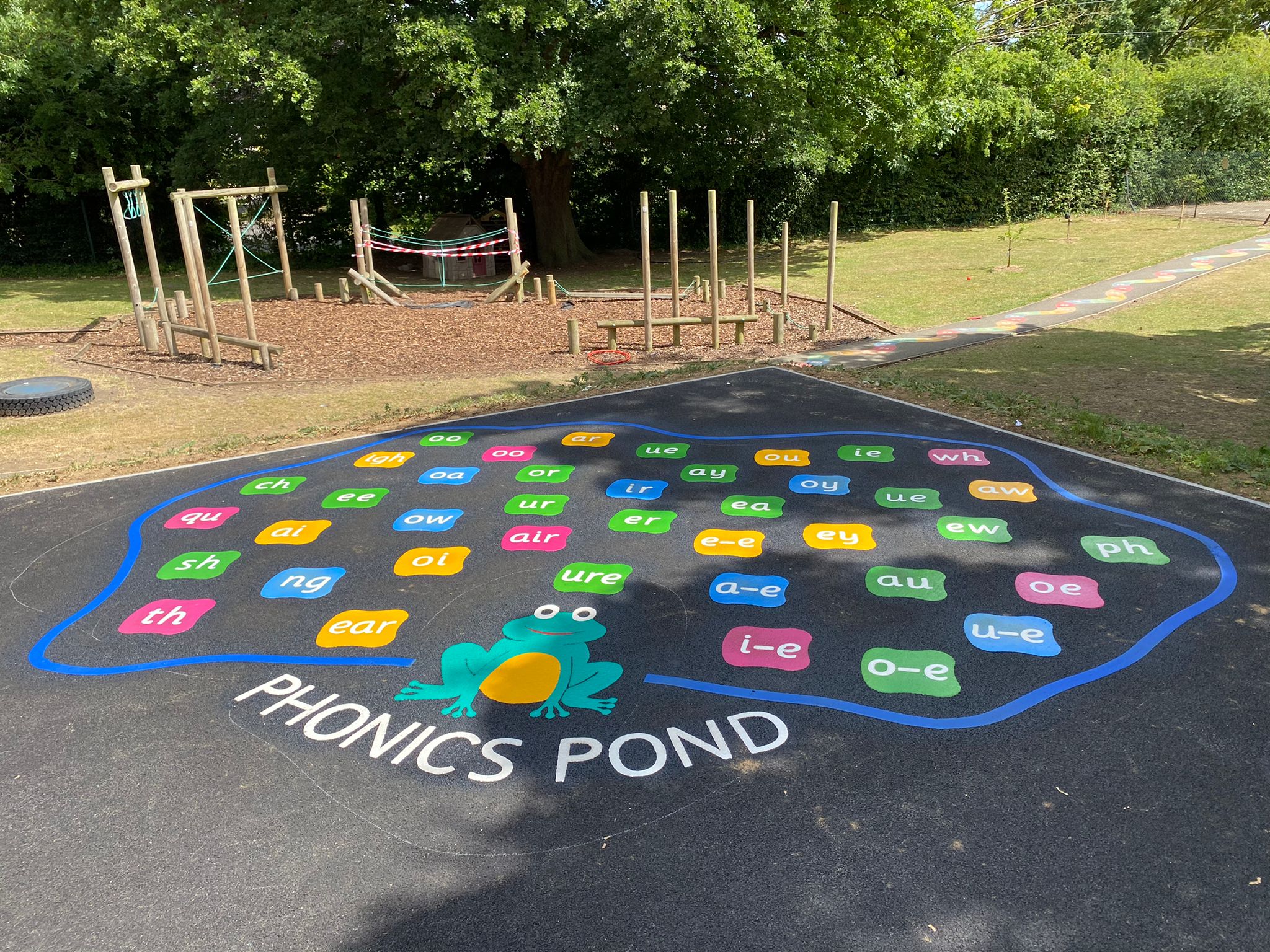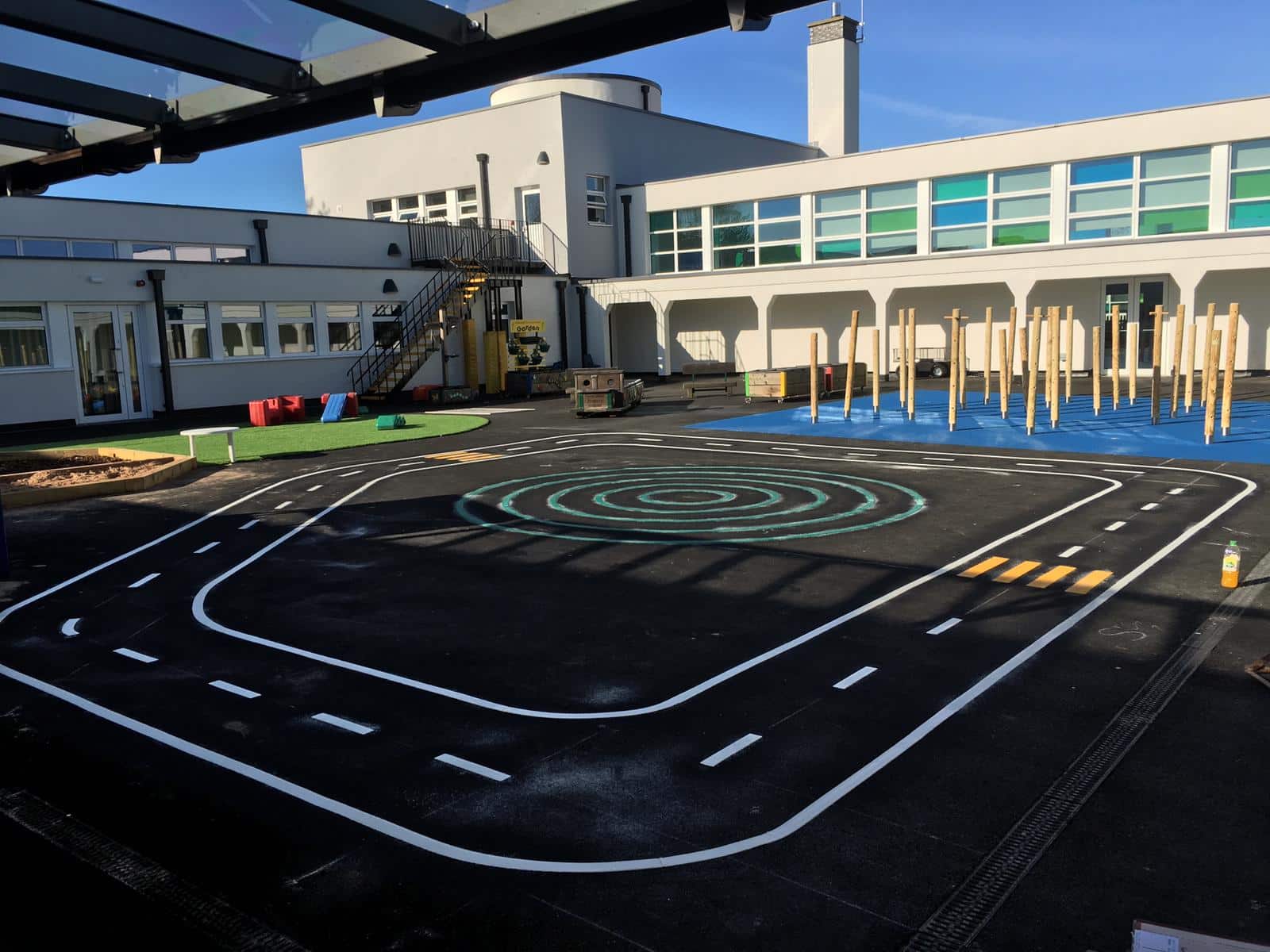 Playground Markings for Outdoor Learning, Sports and Play.
Welcome to Designs & Lines, a company dedicated to transforming playgrounds, sports courts, and other outdoor areas with a fantastic range of thermoplastic playground markings. We can do this for primary schools, secondary schools (even if you don't call them "playgrounds" at that age), and a host of other organisations to turn boring, empty areas into captivating corners and sensational spaces for games and sports. We'll even make designs to help you get creative with outdoor lessons!
Vibrant and Fun Playground Markings
Every design we have can be made in a myriad of bright colours, exciting designs, and vibrant patterns to keep your kids entertained and engaged in anything they're doing. Whether you're looking to help them build social skills with fun group games at break time and lunch, need a permanent place to play sports and to teach PE, or even if you're thinking outside the box and want number grids or diagrams for outdoor Maths or Science lessons, we'll have it all for you here.
Warranted for 4 Years | Lasts 8-10 x Longer than Paint | Custom Designs
Choose All of Your Amazing Playground Markings Here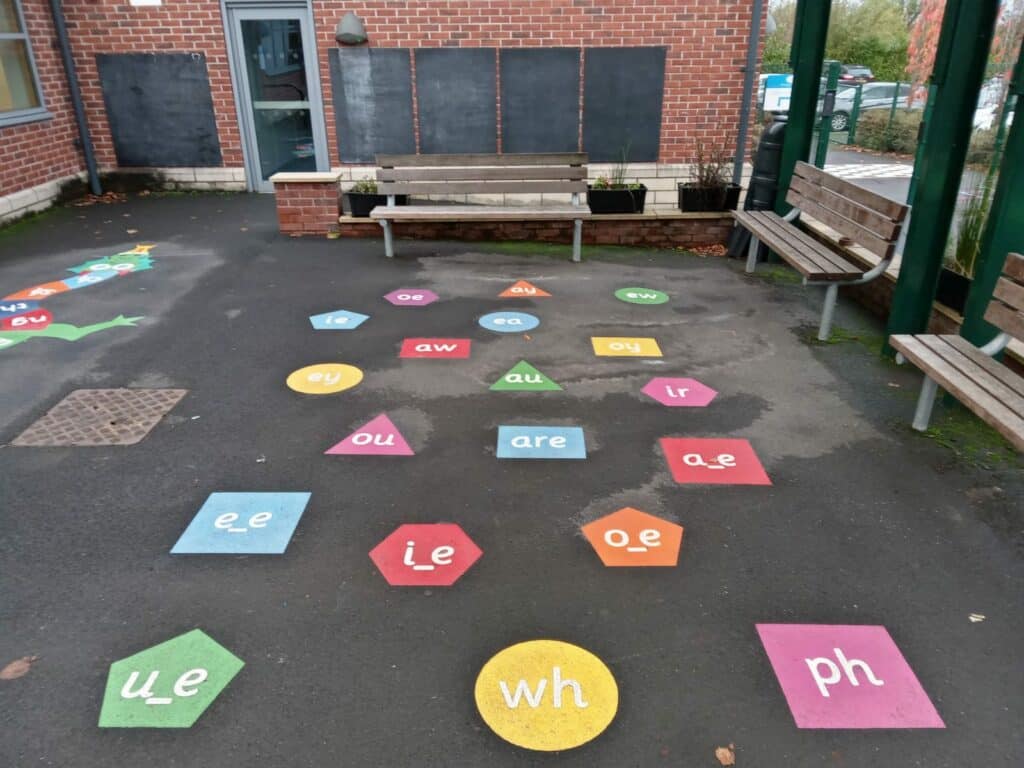 Bespoke School Playground Markings
If you cannot see anything resembling the designs you've had in mind, or if you feel you need something special to suit your school more precisely, then there's no need to worry! We're fully prepared to provide custom-made playground markings for primary schools, secondary schools, or any other space, anywhere you have a theme going or a set of colours that need to be matched.
We'll also be happy to take designs the kids have come up with themselves and make them into something unique for your outdoor area. Just imagine being out on playground duty and seeing pupils playing games on permanent, colourful designs they've had a hand in creating!
Our friendly team are ready to talk you through options for bespoke or custom-made playground line-markings, designs, and games.
On-Site Surveys
We understand that not every outdoor space in every school will be the same. They can vary greatly in size, design, and shape, and that is why we will always be glad to travel to your site and conduct an on-site survey before any work begins. This ensures that every purchase is right for the space it was intended for, no matter what you have ordered for your outdoor areas.
Speak with us on the phone or send us an email today if you think you might need this before we put down your playground line-markings or designs. We will book you in for a time and date that suits your needs as soon as possible.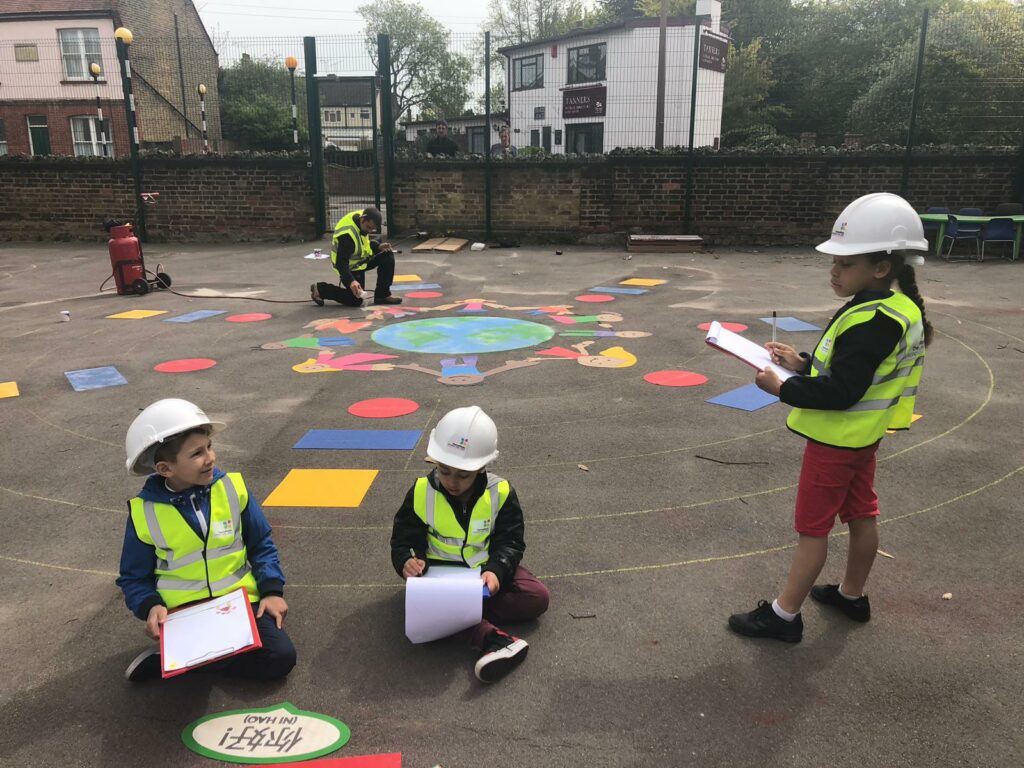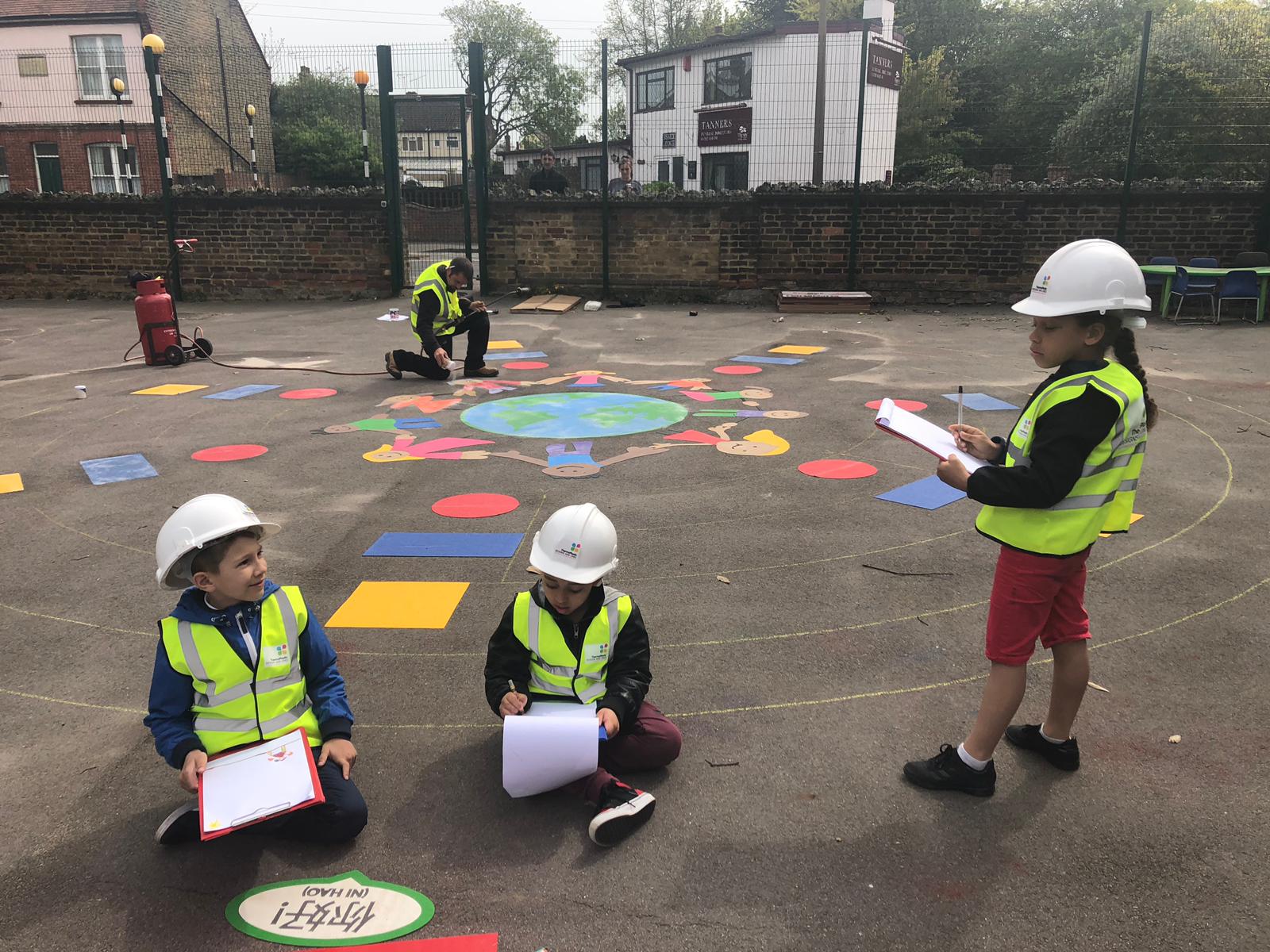 Why Work with Us on School Playground Markings in the UK?
We love what we do. We're also proud to say that we've worked with over 10,000 schools across the country so far, helping them to buy, design, and install all the high-quality playground floor markings they could need to have fun and learn at every break time, lunch, or outdoor lesson. We also think that we're just the team you need to create and install the school playground surface or sports court you need to perfect your play area or polish your space for PE.
Here, we've listed just a few of the reasons we think you should work with us on your school playground markings:
We've been working as independent suppliers and installers of playground floor markings and line markings for sports courts for over 20 years
We've had the pleasure of completing work for primary schools, secondary schools, nurseries, children's centres and many other organisations ‒ even local councils!
Our thermoplastic playground markings are durable, anti-slip, and can be fitted to a range of surfaces
We'll be happy to travel anywhere in the UK to make sure your designs are properly delivered and professionally installed
We have a fast installation process that can be completed on a day and at a time to suit your schedule. This includes working around break times and at weekends
We're also glad to be a price-competitive firm, so if you should happen to find playground line-markings, games, pictures, or patterns at a cheaper price but a similar quality, we'll do everything we can to match or beat it!
A Few Areas We Cover
As we've said, we'll be happy to help you design and then install playground floor markings, lines, and graphic designs anywhere in the UK. However, we've also noticed that some places are more popular for requests for new playground games than others. We've listed these areas below for your convenience, so if you're based there or somewhere nearby, all you have to do is click through and see what we can offer:
Want to speak to us? Get in touch
Enquire today.
Please complete the contact form and one of our friendly team will be in touch to help with your project.
Or call us today.
01702 597 077
info@designsandlines.co.uk