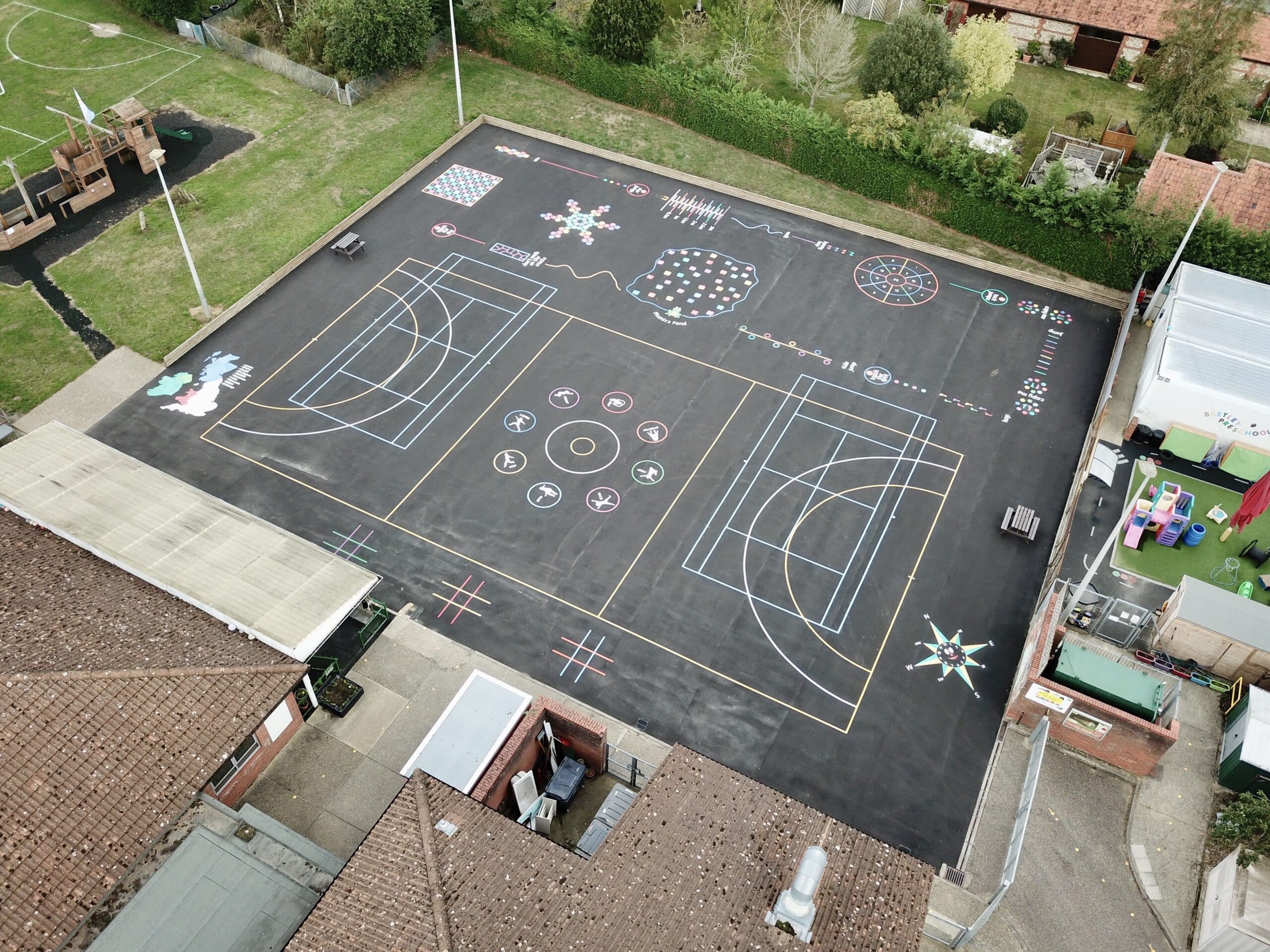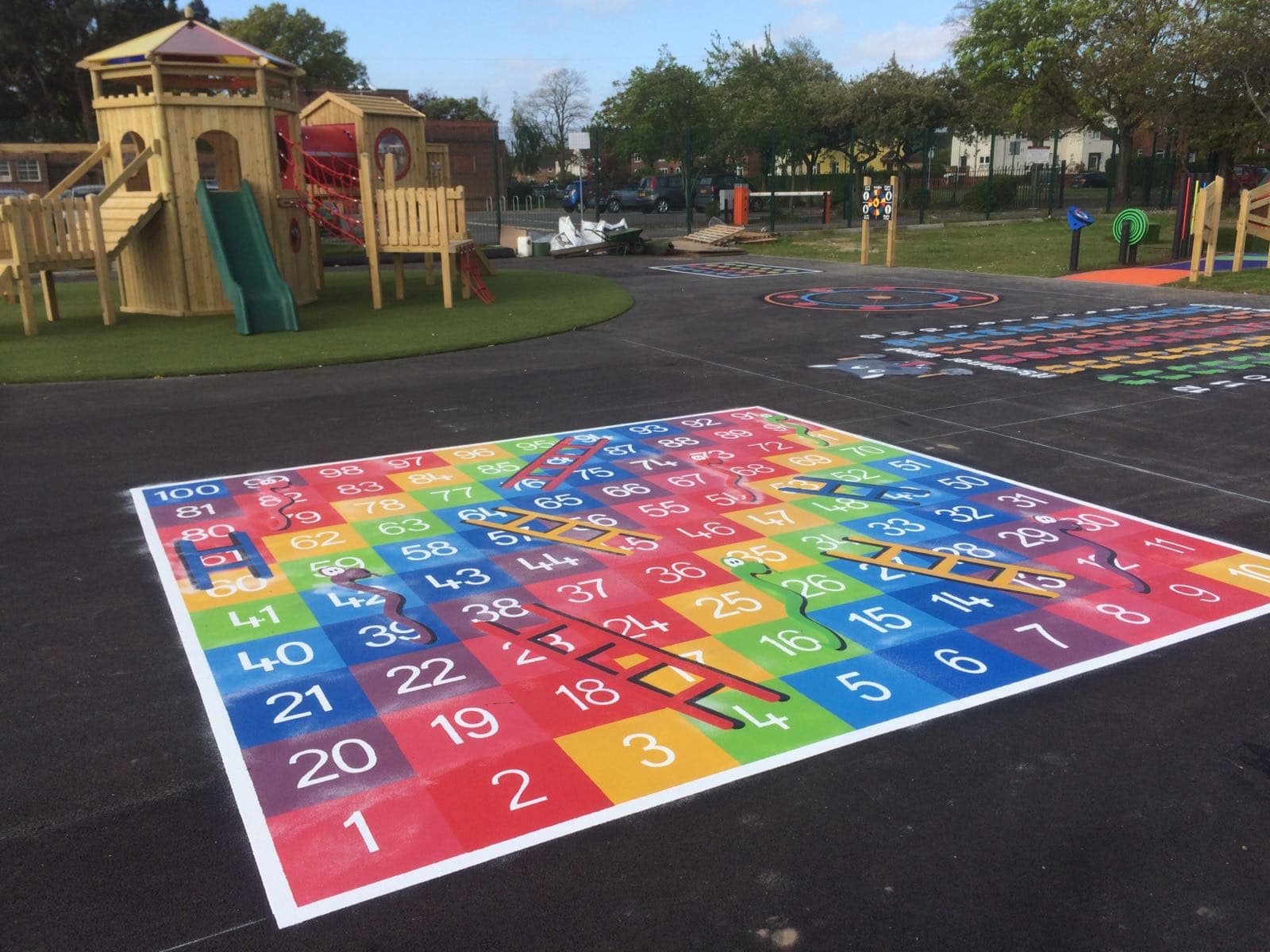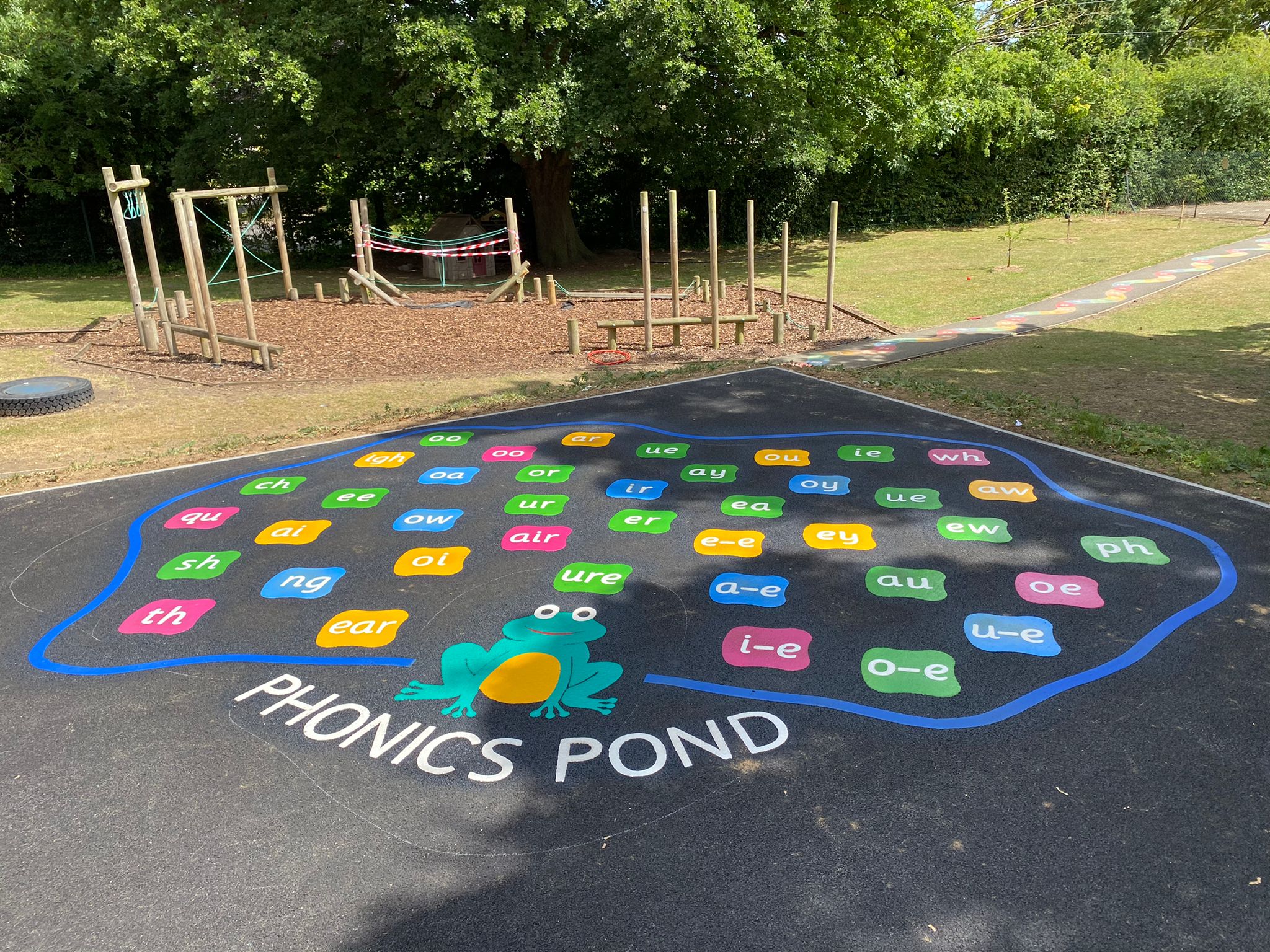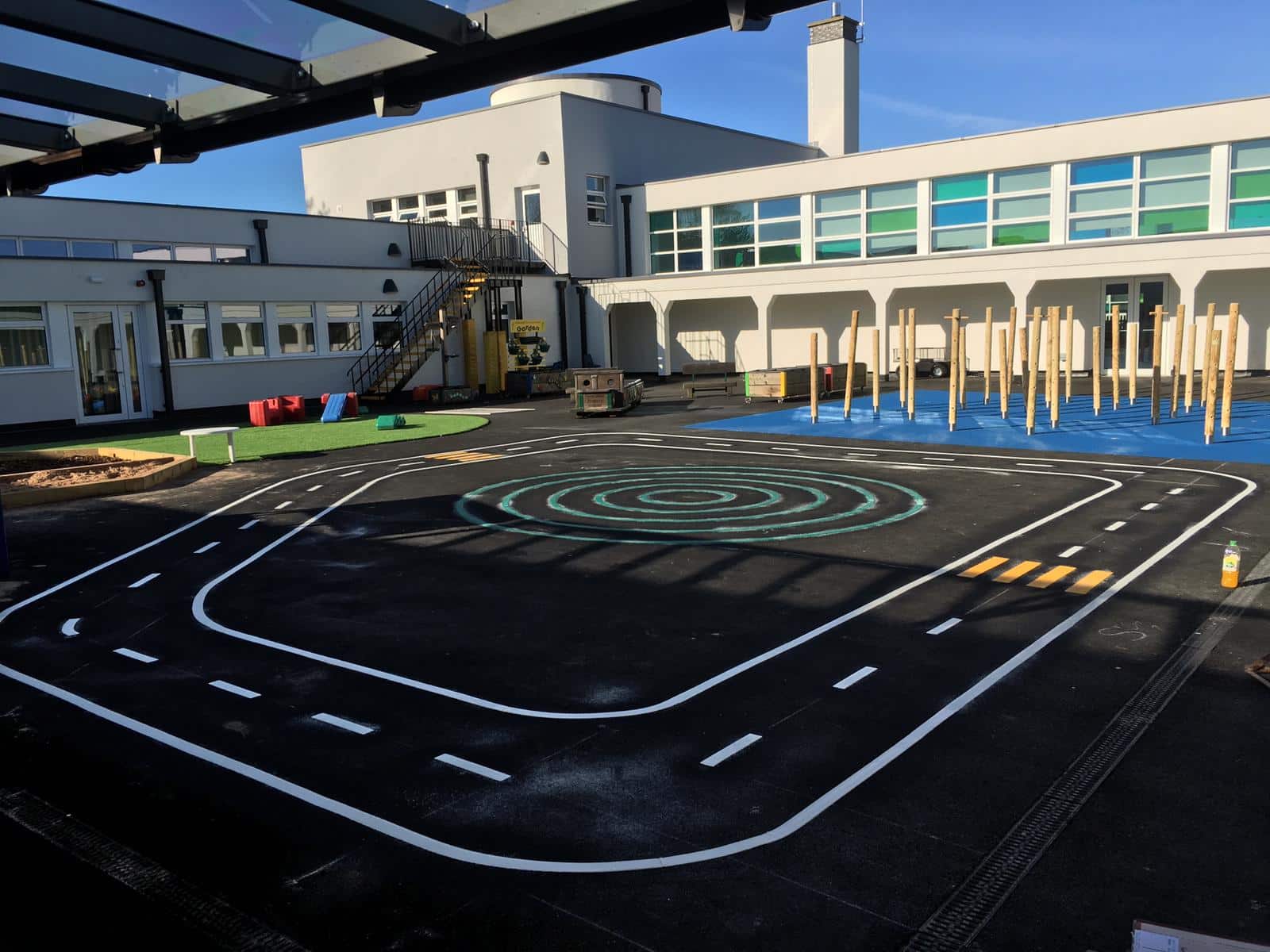 Finishing Bespoke Playgrounds with Fantastic Custom Markings
If you've recently kitted out your playground with custom-built climbing frames or playground equipment, you might also be thinking of finishing your outdoor space with some lines or even full playground markings to complete an established theme. Luckily for you, we're specialists at this, and we'll be delighted to finish off all bespoke playgrounds with custom-made markings to suit the scenes, colours, or patterns you've already got in mind!
Whether you want a Treasure Island theme to go with your pirate ship play structure, fun games and activities in your school's colours, or even something your students have designed themselves and would love to use in their break and lunchtimes, we can make it all. Get in touch with us today to find out more, or read on to learn about what goes into our markings and our design and installation service. Top Quality Custom Designs for Custom-Made Playgrounds
Every marking we make and fit is moulded from hardwearing, high-quality thermoplastic. This material is ideal for making playground markings, as it comes in a range of vibrant colours that are bound to get the kids excited for games and play at break and lunch and has been designed for longevity and a defined finish. This means any markings you want are bound to look just as exciting as you want them to and will last for many years to come. The material's durability even means markings will hold up against scrapes, scratches, and scuffs from shoes, trainers, and plimsolls!
When you want a bespoke marking ‒ or even an entire theme ‒ made for your playground, we'll supply and apply all the thermoplastic needed to complete the work. This all comes preformed and will be fused onto the playground surface using heat. So, if it's animals, mazes, roadways, or even school logos and coats of arms that you're looking for, you'll be guaranteed exactly that, on any surface type you have available. Our professional installation team can have almost any design you ask for installed on a range of different surface types in under an hour, including:
Block paving
Ceramic surfaces
Concrete
Metal
Tarmac
Our Bespoke Playground Designs
If you'd like some inspiration, or even just to see what others have wanted for their own complete playground designs, take a look here. We're always happy to show our customers the results of our design process, so they can get the best possible sense of what they'll be getting for their outdoor play areas when they decide that we're the team for them.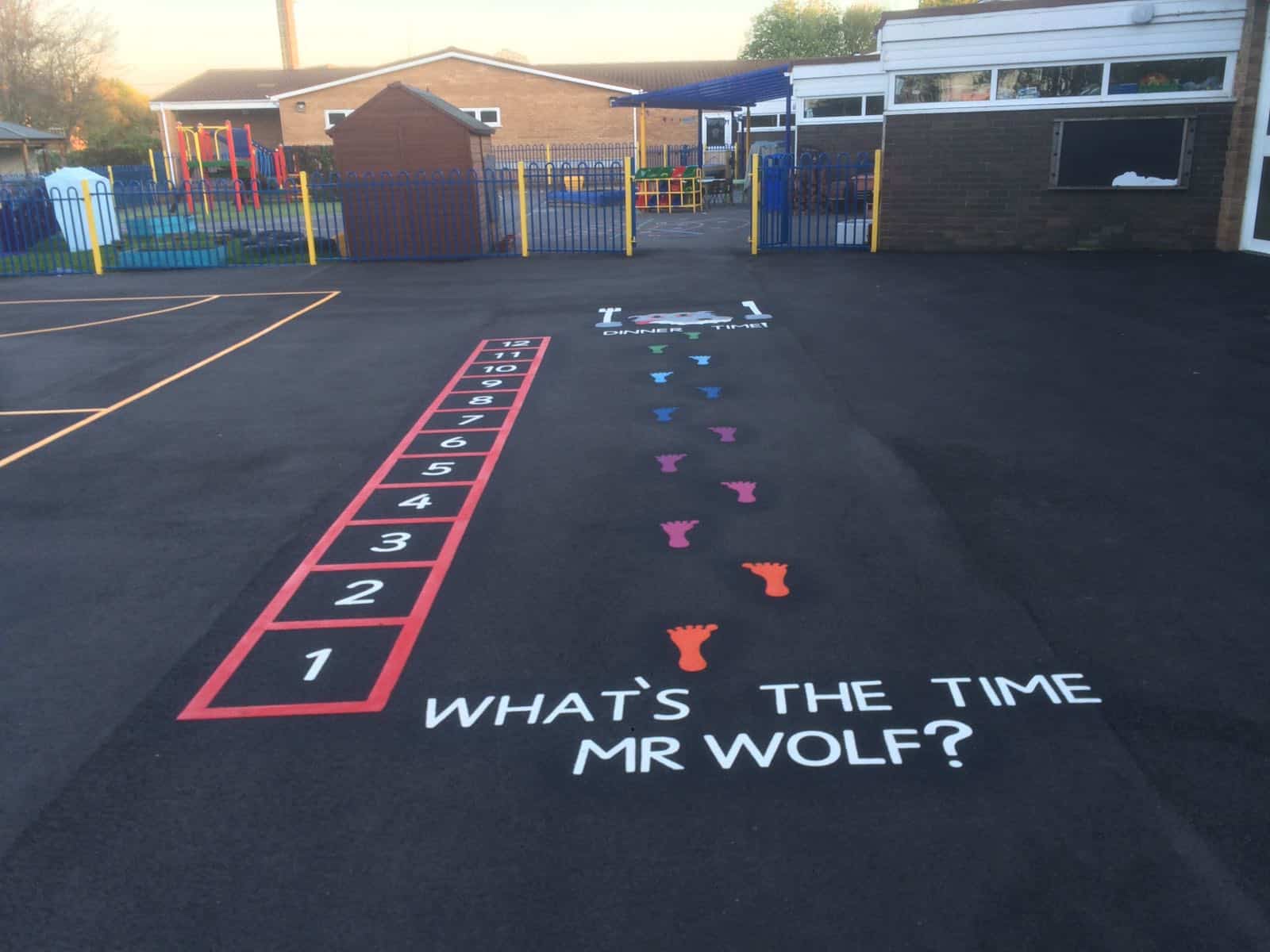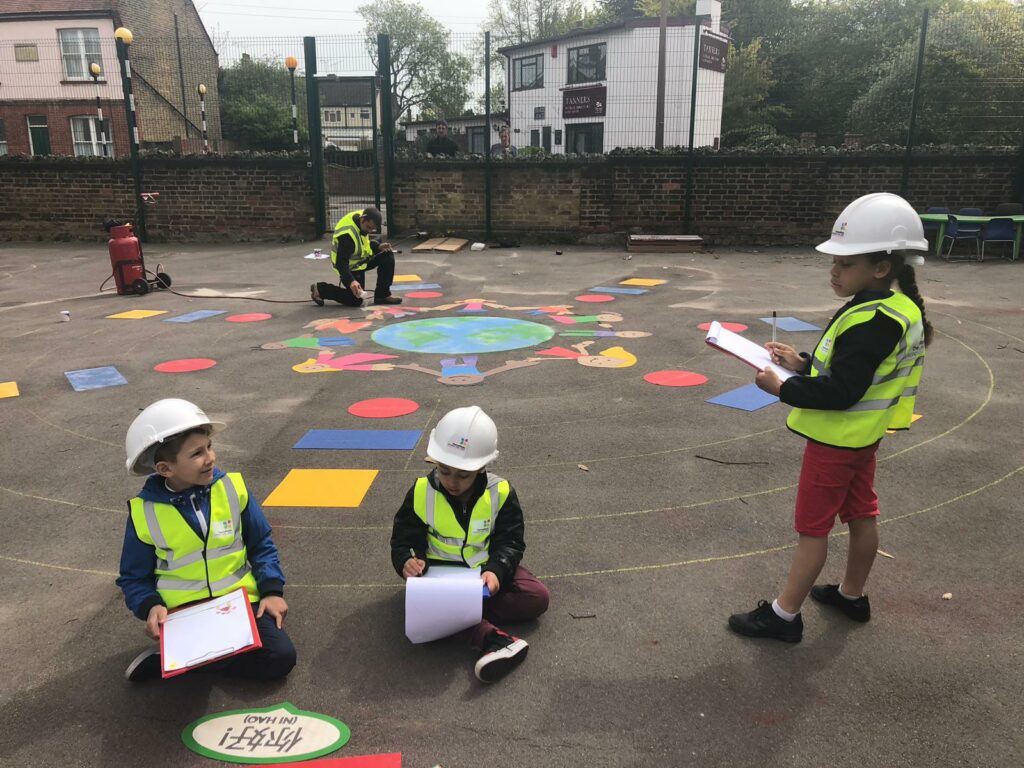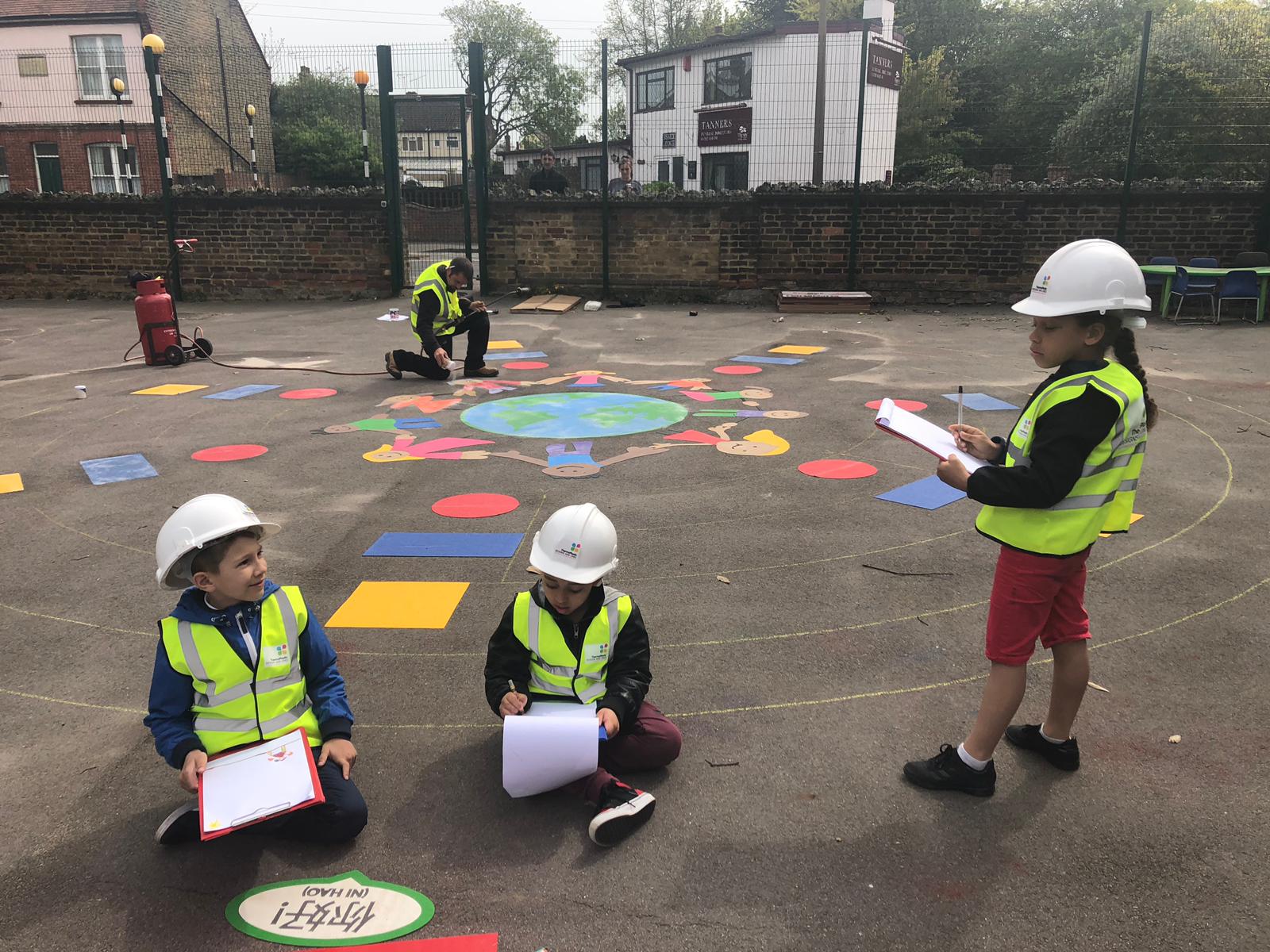 Our Playground Competitions
On occasion, we've even been known to set up a nationwide competition that gets pupils across the country involved in the creation of new, bespoke playground markings and games. Each school simply sends us their designs, and the winning entry will be installed by us on that school's playground! Check back with us regularly if you'd like to see one of your student's achievements take pride of place on your playground. We're sure that any of their designs will look wonderful when installed in one of your outdoor areas!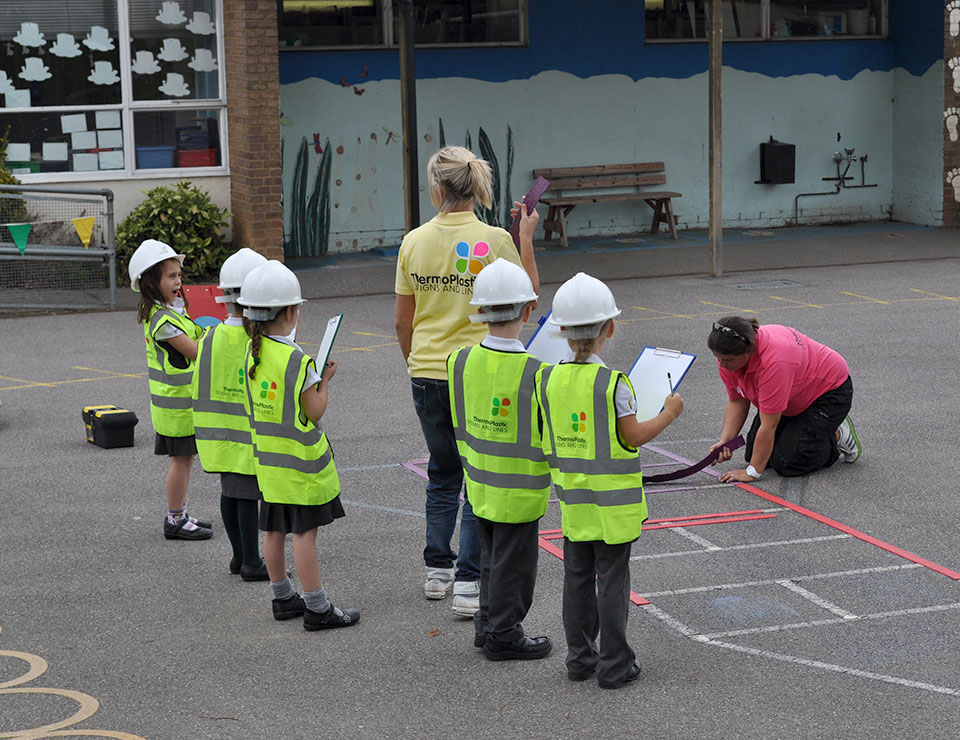 Our Site Surveys
We also understand that not every playground will have the same space available, or necessarily even be the same shape. That's why we'll be happy to travel to your location and conduct a site survey, ensuring that every purchase will suit the space it was intended for in every way possible. Contact us if you think your own playground will need this and we'll be happy to book your site in and take a look.
Why Choose Us for Brilliant Bespoke Markings?
We love what we do, and we've worked with over 10,000 schools across the UK so far to help them complete their custom-built playgrounds with top quality markings and designs. From a range of fun games for learning that the kids have made up themselves, to images and pictures that encourage imagination and adventure play ‒ we've done it all and we'll be glad to do it again! This is why we're so confident that our design team can provide you with everything you need for your playground. We've also listed a few of the other reasons we think this below:
We have over 20 years of experience as independent suppliers of readymade and custom-made playground marking designs
We've had the privilege of working with a host of different organisations, including schools, nurseries, children's centres and organisations, and even local councils
We'll be happy to supply any bespoke design exactly as you have asked for it, in the colours and dimensions you have asked for
All of our designs come in durable, high-quality thermoplastic, which comes with a 4-year guarantee
Our dedicated installation team are prepared to travel anywhere in the UK to make sure your designs are supplied and delivered
Our installation process is fast and can be completed wherever and whenever you need
We are proud to be a price-competitive firm, so we know that we can offer you the best price for bespoke work to complete any custom-built playground design
Contact Us to Complete Your Perfect Outdoor Playspace
If you're looking to finish off a themed playground you know your school kids will love, complete with matching colours, designs, or a whole host of games, then we can help! Contact Designs & Lines today and get ready to talk to our experts about the custom-made playground markings you want for your outdoor surfaces. Whether it's jungles teeming with wildlife, beaches, flower gardens, or even the furthest reaches of outer space, we can make any dream playground a reality! We'll even be happy to work weekends to make sure you get your designs on a schedule that suits you and can provide everything you'll need to know as soon as you get in touch. We understand that you're busy doing the most important job of all (teaching your kids), so we'll do everything we can to make sure the process is as simple, straightforward, and hassle-free as possible.
01702 597 077
info@designsandlines.co.uk