Stand Out With Creative Custom Playground Markings
Bespoke and Custom School Playground Designs
Make your playground the coolest in town with bespoke markings that showcase your school's spirit. Custom designs allow you to display your colours proudly while nurturing skills through active, imaginative play.
Bring your ideas for exciting games and activities. We'll collaborate to transform your outdoor space into an engaging environment that says shows your school's unique personality. Get in touch today to start creating playground markings that leave a lasting impression on students and families. Let's work together to showcase what makes your school special. Our Most Popular Playground Markings
Choose from our huge selection of amazing designs.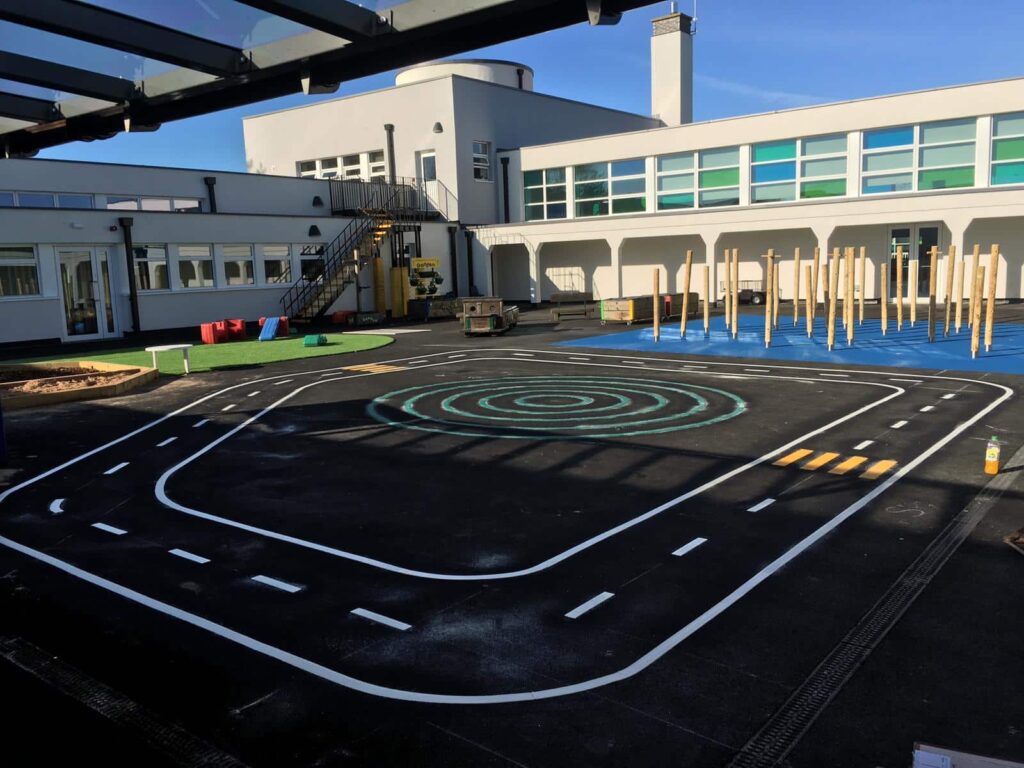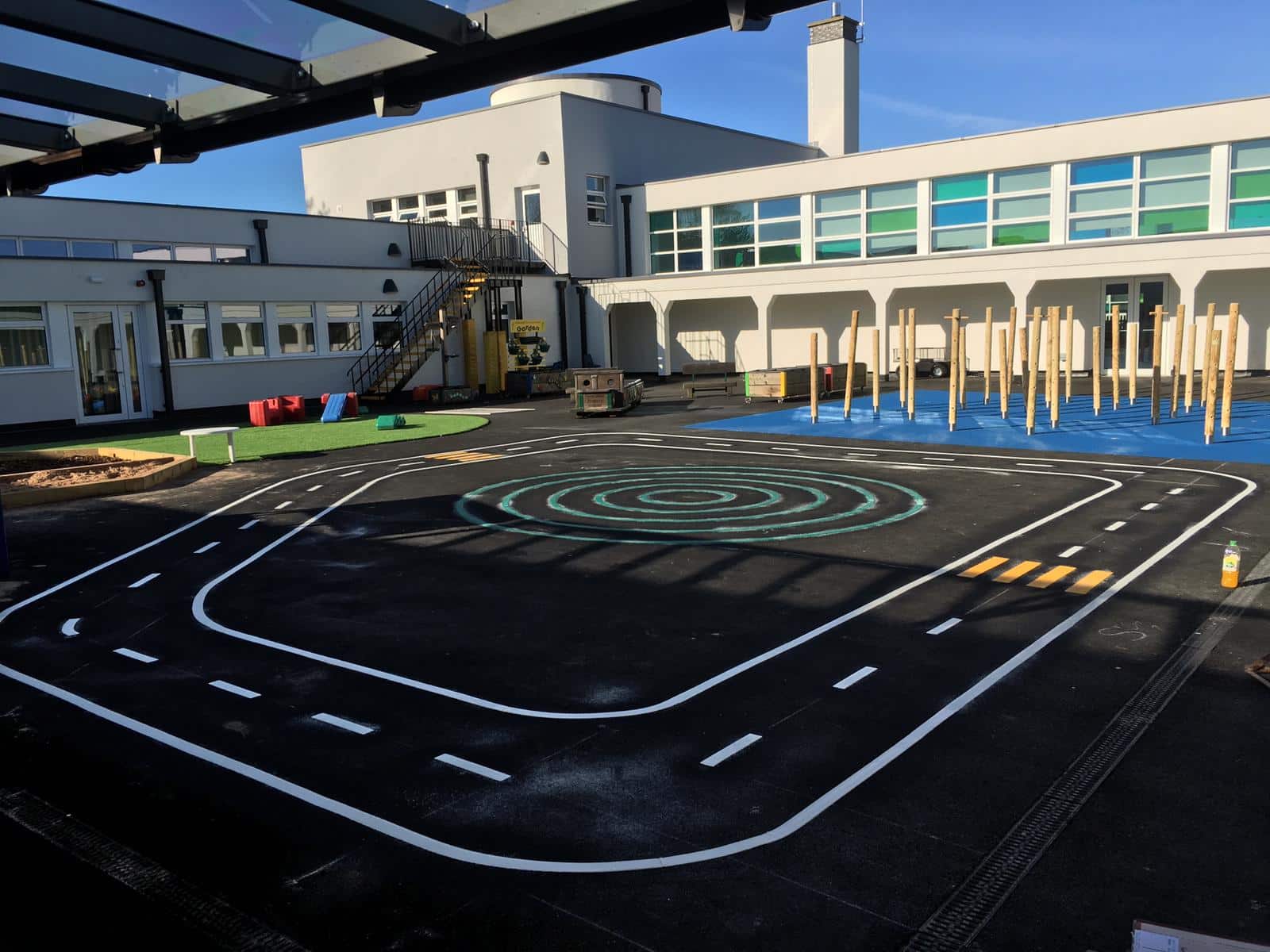 Understanding What You Need
You want a playground that resonates with your kids and with your school's identity. But it can be difficult to merge all your customisation and branding ideas into one, seamless outdoor play area. From maintaining consistent visuals to translating core school values into vibrant designs, the journey can be needlessly long and complicated.
Designs & Lines specialises in enhancing outdoor learning and play spaces tailored to your needs. Our partnership provides the ideal solution to create outstanding areas for education, exercise, and play. We work closely with you to bring your vision to life, delivering custom playgrounds that maximise learning potential and foster active fun. Together, we'll turn your dream playground into a reality.
Our Expertise in Bespoke Branding
Our thermoplastic playground markings enable endless customisation to create vibrant, engaging designs. The high-quality material is pliable during installation, allowing our specialists to expertly weave your school's values, themes, and aspirations into playable games and activities.
Whether you've envisioned a jungle theme, outer space, or any imaginative idea, we'll develop durable markings to bring your vision to life. We take playgrounds beyond bland boxes and transform them into picture-perfect places for play, learning, and fun. Our custom markings make your playground as unique as your school.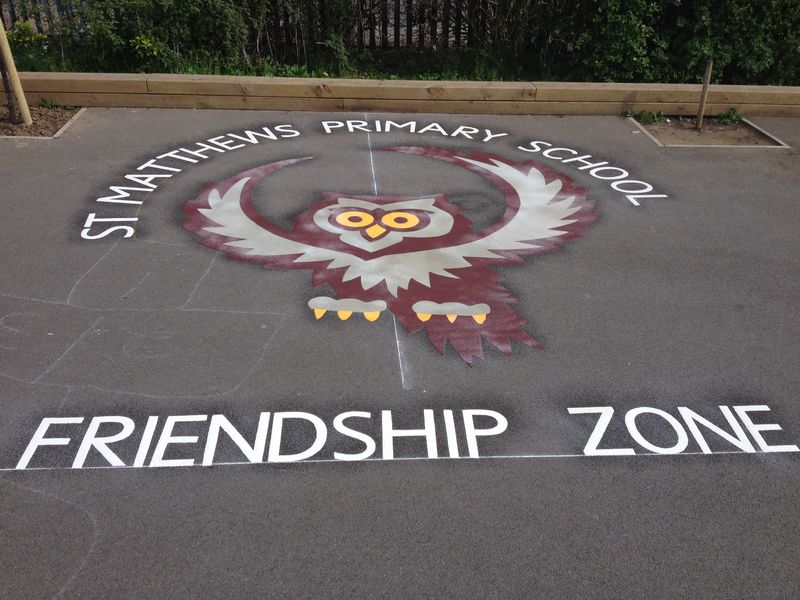 What We Bring to Your Branding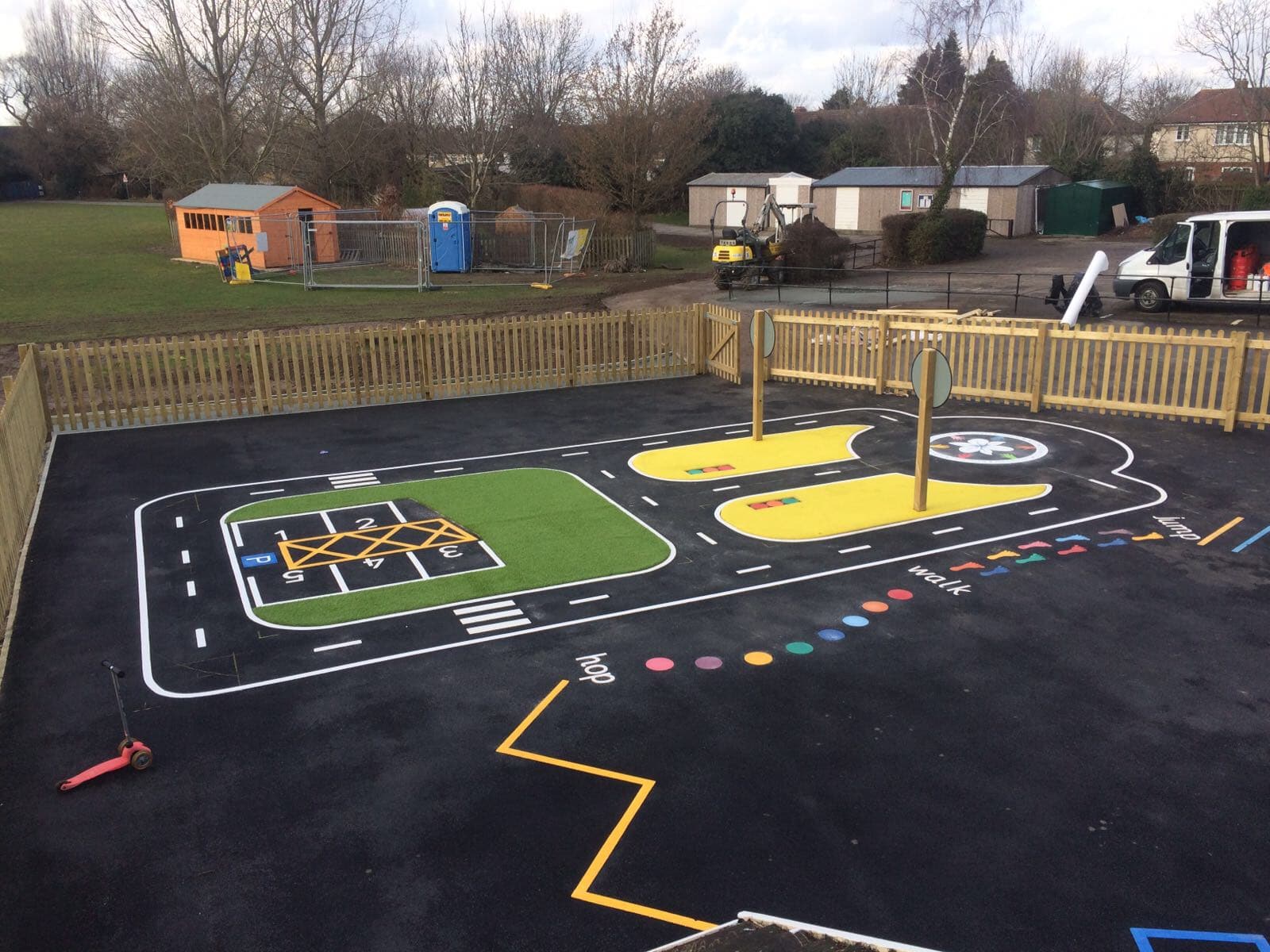 Vibrancy in Your Visual Identity
Witness your school's brand come alive in vivid playground markings! Our creative team ensures that every marking maintains the authenticity and consistency of your branding, creating an immersive and recognisable play environment. Whether it's school colours, logos, or mottos, our expertise guarantees that your playground becomes a captivating landscape that echoes your school's spirit.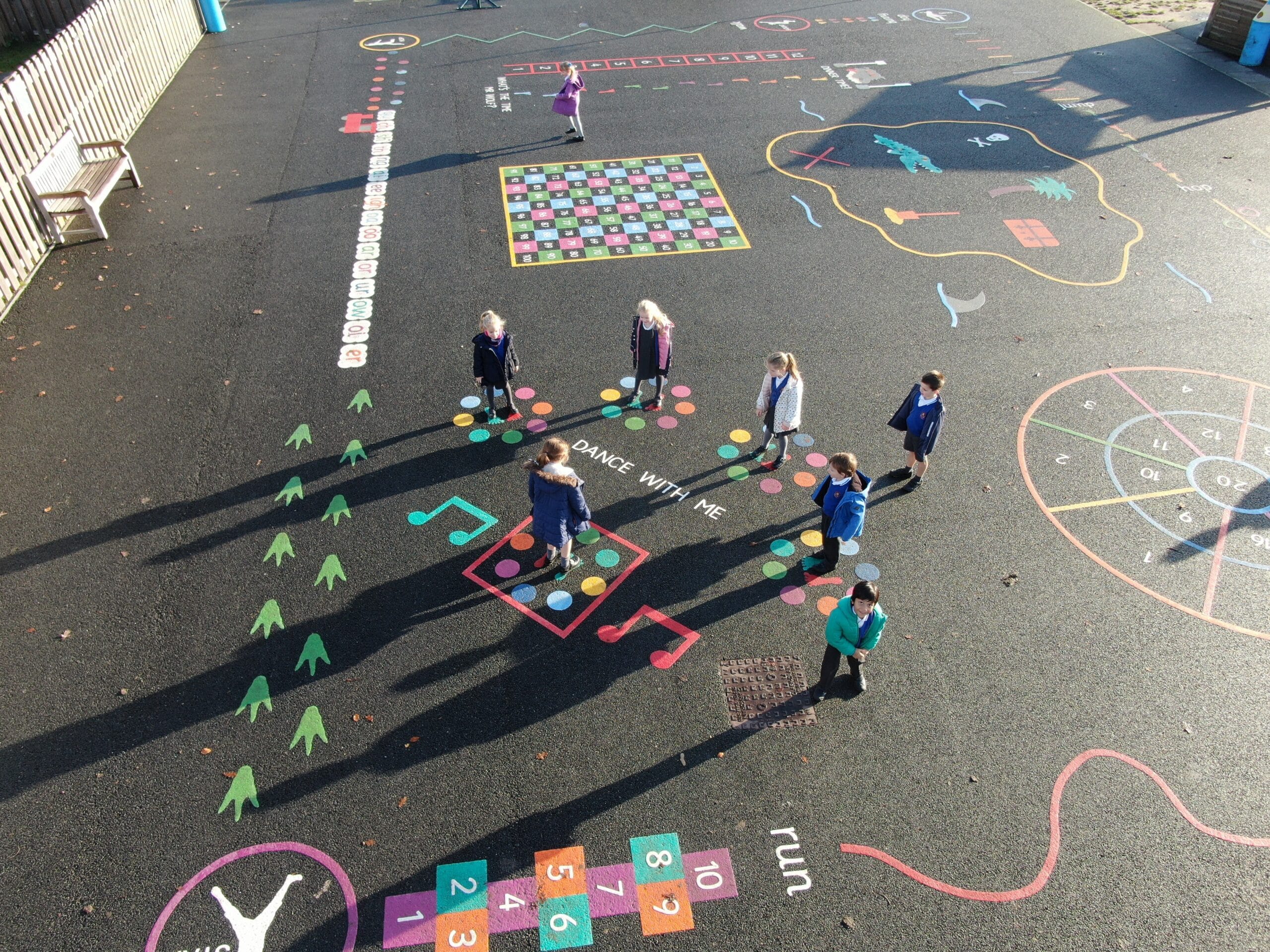 Play Unlike Anywhere Else
Our customisation options give life to your unique aspirations, producing play environments that are as individual to your school as your students themselves. Imagine them exploring a brand-new space that sparks their creativity and sense of adventure. Educational designs incorporate learning opportunities, like labelling rainforest animals or naming planets. Our custom markings foster growth and discovery in an environment made just for your students.
Some of our happy customers
We are passionate about what we do and take great pride in delivering the highest level of satisfaction to our customers.
The markings look amazing and as soon as they were dry the children were all over them especially the Copy Me. Teachers commented it was lovely to see them enjoying them so much. I also heard comments on the main playground saying how smart it looked.

Your fitter was really good and very mindful of the complexities of working on a school site and safety issues that can arise which made it really easy for us.

Jo Slate
Orchard Vale Primary School – Devon
We have just had our playground markings revamped by Designs and Lines. From Day One, our children have been playing on the Daily Mile track, using the agility trails and our younger children love the race track. I'm so pleased with the final product and would recommend this company to any other schools looking to make their playgrounds a more exciting place for children to play. Thank you again!!

Katie Whitmore
Teversham C of E Primary School
Just to say thank you. The guys who came on site were great, the marking is lovely and the children are really enjoying it, so much so, they are arguing over who can use it first!

Please pass on my comments to the guys, as not all contractors on site are so understanding of working in a school, especially in the early years areas.

Sharon Keon, School Business Manager
Starks Field Primary School
The work that has been completed looks fantastic and I'm sure that we will be coming back for more.

The gentleman that did the work was lovely, very polite and did a great job. Please do pass on our thanks to him. The communication with your company throughout the process has also been excellent.

It has turned a drab playground into one that is now bright and fun! Roll on September when our
pupils return, they'll love it!

Mrs Cath Narey, School Business Manager
Pocklington Junior School
I would like to thank your team for the wonderful work that they have carried out in both of our playgrounds at St. Mary's: they look magnificent. It has been lovely to watch the children 'discover' them and devise ways to use them in their play. They are a wonderful addition to our playgrounds.

Once again, thank you so much for all that your company have done.

M. Brewer, Deputy Headteacher
St. Mary's Prittlewell C of E Primary School
The playgrounds look fantastic and the children love the new markings!

Thank you so much for the excellent service! The team on site were professional, friendly, happy to stop and start at different times of day and consulted where necessary to ensure the markings were placed where we wanted.

James Wrafter, Deputy Headteacher
Marshlands Primary School
Thank you to everyone involved with the smooth running of the transformation of our playgrounds. Pupil and parents are delighted.

The service and care exceeded our expectations and we would not hesitate to recommend Designs & Lines to other schools.

Angela Robinson, Director of Business
Reid Street Primary School
The playground has been injected with 'new life' it is bright and colourful and the children are absolutely delighted with the activities they can perform using the markings. The installers were professional, courteous and friendly in their manner.

We look forward to raising funds and working with you again.

Mrs Burdiss
Elmsett Primary School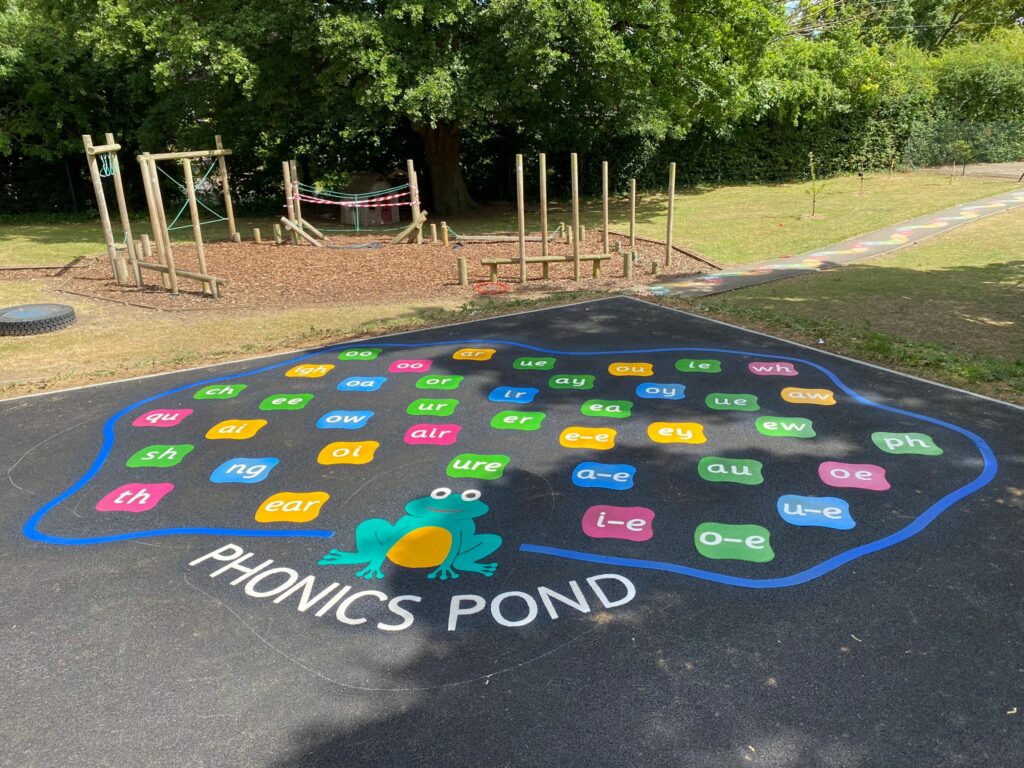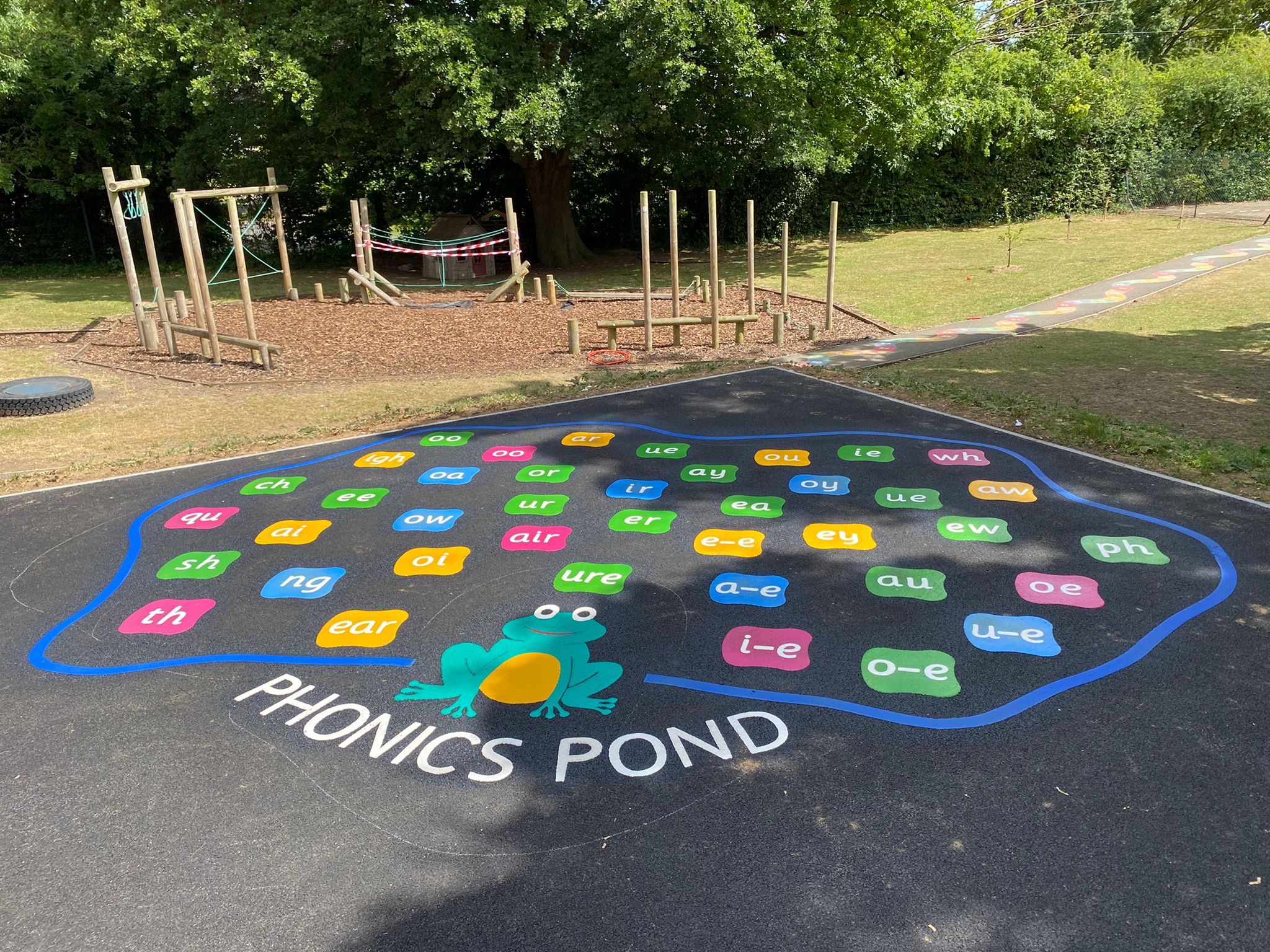 What Does a Custom Playground Do for Kids?
Bespoke playground markings go beyond aesthetics to increase school spirit, pride, and sense of community. Students thrive in spaces that represent their school uniquely. Educational designs incorporate opportunities for growth and responsibility. Community recognition of your commitment to custom learning environments also deepens students' sense of belonging.
Get Your Perfect Playground Makeover
Whether you envision full themes, custom logos, or school colours, we can make your playground dreams a reality. Our team will collaborate with you through every step – from initial drawings to final installation. We work flexibly, including holidays, weekends, and school hours to accommodate your needs. If you have designs in mind, contact us today. Let's create something distinctive for your students.
Enquire today.
Please complete the contact form and one of our friendly team will be in touch to help with your project.
Or call us today.
01702 597 077
info@designsandlines.co.uk