Modern and Traditional Playground Marking Games
If you want your students to get a real mix of fun, learning, and physical activity between lessons, you won't find a better option than old and new playground games. By marking them out properly and making them permanent with our designs, nobody will even need to take time out of the fun to set them up, either! Just grab some chalk, a ball, or a bean bag and play on these playground marking games as much as you want!
All of our game designs are made in a range of colours using a scuff-resistant material, so they will stay looking bright, new, and in the best condition for playing for years to come. Browse through our playground games and markings below, or get in touch with us right away if you want to talk to us about ideas you have for your outdoor play areas.
Bespoke Playground Games of All Kinds
If you've got games in mind that we don't have here, or if your students have come up with their own and you'd like to make them a feature of your playground, we can help. It's all part of our bespoke service; whether you need a design to match your school's colours or something completely different to the ready-made designs we have available, we can custom-make the playground markings you want instead!
Please don't hesitate to get in touch with us if you'd like to find out more about the ins and outs of this service. Our staff will be glad to tell you more and take you through your options for bespoke games and custom-made markings for kids to enjoy.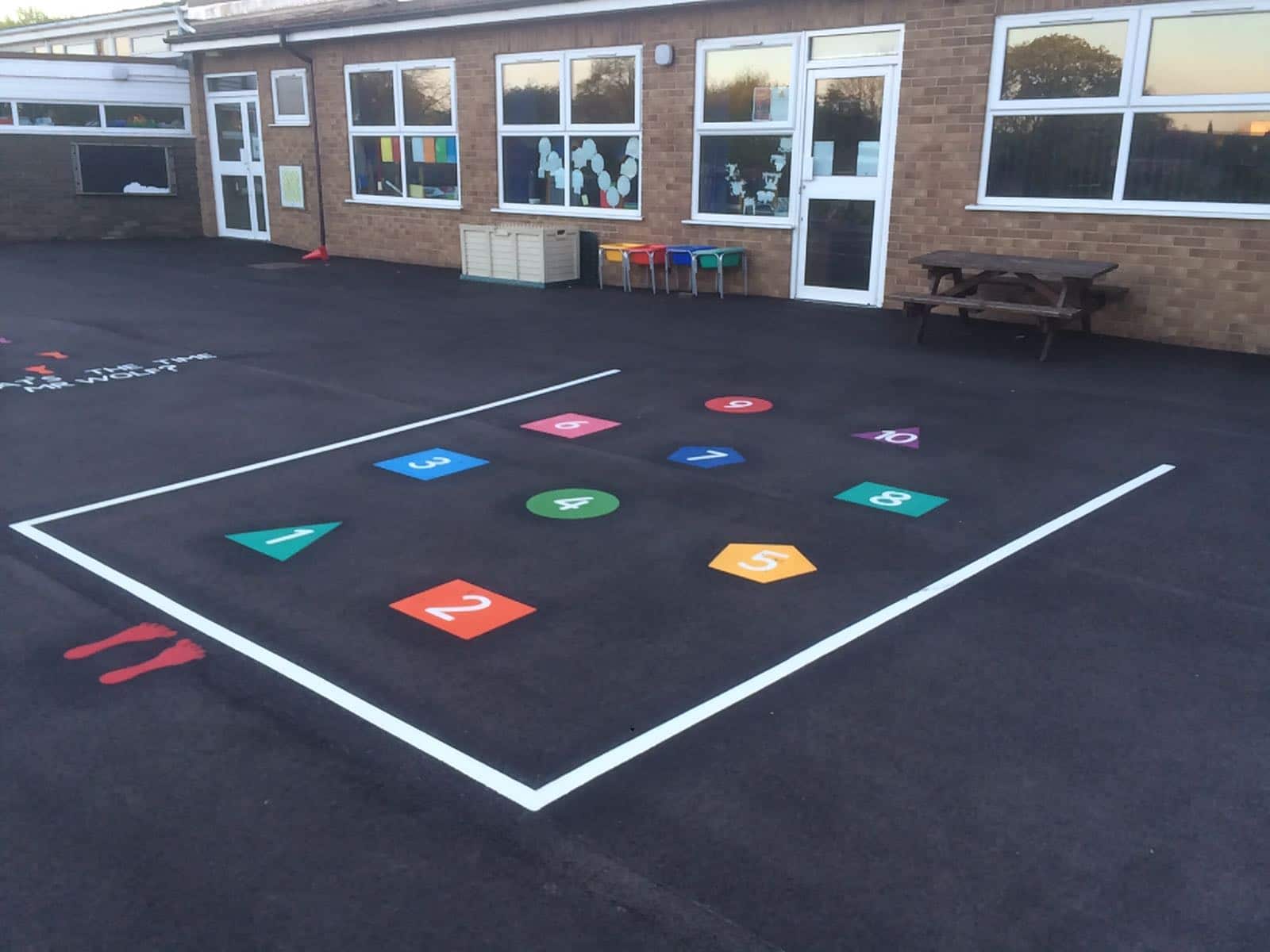 Why Choose Us for Playground Marking Games in the UK?
We are passionate about the service we provide, and we've had the privilege of working with over 10,000 schools across the country so far to bring them all the exciting and interesting games that get kids moving, thinking, and having fun at break or lunchtime. We also think we could be the service you need to get the games you want, no matter if that is the ones played for generations or games that have only started being played within the last few years.
We've listed a few of the reasons we think this here:
We are an independent firm with over 20 years of experience in the creation, supply, and installation of playground games and markings
We've had the pleasure of working with a range of different customers and clients, including schools, nurseries, children's centres and organisations, and even local councils
We use high-quality thermoplastic playground markings, ensuring a durable and scuff-free design. These come with a 4-year guarantee
Our dedicated installation team can travel anywhere you need them in the UK
We have a swift, professional installation process to ensure children can use the designs as soon as possible
We provide on-site surveys to confirm dimensions and space available before any installation work is carried out
We're proud to be a price-competitive firm, too, so if you should find permanent playground games online that are of similar quality but a cheaper price, we'll be happy to match or beat it
Get Going with Your Games as Soon as Possible
If you've been looking for some new fun features for your outdoor play area to encourage children to play, learn, and burn off energy all at once, then our playground marking games are perfect for you! Contact Designs & Lines today and our friendly team will be waiting to talk about all the incredible activities you want to be installed. Whether you want a traditional game like What's the Time, Mr Wolf to have a designated area or think kids would love to make up a brand-new game of their own, we can make it ready for them to use.
We'll even work weekends and around break and lunchtimes to make sure all your designs are installed on a schedule that suits you. It's all part of our plan to make the supply and installation of games as simple, straightforward, and hassle-free as possible, and we'll be happy to offer you all the information you need about our products and service before we begin. You'll only ever have to worry about the most important job of all ‒ teaching your students!
Want to speak to us? Get in touch
Enquire today.
Please complete the contact form and one of our friendly team will be in touch to help with your project.
Or call us today.
01702 597 077
info@designsandlines.co.uk