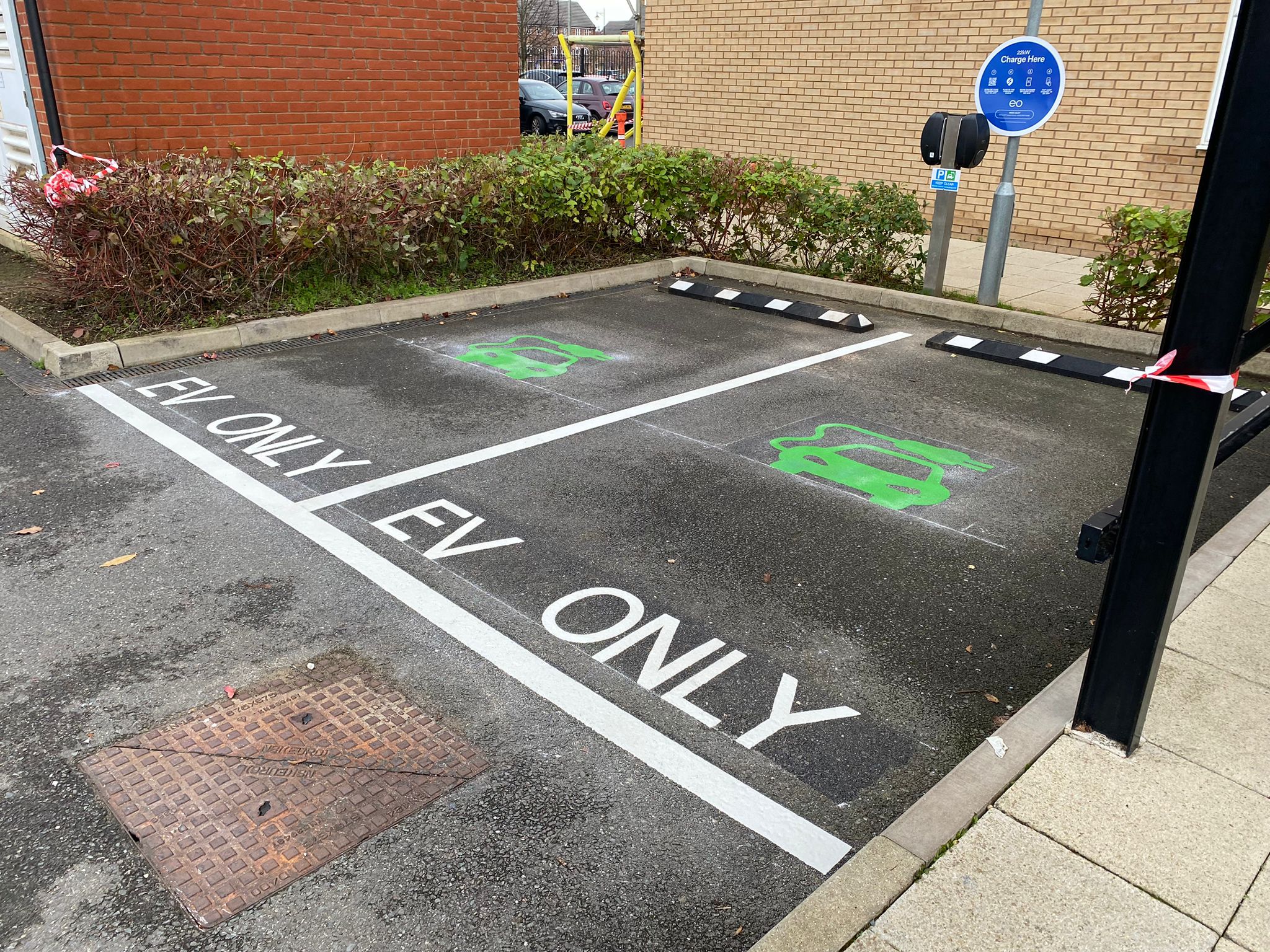 EV Charging Bay Markings
As one of the best car park line marking companies in the industry and with the increase in electric vehicles all across the UK, we have seen a huge influx in the number of electronic vehicle charging and parking spaces that are being installed, and subsequently, that we are being asked to design.
We have provided electric vehicle charging and parking bay markings for:
Council residential areas
Schools and nurseries
Public areas
Petrol stations
Supermarket car parks
Universities
The great thing about Designs and Lines is that we have the ability to produce any design you require for wherever you require. If you are interested in our previous work as a company, you are welcome to download our online brochure or get in touch with a member of our team.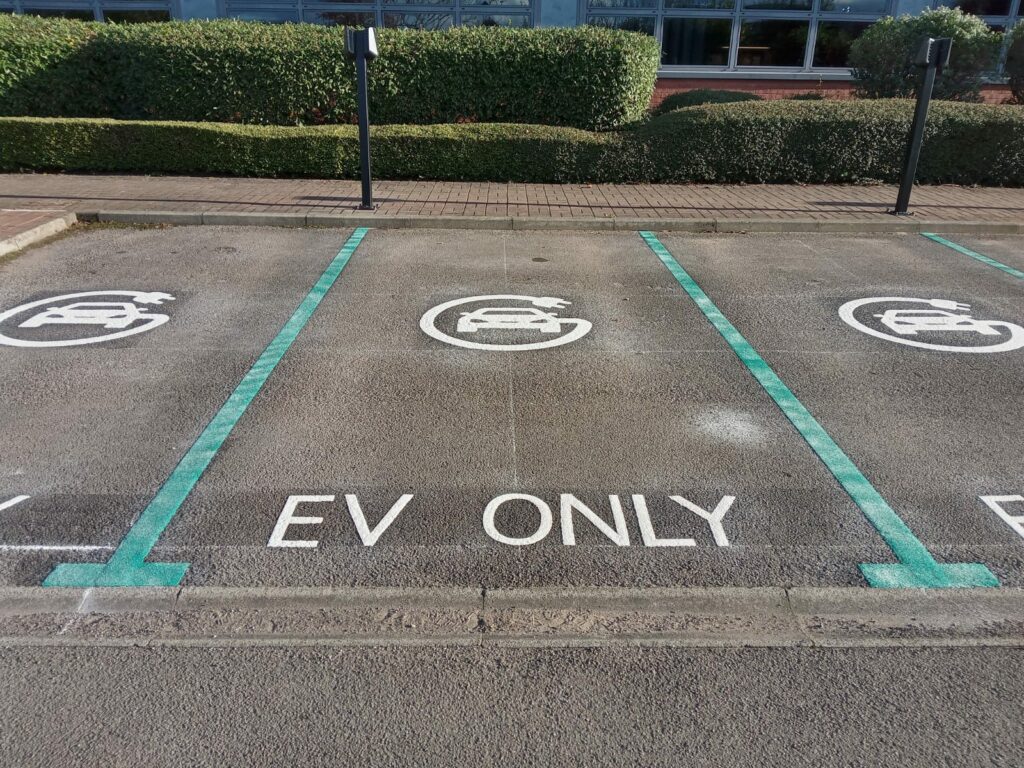 Why Do You Need EV Charging Bay Markings?
If you are a company where electric vehicle parking/charging is available, this is something that needs to be advertised and shared with the public. Lawfully, it is imperative that you differentiate between regular, disabled and electric parking bays in order to avoid general confusion over particular spaces and to eliminate the chances of fines for your customers if used correctly.
Not only do electric charging bays increase the number of customers and visitors that can visit and therefore benefit from your establishment, they will also allow you to leverage the opportunity for passive income from users of these bays. Naturally, motorists who require the use of an electric charging bay will stay longer to make use of the amenities than those with petrol or diesel-powered cars.
How Do We Create EV Charging Bay Markings?
Across all tarmac, concrete, block paving, ceramic and metal surfaces we are experts in installing thermoplastic markings. Thermoplastic is a material which transforms into a malleable substance when heated – able to mould and transform into a range of designs, patterns and lines – and is then cooled to form a long-lasting, anti-slip, vibrant solid when applied to a surface and cooled.
We believe in using the highest quality materials with unmatched durability to ensure that our customers get the best value for money. Using thermoplastic to create our EV charging bay markings means that you can be sure that your markings will be long-lasting, hard-wearing and stay vibrant for years to come.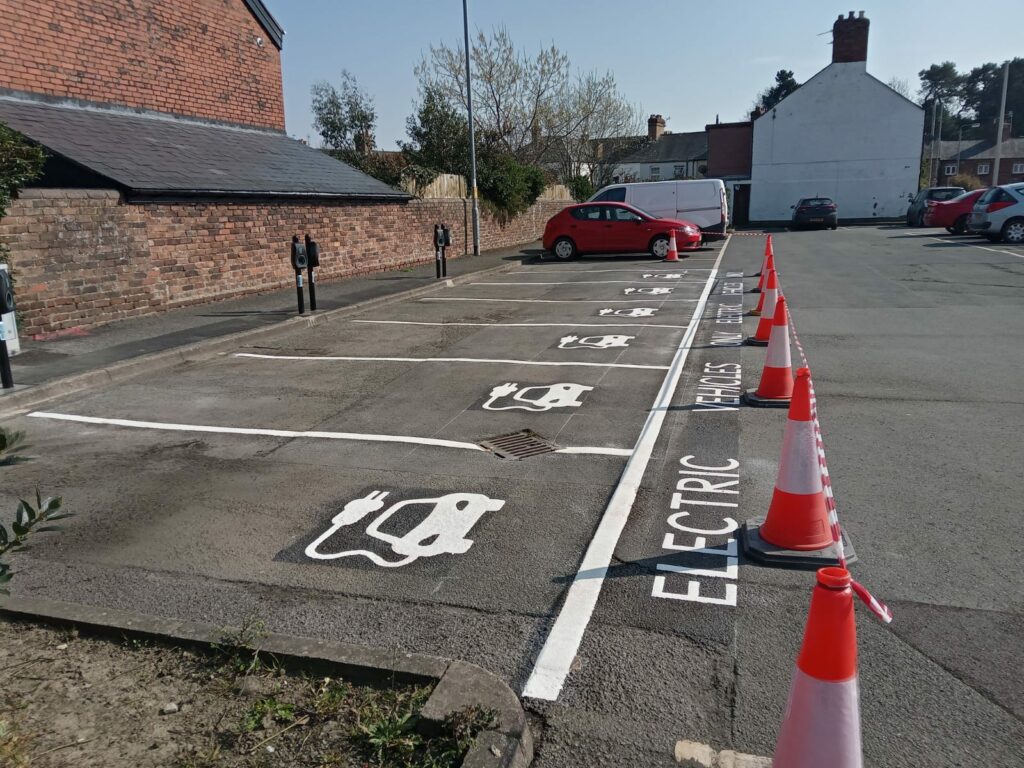 Your Questions Answered
Why Thermoplastic is the Best Material For EV Bays
Electric vehicles are becoming increasingly popular each year as we are becoming more environmentally conscious. By using thermoplastic materials to create our EV charging bay markings, we are making sure that we stay mindful of the planet. Thermoplastics are a far more eco-friendly alternative to other plastics. With the ability to be remoulded when heated, they can be reused and repurposed which helps their high recycling rate.
How Long Does it Take to Dry?
Thermoplastic materials are not only the most durable and eco-friendly option for tarmac and concrete markings, but they are also one of the swiftest to install. Thermoplastic takes approximately 10 minutes to dry – whereas paint can take 2 hours and will need multiple coats.
Your road markings will be ready to use, walk and park on within 30 minutes of the installation being finished. Thermoplastic is also an anti-slip and self-cleaning material, therefore when it rains there is a very low risk of your marking becoming slippery however, it will be naturally washed.
How Much Will My EV Charging Bay Markings Cost?
We understand that installing thermoplastic markings are being used and installed all over the country, therefore, we strive to keep our costs affordable. Our electronic vehicle charging bay marking cost is calculated per metre. Design and Lines' team will be with you throughout the entirety of your journey and ensure that your space is measured exactly to your specifications so that you are receiving the best service for your price.
Get Your Free Bespoke Quote for Your EV Charging Bay Markings
If you're looking to finish off your car park with your new EV charging bays, or if you are just looking to revamp your existing markings, contact Designs & Lines today so that you can receive your bespoke quote for your project.
01702 597 077
info@designsandlines.co.uk