The UK Guide to Car Park Marking Regulations | Designs & Lines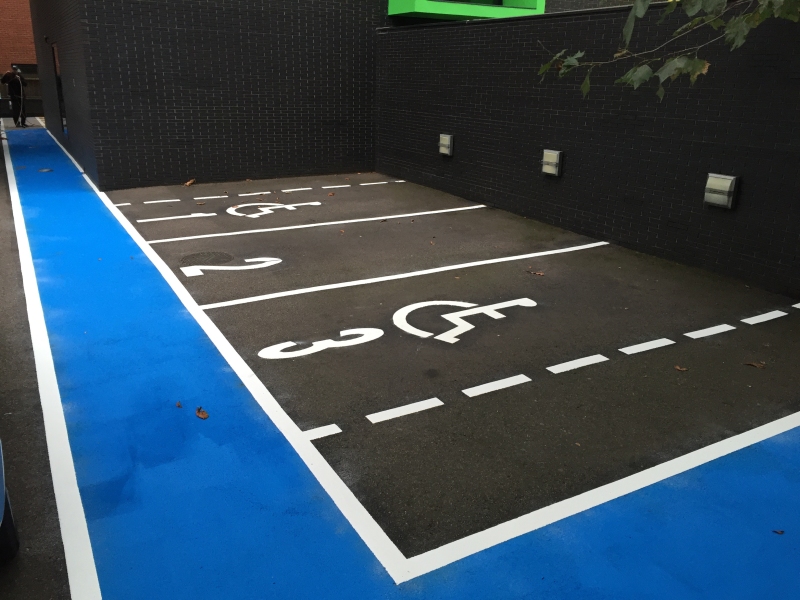 Understanding the UK's Car Park Marking Regulations
We're going to be discussing car park marking regulations to help our readers understand what they do and don't require regarding car park markings.
Below we have detailed information on all parking regulations, from off-street bays and parking zones to disabled parking and line colourings and what they mean.
Take a look below at the regulations and get in touch if you require professional car park markings from our experienced team at Designs & Lines.
---
Off-street bays
For standard parking in public areas, the UK employs a standard 2.4m by 4.8m parking space for all standard road vehicles, and six metres for maneuvering. However, there is no hard and fast rule about how big or small standard car park marking regulations should be. As long as the space allows ample access for cars to maneuver in and out, you're good to go.
On-street bays
On-street pays are essentially a free-for-all, as bays may or may not be denoted by markings depending on circumstance. On-street bays can be found in neighbourhoods where vehicles do not have designated car parking spaces, but can still part on the street (side of the street in most cases) without causing disruption to traffic flow.
However, some on-street bays can have markings, in the revised version of the Traffic Signs Regulations and General Directions (TSRGD), it states that bays are advised to have a minimum width of 1.8m, but this is not compulsory (nor is there a specified length). Traffic authorities have jurisdiction regarding the size and space for on-street bays.
---
What about larger vehicles?
In order to accommodate for the size of larger vehicles (such as delivery, removal and transport vehicles), bays should be marked appropriately. If a larger vehicle requires access but no space is available or there is space but it hasn't been officially marked out, traffic authorities can use discretion over enforcing a semi-permanent space for the vehicle to complete its job.
Creating Parking Bays
In some cases, traffic authorities can create temporary parking bays where required. In the instance of an emergency on a motorway where, authorities can create car park markings to create a clear space for the vehicle to receive repairs. This can be done using colour contrasting surfacing or cones to make it clear that other road users should stay clear of the area. Signs may also be used.
Temporary Bays
The only instance where on-street bays are required to have specific dimensions is for disabled parking and those who hold disabled badges. The spaces must be a minuum of 6.6m long and 2.7m wide (or 3m wide apart if placed in the centre of the carriageway.
For more in-depth information regarding disabled spaces in the context of on-street parking, please visit British Parking.
---
Car Park Marking Size Guide
In Gov's guidelines, it states that 6% of parking should be allocated to disabled people and gives instructions on how to effectively line and mark these spaces (this is something we specialise in at Designs & Lines).
As a general rule, all disabled spaces should be at least 3.6m in width and 6.6m long. The car park markings should be coloured yellow and include a wheelchair icon (or 'DISABLED ONLY') to clarify the spot is intended for disabled badge holders.
If you are unsure regarding how to appropriately set up a disabled car parking space, we can help with both providing advice and installing the markings to alleviate time and stress.
The Equality Act 2010
This act exists to ensure everyone understands and is able to meet the requirements to ensure motorists with disabilities are at no disadvantage when it comes to parking.
The act was updated in 2010 in order to cover all people that struggle with disabilities including visual impairments and mobility issues that may affect their ability to safely operate a vehicle. The act highlights that employers should be aware that there are varying degrees of disability and educate themselves on ways that can improve their parking regulations to meet the needs of those who require additional help.
*Note – please be aware that the Disability Discrimination Act is not longer relevant as it has been absorbed into the Equality Act as of 2010.
---
Red and Yellow Lines
Car marking lines are an essential part of parking regulations and are used to differentiate spaces. For example, standard white road lines positioned on the side of the road are used to inform people where stopping and waiting rules apply. We'll be looking at the different road colour markings and what they mean.
Single red lines – at the moment, red lines are only used in London, West Midlands, and Edinburgh but may be extended further in the future. Red lines indicate that road traffic cannot stop or wait during the times allocated on the signs above or near the spaces. This is to ensure no entry or space is blocked by a vehicle that should not be there. This is especially important in the instance of emergency services.
Double red lines – these indicate that no parking, stopping or even waiting is allowed in these areas, the only exception being medical services and taxis.
Single yellow lines – these are the most common road markings after standard white lines. Single yellow lines indicate that no parking is prohibited in this area. However, you are able to wait here, pick up passengers or unload goods.
Double yellow lines – these lines mean that no waiting is permitted at any time.
---
Parking on a Footway or Footpath
In most cases, vehicles should not park on footways, pathways, grass banks or verges as this will likely cause an obstruction to pedestrians walking in these areas. It is also worth noting that it is unlawful to park on footways in built-up areas in London as this can put both pedestrians and drivers at risk.
There are instances and areas where you may be allowed to park on a footway or footpath as long as it does not cause obstruction to pedestrians. These areas may also contain signs and symbols that parking is allowed if entirely on the verge, footpath or other indicted area.
School 'Keep Clear' Markings
The 'keep clear' markings often found in school car parks are designed to prevent drivers from parking in these areas. This is usually because these areas are either entrances to the school or school facility, bus spaces or simply to keep children safe outside.
---
UK Parking Zones
The UK features a variety of parking zones that harbour specific rules. We have labeled them all below.
Controlled Parking Zones (or CPZ) – these indicate that waiting time is limited and no parking is allowed here.
Restricted Parking Zone (RPZ) – as the name suggests, this zone has a waiting restriction and may apply to loading/unloading vehicles. Despite not having any yellow lines, there will be a sign that states the times in which the zone operates.
Permit Parking Area (PPA) – for this parking area, you will need a permit in order to legally secure a parking space. You must ensure the permit is displayed on your dashboard or somewhere clear so that a traffic or parking official can clearly see it.
Pedestrian Zones – vehicles may not enter a pedestrian zone during their times of operation. Outside of these operating hours, it's likely there will still be unloading restrictions applied. Pedestrian zones differ in their rules, so be sure to look at the sign or consult a parking official for more information.
---
Parking on Private Land
When you park in supermarkets, gyms, football grounds and medical centres, the land you are parking on is often private. In these private car park areas, signs should be present and indicate:
Who the car park is for
How long you can remain there
What permits are required to park (if there are any)
Charges and fines applied if rules are not followed
In most cases, the signs will tell you what you can and cannot do. Owners or managers of private car parks are often members of what's known as an Accredited Trade Association and must comply with the regulations within the ATA to ensure all drivers understand the signs and they are placed in easy to view areas.
For more information on the signage required please see the Trade Association's Code of Practice.
---
Local Authority Parking
Simply put, local authority parking is reserved for the government and those working within the local authority. Signs should indicate clearly that the space (or spaces) are reserved for local authority and failure to adhere to these rules will result in fines. Further information can be found on the signs or by contacting your local council.
---
Who Are Designs & Lines?
Designs & Lines are the UK's specialist thermoplastic line and design company that provides businesses and institutions with fast, affordable, and long-lasting car park marking solutions. We only use the best thermoplastic materials available and all inks we use are non-toxic and designed to retain their colour, even through the temperamental British weather!
Our team is able to install car park markings and playground lines anywhere across the UK. You simply contact our team, specify your needs and we'll do the rest! With installation times of just 20 minutes, it means you do not have to close large areas of your car park for extended periods of time.
To learn more about what we do, please visit our About Page and explore our Gallery!
We are able to install any car park markings to almost any tarmac, concrete, block paving, ceramic and metal surfaces and conform to BS EN 1436 (The European standard for road safety markings).
Do You Need Car Park Markings? Or Maybe Even a New Playground Game for Your School?
We are the experts when it comes to thermoplastics lines and designs. Whether you're looking to mark a multi-storey car park, or a smaller school car park or even install some colourful playground games.
We have the technology and industry experience to install clear car park markings for your land.
Receive your free car park quote today and transform your car park or playground with Designs & Lines.