A Host of Ideas to Get Your Playground Funding
A natural worry for any school, preschool or nursery is funding and budgeting, especially when the inevitable happens and a piece of equipment needs changing because it's worn down, or an increase in pupils means you need to build or expand the spaces that you have available. Sometimes it can be challenging to come up with the playground funding you need to improve your outdoor spaces as you would like, but help may be closer than you think.
Here at Designs & Lines, we want your pupils to have the fun, engaging outdoor spaces that they both need and deserve. That's why we've put together this guide on fundraising ideas and options that you can utilise to get the money you need to transform your outdoor play areas. Whether you need a new set of equipment, are planning on turning your spaces into more accessible playgrounds or even if you'd just like to know what support is available from the government or any organisations, we have it covered here.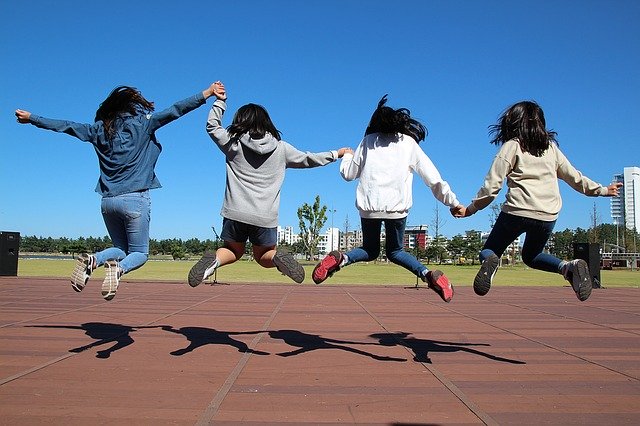 In-School Ideas to Raise Funds
When you're looking to fund new playground surfacing or play equipment, a great way to make it to the required total is by turning it into an event for your school, or even the local community in general. Getting everyone in your school, preschool or nursery involved, as well as parents, guardians and residents of the surrounding areas means that more funding goes into the pot. It also makes it a lot more fun, because you can make the event itself bigger and better!
By hosting a number of different events throughout the year, you are bound to reach your goal. Your pupils will have had a lot of fun helping out as well and, as their teacher, it's only natural that this will make you feel proud and happy with the effort that they've put in.
There may as well be an endless list of ideas for raising money, but we have listed a few suggestions of our own that are bound to put the "fun" into "fundraising":
Cake or Bake Sales
Raffles or a School Lottery
Auctions
Tabletop Sales
School Discos
Quiz Nights
Fun Days
Non-Uniform Days
Treasure or Easter Egg Hunts
Talent Shows
Balloon Races (if you'd like to keep things eco-friendly, this can be done virtually)
School Plays and Performances
School Fairs (in Spring, Summer, Autumn and Winter, or even Christmas!)
Sponsored Sports Events (Runs, Walks, Cycling, etc.)
Sports Days
Community Projects and Government Support
There are many UK charities and organisations looking to get involved with school projects, so reaching out to some of these for small grants and help with funding is often encouraged. Some of the biggest organisations that we'd recommend speaking with include:
Arts Council England
BBC Children in Need
Biffaward
Big Lottery Fund (run by the National Lottery)
Community Foundations
Community Fund
FCC Communities Foundation
FundEd
Grants4Schools
OneFamily Foundation
Sport England
Tesco
Local businesses and organisations in your area may also like to get involved, so it's always worth sending them an application to see if they will be willing to help, either with a grant or a sponsorship.
The UK government is especially eager to ensure that pupils of all ages are getting the exercise they need. As such, they've put together a grants scheme, the PE and Sport Premium for Primary Schools, that can be used to fund new playgrounds and equipment that keeps kids active. Most schools with primary-age pupils receive this grant, including:
Schools run by Local Authorities
Academies
Free Schools
Maintained Schools with Pupils that have Special Needs
Non-Maintained Schools with Pupils that have Special Needs
Pupil Referral Units
Successfully Applying for Playground Grants
If you are considering applying for funding or a grant from a big organisation, you'll want to make sure the application itself is carefully crafted and thought out. This means making sure the proposal is solid and highlights all the benefits of providing your pupils with an improved outdoor space. Just a few of the points to highlight include:
The natural health benefits of safe, fun play areas for children
How a balance of work and play will help with stress
How many pupils will benefit from the improved surfacing or equipment every week, and how they will benefit
You shouldn't rush your application, however. It is more likely to be carefully considered if you make it as detailed as you possibly can. For instance, you should be able to set out exactly what you are trying to achieve and explain why you need the playground funding (e.g., the equipment is old and needs changing, you're making your outdoor areas into accessible playgrounds, etc.).
You should also be able to describe the charity or organisation you're speaking to clearly, be concise and realistic with your ideas and know what you need to reach your intended goal. If you need planning permission for the ideas you have, or "the nod" from relevant parties (such as site owners or academy trusts), these should also be in place before you make your application.
You'll also find that applications are more successful if the organisation knows that parents, guardians and the school's governing body are behind the project. If you have raised some of the total funding you need and have a clear number for any extra costs that may be involved, such as landscaping or surfacing, they're also more likely to take the proposal into consideration.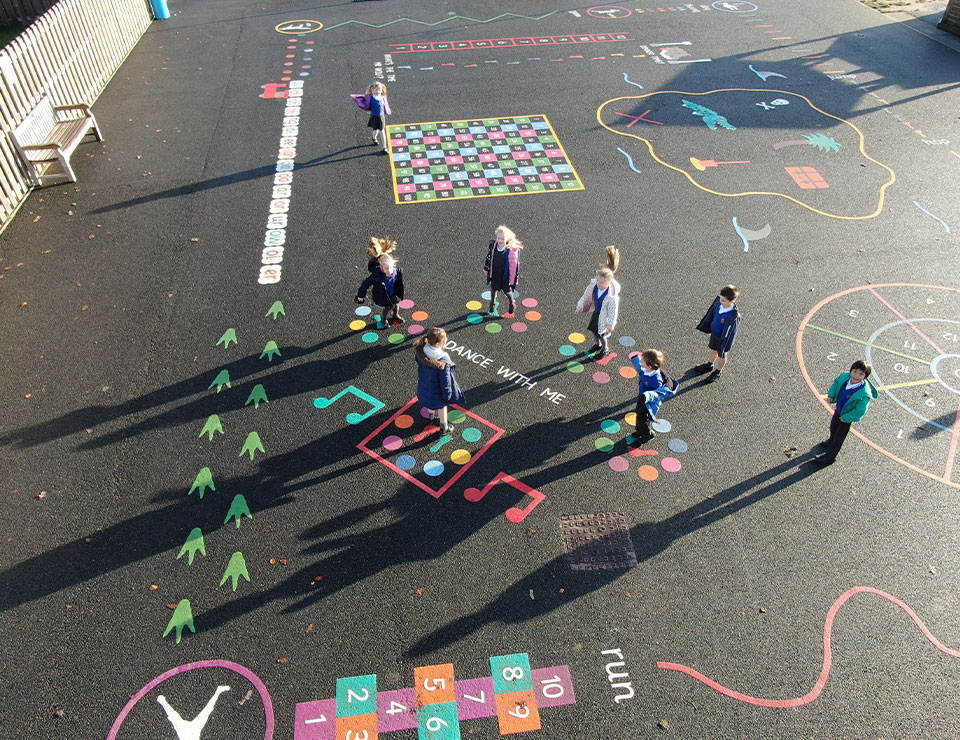 Designs & Lines' Own Playground Competition
If you'd like to get the kids involved with choosing the designs for any new playground surfacing and you're a little bit short on funds even after hosting a range of successful events, then we may just have the solution. Here at Designs & Lines, we regularly set up design competitions for schools across the UK, getting students of all ages thinking creatively as they come up with games and pictures they'd like to see on their playground. Each school then sends us their best designs and we will install the winning entry on that school's playground for free.
Check-in with us regularly to see when we'll next be holding our competition and get ready to enter. We're more than certain that your pupils will be able to come up with a fabulous selection of games, and that they'll look wonderful when they're installed in your school's play area.
Let Us Bring Your Playground to Life
When you have gathered together the grants and funding you need to transform any and all outdoor spaces in your school, preschool or nursery, get in touch with us here at Designs & Lines to pick out your perfect set of playground markings. Our Thermoplastic designs are all non-toxic, made from quick-drying inks and will be ready for use in no time. They're also easily installed on most school playground surfaces and count as a form of safety surfacing, making them ideal for accessible playgrounds if you have any pupils with special needs.
Our team will be ready and waiting when you call to discuss what you'd like, and can even assist if you have a bespoke design in mind, or need certain specifications to fit your new markings around awkward playground dimensions or currently installed equipment. They'll also be happy to answer any questions you might have, as well as talking you through the ordering and purchasing process if you need help with this.
We also do everything we can to keep our service as hassle-free as possible, so that you can keep your focus on the most important part: teaching your pupils. This means we'll handle most of the work; all you'll need to do is place an order for the markings you'd like, tell us where they should be installed and we will take care of everything else from there. From arranging a site viewing if needed, to getting your markings swiftly installed, we can give you an entirely new outdoor space in no time at all.