Set Up for Sports on Artificial Grass
At Designs & Lines, we understand that you'll always be searching for ways to keep your school pupils fit and healthy, and to keep them active with games and sports. This might mean improving the space you have available, which we are more than capable of helping you with by setting you up for sports on artificial grass.
Our high-quality imitation grass offers you the space you need, all year round, with its safe surface, hypoallergenic properties and ability to withstand even the hardest of kicks during the rowdiest rugby match.
If you're interested in setting up a new sports pitch in your outdoor area, or even if you're thinking of transforming the space that you already have, contact our team of artificial grass suppliers and installers today. We'll be ready and waiting to discuss everything you need, from specifications and your site's dimensions to answering any questions you may have about our products and services. Our team can prepare your purchase for fitting as soon as you've placed your order.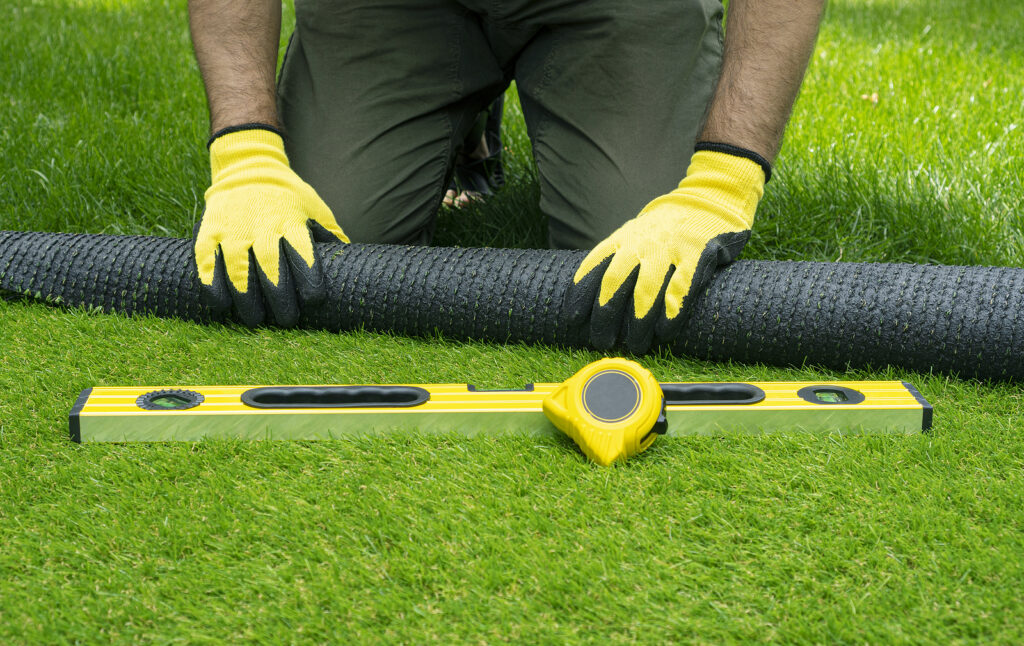 Synthetic Turf Layers: Perfect for Playing Fields
To help them get set up for a regular fitness routine, it's important to help kids find a sport that they love as soon as they're ready to begin their PE lessons. Keeping primary school children active may not be an easy task, but it is made easier when you can play sports on artificial grass. As the product replicates a real grass field, you can use it for a range of activities that will see your pupils having fun and keeping fit. This will help them settle into a routine of exercise, and you will be given the opportunity to teach them a number of different sports.
As your pupils get older and the games and sports they play start to become that little bit tougher (for instance, rugby), you'll find that softer, but more durable surfaces become ideal for sports. For instance, the artificial grass we provide is thick, which minimises the risk of injury. The hard-wearing material and lack of dirt underneath the turf means that it can't be kicked apart or churned into mud and made unusable, either. This means that you'll be able to spend as much time outside as the weather here in the UK will allow, and your fields will always remain ready for the next game.
Because astro turf-like materials are designed to withstand even the most boisterous of games and sports, you'll also be pleased to discover that they're value-for-money and very cost-effective for your budget. This is because artificial and imitation grass won't need mowing or watering, and its durable nature means it won't need to be replaced as often as the real thing.
Sports You Can Play on Synthetic Grass
We understand that the notion of artificial turf might be new to some and that not everyone will be aware of all the games and sports that can be played on it once it's been installed. Because artificial grass is designed to replicate the look and feel of the grass you'd find on a real sports field, you'll be delighted to learn that you can play practically any game or sport on it. However, there are some sports which are more popular for playing on Astro turf-like surfaces.
Some of the most popular sports and field events you'll find being played on artificial pitches in the modern-day include:
Football
Rugby
Cricket
Rounders
Baseball and softball
Field hockey
Lacrosse
Tennis
Badminton
Golf
Athletics
Why Pick Your Pitches and Field Surfaces from Designs & Lines?
We are proud of the work we do as artificial grass suppliers and playground marking fitters, having helped over 10,000 schools across the UK so far to put the fun back into their fitness routines. We think we can do the same for you as well, giving you an entirely new, durable field to set up football, rugby or cricket pitches to suit your students' needs. They'll also be ideal if you need a highly durable area for practising athletic events at any time of the year.
Below, we've noted just some of the reasons we think we'll make the perfect partnership, whenever you're thinking of playing sports on artificial grass:
We are an independent firm and we have a wonderful reputation as suppliers and installers of playground markings and artificial turf
We have worked in our industry for over 20 years, gathering an array of specialist knowledge and skills in the meantime
We've had the pleasure of working with schools, nurseries, children's centres, local councils and other organisations to bring their ideas to life
We'll be happy to adapt your new grass surfaces to suit the dimensions of your outside space, fitting them anywhere you need
Our fully trained and committed team of installers will be ready and waiting to deliver your purchase, fitting it to your exact expectations
Your artificial grass can be measured and cut just as you need it, no matter if you only need enough room for a cricket pitch, or you're thinking of teaching your students to play rugby
We're a price-competitive company, so if you find a cheap quote for a product like ours, we'll be more than happy to match it
Get in Touch and Get Started on Your Games
Whenever you need new, durable surfaces to teach your pupils PE or to let them play sports, Designs & Lines can be there to help. Our artificial grass is ideal for setting up sports pitches, preparing for field events, or even simply for exercising when the weather is nice enough to take a lesson outside.
Our premium grade, Astro turf-like product will not tear, cannot be kicked up and will never get squashed down into mud. So, you'll save time and money that might be spent repairing the damage, and can use the space twice as often. It'll also stop your pupils from bringing mud into the corridors before they reach the changing rooms!
We understand that you're busy taking care of the most important things (teaching your classes), so we'll do everything we can to make the ordering process as hassle-free as possible. All you'll need to do is get in touch, tell us what you'd like and where you need it to be installed. We will handle everything from there, completing an installation that will see your new artificial grass ready for its first PE lesson when the kids are next in school.