It can be difficult to find an artificial grass quote here in the UK that keeps to your budget while offering the good quality turf you need for your kids to charge about on and burn off energy every day. That's why we're ready to step in and help, by offering premium quality artificial grass and a professional supply and installation service that is cost-effective and entirely value-for-money.
We'll be happy to provide you with a free quote if you already know what you need for your patch of the great outdoors, so contact us when you're ready to find out how our work will help your budget.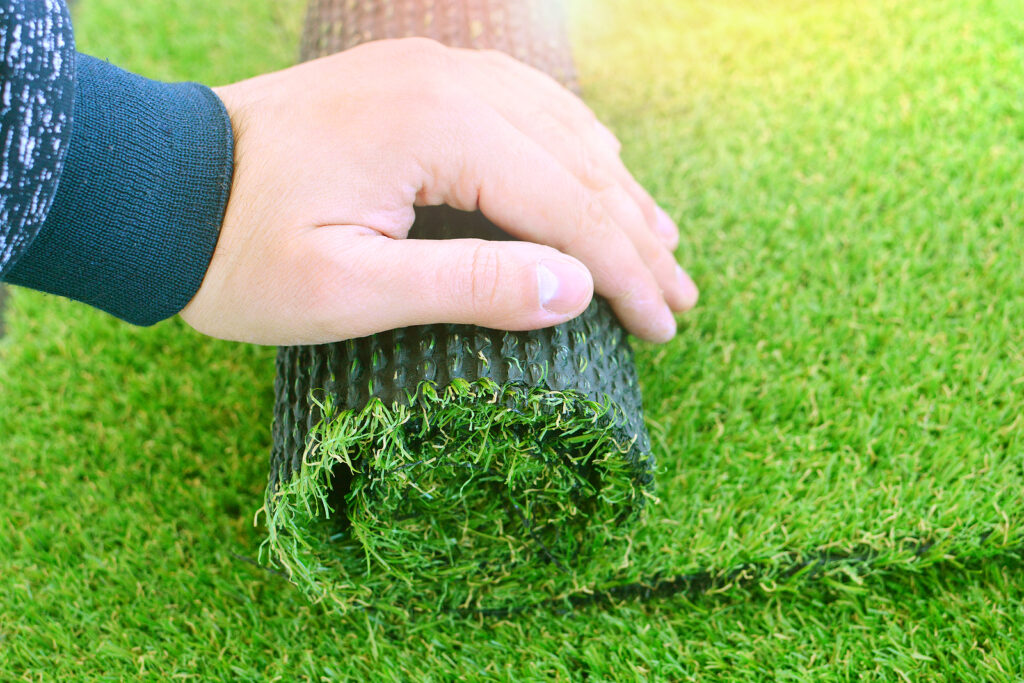 Getting an Installation Quote From Us
Here at Designs & Lines, we offer completely custom prices for laying artificial turf on outside surfaces. As such, we cannot offer an average on installation costs for your own outdoor area without first knowing what you'd like and the dimensions of the place you'd like to transform into an evergreen playspace and sports hub.
We understand that this may worry you, as it seems easy to simply plan the cost of your own synthetic lawn or field installation by looking online and working out how much you'll need, then paying per square metre. However, this can often lead to you doing a lot of the work by yourself. When you come to us and ask for help with supplying and laying artificial grass, we will work closely with you to calculate the cost of your purchase.
This will include helping you to work out the dimensions of the space you have available, so you won't have to worry about taking too much time out of your day when you have more important things to be doing. Once we know how large or small your space is, we'll be able to offer you a quote. Contact us to get started and we'll schedule a time to travel to your location and take a look.
How You Save Money with an Artificial Grass Installation
Once we've fitted your synthetic turf where you need it, you'll be pleased to discover that it's extremely cost-effective, as well as value-for-money. You'll soon find yourself saving more money than you spent on it, as your budget will no longer be held back by maintenance fees and upkeep. Parts and patches won't need taking out after a big football match or rugby game anymore because the turf is so durable it won't be kicked to pieces, it'll never need mowing or landscaping, and our 10-year guarantee means you won't have to think about replacing it for a long time to come.
At the very most, your fake grass will need regular raking and brushing to keep it looking lively and upright (just like real grass), and may need a spray of weedkiller twice a year to prevent unwanted plants popping up. To learn more about what you can do to keep your turf in its best condition and save on the costs of potential repairs, please see our page on artificial grass maintenance.
Finding High-quality Artificial Grass
Artificial grass costs vary depending on the quality of the product itself. If you want to be sure you're paying for something that's going to look good, last, and act as the soft play and sports space you want for your students, you're going to need to know what to look for. This includes checking:
The pile height of your artificial grass (the height of each blade)
The density of the grass (or how many blades of grass there are)
The thickness of the blades (if they're wide or thin)
How spongy and springy the grass is (this usually goes up if it is very dense)
The yarn shape (whether the blades are curly or flat)
The colour (if it's completely green or if there is brown thatch, which makes it look more realistic)
The physical weight of the product
Our Installation Process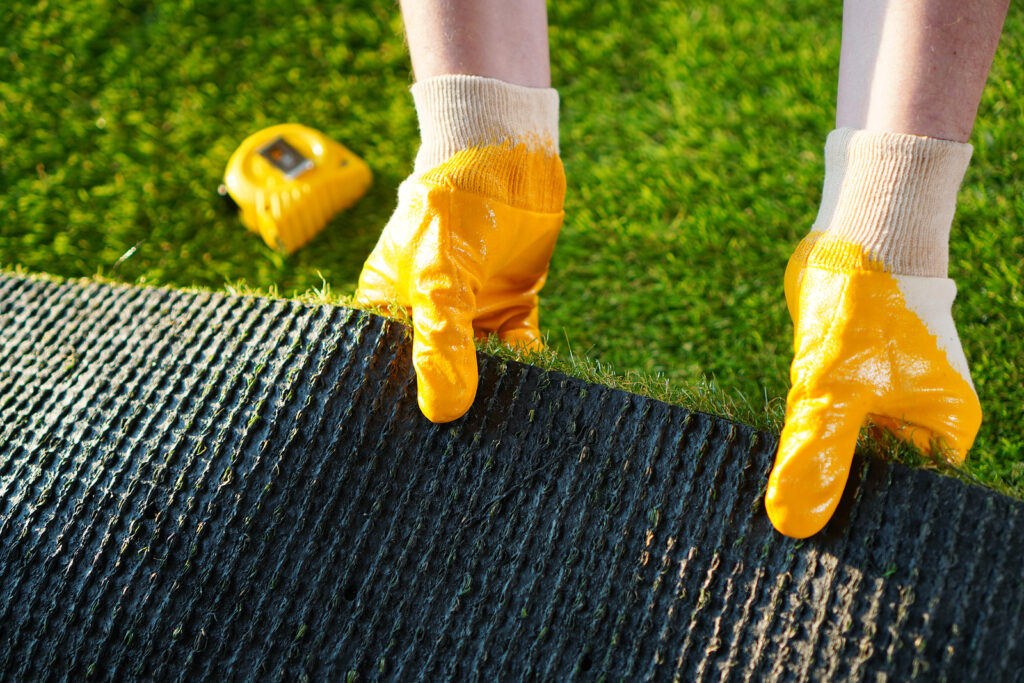 You'll get to see our years of experience in laying outdoor surfaces at work when you choose us to carry out an installation of fake turf. This includes making sure you receive everything you need and could possibly want from our service. Our dedicated team of professional installers will even travel to your location (anywhere in the UK) and help you to work out the dimensions of your outdoor space!
Once we know what you need for the area that you have, we will begin laying out your artificial lawn or field. On top of an existing turf, this will involve:
Using a turf cutter to remove the grass and a layer of soil
Compacting the ground to make the base flat, so the new turf will sit neatly and evenly
Putting down a weed membrane to prevent weeds from growing and coming through
Installing edging (this may depend on the borders of your outdoor space, so we'll take a look before doing this)
Laying the synthetic turf and cutting around the edges, joining pieces where needed and pinning the grass to secure it in place
If you need us to secure your turf onto concrete, we will instead:
Lay out the turf as you have asked (a little bit like a carpet)
Cut and fix around the edges with bonding or screws as needed
We will work as quickly as possible to ensure your new lawns and fields are ready for use right away, saving you time as well as money that might've been spent on a slower service.
Other Benefits You'll Find with Artificial Grass
More and more in the modern-day, schools and other organisations are turning to artificial lawns and fields for their outdoor spaces. This is because, alongside all the financial benefits you'll gain from having the layers installed, there are a number of other advantages to having a completely synthetic field, pitch, or lawn fitted for your own outdoor space:
Our grass is UV protected, highly durable and hard-wearing, so it can't be kicked apart or dug up by animals, keeping it neat and green
As the grass isn't real it's completely hypoallergenic, meaning everyone can play on it and enjoy it without worry
The silica layer means the grass is dirt-free, so your pupils (and classrooms and corridors) will be kept free of mud as well
The silica also makes the grass a form of safety surfacing, as it prevents burns when someone slips or skids over on it
The grass will also never be affected by the seasons, meaning you can use it all year round and it will stay green for many years to come
It looks and feels as good as the real thing
Why Choose Us to Lay Your Artificial Lawn?
We love what we do, and we are proud to have fitted artificial grass and other surface materials for over 10,000 schools across the UK. We've had the pleasure of helping them get the fun, safe places they need for their kids to exercise, play, and learn outdoors, all while saving money with cost-effective and long-lasting artificial turf.
We think that we might just be the professional installation team you need as well, and we've listed a few of the reasons why below:
We've worked as an independent firm for over 20 years, helping our customers to fit a range of high-quality turf and playground surfaces
Over the time we've been in business, we've been able to assist schools, nurseries, children's centres and organisations, and even local councils, with everything they needed for sports, fun, and games
Any of our artificial turf layers can be adapted and fitted as you need them, and we're more than happy to take your own specifications into account
We'll work around your busy schedule, and can even arrange to come on the weekend if this suits you best
We're also glad to say that we're a price-competitive firm and offer a price match promise, so if you find any artificial grass prices online that are cheaper than our quote but offer a product that's similar in quality, we'll be happy to match them
Get in Touch for an Artificial Grass Quote
Contact us online when you're ready to transform your outdoor space into a neat, green, safe outside area for sports and games of all kinds. As your specialist team of installers, we'll be ready and waiting to take care of everything as soon as you've heard your quote and placed your order with us. All you'll need to do is tell us where you need your new lawn and arrange a day for delivery and installation.