Everything You Need for Primary School Football Games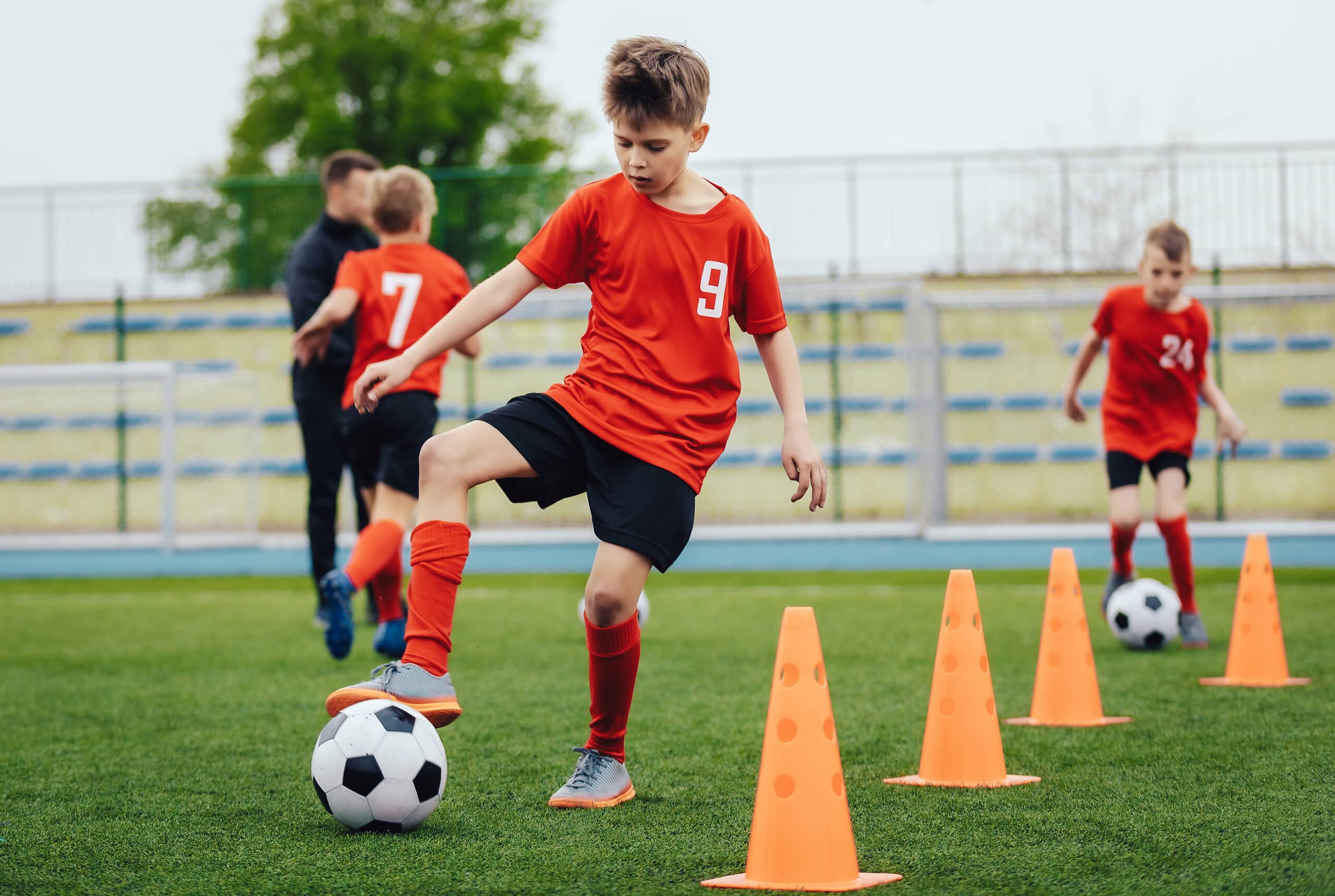 At Designs & Lines, we've got a fantastic selection of football kits, goals, flags, and other bits and pieces to make your primary school PE games the exciting exercise routines you want them to be for your kids. Find everything you need for your planned primary school football matches here and be ready for kick-off in no time at all!
Explore what we have to offer below, or get in touch with us and speak to a member of our team about what you'd like to make your lessons the best that they can be. We're always prepared to help and answer any questions you may have, and we can even work weekends if that's what you need to get your equipment and indoor or outdoor space ready in time.
All the Gear and Equipment for Primary School Football
We've got everything you need to get your primary school pupils playing football and learning everything they'll need to know about the game, all while having fun, keeping fit, and staying healthy. They're also likely to pick up a few extra skills on the way, or to develop their accuracy and their social skills through teamwork.
Here, we've set out a list of everything we'll be happy to supply to help set up your school's very own Premier League:
Corner flags
Folding benches
Footballs
Goals of different sizes (including foldable goals)
Mesh ball sacks
Training bibs
The Perfect Lines and Surfaces for Football Pitches
If you're all kitted out for equipment but still think that your school could use a dedicated outdoor space to help teach your kids football, we've got a great selection of options that are bound to suit your needs.
Whether you're worried about the constant costs of maintenance because your field keeps getting torn up by trainers and churned into mud after bad weather, we've got the answer. Alternatively, if you'd prefer permanent sports lines and markings on your playground so you can easily teach your pupils about the different zones of a pitch, we'll be ready and waiting to provide them.
We can supply as much premium-grade artificial grass as you need to turn your outside space into a permanently green (but never muddy) field for football matches, or we can install a series of brightly coloured sports court lines and markings to help transform your playground into a sports hub. Both these options offer long-lasting solutions for children's games and PE lessons, so you won't even have to think about getting in new turf or repainting lines for a long time to come!
Why Choose Us to Kit Out a Kids' Football Team?
We're proud of what we do, and we love that we've been able to work with over 10,000 schools across the UK to provide the football kits and other equipment they need to teach children all about the Beautiful Game.
With our help, they've transformed their outside spaces and helped their pupils find fun and excitement while staying fit and healthy, and we think that we can do this for you and your PE classes as well.
Below, we've listed just a few of the reasons we think we're the firm you need to turn your class into a skilled football team, and to help them find a fun sport that they'll love in their spare time as well as in their lessons:
We're happy to have worked as an independent company for over 20 years, with years of experience in the supply and installation of high quality football equipment, sports markings for playgrounds, and premium-grade artificial grass
We've worked with a large number of different customer types, from primary and secondary schools to nurseries, children's centres and organisations, and even local councils
Our products can be used for indoor and outdoor sports, so you'll get to use the kits and the gear, whatever the weather is like on the day
The vibrant, durable thermoplastic lines and markings we've got for sale can easily be fitted to your playground over the course of a day, as well as designed to accommodate your outdoor space
Our artificial grass can be fitted to most of your outside surfaces, as well as cut to fit any awkward or unusual dimensions
We've got a fully trained team of suppliers and installers who'll be happy to come to your location, carrying out a swift delivery and professional installation at any time you need
We're also price-competitive, so if you find primary school football kits, gear, or equipment that's similar in quality but a more affordable price, we'll be happy to match or beat it
---
Get in Touch for Primary School Football Gear Today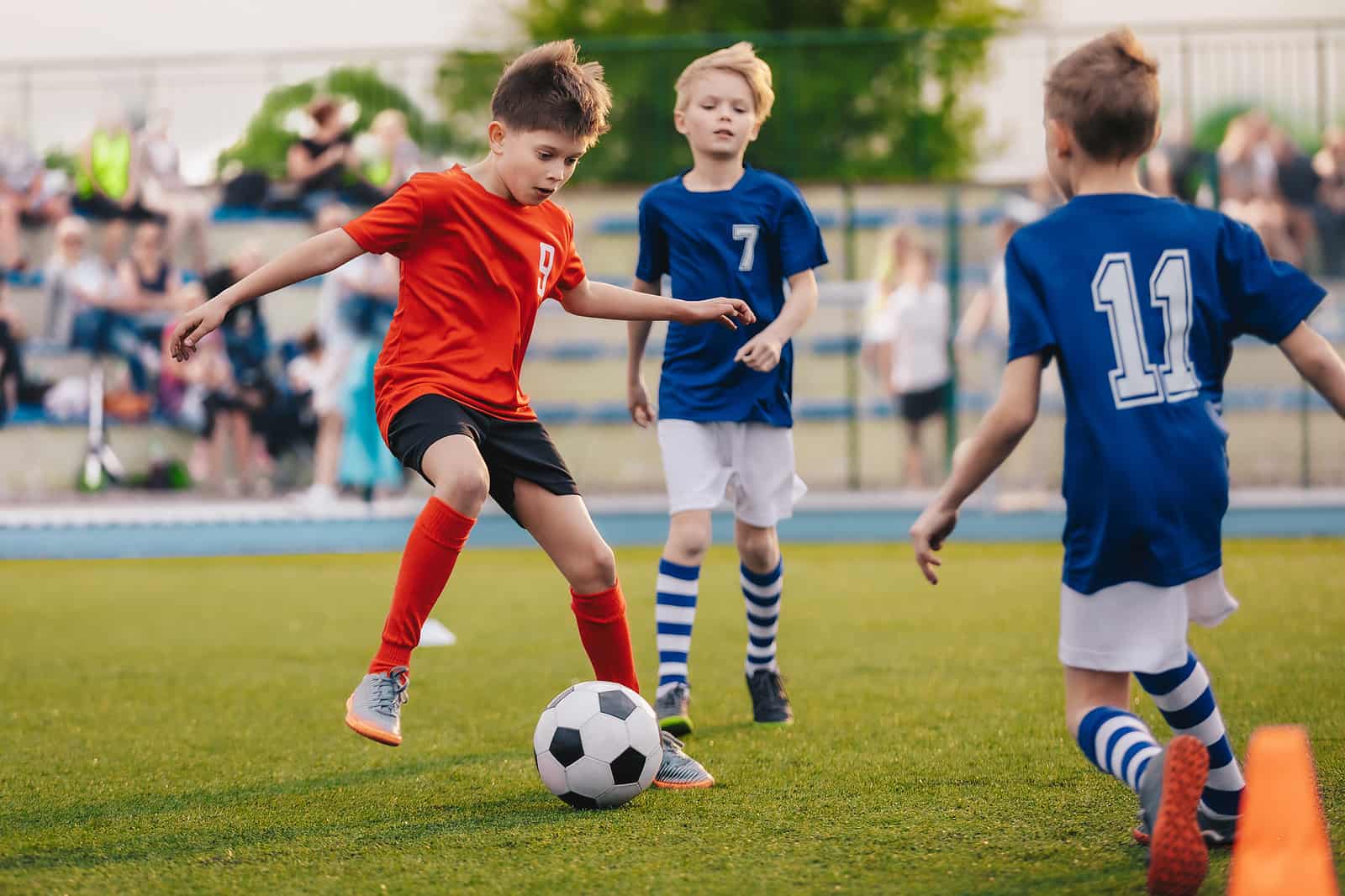 If you're ready to introduce your youngest pupils to the basics of football, or even if you want to include the sport in PE lessons for your older kids and need everything set up just right to teach them the rules, contact Designs & Lines today. We've got all the gear and equipment you need to turn your class into their own football team, or even teams if you're planning on setting up matches to make fun, memorable lessons.
Give us a call or send us an email today and one of our friendly team members will be ready to talk about everything you'd like to order, from children's bibs and kid-sized goals, to lines and grass for those perfect pitches. We'll take care of everything from there, and you won't have to worry about getting too involved while we transform your sports space into the football hub you've been imagining.