Car Park Line Marking in Sheffield | Bespoke Markings & Guaranteed Savings
Whether you're in charge of managing a school in Dronfield and are looking to renovate the car park, or you're in charge of installing new markings in a multi-storey car park, Designs & Lines have you covered.
Our team of marking specialists have over 15 years' experience in designing and installing a range of car park markings across Sheffield. From Stocksbridge to Staveley we have helped a range of customers choose and install car park markings that fit their requirements.
Choose from a range of colours to make your car park unique and combine this with personalised spaces (if you so choose). We pride ourselves on being the most affordable car park line specialists in Sheffield, so if you find a company that beats our quote, we'll match it! Every car park installation is priced bespoke to the customer's needs, so you can rest assured you're getting the best value for money.
The rest is simple, all you need to do is get in touch with our friendly team via phone or contact form and explain your requirements, we'll do the rest. Receive your free quote today and begin transforming your car park.
Make the smart decision and save yourself a small fortune by trusting the experts at Designs & Lines. We know we can bring down your car park line marking costs, so get in touch today to receive your free quote or explore our gallery for some inspiration.
Additional benefits that come with our Sheffield Car Park Linings
Alongside our competitively-priced car park linings, we also provide customers in Sheffield with various other perks that become available upon purchase. Take a look below:
Matching and beating any price
Exceptional quality and long-lasting markings (4 year warranty which is the maximum)
Over 20 years experience
5-star customer service and satisfaction
The installation process is also designed to be swift, easy and minimally invasive to ensure you're able to continue with your daily activities.
We install car park line markings in the following areas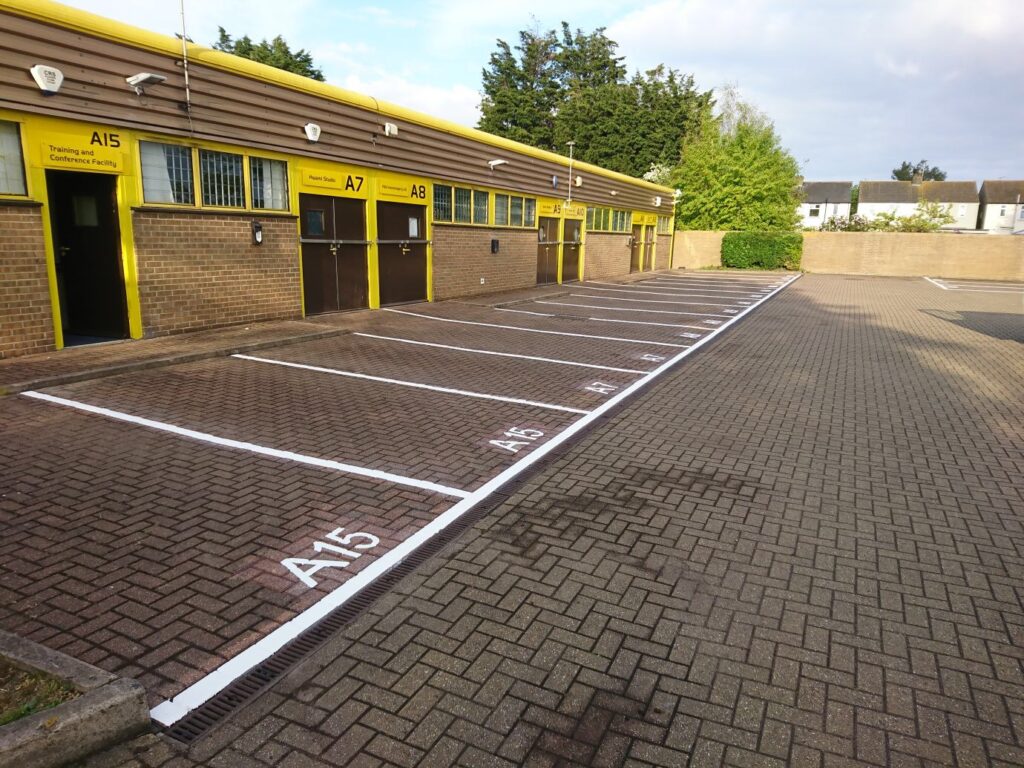 Customers in Shellfield will be pleased to know that our car park services extend to almost every outdoor area and can be customised to any requirement. Whether you require lining in a large supermarket car park or a small residential car park area, there's no job too big or small for Designs & Lines.
Take a look below at some of the areas we've covered across Sheffield:
Supermarkets
Parent and child parking bays
Car parks, including multi-storey and underground parking
Warehouse bays
Pedestrian and cycleways
Hatched areas
Factory floor markings
Disabled parking spaces
Safe pedestrian walkways
*We don't just undertake work in car parks, we also install bespoke lining services in schools and lines can be installed on almost any tarmac, concrete, tarmac concrete, block pavement, ceramic and metal surfaces.
Get in touch with our friendly team today.
How Much Will it Cost?
As previously mentioned, we strive to continue offering customers the most affordable car park lining services in Sheffield. Each job is priced individually, as this depends on the size of the car park, colours used and personalisation requirements (such as names, numbers etc). However, we will be able to give you a direct quote as soon as you get in touch with us and explain a few details of where we will be line marking.
At all times during installation, our team will be on-hand to provide advice and support should you need it.
What is the Installation Process?
The installation process is fast and simple and we take care of it all. The inks we use are non-toxic and take approximately 20 minutes to dry, meaning you won't have to close your car park for the day. We can also install the linings at any time or day, simply inform our team on what time suits you and we will get to work.
Additionally, as long as the surface we are installing our markings on conforms to theo BS EN 1436 (The European standard for road safety markings), we can install it!
The Legal Bit
Every car park line marking task we undertake strictly follows the laws governed by the UK standard car park marking regulations. Our installation techniques and materials adhere to UK laws and you can rest assured you will be receiving the best service from our experienced markings specialists.
Call Us Today for a Professional Car Park Quote
When you contact us to book your time and date for car park marking in Sheffield, we will take care of everything from preparation to installation. We also guarantee that you won't be able to find another car park line marking company who can beat our prices or our quality, if you find a cheaper quote, we will match it! With a variety of colours and customisation options available, we're sure you will find car park line marking that suit your needs in Sheffield.
Receive your free car park quote today and transform your car park with Designs & Lines.