The Installation of Athena's Winning Playground Design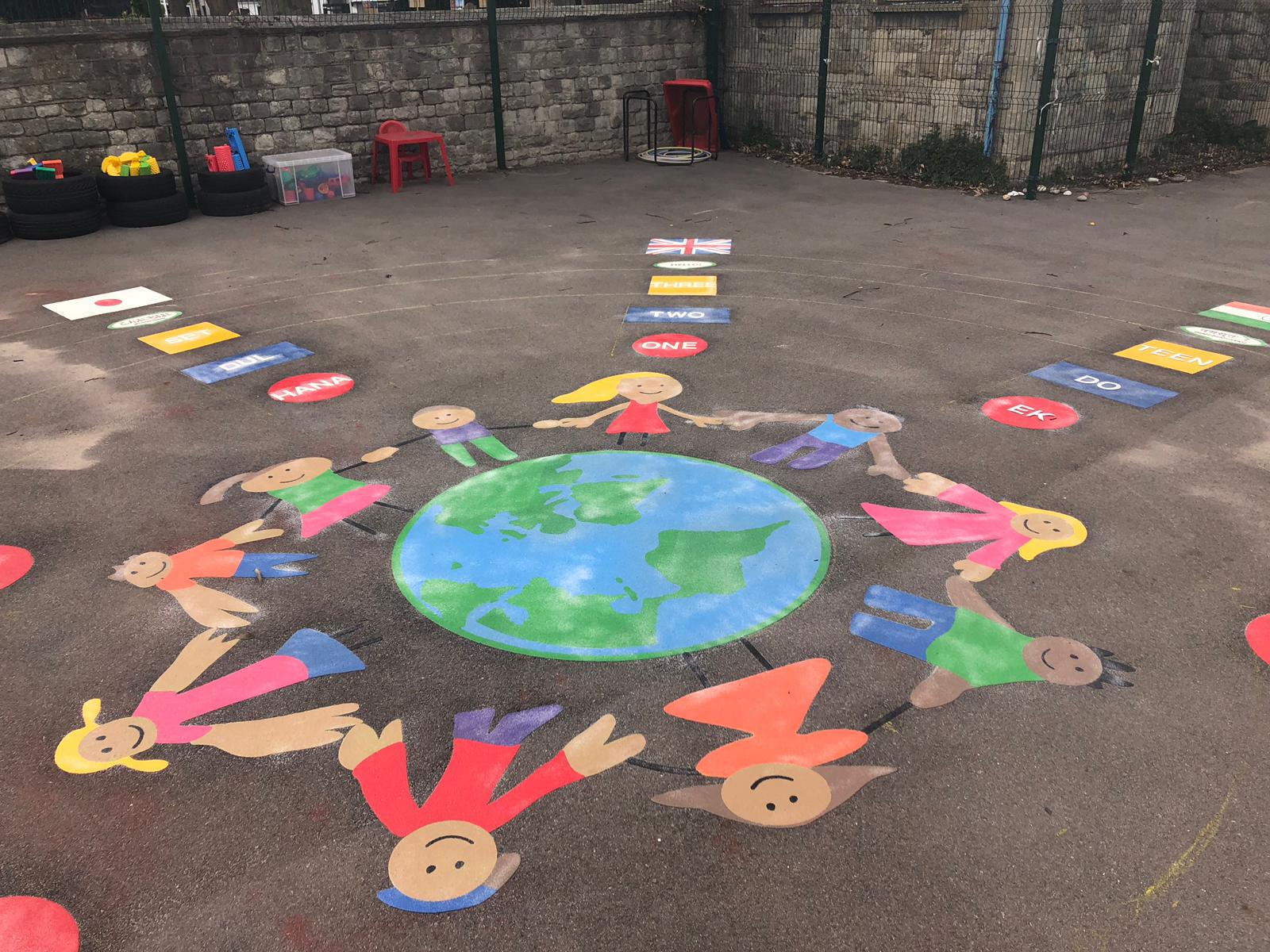 It was last year that we launched the Designs & Lines playground design competition. Open the students around the UK, we asked for budding applicants to send in their best playground game designs to our team. The winner would be chosen by our playground design experts and have their design installed on their school playground.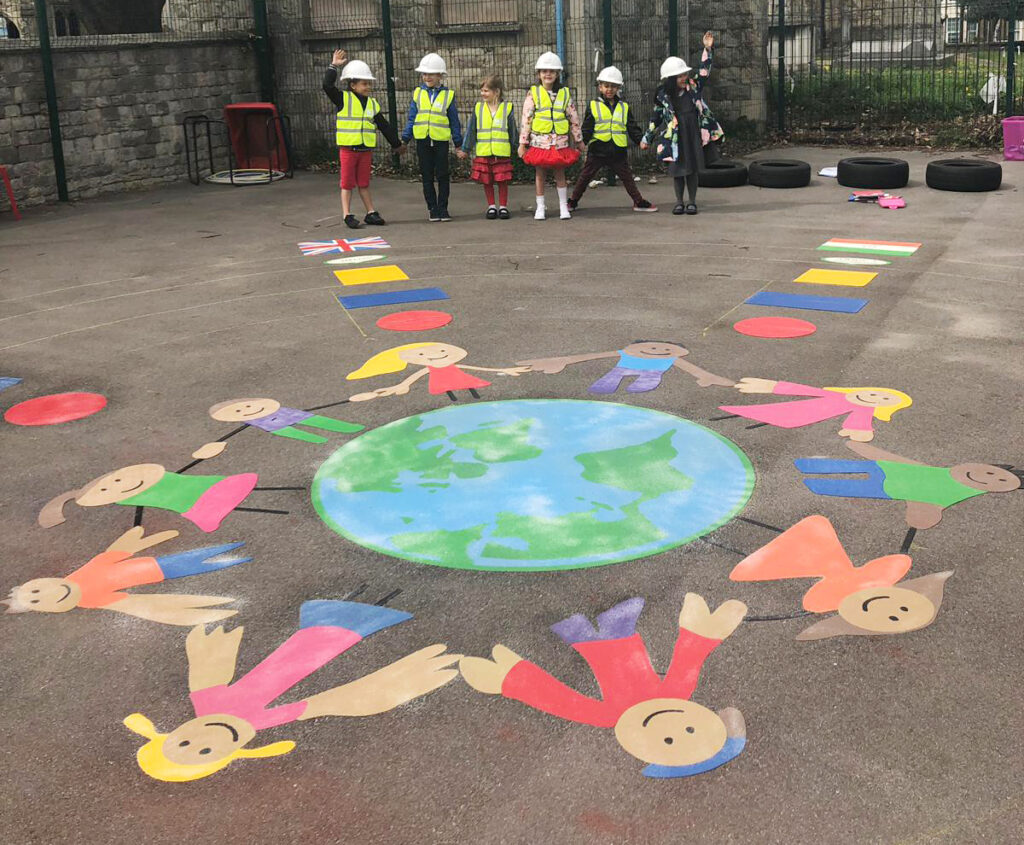 After all, who would be better at designing school playgrounds than the children who play in them?
On December 5th 2018, the Designs & Lines team travelled to St Mary Prittlewell's school to meet 6-year-old Athena – the winner of the competition! Athena had designed an incredible playground game that incorporated learning with fun, something we are passionate about here at Designs & Lines.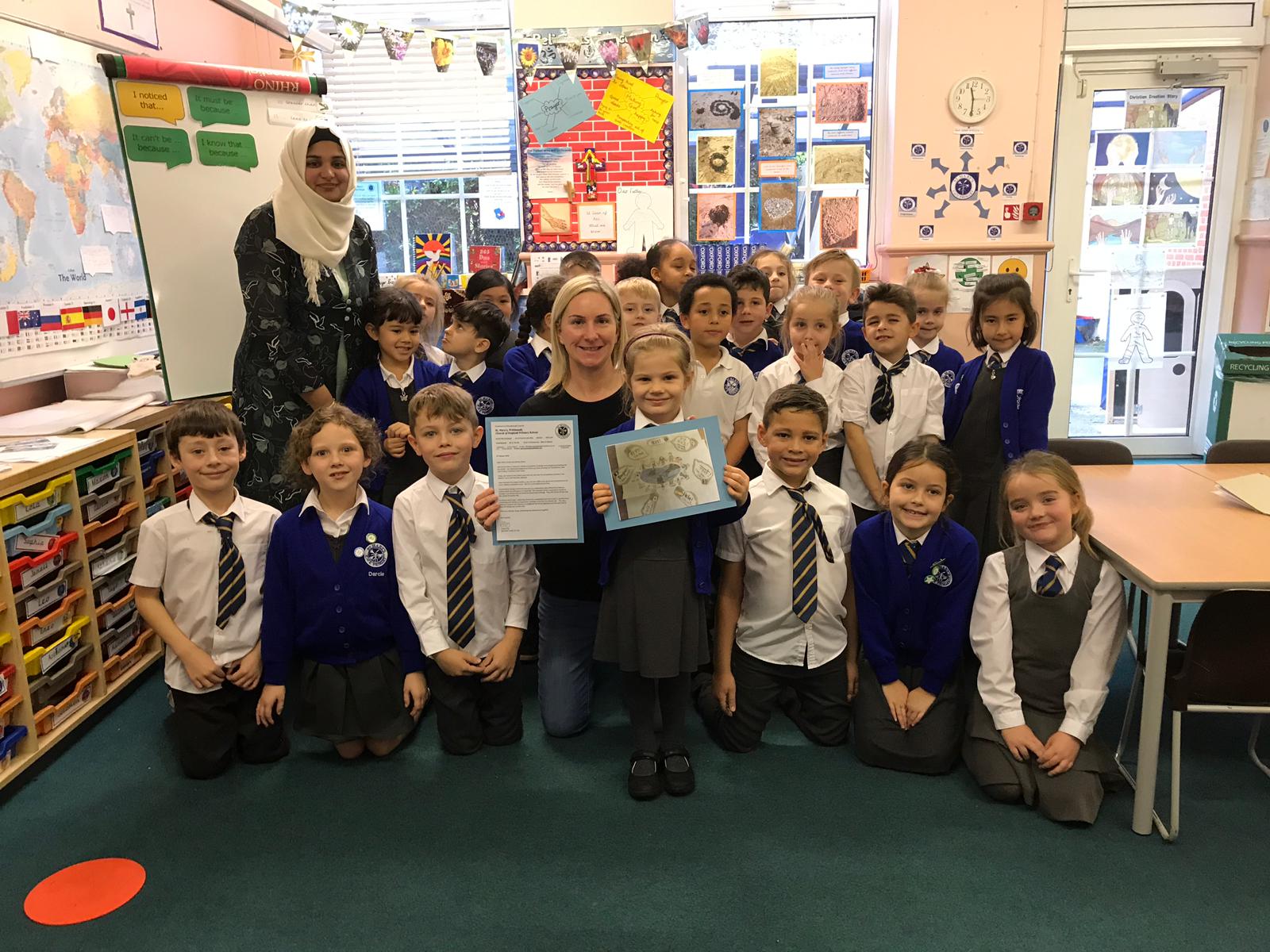 The Designs & Lines Team Visit Athena's School
Back in December we visited Athena's school to assess the playground space and carry out our measurements. Carrying out site visits is important to us as it helps our team get a good idea of the space, what we're working with, and how we can best transform the playground.
During our visit we were shown around the space by Athena, her teachers, and classmates. At Designs & Lines we are always passionate about sharing our love for playground design installations for others. So, when the students expressed an interest in helping out, we let them help with measuring and suggestions. And together we found the perfect place for Athena's beautiful design.
Our Designers Worked with Athena
We were keen to ensure Athena's playground design was installed exactly how she wanted it. That's why we sat down with Athena and her classmates during our visit to discuss her design. As we talked through ideas, Athena was keen to make a few adjustments to the colours and shapes. And before long we had the design drawn up on our computer software, just how she wanted it to look.
It was a wonderful opportunity to work with Athena, see her creativity first-hand, and let her take the lead on such an exciting design project.
Working with Athena really delighted our team and the way she incorporated her passion for learning with play really inspired us. You can read more about our visit to her school here.
Designs & Lines Install Athena's Winning Playground Design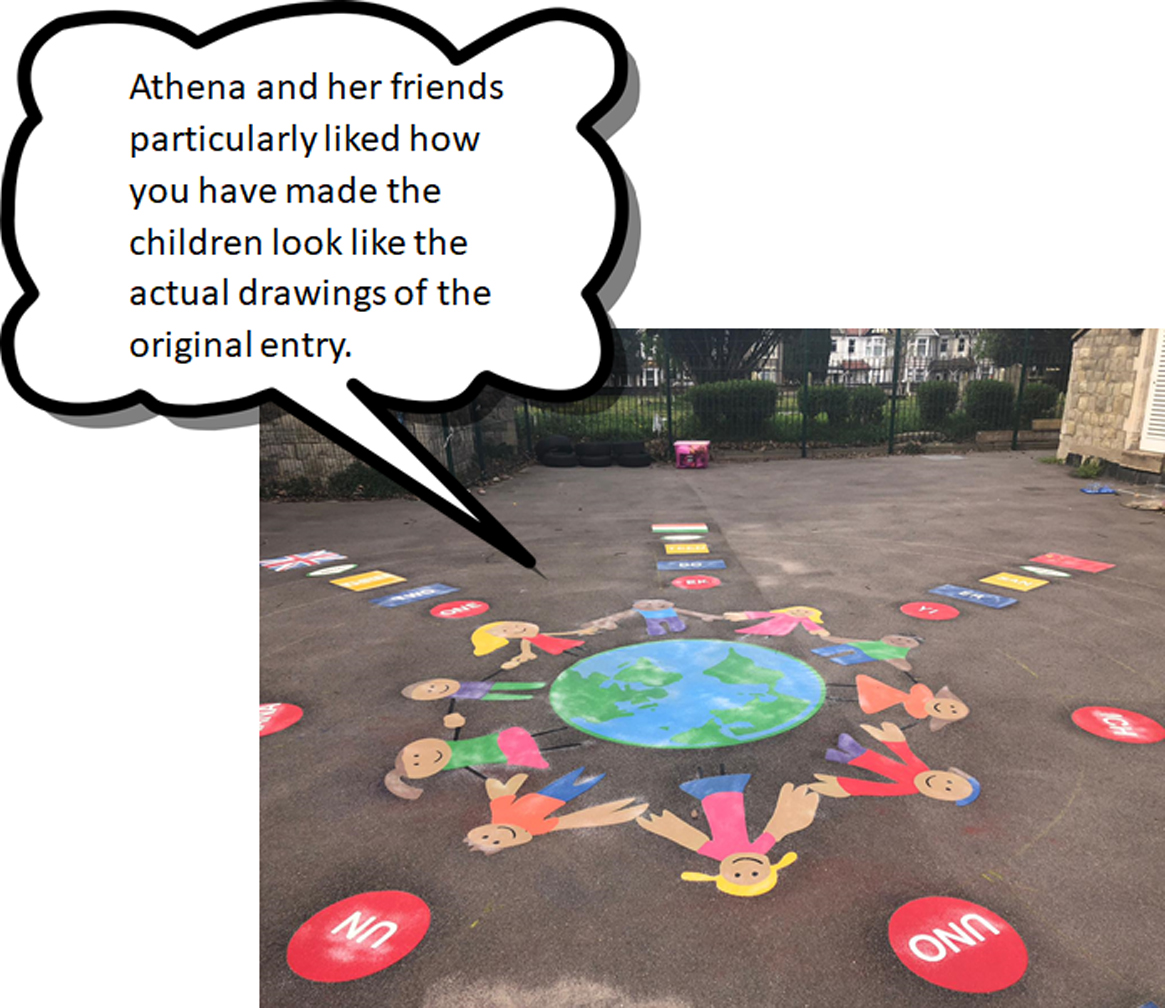 On Tuesday 24th April we arrived back at St Mary Prittlewell to carry out the playground design installation. To give our team plenty of time to install Athena's design to the highest standard, we arrived at 9am.
The teachers greeted us with enthusiasm and told us how excited Athena and her classmates were about the installation. We were then shown to the playground and our team set to work.
The Children Joined Us to Help with the Installation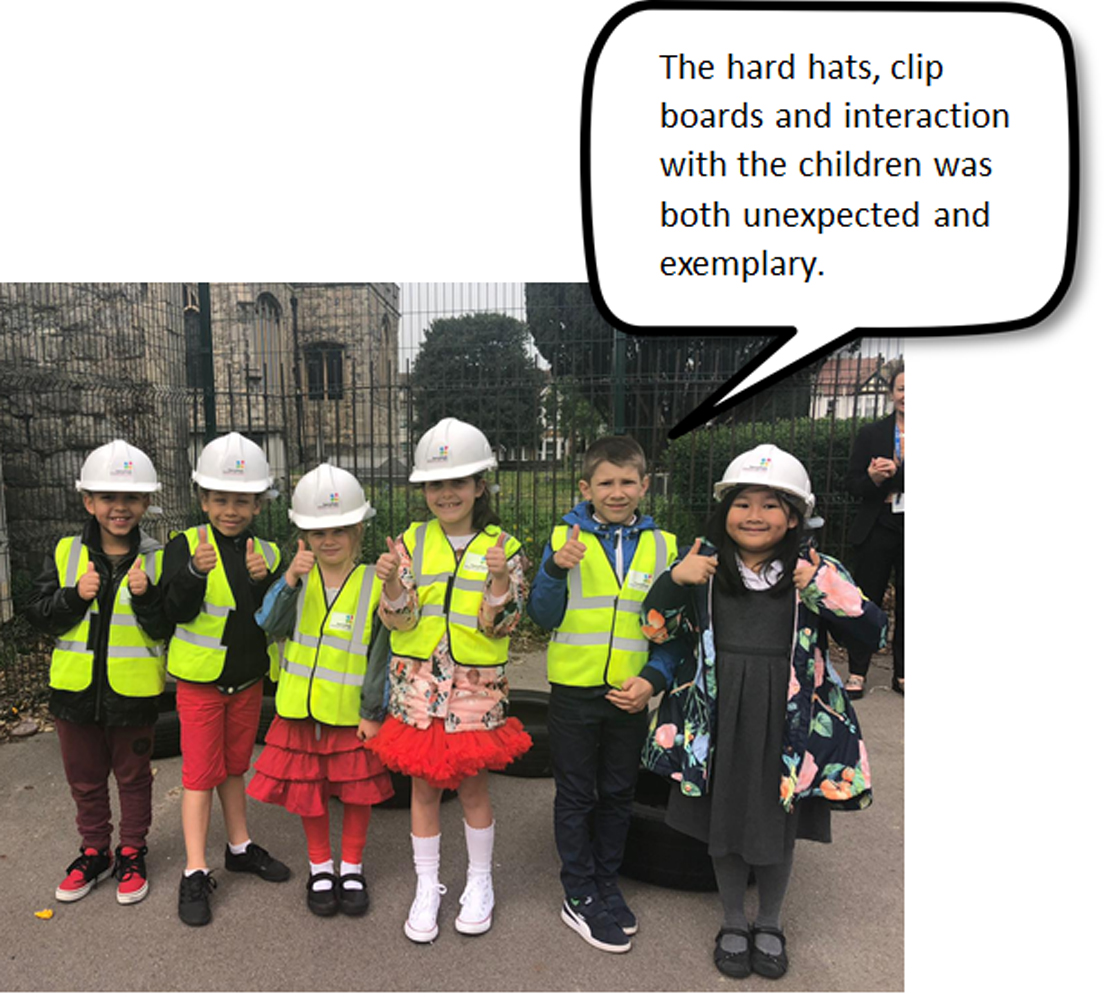 While the children were all very excited to work with us and see the installation itself, unfortunately they could not join us until the early afternoon because of their lessons. As we were carrying out the installation, we could see some of them peering out of their classroom windows, keen to finish their lessons and get outside.
When Athena's class were released from their lessons, they excitably came to join us and see our progress. By this point, we had already completed most of the design. However, we were excited to involve the children in the process.
Teaching the Children About the Importance of Site Safety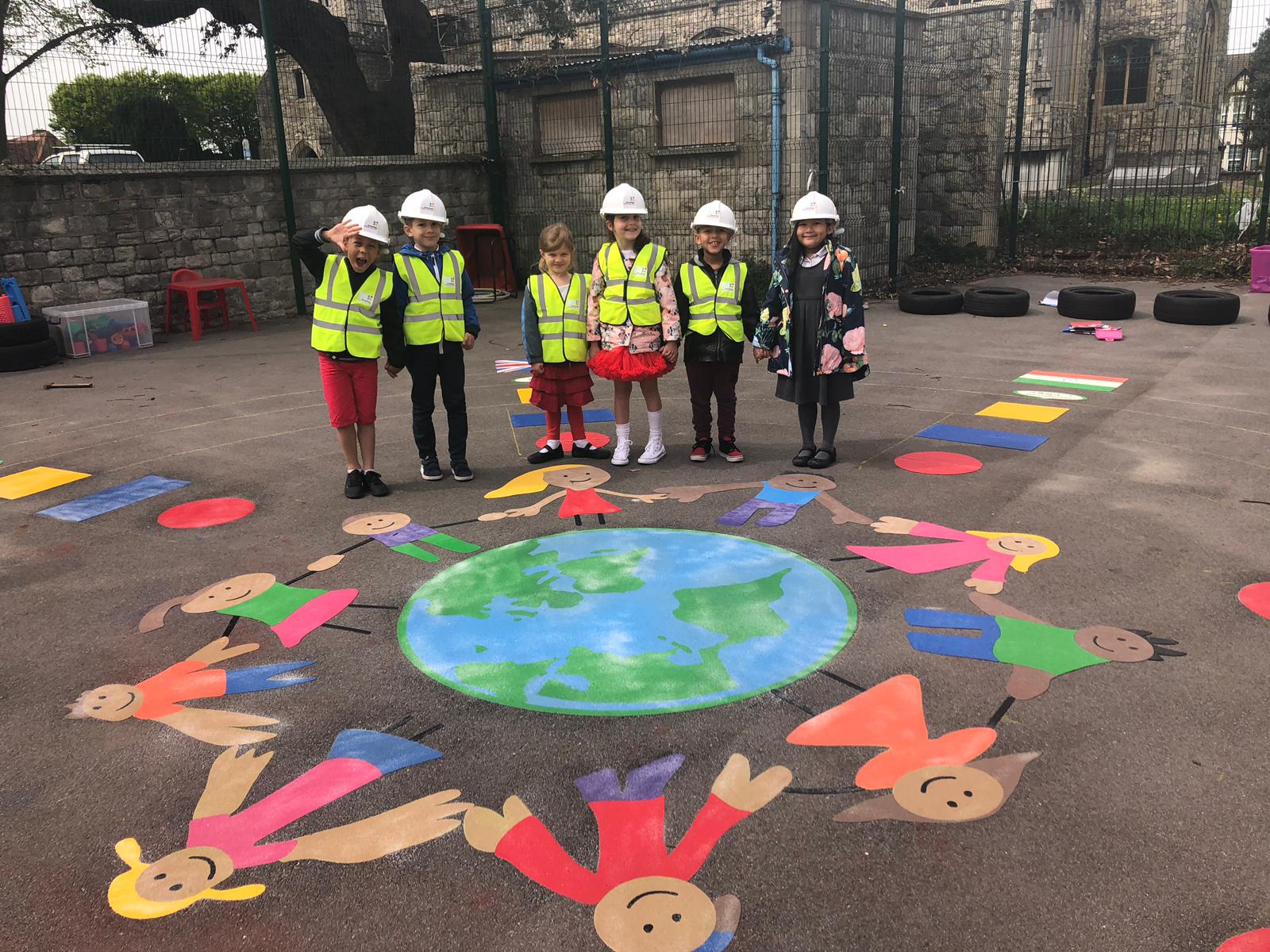 We gave them all high-vis jackets and hard hats to wear and they loved it! Not only did the high-vis jackets and hard hats make them feel more official, but it also supported our short talk to them about the importance of safety in the work that we do.
It was wonderful seeing how seriously they all took their new responsibility of site safety and helping the adults with a playground installation. Having the opportunity to involve the children in our process was such a pleasure for our team and is an experience both us and the children are sure to remember for many years.
Task One for the Children: Countries and Languages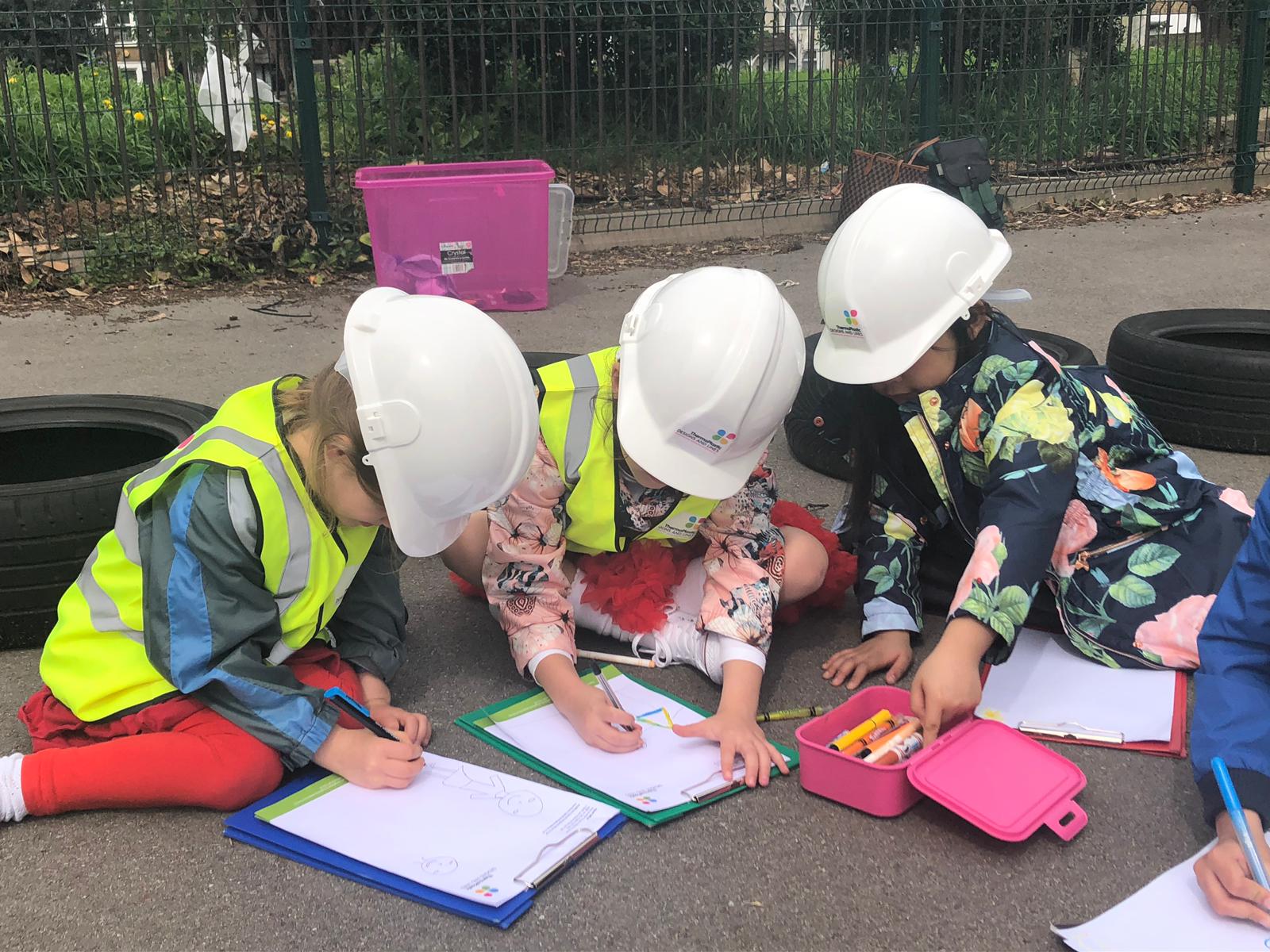 To combine learning with fun during the afternoon, we set the children tasks to do. The first task we gave them was to match the countries in Athena's design with the correct languages. This was a great test of their foreign language skills and which languages belong to which countries. It was lovely seeing all the children working together and watching how Athena helped her friends when they got stuck.
Once everyone had successfully matched the correct countries with the correct languages, we set them another task
Task Two for the Children: Drawing the Installation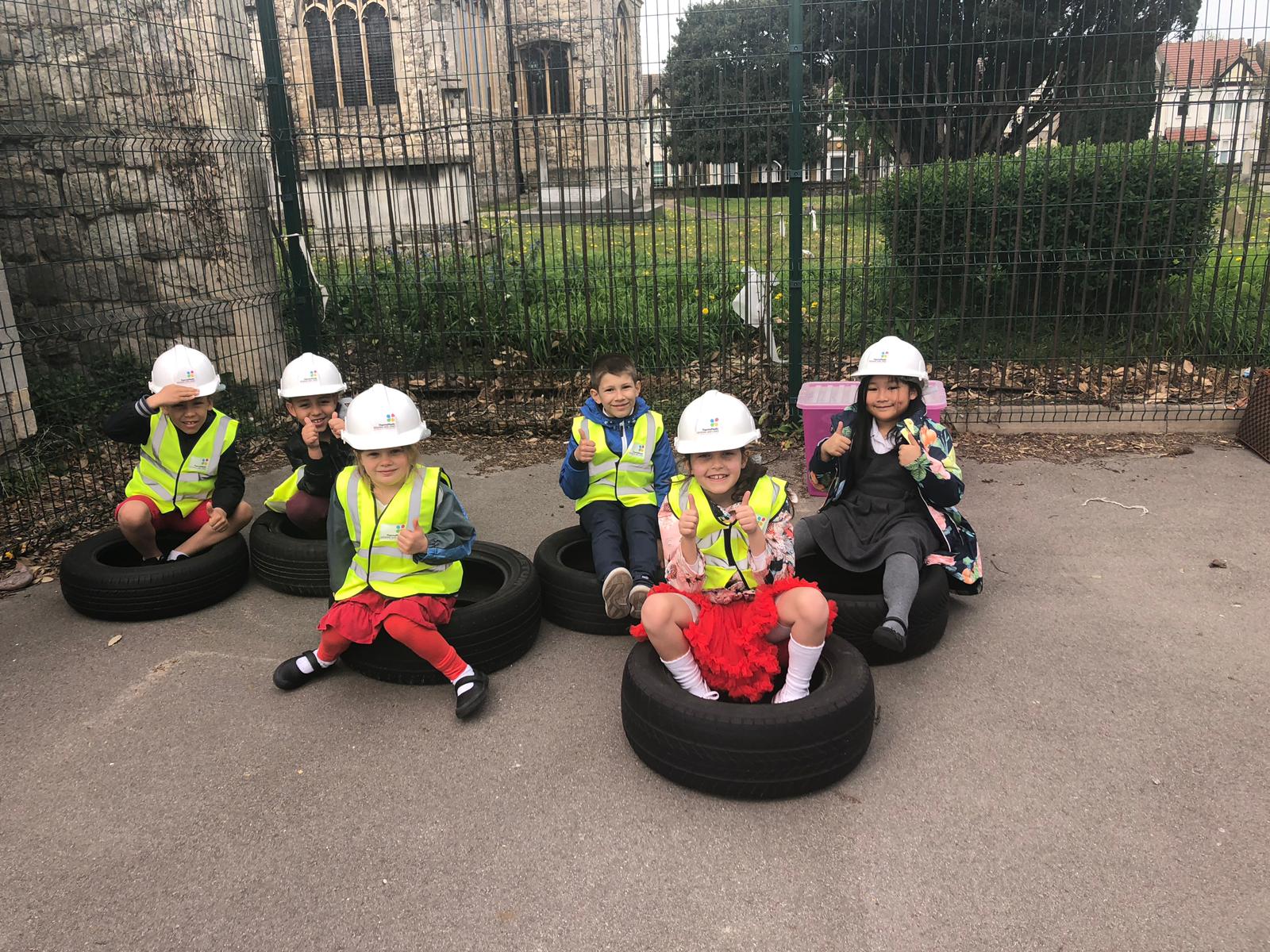 The final task we set the children was to what they saw as we completed the installation. It was great seeing their different interpretations of the work being carried out and it reminded us that all children see the world differently. Some of the children focused on drawing the playground design, others on the Designs & Lines team, and still others on the installation tools we used. Every interpretation was different, and we know that every child got something positive out of the experience.
What a pleasure to install Athena's winning playground design and spend a day with the students of St Mary's Prittlewell School. It was an absolute privilege to work with the children and teachers, and to transform their playground into a space enjoyed by all.