Netball Court Markings | Full Colour Designs & Unbeatable Prices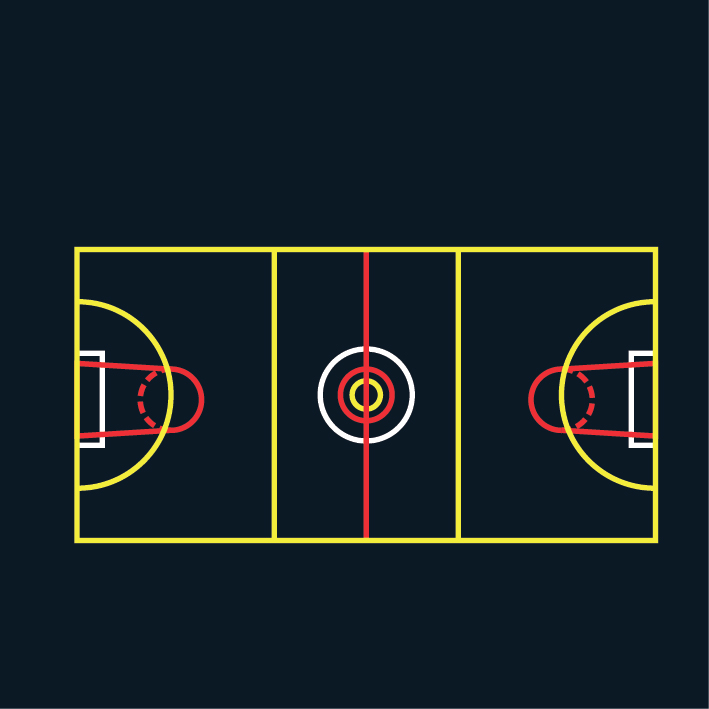 For netball court markings that stand the test of time and hold the trust of over 10,000 schools in the UK, Designs & Lines have your playground covered! Our netball court markings are made from non-toxic inks and can be made bespoke to suit the dimensions and requirements of your school playground or outdoor/indoor activity area.
Our designs can dramatically revamp your current playground, offering a new lease of life and a chance for children to participate in physical activities and encourage socialising and even make new friends!
But the fun doesn't stop there, our team are dedicated to ensuring your school benefits from several additional perks, including:
A price match guarantee (and we'll beat any price!)
Exceptional quality and long-lasting playground markings (4 year warranty which is the maximum)
You can trust our 20+ years' experience
5-star customer service and satisfaction
Everything about our netball court markings process is designed to be hassle-free. This means we will work around your busy work schedule and ensure that all your requirements are met. We will always be on hand throughout the installation process to answer any questions or provide support whichever way we can. Installation is typically very fast and the markings dry in just 20 minutes!
Take a look at our gallery for examples of our amazing netball and playground markings.
*We don't just work with schools, our netball designs can be installed in almost any tarmac, concrete, tarmac concrete, block pavement, ceramic and metal surfaces.
Transform the appearance of your school playground today with netball court markings from Designs & Lines. We can work weekends, around break times and essentially anytime that suits your requirements. Get you netball line markings installed by the experts at Designs & Lines.
Get in touch with our friendly team today.
Why Install Netball Court Markings?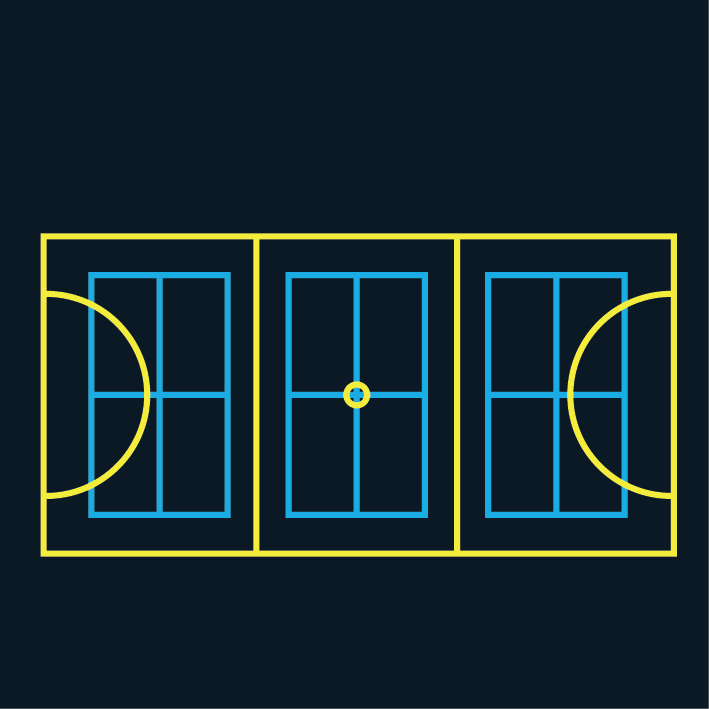 Netball is a sport enjoyed by thousands of school children around the UK. Our netball court markings offer children and even adults of all ages access to a long-lasting, vibrantly coloured netball court.
Netball markings will encourage children to take part in physical activities, which is very important in a world dominated by technology. Simple but effective, installing netball court markings give children a fantastic alternative to playing on their phones and missing out on some fantastic opportunities for improved physical development and the chance to make new friends!
We would also advise installing a netball hoop, but this is by no means compulsory, but will undoubtedly enhance the children's experience! All netball court markings are made to fit your outdoor play area.
What is the Installation Process?
Our standard netball court size 30 x 15m but you are free to choose your netball court dimensions. Our netball court markings can be installed on the following surfaces:
Tarmac
Concrete
Block pavement
Ceramic
And metal surfaces that conform to BS EN 1436 (The European standard for road safety markings).
If you're looking to install our netball court markings in another location (such as a sportshall, please get in touch with our team to see how we can help.
The Benefits of Our Netball Court Markings for Children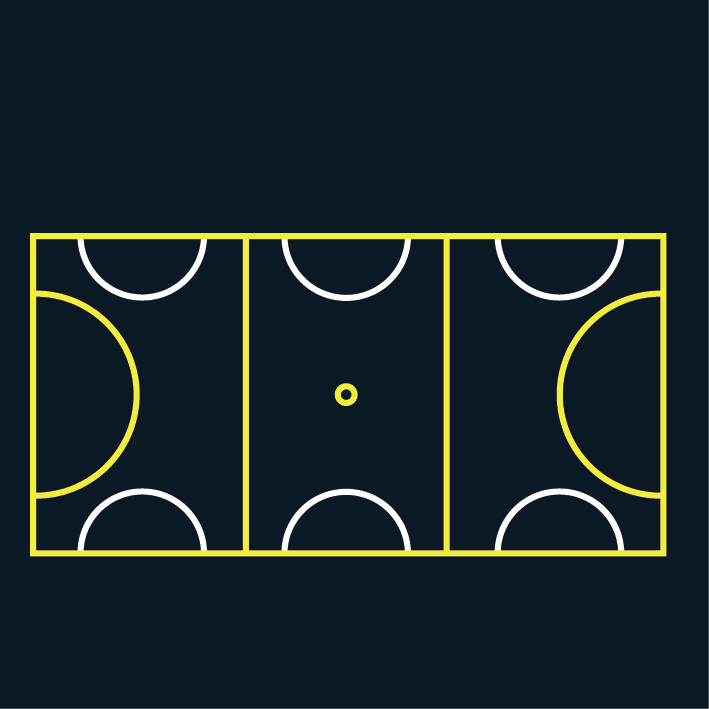 We offer the most affordable and price-competitive netball court markings in the UK, ensuring you're not only getting the best deal but the best quality. Once installed, your netball court painting will be dry in just 20 minutes; faster turnaround times means less disruption to your school days and the quicker the kids can get out and play!
Additionally, your netball court markings are designed to last 8 x 10 longer than paint alternatives. We offer a range of vibrant colours to decorate your court anyway you want. If you would like to seperate goal lines, goal circles or any part of the sports court through different colours we can do this.
Other benefits choosing Designs & Lines include:
Non-toxic and environmentally friendly inks
Self-cleaning properties
Warranted for 4 years
Markings that are able to withstand the changeable British weather conditions
Bespoke design options
Several other playground games and markings available
You can rest assured that our team at Designs & Lines will take care of the entire installation process. We work in a fast, safe and efficient manner to ensure your court markings stand the test of time and can be enjoyed all year round by children.
If you would like to know more about our installation process or have any questions about court markings, please do not hesitate to get in touch with our team today.
Netball Court Markings that Last a Lifetime
All Designs & Lines netball court markings are designed to be enjoyed by children for years to come. We only use non-toxic inks to ensure our markings do put children's health and safety at risk or jeopardise the environment. All marks are designed to withstand the harsh changes of British weather as well as contact foot traffic from children. Our netball markings are made from the same durable properties as we use to pave some of London's busiest congestion zones. This means there's no risk of your markings becoming scuffed over time.
We have a huge variety of netball designs in stock, from standard netball court markings to netball and mini football markings. For the full product list, browse our netball marking selection!
Call Us Today
Purchasing netball court markings from Designs & Lines can dramatically enhance not only the appearance of your playground or outdoor area but provide huge physical and social benefits to your children. All designs are created and installed by our experienced team using non-toxic and fast-drying inks to ensure long-lasting markings and safe playtimes.
Purchase our netball court markings and speak with our friendly team to arrange an installation date.