Playtime Activities for Schools
What Can be Offered by Playtime Activities for Schools?
According to research carried out by Val Sabin Publications, pupils can spend over 20% of their school day outside of lessons, out and about in the school grounds and getting their much-needed exercise and recreation time. Naturally, any teacher will want to ensure that their students are making the most of this and having their fill of fun and fitness, and this is easily achieved with the installation of bright, engaging playground markings. However, one question may still remain: what will the students be getting from these particular playtime activities for schools?
At Designs & Lines, we are committed to providing schools across the UK with playground markings and games that help children to grow and learn a host of life skills, and we know exactly what each of our own offerings can bring to them. Below, we've put together a guide on just some of the skills pupils can learn from playground markings while having fun, and offering up some of our own examples from our collection at the same time.
If your own school playground is in need of a fresh new look and set of games or activities, contact our specialist team today and we'll be delighted to help revitalise your space. Alternatively, you can also read on to discover more about what a new set of playtime activities can do for primary school children of all ages.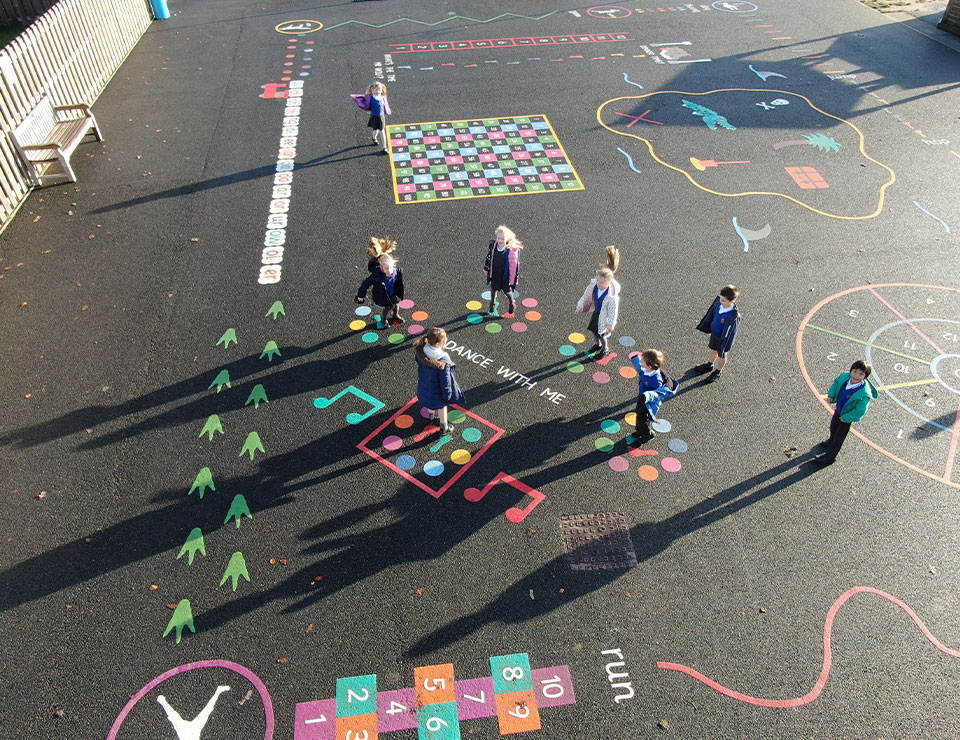 What's Offered by Group Playtime Activities?
One sight that's bound to make any teacher happy and proud is watching their pupils work together to have fun and achieve an end goal. By offering a series of group activities for playtimes, you will be encouraging this in their day-to-day routine, helping them to develop their social skills and establishing firmer friendships among classmates. With a more developed ability in social situations, pupils have been noted to be more aware of other points of view, becoming more empathetic and decreasing levels of bullying.
When you choose a larger group game or activity for your playground, you'll also be ensuring that more introverted children also have the option to join in if they want to. These games offer them the safety and security of a group working towards one goal (and may include further observation from lunchtime supervisors), while allowing them to participate in the fun and teamwork that their more extroverted classmates may experience regularly. It's all available at their own pace, too, so they should never be made to feel uncomfortable.
Certain activities may also encourage confidence and leadership among pupils, as they learn how to direct others in a game and make decisions for groups. A traditional example of this is What's the Time, Mr Wolf?, which we have available right here on our very own website. If your school has equipment available for use at playtimes, such as bean bags or balls that bounce, you may also consider a circle for Piggy in the Middle, or games that are growing in popularity, such as 4 Square or King Square. An area for dance markings may also prove popular for these purposes.
Other group games and activities that we offer include:
Twister

Snakes & Ladders

Dual Adventure Trails

4-Way Hopscotch

Dartboards
What's Offered by Solo Playtime Activities?
Ensuring that pupils have some time to themselves can also be important for their development, and offering solo playtime activities for schools can offer a host of benefits to your students. For instance, encouraging children to play games on their own encourages independence and allows them to engage their critical thinking skills. From this, they have the potential to discover new, creative ways of solving problems that they may not have been able to overcome otherwise. By thinking outside of the box during their play, they'll then be guided towards the same process whenever they come across a problem in their work or even at home.
Having a range of games and solo activities may also help your pupils to expand their imaginations, as they find new ways to use the equipment that you have selected for your outdoor space. Installed mazes make intriguing puzzles, but a child's eye could easily turn the dead ends into lairs for monsters that they wish to avoid during a spirited fantasy game, while footprints and animals become guiding points to buried treasure and friendly or fearsome creatures that they meet along the way. By letting their imaginations take over, you'll also be giving them a break from thinking about their work, so they'll be more likely to come back in refreshed and ready to learn.
Other solo games and activities we have available include:
Activity Trails

Stepping Stones

Treasure Islands

Roadways

Single Hopscotch
Contact Us for Fun, Fresh Playground Marking Ideas
If you have been looking for new ideas and activities to keep students busy at break times, but that also help them to build bonds with their classmates and broaden their ranges of skills and abilities, then Designs & Lines may just be able to offer you the collection you need. Our playground markings make the ideal activities to encourage a child's mindfulness and growth, from games for social development and empathy to puzzles for critical thinking and creativity. 
Our team of designers and installers will be ready and waiting to assist from the moment you get in touch to place an order, and our fast-drying, non-toxic inks can ensure that you have the playground markings you need as soon as possible. All you need to do is choose the product your pupils will love the most, tell us where you'd like them on your playground and we will handle the rest. Our fast delivery and swift installation process could see your purchase ready for a fun-filled school day in no time!