Snakes and Ladders Playground
Why you should add a snakes and ladders playground marking in your playground design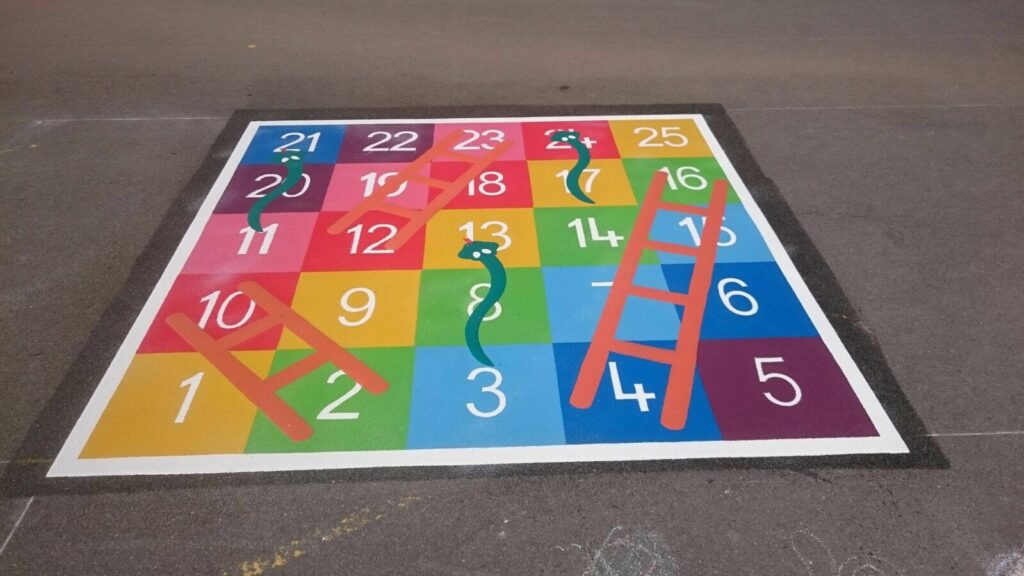 Games and outdoor play go right alongside the classroom in terms of stimulating a child's development. It is easy to inspire children into taking part in active, social outdoor activities by using effective playground markings.
Snakes and ladders is a simple and classic game that many children enjoy. It also helps to impart familiarity with numeracy within their growing minds. Children begin to associate a sense of great enjoyment with learning by using these types of markings.
We can assist with any type of design that you may be looking to create. We can also provide multiple markings in one playground design for a greater level of interaction. You need to contact us for help getting started on your design.
Why board games like snakes and ladders make great playground markings
Our extensive range of playground markings includes a good selection of fun and stimulating games, many with an extra element of learning. This is a benefit of games, as they can teach children in an entertaining environment.
Overall, board game markings can provide a level of familiarity with shapes, numbers and colours – as well as coordination and a good level of physical activity. The specific benefits of snakes and ladders markings include the following:
Numeracy: Mathematics is fundamental to a child's education, and giving them a game where they can practice counting can help this. It can provide young children in particular with an acquaintance to these concepts before they enter the classroom, which puts them at a distinct advantage.
Social skills: Games are an effective way for children to socialise with one another. They have friendly interactions in a fun setting, but they can also develop a healthy spirit by playing with one another in teams or as individuals. Snakes and ladders is good for playing alone or in groups.
Physical activity: By using snakes and ladders markings that go to a high number, again beneficial for numeracy skills, children can gain a significant amount of physical activity. The open-ended nature of the game also means some rounds may also provide more exercise than others.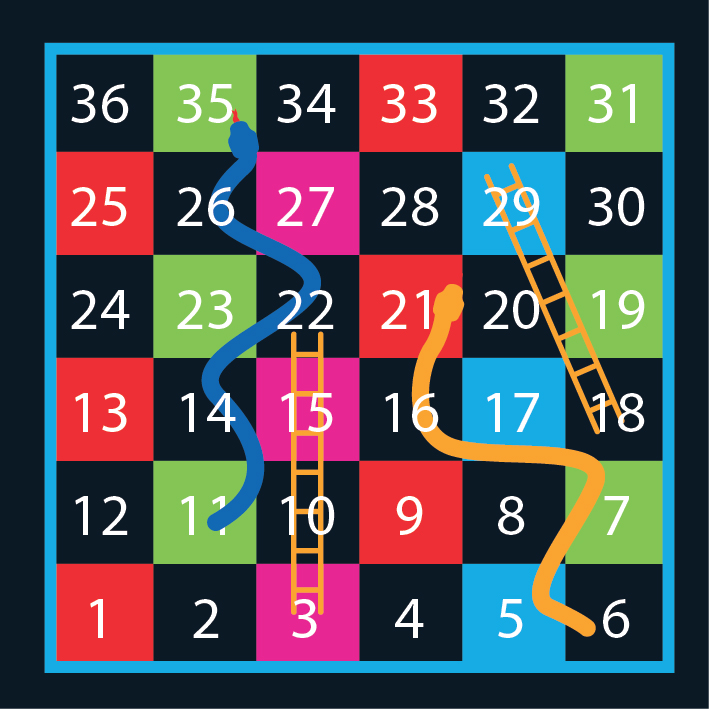 A board game in a play area is a compelling part of the schoolyard for children. Seeing children hopping along a snakes and ladders playground marking may look deceptively play-like. However, while there is an element of this, there is a lot more to it than that.
As a fun way to familiarise children with numeracy, snakes and ladders is a popular alphabet and numbers marking in many playground designs. As a teacher, it can also improve your experience in guiding young minds towards grasping important mathematical concepts in the classroom.
Snakes and ladders can also add a sense of adventure to the playground for children. Their imaginations are active and with markings that have vibrant colours and cartoon snakes, it is sure to be a consistent draw for children.
Why to choose us for your playground marking designs
We know what works from an educational, social and developmental perspective – but we have considerable technological and manufacturing expertise too.
One of the things people love about our approach to playground markings is that we only use the best materials. We use a hard-wearing, non-toxic thermoplastic that we can install onto tarmac, concrete and even metal surfaces.
The overall result of choosing us for your playground markings, whether that is snakes and ladders or other games, is a professional installation service and a final product that looks solid. It will also last a long time.
Playground markings for play and development
Now you are ready to install your snakes and ladders playground marking, other games, or a whole host of designs, you need to get in touch with us. You can then enjoy the professional installation of service of our team.
If you require some more ideas on various games for your playground design, or any other educational and decorative markings, then please feel free to browse our brochure for more information.
We pride ourselves on being one of the best playground marking specialists around, and we will work with you at every stage to ensure a compelling and impressive play area. Get in touch today!