The Best Playground Flooring Materials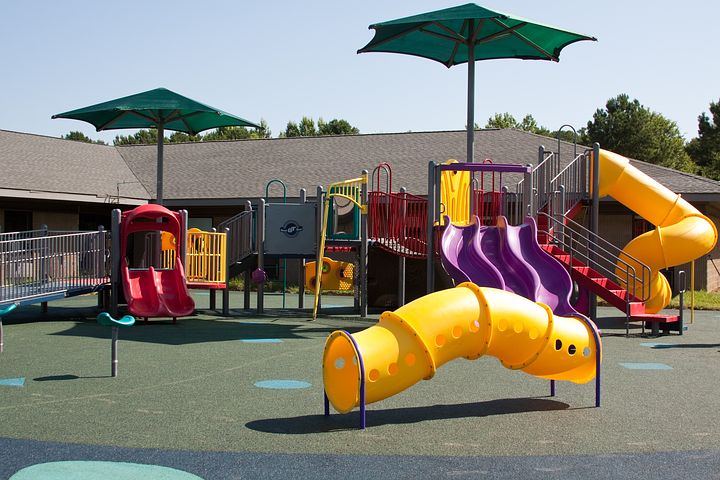 Refurbishing your playground flooring can completely transform your outdoor space. There are so many options for playground flooring materials and each provide your space with different benefits. When choosing your playground flooring materials or markings, there are a number of things you need to consider such as accessibility, affordability, and safety. The right playground surface will transform your outdoor space while also providing an accessible and safe place for children to play in.
Wood Chips for Playgrounds
Wood chips are widely considered as one of the most accessible playground surfaces available. And they're not just great for use in the playground, they can also be used for landscaping purposes. Wood chips are long-lasting and only require replacing every 2-3 years, so are a great option for playground surfaces. An all-natural and common-place material, wood chips for playgrounds have numerous benefits, including:
Good Shock Absorbency
Wood chips are one of the most popular playground flooring options when it comes to shock absorbency. The wood fibres of the playground chips knit together to provide plenty of cushioning to help prevent children from suffering injuries when they fall from heights.
All-natural Product that's Easy to Source
Wood chips are made from 100% wood, so are a beautifully natural material to use for your playground flooring. However, this can make them more susceptible to rot and harbouring bacteria. So, it's worth taking the time to consider whether wood chips would be the right fit for your playground.
Easy to Maintain
Although they need replacing more often than other playground surfacing alternatives, wood chips are easy to maintain. Wood chips only require raking and levelling every now and again to keep your playground looking good.
The Cons of Wood Chips
Although wood chips are a popular choice for many playground surfaces, they are not the most durable or safe flooring option available. Wood chips may provide your playground with a number of benefits but there are also some serious cons:
– Can be swallowed, scattered, and get into eyes.
– Bio-degrades. Compacts and decomposes over time, so requires replacing more frequently than other playground flooring options.
– Can hide sharp objects, insects and animal excrements.
– Flammable
– Microbial growth when wet.
– Easily affected by rain, freezing temperatures, and high humidity.
– Causes splinters and can cause infections if not treated with anti-bacterial agents.
Artificial Grass for Playground Flooring
A flooring option that looks just like natural grass, artificial grass is non-slippery, zero-maintenance, colour-safe, and can cover an area of any shape. What's more, it is a safe, non-toxic material that is installed with shock pads underneath to help prevent harsh falls for children.
Although the initial installation of artificial grass is expensive in contrast to planting grass seeds and waiting for the grass to grow; this low-maintenance playground flooring option can save you significant time and maintenance costs in the future. What's more, there is no concern of children tracking wet grass into their classrooms after enjoying their lunchbreaks outside on this type of playground flooring. The benefits of artificial grass are many, including:
Provides a Safe Play Surface for Children
One of the many benefits of artificial grass is that it provides a safe play surface for children, whatever their age. Many people worry about children falling over on hard surfaces when they're playing but having artificial grass drastically reduces the likelihood of injury in the playground.
Reduces Problems in Shaded Areas
Every playground should have a shaded area. However, it is common for grass in shaded areas to become moss-covered or brown due to lack of sunlight and the cold. However, artificial grass gets rid of this problem completely. Artificial grass stays green and dry even when it's in the shade, so you can be guaranteed a playground flooring option that stays green all year round.
Artificial Grass Requires Little Maintenance
Maintaining grass landscapes in large spaces like schools can be a very difficult job and a real bother – particularly during times like the school holidays. Grass upkeep is hard and caring for natural grass to keep it healthy is a big responsibility. However, artificial grass takes away the stress of this problem as it requires very little maintenance. So, it stays looking great for longer because it doesn't need mowing or watering at all.
Artificial Grass Cons
Overall, artificial grass is an extremely low-maintenance playground flooring option that reduces slipping and messes, cushions falls, and keeps your playground looking green all year round. However, it still has a number of cons:
– Initial cost
– Under a hot sun, certain types of grass can get extremely hot.
– Placed close to highly reflective windows, artificial grass can melt.
Shredded Rubber
This material is made up of small shredded pieces of rubber, creating a rubber surface for your playground. A water permeable alternative to wooden bark pieces, shredded rubber mulch looks just like natural bark and can be spread onto the playground surface where they provide a number of significant benefits:
Shock Resistant and Prevents Injuries
One of the biggest benefits of shredded rubber is that it provides playgrounds with fantastic shock absorbency, helping prevent injury. This means that when children jump or fall, as they are prone to doing in playgrounds, they are less likely to be injured landing on a rubber impact-absorbing surface.
Shredded Rubber Stays in Place
The weather in the UK can be very unpredictable, one day it can be raining and windy, and the next the sun could be shining. While traditional wood chips can easily get blown out of place by strong winds or washed away by excessive rain, shredded rubber stays in place even during the harshest of weather conditions.
Shredded Rubber Cons:
– Wears out over time
– Poses a fire risk as is prone to getting very hot
– Creates an uneven play surface
– Not wheelchair friendly or accessible.
Tarmac for Playground Surfacing
While the other flooring materials we've mentioned do have their benefits, tarmac provides so much more than just a type of surface to play on. It also provides children with colourful markings, game ideas, sport courts, and so much more!
Tarmac is one of the most commonly used playground surfaces throughout schools and nurseries in the UK. Ideal for large areas and a cost-effective, go-to solution for many, tarmac is the most popular playground surfacing option available. The benefits of tarmac in playgrounds are numerous:
Tarmac is a Durable Material
Tarmac is a practical and hard surface available for very large areas and is able to withstand years of heavy use – making it an extremely durable playground surfacing option for schools.
Tarmac Requires Minimal Maintenance
Used in almost every school, tarmac is by far the most popular and common playground surfacing choice. One of the many reasons it is so beneficial in school environments is that it requires minimal maintenance. You don't need to wash, sweep, or resurface tarmac as it lasts for years and years without wearing out.
Tarmac is a Cost-Effective Option
There is nothing more cost-effective that tarmac when it comes to surfacing large areas such as school playgrounds. One of the most affordable and popular playground flooring solutions, tarmac can transform your school's space at a fraction of the price compared to other surfacing materials.
Tarmac Provides Opportunity for Creativity
The addition of tarmac to your playground flooring can be extremely transformative as it provides boundless opportunity for creativity. Playground markings can be installed to provide children with a whole host of different activities. From sports zones to adventure trails, your tarmac can offer more to do than any other flooring type.
Colour Your Playground with Thermoplastic Markings
Our team can transform your plain tarmac into a colour playground perfect for children to adventure in, learn new things, develop their social skills, and stay active! We can colour your tarmac playground with long-lasting, environmentally-friendly, and durable playground markings you can be proud of! Transform your tarmac playground surfaces today with our fantastic and colourful playground markings.
The Benefits of Our Playground Markings
– Warranted for 4 years
– Available in a variety of colours
– Lasts 8-10 times longer than paint
– Environmentally friendly
– Aesthetically pleasing
– Provides games and activities without need of equipment
– Educational and fun
Invest in Playground Markings Today
The playground surfacing options we've listed above all provide different benefits, but they can be expensive. But rather than rehauling your entire playground surface, our thermoplastic markings can completely transform your space at a fraction of the cost! Invest in our impressive playground markings today and let us transform your plain tarmac space into a vibrant outdoor play area that can be enjoyed by all.