Thermoplastic Line Marking
Long-Lasting and Durable Thermoplastic Line Markings
By choosing Thermoplastic line markings for your school playgrounds and car parks, you'll be bringing a multitude of benefits and safer practices to your outdoor spaces. When you choose to purchase and have them installed with Designs & Lines, you'll also be ensuring that the work is carried out by a reliable, experienced company that can give you exactly what you want.
Contact us today when you're in need of cost-effective, durable and environmentally friendly surface features for your playgrounds and car parks and we'll be glad to help provide you with everything you need. We can answer any questions you may have about the products we provide, and our team will be waiting to come to your site for a quick, efficient installation when you've placed your order.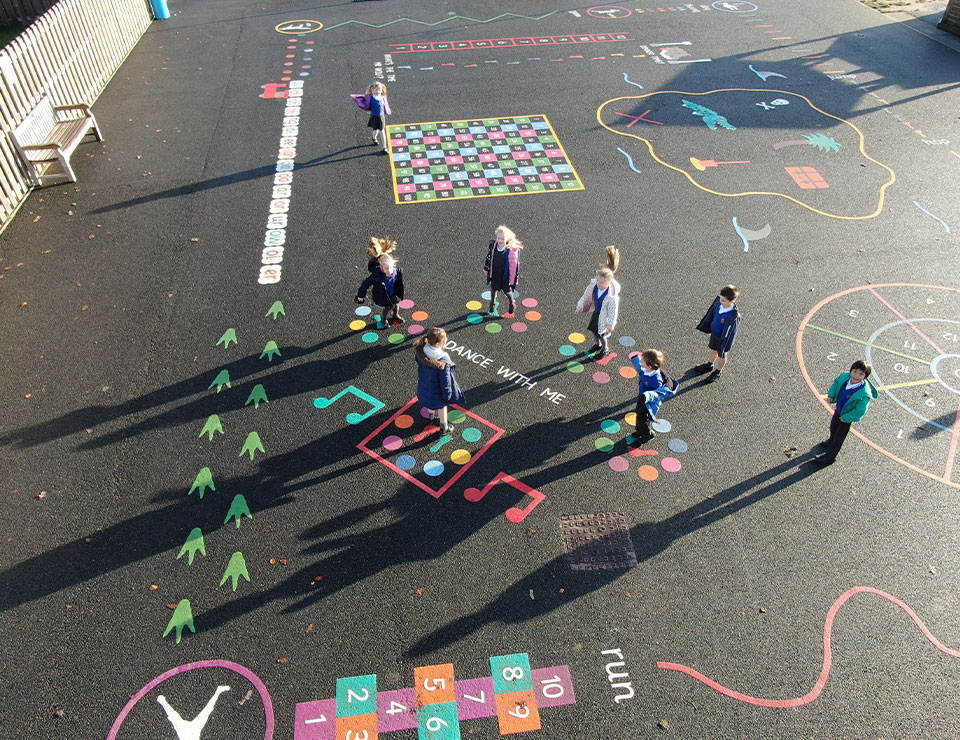 What is Thermoplastic?
Thermoplastic, otherwise known as thermosoftening plastic, is a plastic material that becomes pliable and easy to mould when exposed to high heat. It then solidifies when it cools down, staying in any particular shape a skilled worker has formed from it in the meantime. This makes it perfect for anything from road markings to games, grids, pretend roadways, mazes and a myriad of other entertaining offerings for children's playgrounds.
This material alone could provide your school spaces with anything you need but haven't been able to find, whether you've been wondering about fresh new game markings that could catch the attention of your pupils at playtime, or feel that the car park lines have been getting drab and indistinguishable to parents and teachers driving onto the site.
Our Thermoplastic Services for Playgrounds and Car Parks
There are a number of steps we'll take with our service in order to get you the Thermoplastic line markings you need, as and when you need them:
We can visit your location to help work out the dimensions of your available outdoor space
Our team of dedicated installers will be happy to fit the markings for you, wherever you'd like them fitted
We will work around your schedule to ensure the installation is carried out as you need. Our company hours even include weekends!
We'll manufacture everything you need to your set specifications and outdoor dimensions
We can produce bespoke designs for playground games and markings
All work will be carried out with a Thermoplastic gas torch, ensuring the installation is completed properly
The Benefits of Our Thermoplastic Line Markings
More schools in the modern day are letting old paint line-markings just rub and fade away and then turning to us for Thermoplastic line-markings to replace them. We're delighted that they've chosen to do this, because our products come with a host of benefits that make them ideal for any school playground or car park:
They come with a 4-year warranty
We make everything available in a large selection of bright colours, so you can have the exact playground design you need. You can also make car parks as easily noticeable as possible
Thermoplastic is considered a form of safety surfacing as it is anti-slip, making it safer for kids to play on
Thermoplastic is specifically designed to last up to 10x longer than paint, making it more cost-effective than ordinary line markings
Thermoplastic can be bonded to practically any ground material
The material is also environmentally friendly, because it is light in weight during transportation, needs no solvents and doesn't need replacing as often

Why Choose Us for Thermoplastic Line Markings?
We've had the pleasure and privilege of working with over 10,000 schools so far across the UK to mark out their playgrounds and car parks as needed. Each happily received their perfect set of challenging games, fresh sports courts and clearly visible parking bays, giving their outdoor spaces a new lease of life and keeping them safe for drivers and pedestrians alike.
We were just the right company for them, and we are more than prepared to explain why we think we'll be just right for you, too:
We are an independent firm and we have over 20 years of experience in designing and installing Thermoplastic line markings
We've worked with a variety of organisations, from schools and local councils to children's centres and more
We have a wide range of preformed Thermoplastic products available, from games, learning products and sport courts to road line markings
Each product we offer can easily be adapted to suit your needs and specifications
We're happy to create bespoke designs for school playgrounds
We have an in-house team of professional installers ready and waiting to fit your purchase for you
We will match or beat any price that you bring to us
For Hard-Wearing, High-Quality Line Markings
If your school is in need of new playground markings to put the "fun" back into "outdoor functional spaces", or could use some new car park markings to keep your grounds safe and easily accessible, we can get them manufactured and installed for you. We love what we do here at Designs & Lines and we want to ensure that your students can make the most of their time outdoors, either in lessons or on their breaks. We also want to make sure that your school premises is as safe and easily accessible as it can be for staff, parents and visitors alike. So, we make the most of our Thermoplastic products to do this.
Our specialist team is always on hand to help and can discuss the specifications you have for the line markings you need from the moment you get in touch. They're also more than happy to answer your questions, if there's anything you'd like to know before you get started on modifying your outdoor space.
Get in Touch
Contact us today and you'll be surprised to find our service as free from frustration and hassle as we can make it, with us taking care of everything from the moment we know which Thermoplastic markings you would like. All you'll need to do is place an order for the products your school needs and let us know where you'd like them to be installed.
Once this is all taken care of, we'll swiftly and efficiently fit your Thermoplastic line markings to your playground or car park, and we can even work weekends to ensure your outdoor space is completely ready for use by the time Monday morning comes.