Some Helpful Tips on Artificial Grass Maintenance
One of the most common worries to have when considering installing an Astro turf-like lawn is how you'll care for it once it's laid out. You're bound to ask questions about keeping it clean, or what to do when the weather turns cold, and may need some advice on other aspects of artificial grass maintenance. This is where Designs & Lines can help.
Below, we've set out a guide with a few tips on how to care for and maintain your artificial grass turf. Following this advice should help to give you complete peace of mind whenever you decide to upgrade your lawns, and ensures that the kids always have a fun, safe outdoor area to play in.
Read on to learn more about care and maintenance for artificial grass, or contact us today if you'd like to start ordering your very own synthetic, Astro turf-like surface today. We'll be glad to discuss everything you need, or help with any questions you may have. With over 20 years of experience as an independent firm, we're more than certain that we'll have the answers you're looking for.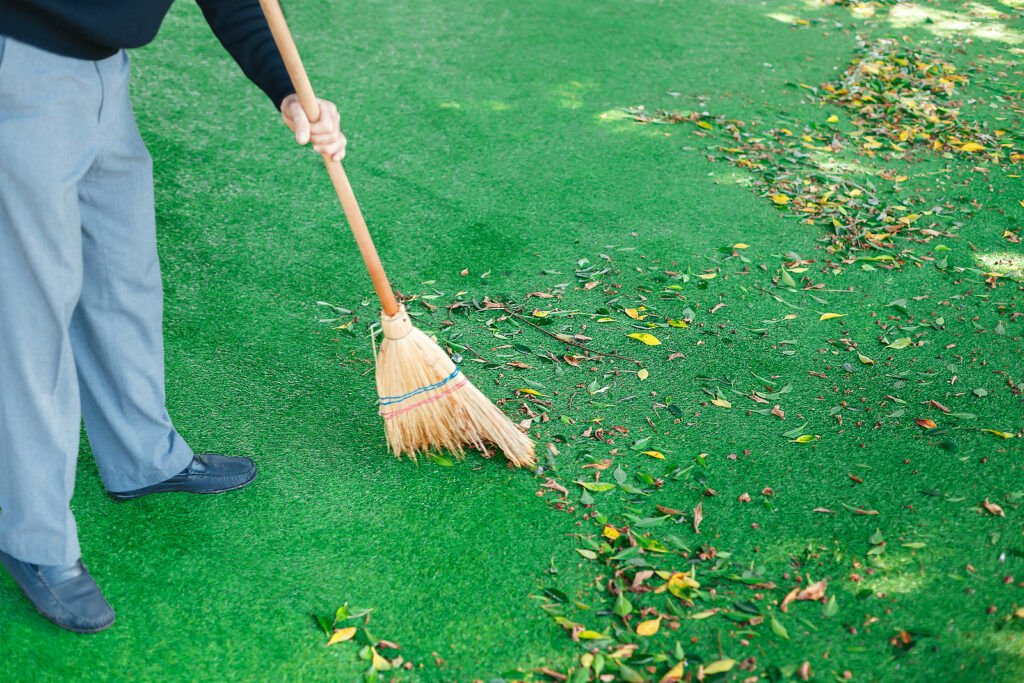 How to Maintain Artificial Grass
There are a number of things you can do to keep your synthetic turf looking its absolute best, all year round. After all, one of the benefits of artificial grass is that it can be used in any season, as long as the weather is dry. This gives your pupils more time out on a safe surface where they can have fun and take part in a range of fun games and PE lessons. It also means you always have a space available for further activities, such as Sports Days and school fairs, no matter the time of year.
Below, we've set out the advice you'll need to guide you through maintaining your artificial grass:
Brushing Your Artificial Lawn
After your artificial grass has had time to settle, it will require regular brushing if you want to keep it in its best condition. This should be done once a week, or once every other week, with a medium or soft bristle brush, and should be done gently to keep the turf from becoming misshapen. It will also help to remove any leaves or twigs that have fallen onto the lawn.
Brushing the grass in the opposite direction to the artificial fibres should help to lift them, helping to keep them upright and preventing them from flattening out. This is especially important in areas that will see high levels of foot traffic.
Keeping it Clean
You may need a few more tools and some more equipment to carry out artificial grass cleaning. For example, having a leaf blower available will be the quickest way to remove dry leaves from the lawn, while a plastic rake may be the best option if you need to remove wet leaves. Having tools for trimming trees and bushes is also recommended, as this means you can easily prevent leaves and twigs from falling on the grass.
If it's likely that animals (especially foxes, hedgehogs, and local cats) will make their way over your field at night, you'll also need a method of clearing up any messes left behind. This can be done using warm soapy water or an artificial grass cleaner, after any solids have been removed. Urine can also be washed away with a hose, while a watered-down wash with a soft chemical detergent, or an environmentally-friendly combination of baking soda, vinegar and water will help to take care of any unpleasant leftover odours.
Tougher stains, such as oil, may be removed with a cloth and some mineral spirits.
Advice, Tools and Equipment for Removing Weeds
Even after you've had artificial grass installed, there is still a chance that weeds may pop up through drainage holes. To prevent this, we would recommend using weed killer on the lawn about twice a year, raking the grass regularly, and keeping up your regular routine of brushing. If you see a weed, you should also be sure to pick it, getting all of the roots wherever possible.
Cutting Artificial Grass
One of the most wonderful time-saving things about synthetic grass is that it never has to be cut. Brushing it will be more than enough to keep it looking as real and as healthy as any other lawn. This may even save you money on your budget for tools and equipment, because you won't need a lawn mower or trimmer once your turf has been installed.
Seasonal Tips for Artificial Grass Care
Artificial grass is durable enough to remain resistant to frost. However, if a heavy snowfall occurs, this should be allowed to melt naturally. Trying to remove it yourself may damage the fibres or cause thinning, so it's best to leave it to nature to remove the problem. Synthetic turf is designed to let water drain away, so this is easily done.
More Useful Tips for Artificial Grass Maintenance
A few more things we'd suggest doing to keep your synthetic turf in its best condition include:
Spreading the weight of any heavy items you intend to put on the grass, and moving outdoor furniture and equipment around regularly
Keeping metal furniture with sharp edges off the lawn
Keeping fire and sources of fire away from the lawn, including small sources such as cigarettes (if you're planning a summer barbecue, keep the barbecue itself on your playground or another concrete surface)
Never using hard chemicals on the grass, or strong detergents such as bleach
Keeping sharp objects, including broken glass, shoes, and football or rugby boots, off the grass
Keeping chewing gum and other adhesives off the grass
Avoiding pointing mirrors or other reflective surfaces directly onto the grass, as this may burn patches of the lawn in strong sunlight
Teaching your students to take care of the grass as well, so they don't attempt to pick blades or kick at the turf
We'll Help You Transform Your Outdoor Spaces
If you know that a properly-maintained artificial grass turf will bring your play spaces and sports areas to life, contact our team at Designs & Lines today. Now that you have the guide and advice you need to care for a synthetic lawn, there's no need to hesitate. With this advice in mind, our Astro turf-like grass will remain durable, green and fun for kids of all ages, for a long time to come.
We know you'll be busy with your students, so we'll take care of everything from the moment you've placed your order. All you'll need to do is let us know where you'd like it placed, arrange a date for it to be delivered and installed, and we'll handle the rest.
Soon, you will have the perfect play area, sports field or decorative lawn for your outdoor space, at a price which is bound to suit your budget.
Frequently Asked Questions
Will Artificial Grass Fade Over Time?
The artificial grass we provide here at Designs & is UV protected, which means it should not fade over time. Happily, this also means that your lawns, sports fields and play areas will stay looking green and healthy for many years.
Can You Jet Wash Artificial Grass?
While it is possible to power wash artificial grass, we'd recommend taking care if you intend to carry this out because of the high pressure. Power washing fake grass will clean it quickly, but the nozzle of the jet wash should be at least a foot away from the turf to prevent damage.
If you angle the nozzle when spraying the turf, this may have the added benefit of fluffing up the artificial grass. This saves time that would've been spent going over the lawn with a brush!
Can You Vacuum Artificial Grass?
We would not recommend trying to vacuum your lawn when carrying out artificial grass maintenance, as this could damage the fibres. It could also end up removing them, which would leave your lawn balding in patches as a result.