An Expert Look at Different Types of Playground Flooring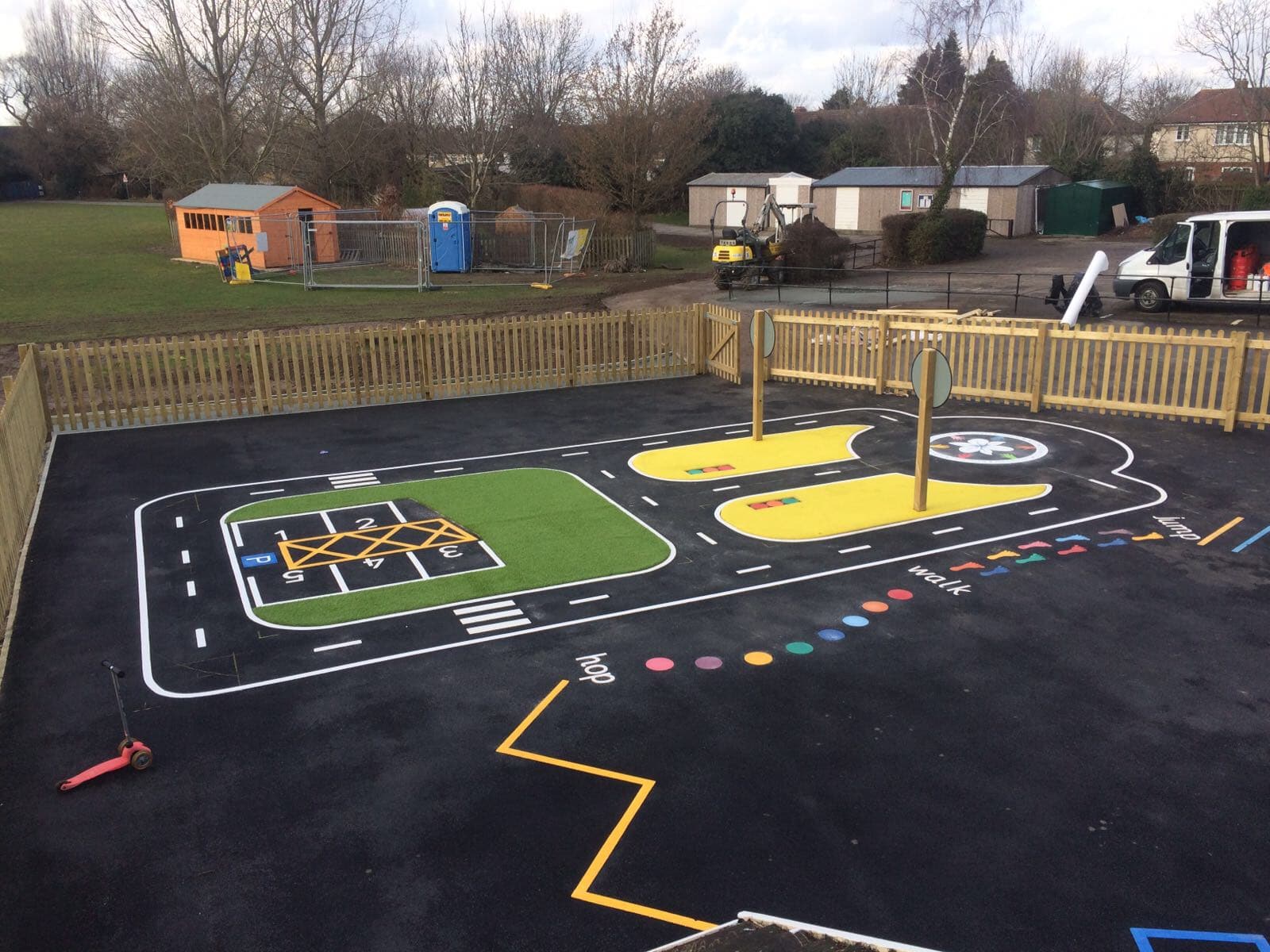 Playground Flooring and Surfaces
When preparing a new playground for your pupils, you'll naturally want to find the one that suits all of their needs and requirements. This means making sure you're having a top-quality surface material installed for your playground flooring, so that you know kids are safe on it and will be inspired to play, learn, and have fun for many break times and lunches to come.
But what playground flooring options are even available for schools? Are they all the same or will some be better for some groups than others?
We've got the answers to all of these questions and more in this guide, so read on if you want to learn everything that you could or should know about different types of playground flooring. You might just find the finishing surface you need to transform your outdoor area into a place for fun and games that your students will love!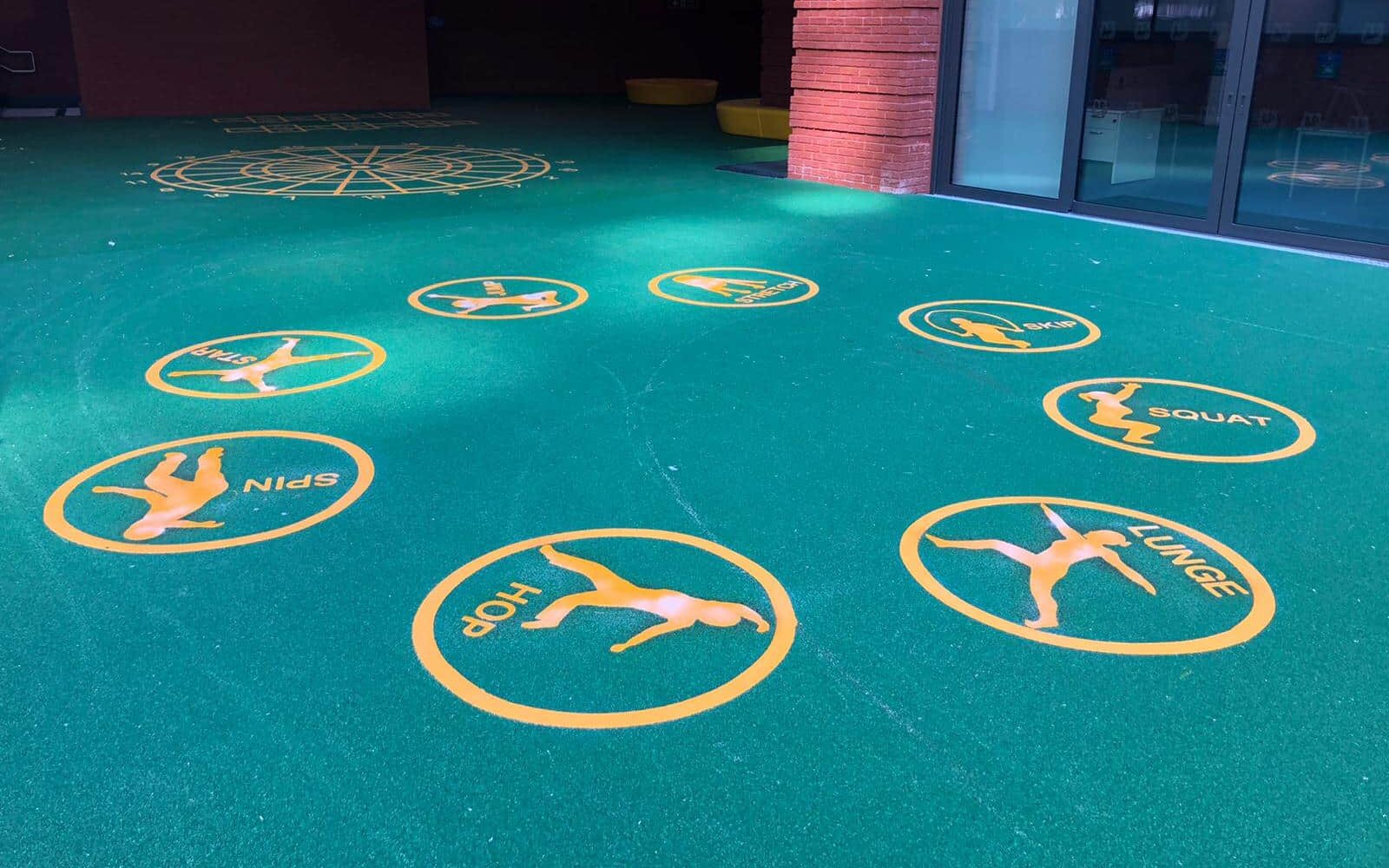 What Playground Flooring Types Can You Find?
Here, we have made a list of some of the most common types of surface material you're likely to see on school playgrounds. The one you decide to use will be up to you, but taking a look through and reading up on each of them might help you to make a more fully informed decision about the one you want for your outside areas: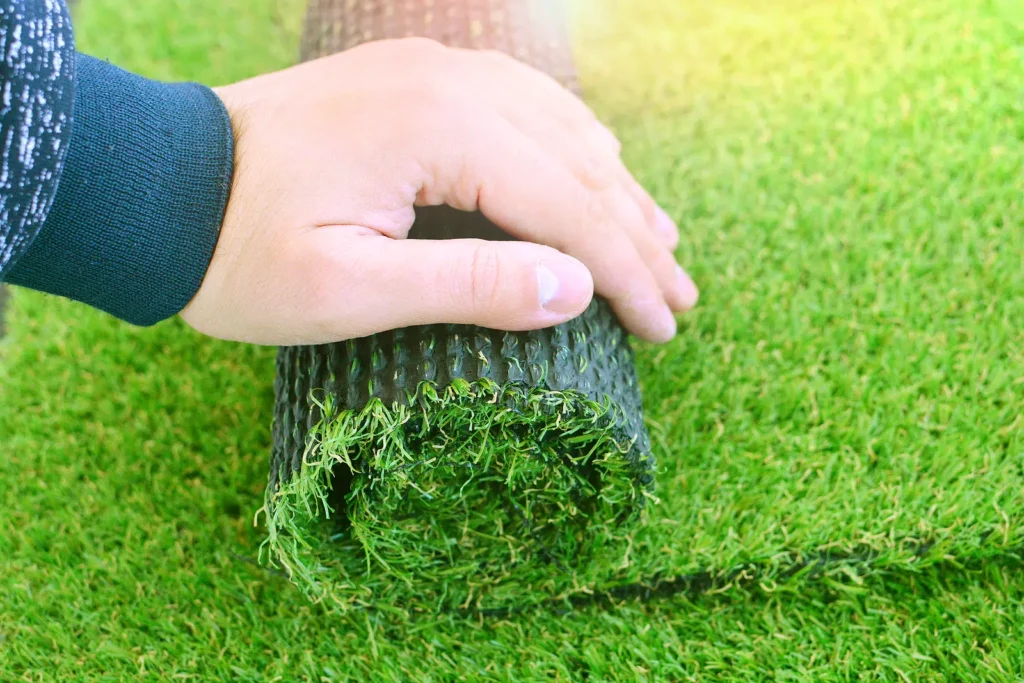 Artificial Grass
Having become more and more popular in recent years, high-quality artificial grass could make an ideal play surface for school kids. Modern installations have the benefit of being soft underfoot (and can be fitted with a foam underlay for an even more comfortable play experience), durable enough to withstand even the harshest treatment, and are made from materials that are not affected by the weather.
As the grass will never grow, it will only need minimal maintenance to stay looking its best. This means you'll have a clean, green space that's ready for outdoor play, all year long.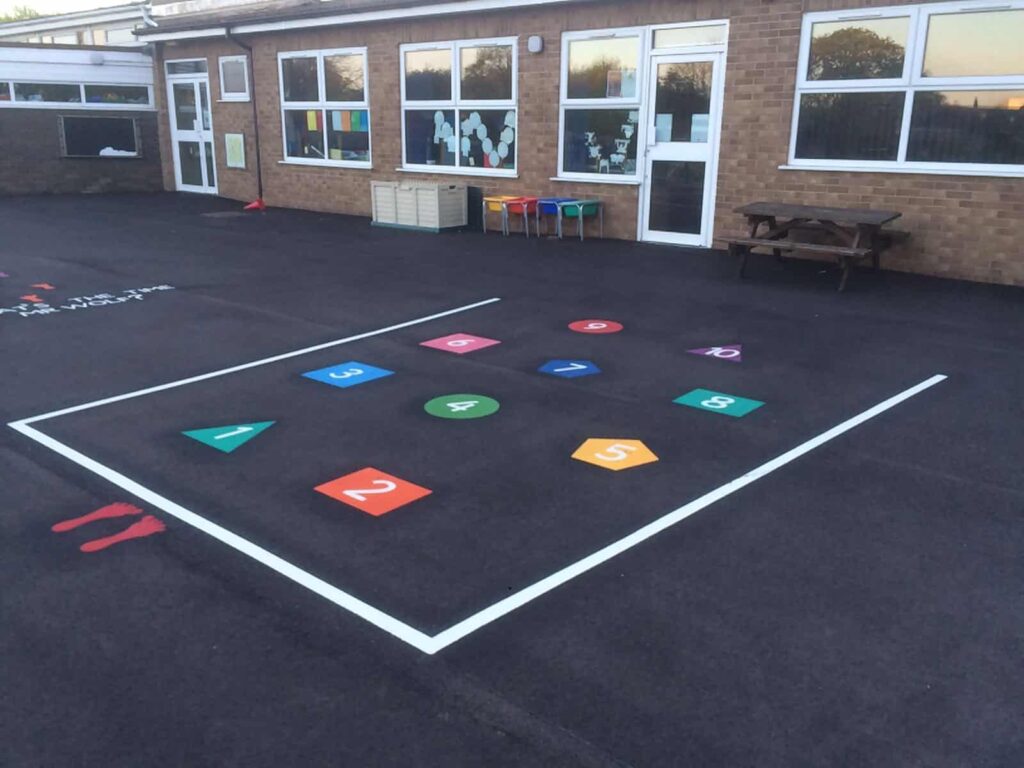 Asphalt or Tarmac
Asphalt and tarmac are both fairly similar, though asphalt has a smoother surface and finish than tarmac does. Both are great for sports surfacing, particularly in areas where you're likely to play a range of different types of games. If you want to go the extra mile, you can even ensure that a variety of different lines and court markings are installed to complete the look and make sure the area is ready whenever you need it for a game.
We should add that these materials are not safe to use under equipment where there is a risk of falling.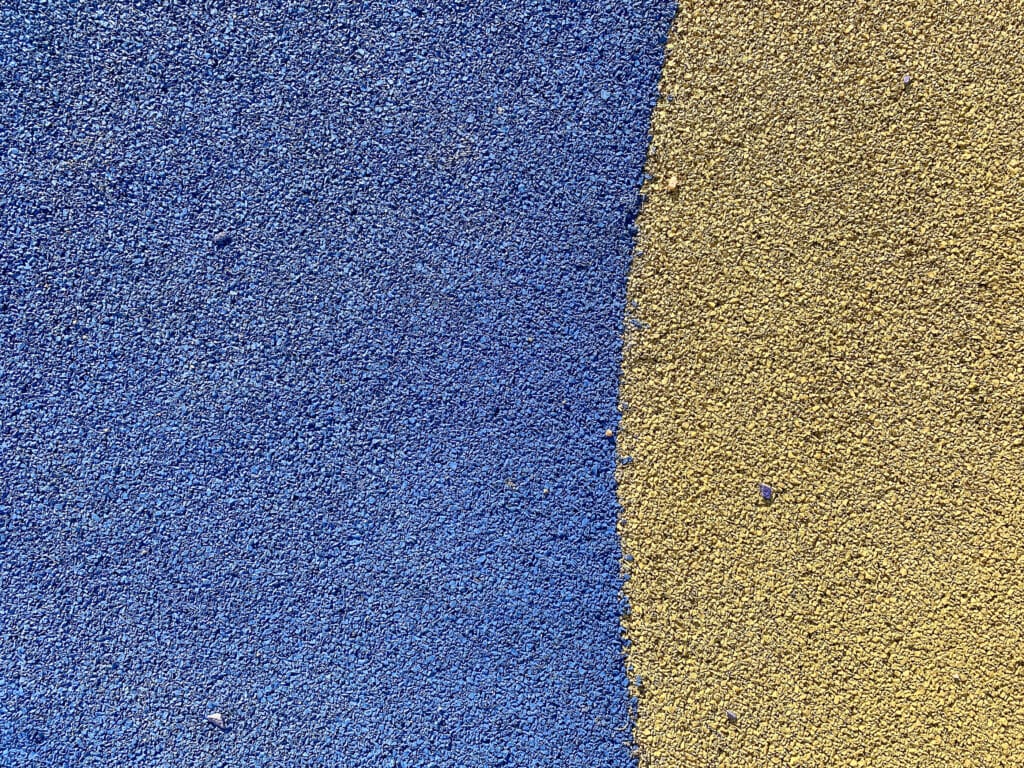 Bonded Mulch
Bonded mulch, which can be made out of shredded rubber or actual wood, is a popular surface choice because it is both cushioning and slip-resistant. It can also be installed in a range of colours to suit the aesthetics of your school's space, or retain a "natural wood" appearance if you would prefer this to go with any theme, design, or even the equipment you already have in mind.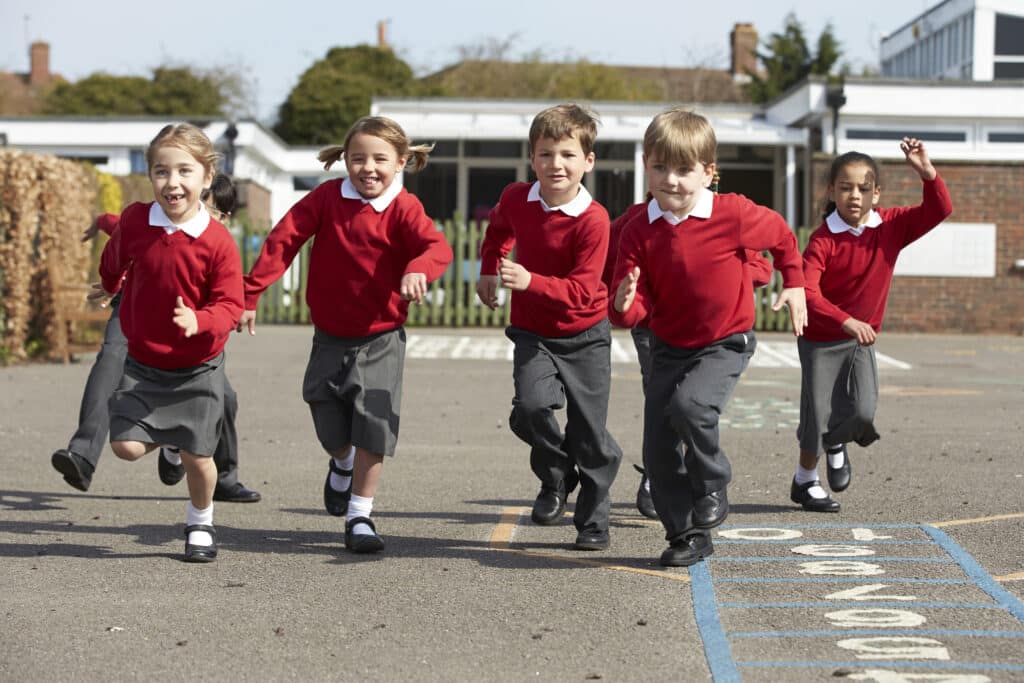 Cement or Concrete
These two options are easily the cheapest on the list, and may already be what your school has available owing to their durability and the fact that they are unlikely to need replacing for years. However, they're not as highly recommended as other surfaces because they don't offer support or shock absorption that minimises the risk of injury.
One of the benefits of having a cement or concrete playground for your school, particularly for older pupils who are beginning to learn the rules of different games, is that they can be adapted and fitted with a range of lines and court markings. This gives you an extra outside space to teach them how to play different sports while making the pitch or court as accurate as possible.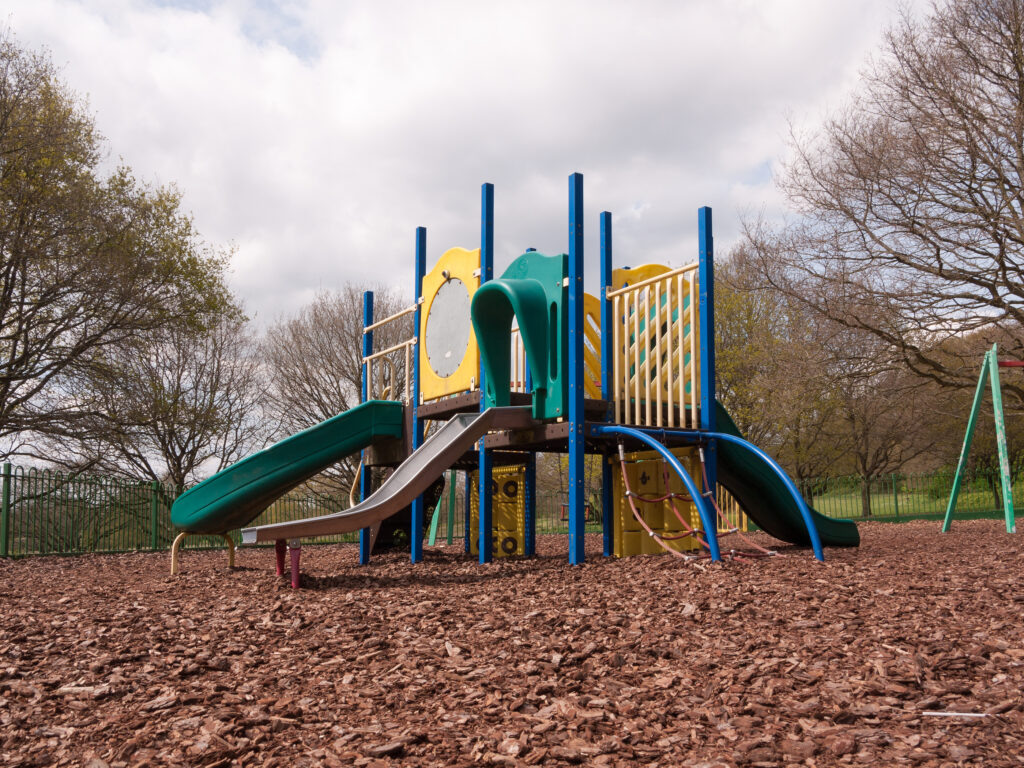 Engineered Wood Chippings or Bark
Wood or bark chippings are a particularly nice idea for natural-looking play areas, as well as play areas for younger pupils that may need support in the event of a trip, slip, or fall. Because they move underfoot, they're very good at absorbing impacts, though you should make sure the area is maintained regularly and any missing chips are replaced to keep this up.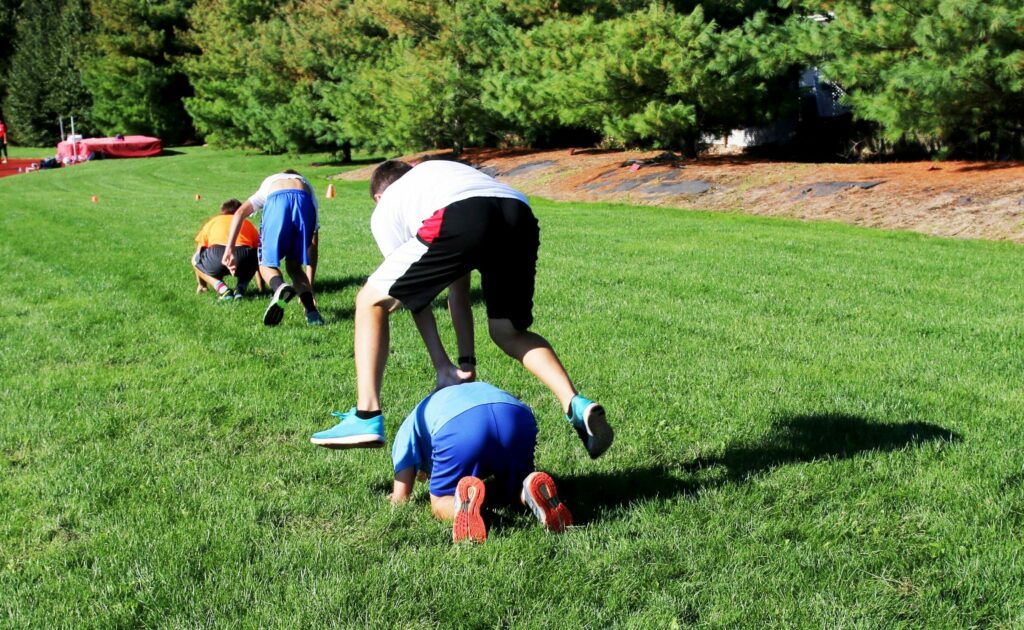 Grass
You might even choose to keep to the most natural play surface of all: grass. This is bound to give any outdoor area a beautiful, completely natural look, and is ideal for smaller play areas where there's low-to-moderate foot traffic. Keeping a Reception or Infant playground covered or partially covered by grass is an example of this, though it's important to remember that grass' level of impact absorption all depends on the climate and type of soil underneath.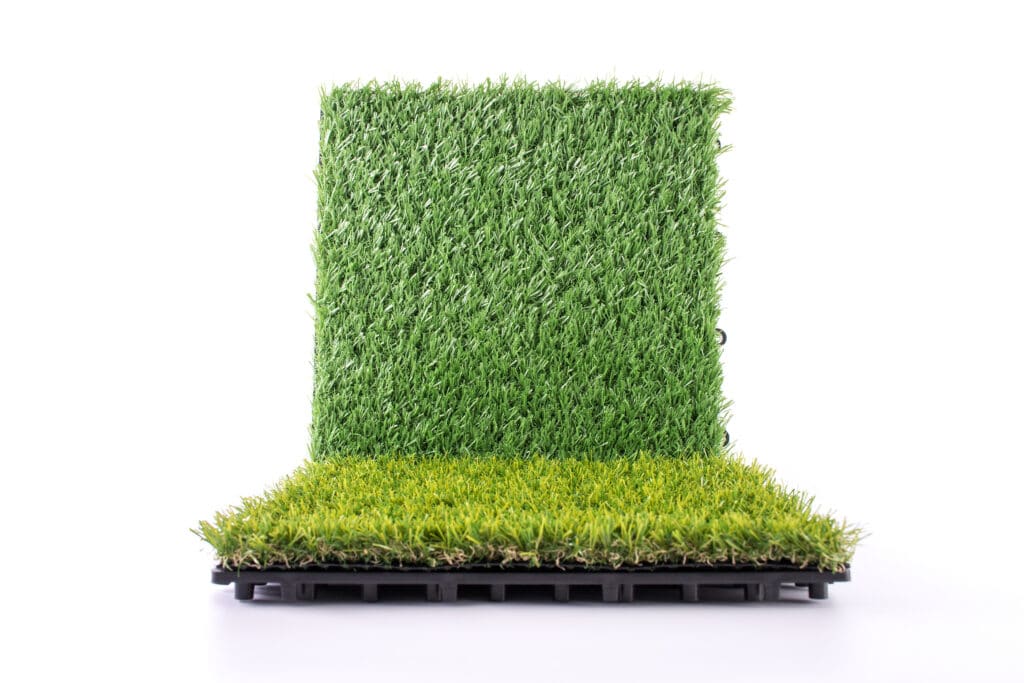 Grass Mat Tiles
If you want to keep the natural look of a play area but want something to protect the grass (especially underneath play equipment) then you might want to take a look at grass mat tiles. The grass will grow up through the rubber tiles and be protected from a lot of the foot traffic at the same time!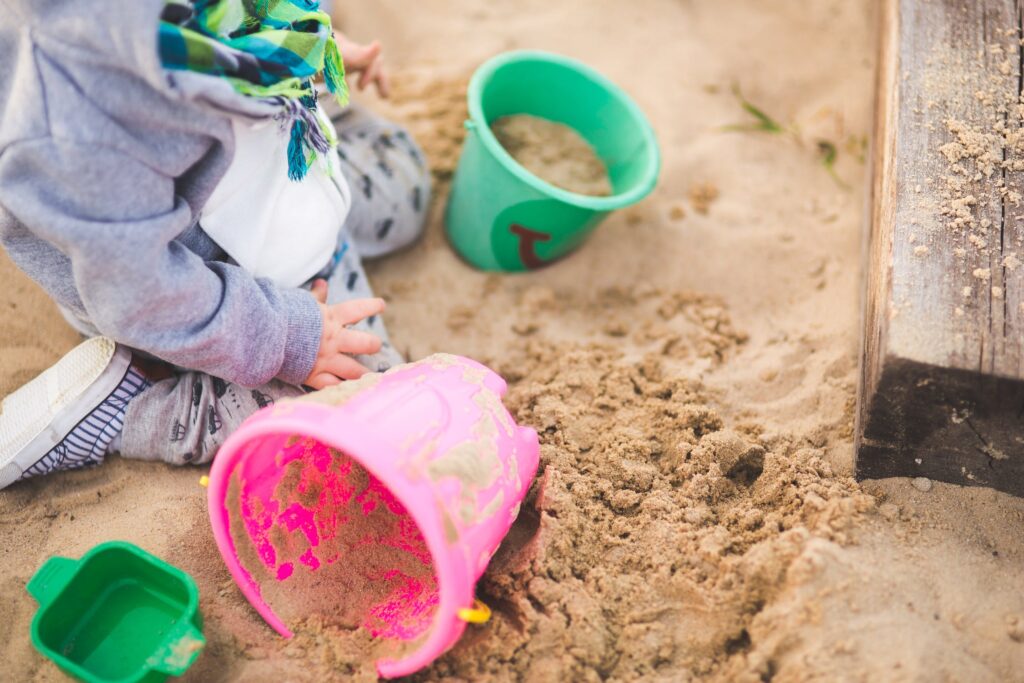 Sand
Sand is often an attractive choice for play surfaces, given that it's low in cost, easy to install, and readily available in many places. It's also ideal for a soft landing in the event of a trip or fall, and many kids love to play in it and could turn the surface into part of their games and activities. However, you will also have to be prepared for a lot of regular maintenance, as sand is easily displaced and will need to be replaced, and can easily become compacted if materials such as dirt are introduced.
If the sand becomes compacted it won't be as soft to fall on, ending its use as a safety surface until the affected areas are replaced. It also has the potential to hide hazardous objects or animal faeces if the outside area sees regular foot traffic from cats, birds, hedgehogs, or foxes. As such, it's highly recommended that any sandy play area you install be raked over at the end of every day.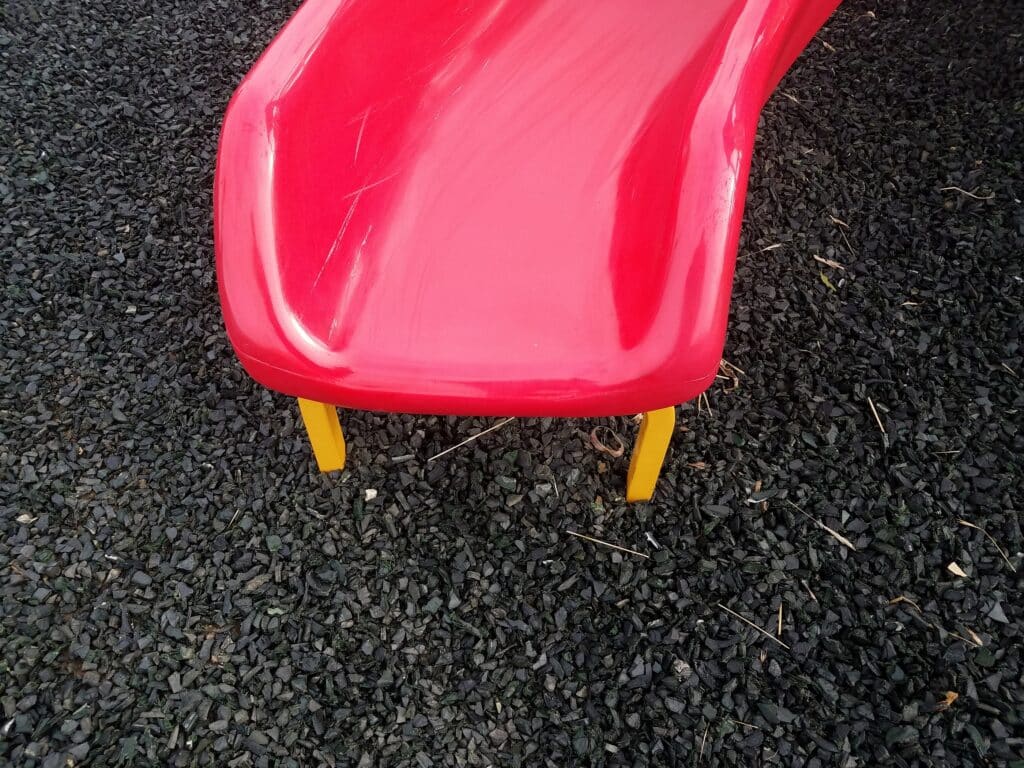 Shredded Rubber Pieces
Like wood chippings, you'll find that shredded rubber makes a great surface for younger pupils to play on. They provide a soft landing, can be provided in different colours to suit the look of your outside space, and are also less expensive to install than solid surfaces. It is important to ensure they're not used for pupils under a certain age, however, as they may represent a choking hazard.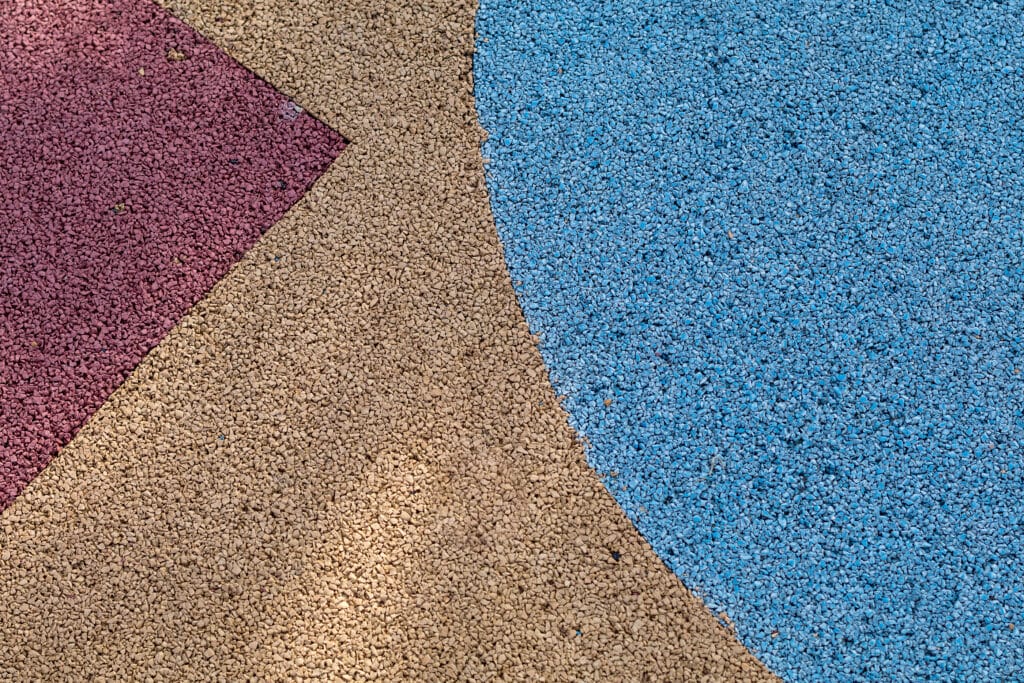 Wet Pour Rubber
Many experts will automatically recommend having a solid rubber surface, also known as "wet pour" rubber. This is an easily installed, solid rubber surface that can be used to create complex designs, patterns, and shapes that will spark a child's imagination. It is also extremely durable against wear, but should be checked for cracks or damage regularly to make sure it stays in its best condition.
What is the Best Material for a Playground Surface?
While there isn't necessarily one "best surface" you can have for a playground, there are a few factors that can help you decide what will be the best surface for your students to use. This is why, if you're installing a new outdoor playground for a school, you're likely to make it a type of safety surfacing. These options can all be considered dual-purpose, too, as they are designed to:
Ensure optimal safety for users: These are impact-attenuating surfaces that help to prevent serious head injuries that could be caused by falling. Industry safety guidelines and Health and Safety good practice recommends that impact-absorbing surfacing is provided under equipment with a free fall height greater than 600 mm or with forced movement, as stated by European Standards for Playgrounds EN1176 and EN1177.
Offer extra play value: These surfaces use different colours, textures, patterns, and floor graphics to add visual stimuli that encourage exercise and movement and support imaginative, creative play in a non-prescriptive way
When looking at potential playground flooring for schools, there are a few other factors that you are going to need to take into account. Some of these might make all the difference when it comes to deciding which flooring type you're going to have installed:
The free fall height of any playground equipment you've planned to have fitted, as this will determine the surface material you need, as well as how much of it you will need
Site conditions, such as the overall climate, the subbase the surface will sit on, and how well the area drains off after it has rained
The age, the behaviour, and number of the users who are likely to be on the surface every day (you may decide to use a different material for a Junior playground, compared to the Infants, for instance)
The budget that you have for any playground installation you're going to order, as some surface materials are more expensive than others
How much maintenance your grounds team can feasibly perform when and where needed
The overall aesthetics of the area once all installation work is complete
Are There Wheelchair Accessible Playground Surfaces?
Out of the list we've provided above, several of the different types of playground surfaces can easily be accessed by someone using a wheelchair. However, we should note that some of these will be better for making accessible routes than others.
Below, we've added some information on each of the surface types that will make the most suitable accessible outdoor playground:
Accessible Artificial Grass Turf
If it has been installed over a cushioning foam underlay and drains properly, your artificial grass installation could make an excellent surface for wheelchair users. You may need to make sure the pile height is right though, otherwise it may become difficult to manoeuvre a wheelchair through the grass to where the person wants to be.
Bonded Wood or Rubber Mulch
Bonded wood or rubber mulch are both applied to make a surface solid, thereby making them an accessible choice for those who need it. Certain methods for bonding the mulch have been proven to be more effective than others, so you may wish to compare materials from different suppliers if you are intending to use this material in the long-term.
Engineered Wood Chips
As long as the surface is raked regularly (at least once a week) to keep a deep, even distribution, it has been found that engineered wood fibre can make for a safe and accessible surface.
Interlocked Playground Tiles
Interlocking rubber mats and tiles are a safe, accessible material for outdoor playgrounds when installed over an already-cushioned base. It is important to remember that the edges are prone to curling, and this should be monitored to ensure the tiles stay in their best condition for your play area.
Shredded Rubber
Like engineered wood chips, shredded rubber can also make a good accessible surface for those using wheelchairs. However, you must be certain that the surface is being raked as regularly as wood chips, as the surface can quickly become inaccessible if left after the kids have been out to play on it.
Wet Pour Rubber
Many studies have shown that wet pour rubber is the safest accessible playground surface. The material will absorb falls from the greatest height and wheelchairs are easily able to roll over it, meaning that neither students nor their appointed assistants will tire themselves out from attempting to push a chair along.
This list only refers to safety surfaces, so materials such as asphalt and cement are not included.
It must also be mentioned that while these listed surfaces are designed to help prevent accidents and minimise the risk of injury, no one surface is completely accident-proof. You can only install the surface that you know will suit the needs of your students and your school best, and ensure that the ground is properly maintained so that kids can make the most of it in the safest possible way.
Completing Outdoor Playground Flooring for Schools
Once your chosen surface material has been fully installed, you might start thinking about what should come after. Of course, your children will have an outdoor space that's just right for running around on, but what else can they use it for, apart from this? Will their new playground present them with plenty of opportunities for fun and play, or will it lack inspiration and look dark, dull, and incomplete when not in use?
To avoid this, the best thing you can do is take a look at what you can find in the way of playground equipment and playground markings for schools. Both of these are bound to get your kids interested in some new games and activities! By stirring up their imaginations, keeping them fit and healthy, and helping them to bond through social play, equipment and markings could soon be helping you to keep your pupils happy and engaged, both in and out of lessons.
Markings are an especially efficient way of helping pupils to have fun and learn on an outdoor playground if you don't have a lot of room. As they bond to the surface material they'll lie completely flat, so they can be walked over or have equipment moved on top of them where needed. This saves space when necessary, and because markings can be made to suit the shape and size of the surface you already have, you can order as many as you'd like for your pupils. They're easy to install, too, and should be ready to use within a day.
Wheelchair Accessible Games
Nobody should ever have to miss out on doing the things they most want to do because they are differently-abled. This is why we're delighted to also note that playground markings can offer a range of wheelchair accessible games and activities to play at break times and during lunch!
Designs do not require steps or surfaces of different heights to be installed (some of them may even be hindered by trying this), making them safe for children of all abilities to use. All you're likely to need for some of the games are some balls or bean bags to throw, giant foam dice, or maybe a piece of chalk so someone can keep score.
For Fantastic and Fun Markings for Flooring
If you're looking for themes and patterns or games and activities that you know your kids will love to use at break and lunch, then we'll be happy to help! Contact Designs & Lines today and have a chat with our team about all the brilliant playground markings you want to complete the look of all your outdoor areas. Made from durable, easily-installed thermoplastic, we can even guarantee that our installations will bond to most playground surfaces!
We'll be happy to work weekends, or even around lessons, to make sure you receive the designs you've asked for on a schedule that suits you and your kids best. You won't even have to worry about what you'll need to know before we begin, either; we'll keep the process as straightforward as it can be and provide all the information you could need, so you can focus on the most important task of all ‒ teaching your students!