How to Lay Artificial Grass on Concrete for Your Outdoor Spaces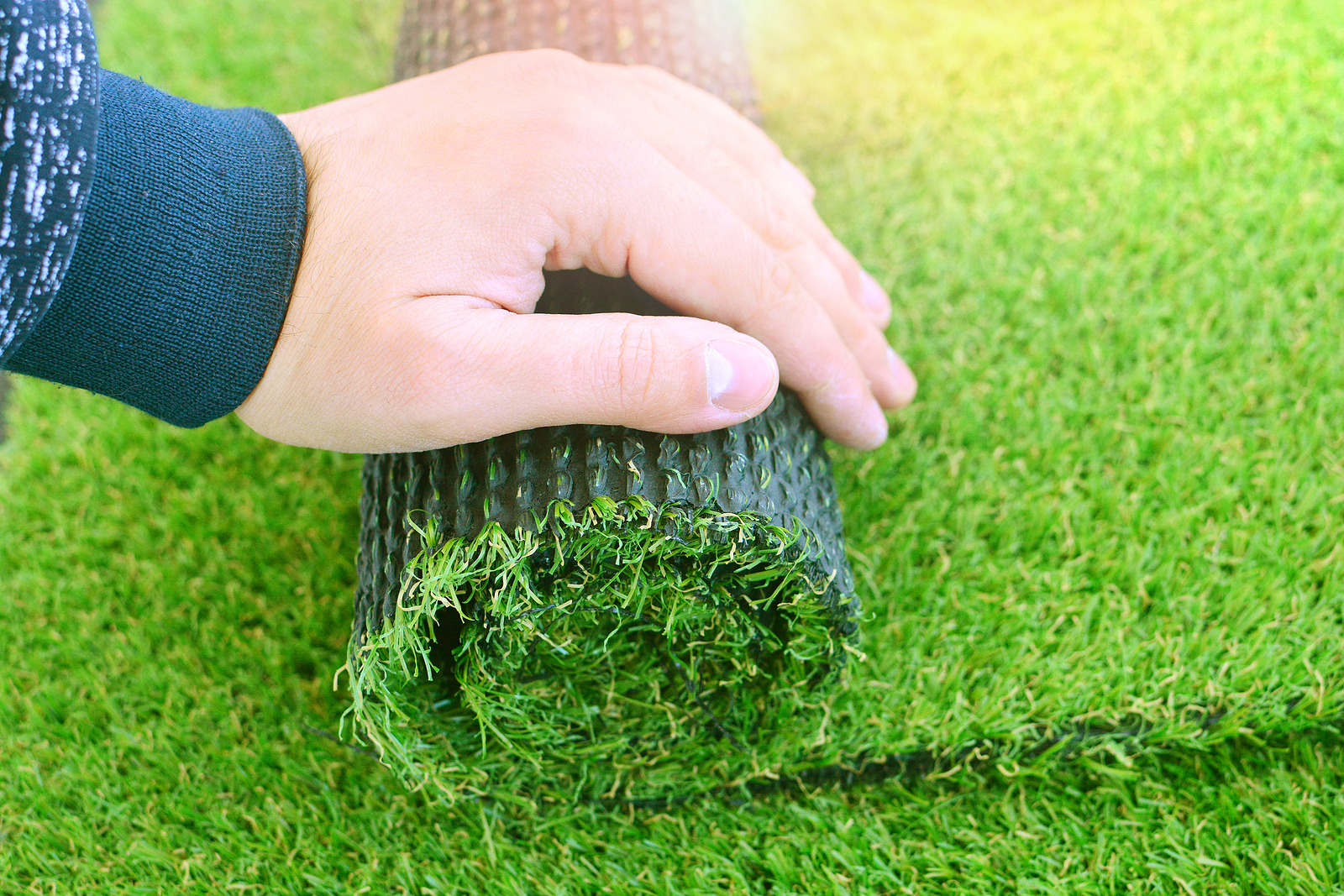 More schools in the modern day are turning towards having artificial grass fitted for their outside areas and play spaces, and we understand entirely if you want to join them. But how do you go about this if you don't have real grass for the turf to replace? Luckily, we can answer this question, and we've done just that in this step-by-step guide on how to lay artificial grass on concrete.
Have a read through if you'd like to know more about how turf can be laid on concrete, or contact us right away if you know you're ready to have some installed on your own school grounds. We'll be happy to provide all the information you need, and answer any questions, before you make your purchase!
Can You Lay Artificial Grass on Concrete?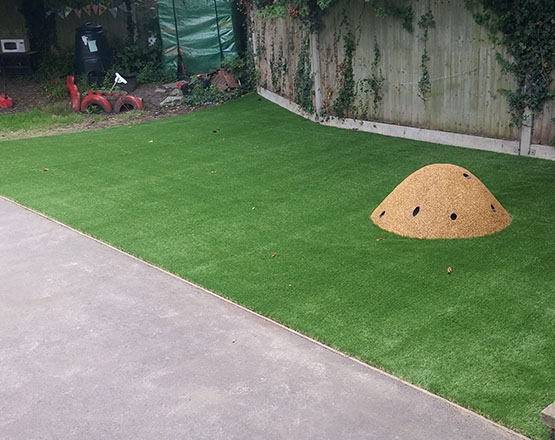 It is absolutely possible to lay artificial grass on concrete. In fact, it isn't that much harder than installing it on any other kind of surface. Artificial grass is extremely versatile in terms of where it can be fitted, though it is important to be sure that the work is carried out properly. This prevents costly repairs that will have to come from your school's maintenance budget, and ensures that the area can be used by your pupils as soon as possible. There won't be any waiting around before they can go and burn off energy!
The Benefits of Laying Artificial Grass on Concrete
There are a number of surprising benefits to putting artificial grass on top of concrete, alongside the fact that it isn't much more difficult than having it fitted anywhere else. The first of these may be obvious upon reflection: it's almost entirely maintenance-free. Synthetic grass will never grow, so it will never need cutting, and should only need a regular brushing and a covering of weed killer once or twice every year to keep it clear of unwanted plants. This cuts down your maintenance budget, which can then be used on other things.
It's Durable
Artificial turf also has the benefit of being hardwearing, durable, and dirt-free, so it cannot be easily kicked apart by school shoes rushing around on it, or even dug up by animals wandering about your school grounds at night. This keeps your lawn or field looking neat, and means that your kids won't head back inside covered in mud, which is a blessing for your classrooms, corridors, and the parents who'd have to wash their uniforms and PE kits!
It's Green All Year Long
You will also find that having an artificial lawn or field set up for your kids gives them a clean, evergreen outside space to play and learn all year round. Whether it's the start of summer or the middle of winter, fake grass will not lose its colour and will give you a beautifully neat space to look out on, even when the weather isn't at its best. As an added bonus, artificial grass is completely hypoallergenic, so even in months when hay fever might be an issue, your kids will be able to play outside comfortably.
It's a Safety Surface
Fitting synthetic turf over concrete also turns a surface that's not only hard in any kind of weather, but can also become slippery when wet or icy, into a softer, non-slip surface. This is a fantastic help to kids rushing around on it every day, even if they don't realise it. When someone trips, slips, or falls over accidentally, they will be landing on a much more cushioned surface than before, so bumps, scrapes, and bruises are less likely to happen. They can just get up and keep on playing!
Points to Check Before Fitting Artificial Grass on Concrete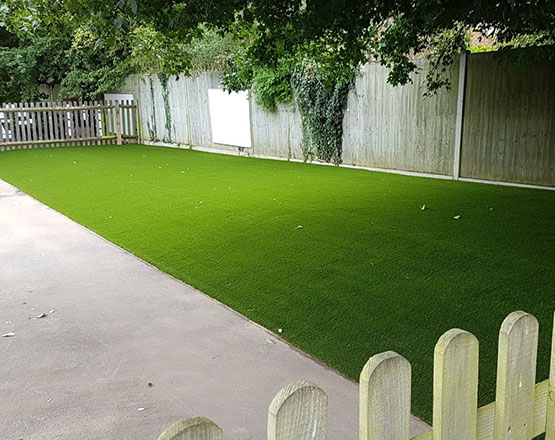 Before going ahead with your installation, there will be a few points you will need to check up on:
Your Concrete's Suitability
Not every concrete surface is right for artificial grass, or in the best condition to take the installation. If your concrete has large cracks that have caused sections of the surface to lift and break away, then it's unlikely that you will be able to go ahead with the work.
In any cases where concrete has sustained a lot of damage, it's recommended that the existing concrete surface is broken out. The grass should then be laid using the process that would be followed for an ordinary installation, carried out on a dirt surface.
For minor cracks and damage, a self-levelling compound should be enough to make repairs before you fit the grass.
How to Fit Artificial Grass on Uneven Concrete
Naturally, your grass surface will need to be safe and even to walk on once the work is complete. If, even after making repairs, the concrete surface is still slightly uneven, you will need to make sure this is covered by putting down an underlay underneath the artificial grass layer. This covers any uneven parts or patches to keep the entire space roughly at the same level, just like you would find with real grass.
Your Outdoor Space's Drainage
It's important to ensure that, once your synthetic turf has been installed, there will be a place for rainwater t drain away. As you are intent on installing the grass on concrete, there may already be a slight fall which allows water to run off and away from the surface, but there is a chance that puddles still form in certain patches. This can be tested by hosing the area down and seeing where the water collects.
Making sure you put drainage holes in the areas where the water stays, and filling these up with shingle, should help to keep the puddles to a minimum.
Tools for Laying Artificial Grass on Concrete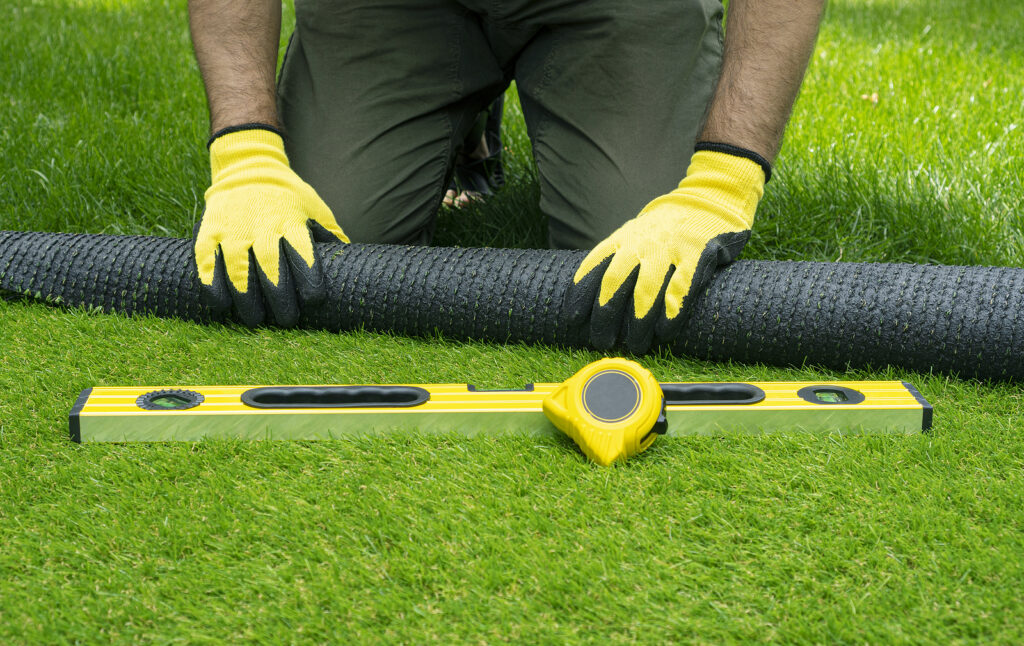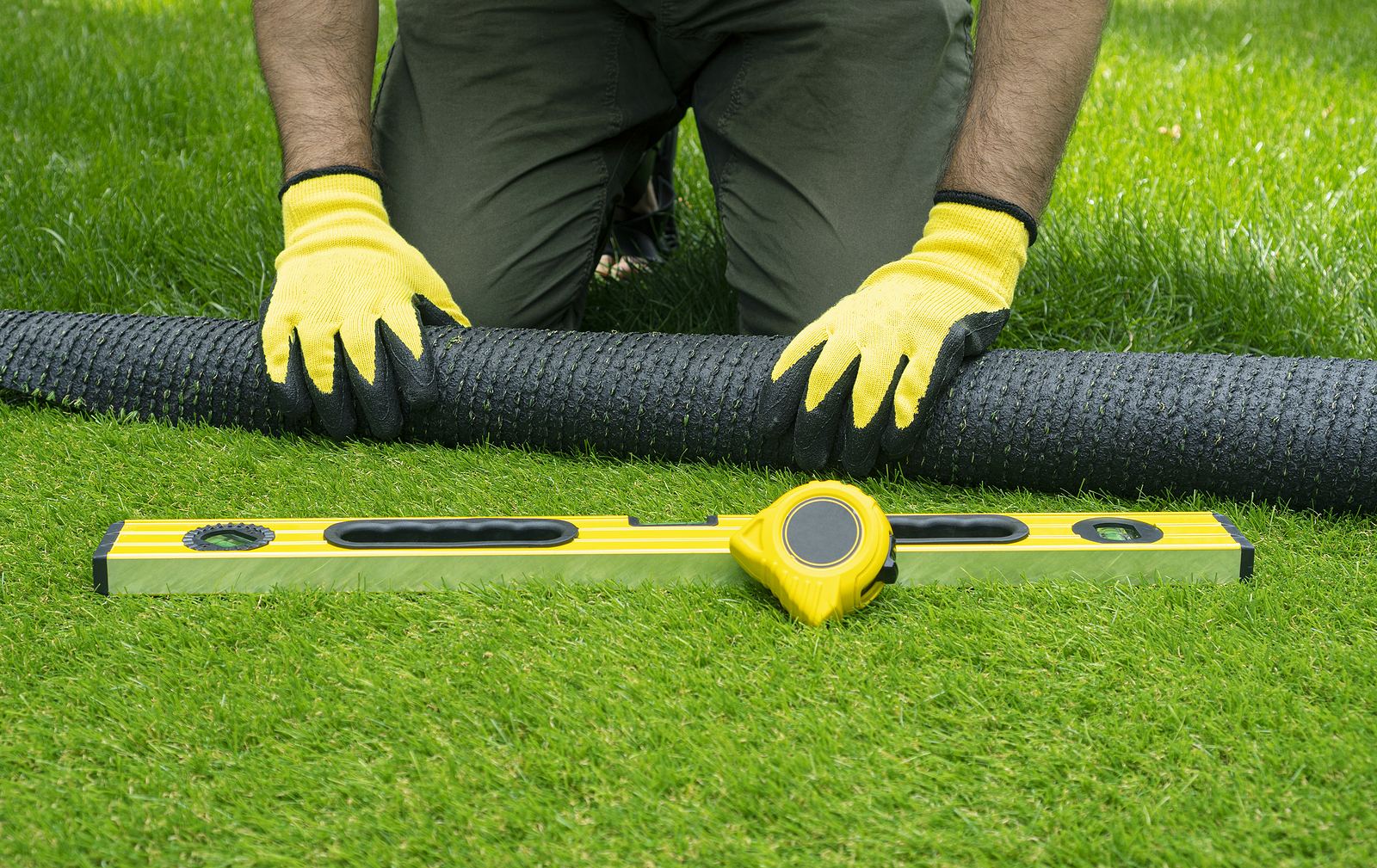 If your school's maintenance team is going to carry out the installation themselves, they will need to ensure they have the right tools for the work. They will need:
A utility knife
A filing or stripping knife
A stiff broom
A hose
A roller, or something else that can compact and bond the surfaces
A 16mm drill bit
It's also recommended that the person carrying out the work has a jet wash on hand, as well as a drill and paddle mixer to mix the adhesive.
Artificial Grass Materials
There are also several different layers and other materials involved when fitting artificial grass to any surface:
Your chosen artificial grass, cut to the dimensions you need
Foam underlay, to make the grass even
Weed membrane, to prevent weeds from growing up through cracks
Artificial grass adhesive, to stick the layers down (you are likely to need tubs of it, rather than tubes)
Gaffer tape, to secure the underlay in place
Joining tape, if this is needed to secure joints in the artificial grass
A sand infill (this is optional, but recommended)
10mm Shingle (for drainage holes, if necessary)
How to Lay Artificial Grass on Concrete: Our Step-by-Step Guide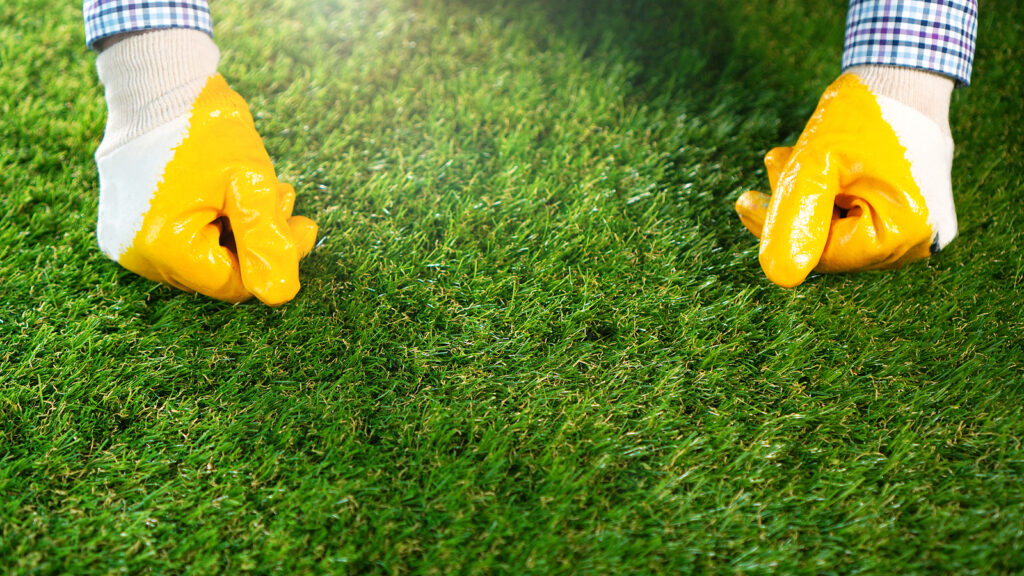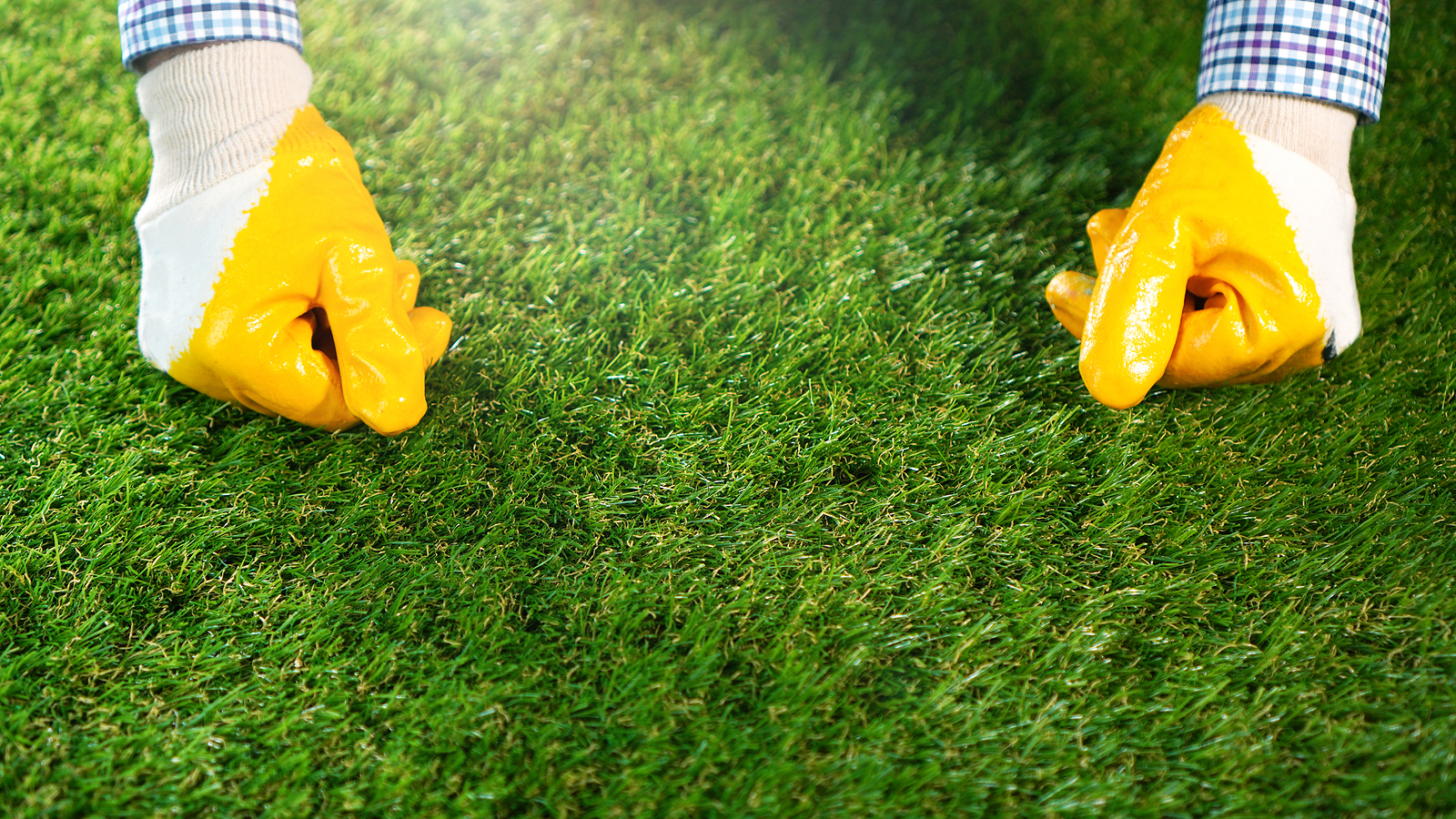 Here, we've set out our step-by-step process on fitting artificial grass to concrete:
Step 1: Clean Your Concrete
If your concrete is flat and in a good enough condition to work on, you will need to make sure it's clean. This ensures that the adhesive will properly bond with the concrete when the time comes to put the layers down. Using a jet wash will make this step quicker, though hosing it down and using a stiff broom to brush it will also do the job.
Applying weed killer is also a good idea at this stage, as it will prevent any weeds currently growing up through smaller cracks from reaching up through your layers.
Once the concrete is clean, you will need to let it dry completely before you continue the work.
Step 2: Install Your Drainage Holes (if You Need to)
If you already know that your concrete surface drains well enough to put down artificial grass without adding drainage holes, then you can skip this step!
In the event that the water doesn't drain well, you will need to make sure that you add in drainage holes where puddles are likely to form using the drill bit. These can then be filled up with the shingle.
Step 3: Install the Underlay
The next step will be to make sure you fit your underlay and weed membrane, with the underlay laid down first. Roll the material out from one end of the concrete to the other, ensuring the foam goes right up to the edge on both sides, and cut it to the shape needed. Make sure all the foam you need is cut and placed in position before you begin glueing the pieces down.
You may need to weigh the foam down when carrying out this step, as the underlay may try to roll itself back up when left unattended.
Once you have worked your way across the entire width of the concrete you're working on, ensuring that there is enough underlay to cover the whole area, you will need to secure the pieces together with masking tape. They can be glued once they have been taped up
Glueing the Pieces
To start glueing, open the tubs of adhesive up and add the hardener. These two parts will need to be mixed (which is where the drill and paddle mixer will come in handy). After this, use a filing or stripping knife to apply the adhesive to the concrete at about 200-300mm wide.
If your surface will need to be able to drain water and you have not put drainage holes in, there will need to be gaps in the glue to allow water to escape.
Step 4: Install the Membrane
Once the underlay is installed, you will be able to fit a weed membrane over the top. This should also be glued or taped, just as you did with the underlay, and fitted up to the edges of the concrete. It should then stick and hold.
Step 5: Cut Your Grass to Size
You'll need to repeat almost the exact same process of installation for your artificial turf as you used to install the underlay. Start by rolling out the grass, ensuring it covers the foam and the membrane, and use the utility knife to cut it to size. This can only be done once, so you must make sure you are cutting the pieces exactly as you need them. Consider using markers to help this part of the process along.
If the turf comes with joints, you will need to trim three stitches off the edge of each piece of artificial grass, in order to form an invisible join.
You should always make sure you finish cutting everything before you attempt to glue anything down, and you will need to stick the joints together using joining tape that's designed for artificial grass. You shouldn't attempt to glue the joints down directly to the underlay or the weed membrane, however, as each piece will move independently when the grass is walked on and make the joints visible.
This part of the process will also be easier if you only glue the joints at this stage, and then leave the glue to go off before you glue the perimeter.
Step 6: Secure the Perimeter with Glue
Once the glue is cured, you will need to secure the grass to the membrane and the underlay. This should be done by folding back the edges of the grass on each side, without the joints coming apart, and applying a layer of glue to the entire perimeter. Make sure this layer is continuous, otherwise it may leave weaker points that could eventually allow the grass to lift or be pulled up.
After this has been done, it's advisable to stay off the grass for the next few hours. This prevents the grass from moving underfoot and lets the adhesive and the layers bond.
Step 7: Add a Sand Infill (If You Would Like One)
A popular finish that comes with a number of its own benefits is adding a sand infill layer to your grass. Not only does it help to weigh your turf down and keep the grass blades in position, it can also help to cool the surface in the summer if you choose the right material. Perhaps most importantly for a children's play area, it also helps the grass to act as a safety surface by creating a softer landing for kids who have tripped or slipped over.
Any sand infill that you choose to add should be applied at a rate of about 4-5kg per square metre.
Step 8: Brush the Grass
After the sand has been installed, you can brush your grass with a stiff broom to make it a little more lively, as you would expect from real grass. Every type of artificial grass has its own pile direction, so if you brush into the pile it should lift up the fibres. You'll have artificial turf that mirrors the real thing!
Getting Professional Installation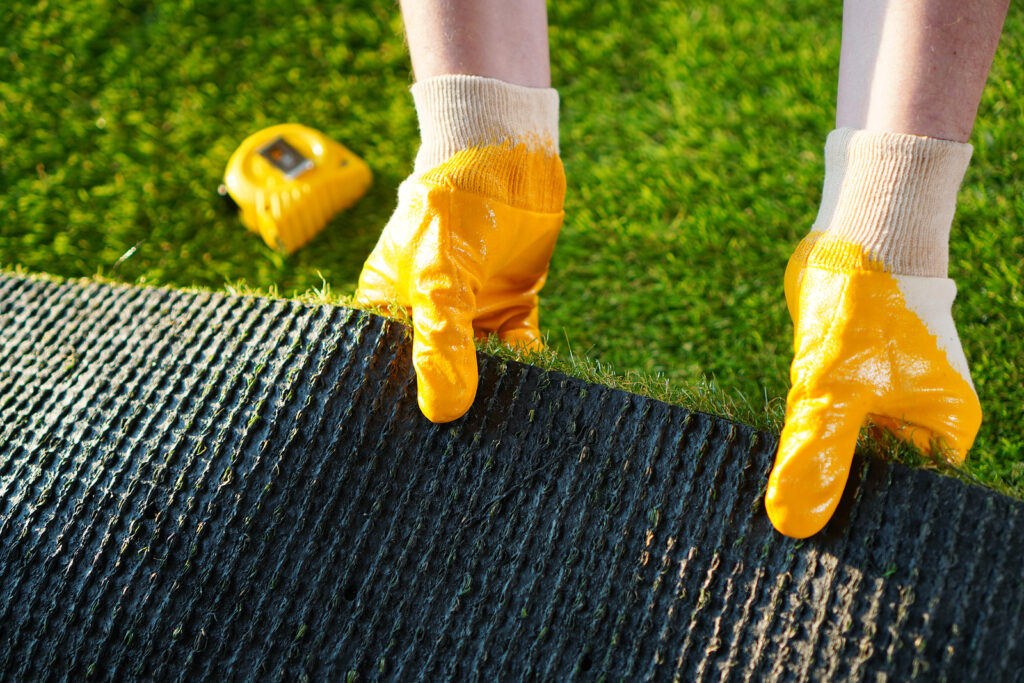 Having your maintenance team carry out the work needed to fit artificial turf to a concrete surface may be good for your budget, but this doesn't necessarily mean it's the right choice to ensure the job is done just as you need it. If your team doesn't have the time or the knowledge necessary to fit the grass, there may be days or weeks in between starting the work and finishing, and the result may not be the high quality finish you've been expecting for your pupils' outdoor play and learning spaces.
To avoid this, it is always best to contact a professional service to supply and fit the artificial grass you need, for any installation on any surface. By letting the experts take care of it, you'll be ensuring that the work is carried out to the standards you need, while freeing up your maintenance team's time so they can carry on with the other important tasks they need to do. It may also end up more cost-effective for your school's budget, as the work will not have to be redone.
Contact Us to Transform Your Outdoor Space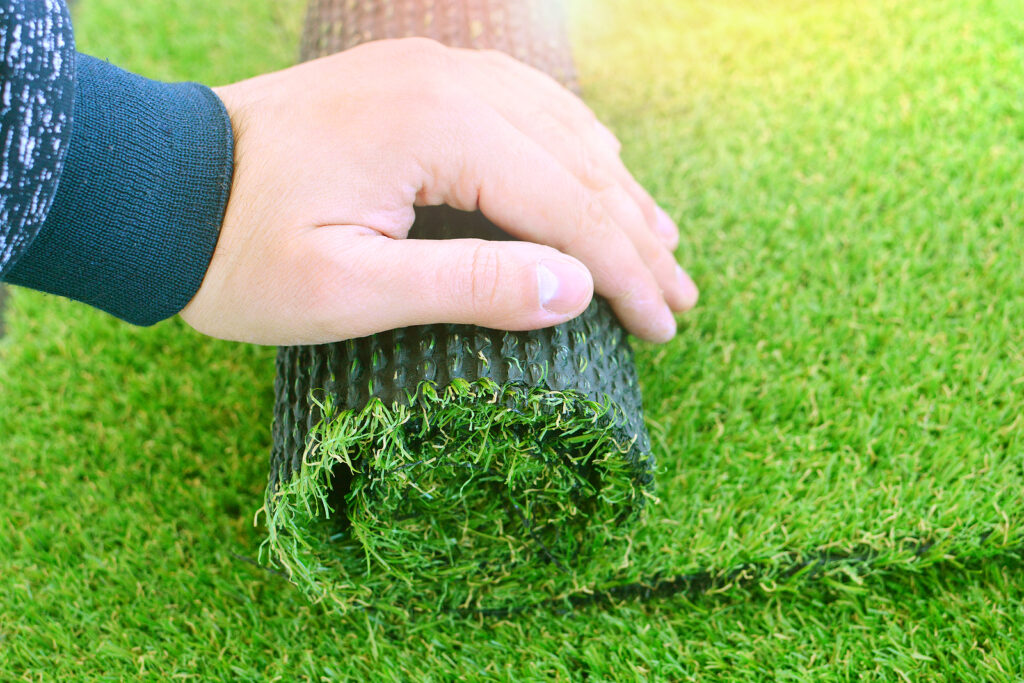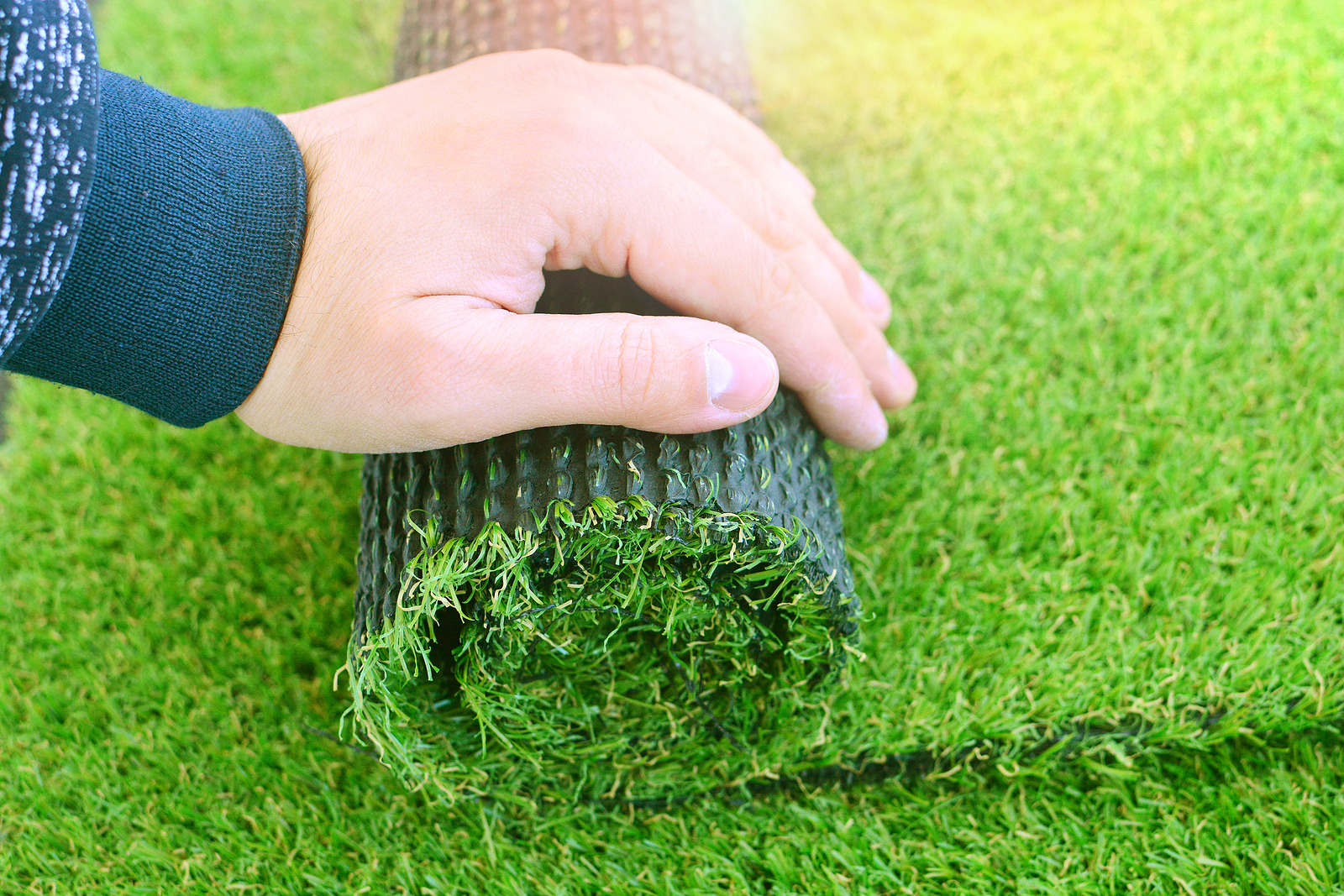 If you're planning on turning a dull, grey outdoor space into something fun, green and that little bit livelier, where students can play games all year long, contact Designs & Lines today and ask about our premium-grade artificial grass. Our team of installers will be happy to supply as much of it as you need, anywhere in the UK, and can ensure it gets fitted to any concrete or cement surface you need covered.
Right from the moment you get in touch to place your order, we'll work on a schedule which suits your needs best. So, if you need us to fit a new lawn or field over a weekend so it's ready for use on Monday morning, we'll be ready. We'll even do it at the most competitive price, so the work is as budget-friendly as it is high quality, and your kids will get the new play space they deserve in no time at all.