Things to Consider When Looking for the Best Artificial Grass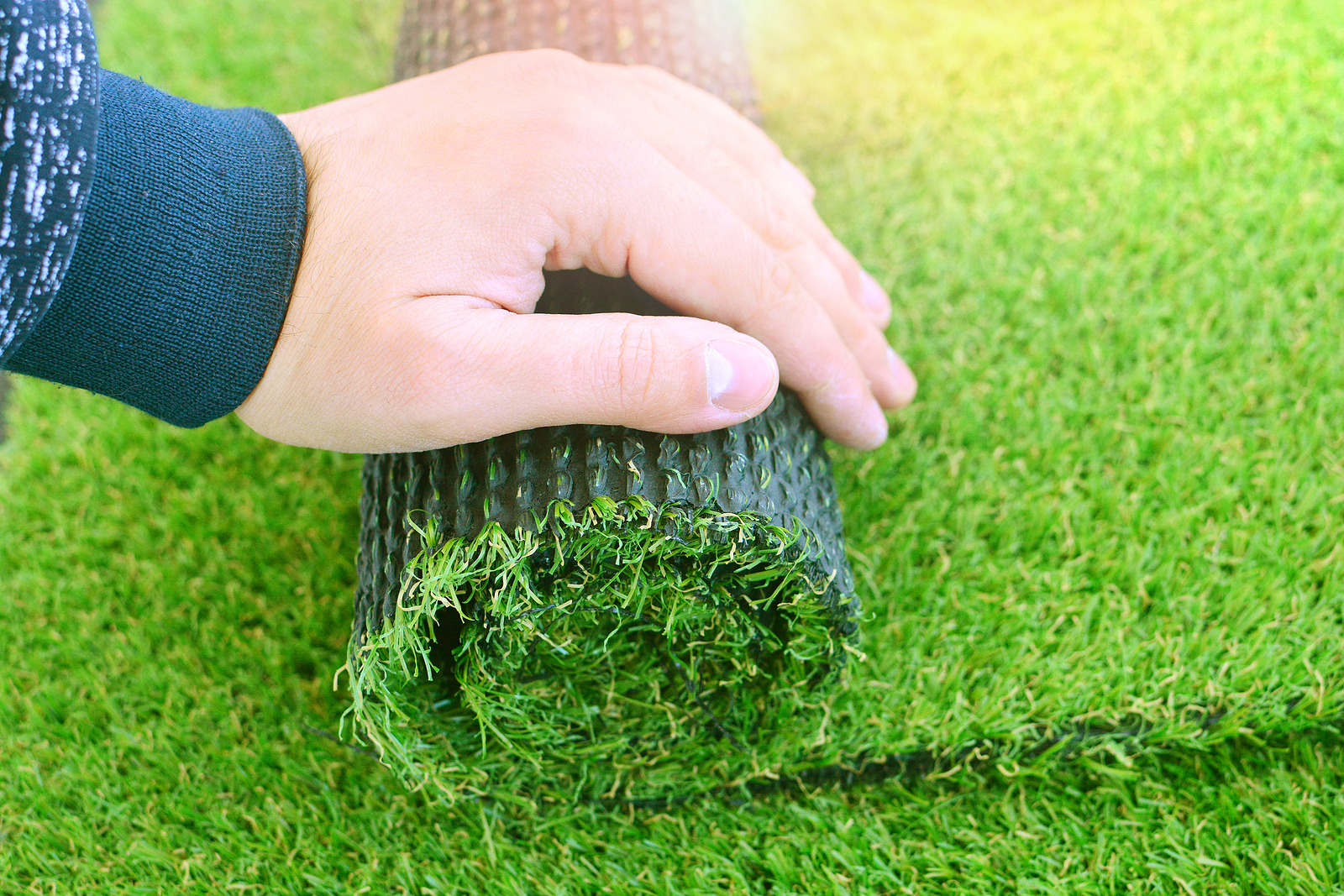 At Designs and Lines, we understand that you may need some advice when searching for the best artificial grass for your school sports field or play area. Luckily, we pride ourselves on our expertise in the supply and installation of artificial grass products, so we're always ready to offer help and support whenever our customers need it.
Read on to learn more and find the best type of artificial grass for your outdoor project, or contact us right away if you already know what you need. Our friendly team will be happy to provide you with a free quote, and can start discussing your specifications if you already know your space's dimensions.
So, What is the Best Artificial Grass in the UK?
This might be the first question on your mind whenever you're searching through the different types of artificial grass available. In our expert opinion, however, we'd say that there is no one "best" kind out of all the types of artificial grass on the UK market.
Instead, when looking for an artificial lawn for your school, children's centre, or organisation, you should look for the artificial grass which offers everything you need. As such, the best type of artificial grass you'll find is the type that's best for your circumstances.
To give an example, if you run a school and you're mostly concerned with keeping a football or rugby pitch neat (i.e., not kicked to pieces) through several matches or more, you're going to need artificial grass options which offer the best durability.
Meanwhile, if you're looking for decorative artificial lawns, or places for the kids to play games, you may wish to find fake grass that's easily protected from sun damage, or that offers a good, safe length for kids to land on in the event of someone falling over.
Uses for Artificial Grass
To decide which is the best type of artificial grass for your outdoor space, you will also have to consider one really important question: what is your artificial grass going to be used for? Synthetic lawns are becoming more popular in the modern day and every day, property owners and managers are coming up with more creative uses for them.
Just some of the delightful and practical uses you'll find for artificial grass include:
Play areas for schools and nurseries, including safety surfacing around climbing frames and slides
Sports pitches
Golf putting greens
Rooftop garden spaces
Events, fêtes and Sports Days
Decorative landscaping
Grass edging around buildings
Types of Artificial Grass
There are many different types of artificial grass available, but you will normally find that they are all made of the same three materials:
Nylon
Nylon is widely considered the strongest out of the three different types, making it ideal for the foot traffic you could expect of a typical playtime or lunchtime during the school week. Its hard-wearing nature also means it'll be perfect as a permanent sports pitch for your PE lessons. You might even consider holding small tournaments between classes, house teams, or even other schools!
The one downside you may find to using nylon-based artificial turf is that it's often more abrasive than other types of synthetic grass. As such, it will not normally be as soft on the skin as other varieties if someone falls over.
Polyethene
This type of artificial grass is highly recommended if you'd prefer a cost-effective option. Not only does it cost less than other types of synthetic turf to install, you'll also find your maintenance bills will be lowered as it doesn't require a lot of care and attention. It also comes with the added benefit of closely resembling natural grass, both in terms of look and feel. If you choose this type, your fake lawn or playing field may be the mirror image of natural lawns up and down the country!
Because this synthetic turf type is made of a softer material, you may find this is the better choice for play areas and places for fun and games.
Polypropylene
Out of all the different types of artificial grass and turf, polypropylene is the type that's best suited for small patches and grass edging. So, if you're looking for a fake grass that's only to be used for areas with light foot traffic, or as decorative landscaping in an area that's not for general use, this may be the best option for you.
Pile Height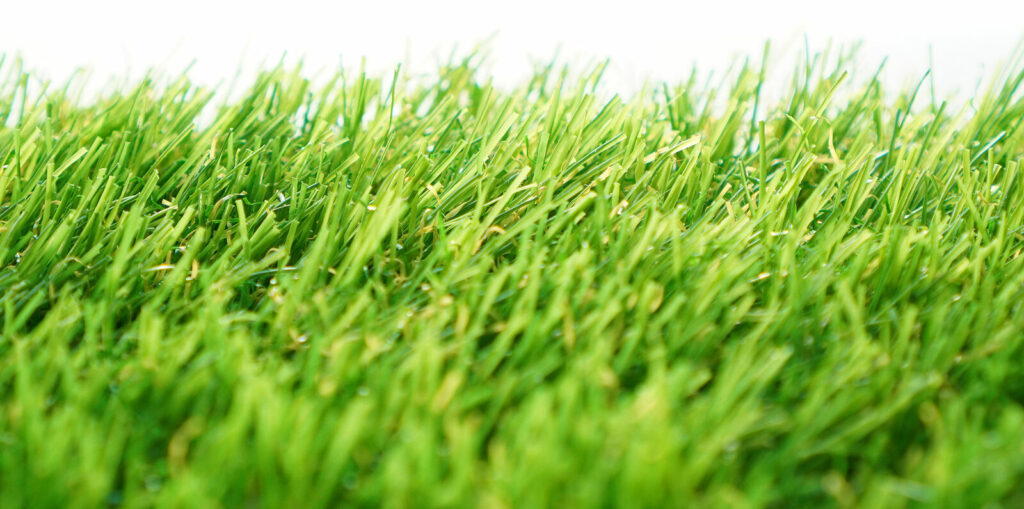 When looking at different types of artificial grass, you may also want to look at aspects such as pile height. This is the measured height from the grass backing to the top of the surface fibres. In other words, it is the length of the fibres (or fake grass blades) coming from the backing.
Depending on the use of your outside space, you may wish to consider a different pile height. For instance, having artificial grass of a greater length around playground equipment such as climbing frames can also double up as safety surfacing by cushioning falls.
Pile Density
You may also wish to consider pile density when deciding on your ideal artificial turf. This is the number of fibres that are stitched into the backing layer and how close together they are. The higher this number is, the more fibres or "blades" there are in the turf.
Having a good pile density in your fake grass lawn makes your green space look more like it's covered in real grass.
Some Other Factors to Bear in Mind
When choosing your artificial grass, there are some other questions which you might also want to bear in mind:
What colour would you like the grass to be? Does it need to be completely green, or would you like it to have slight yellow spots that help to keep up the authentic appearance?
Is the artificial grass you're looking at fire resistant? Are you planning on hosting school barbecues, or can you expect parents or members of staff to smoke near it?
What is the artificial grass going to hold? Will it need to hold furniture or heavy play equipment, such as trampolines?
Will the artificial grass be likely to see sharp objects, such as heeled shoes or football boots?
What's going to be facing (or pointed directly at) the turf? Will it be something highly reflective, such as windows or mirrors?
What's the Best Price for Artificial Grass in the UK?
Generally, prices for any type of artificial turf will vary, depending on the amount you need and the material you buy. Most will come in rolls that are either two or four metres wide, and you may expect to pay anywhere between £10 and £30 per square metre.
What's the Best Way to Install Artificial Grass?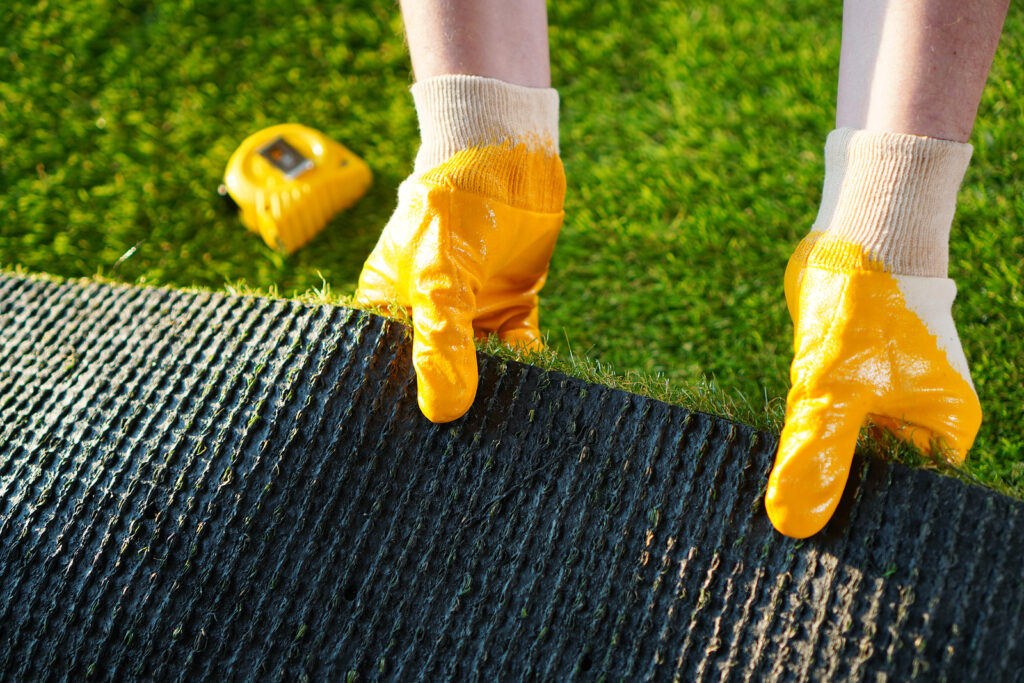 How you should install artificial grass all depends on the surface you've got underneath it. For instance, if you're fitting synthetic turf onto a natural lawn, you'll need to:
Remove the natural grass and some soil
Compact the ground
Put down a weed membrane
Install edging
Lay and cut the artificial turf
On the other hand, if you're planning on adding a little patch of green to a concrete floor space, you will need to:
Lay out the turf
Cut and fix around the edges with bonding or screws
If you choose to contact a professional supplier and installer of artificial grass products, they'll have an expert team ready to handle all of this for you.
For the Best Artificial Grass Installation in the UK
If you know that your outside spaces will only look their best and be ready for your kids to have fun and play games when they're sporting fresh, new artificial turf, contact Designs and Lines today. We'll be glad to help you find the best type of artificial grass for your needs, and can ensure that your purchase is installed whenever and wherever you need it most.
Our service is designed to be as hassle-free as possible, too, so as soon as we know where you would like your new artificial grass, we'll let you carry on with your most important job while we transform your outdoor areas. All you'll need to do is designate a time and date, then our dedicated team will complete an installation of high-quality synthetic turf, just as we've agreed.