Everything You Need to Know About Artificial Grass Edging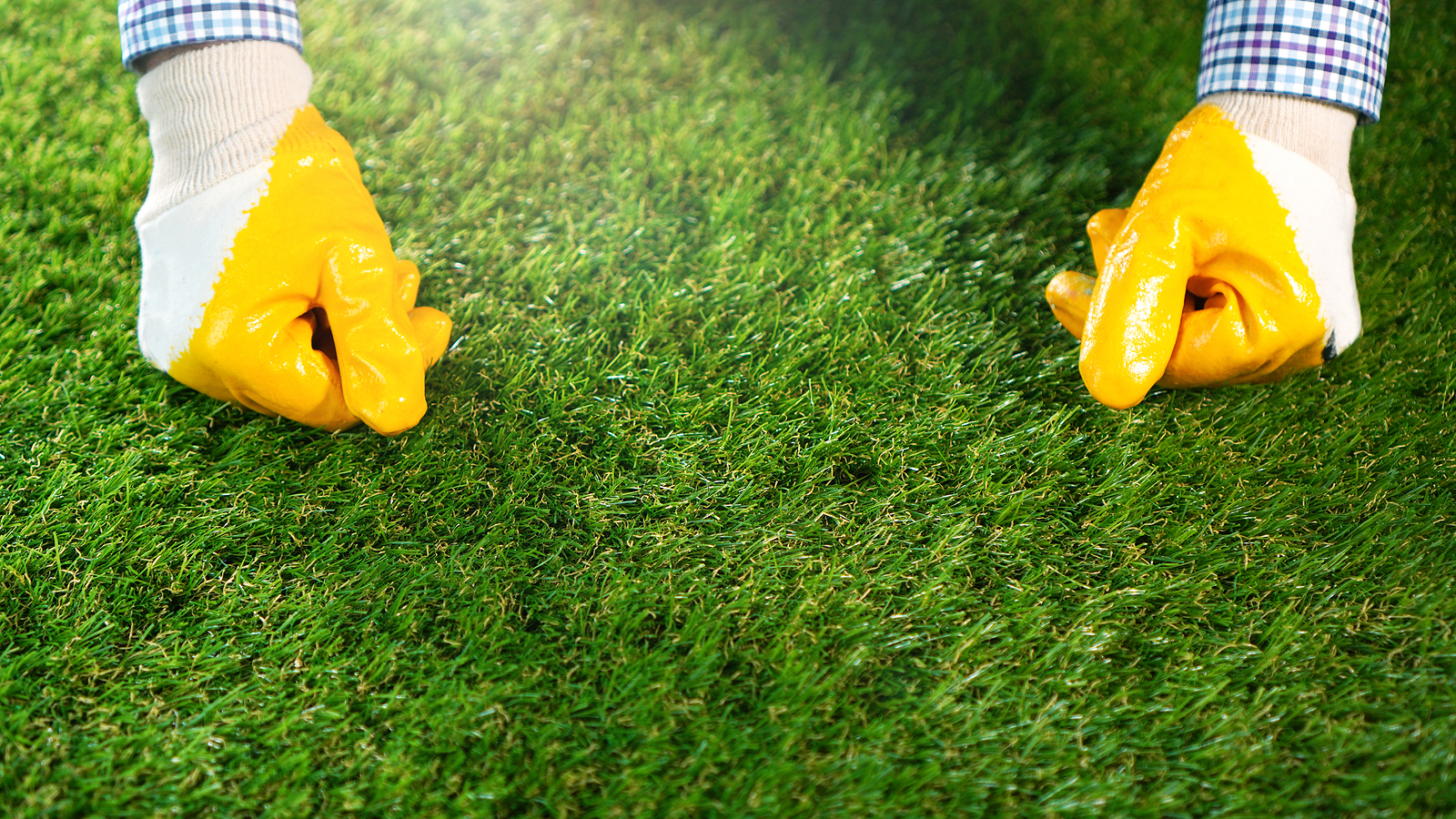 We understand that, before you decide to buy high quality artificial grass for your school sports field or outdoor play and learning areas, you'll want all the information you could need on every part involved. To get you started and to make the whole process as hassle-free as possible, we've set out this helpful guide on artificial grass edging for you to read at your leisure.
Read on to learn more about what's involved with the installation of artificial grass edging, or start the ball rolling and get in touch with us to place an order for your own artificial grass lawn today. Once we know your outdoor space's dimensions, we'll be glad to provide you with a free quote that's just right for your specifications.
What is Artificial Grass Edging?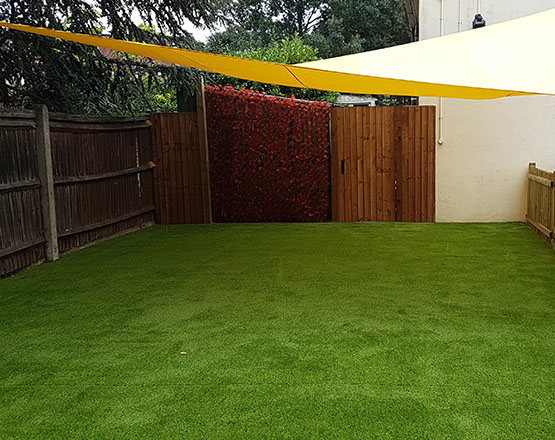 Edging for artificial grass is just like edging for a real lawn or area of turf. It's a kind of border that separates your fake turf from other areas, like flower beds and borders, pathways and playgrounds, and can even circle your school pond if you have one.
Why Do You Need Artificial Grass Edging?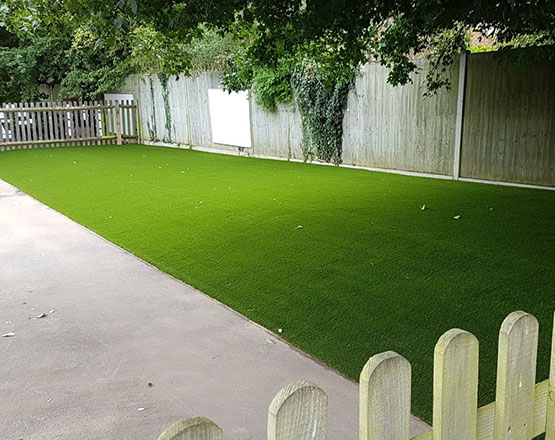 There are a few reasons you'll need edging once you've had artificial grass installed:
It Acts as a Restraint
The first of these is so that it can act as a restraint for the aggregates used in the groundworks. Because the sub-base underneath the fake grass itself is normally made of a soft material like sand, it will move around when people walk, sit, or run on it. Having a hard edge retains the sub-base and prevents it from subsiding, keeping it firm, even, and ready for your students to use.
If you're going to put it around the edge of your pond, it will also prevent the material from slipping into the water, or eroding so far that loose nails and spikes are exposed. This keeps your water clean (and ready for pond wildlife) and means your kids will be safe from sharp objects they shouldn't have to be near.
It Secures it in Place
The second reason is that the edging system provides you with an anchoring point for the perimeter of the artificial lawn. It needs to be secured to the edges to prevent the grass from lifting up and coming away.
It Keeps it Neat and Tidy
A minor third reason that you might also want to take into consideration is the aesthetic appeal provided by different types of edging. It keeps everything looking neat and tidy, and with an artificial grass installation already in place, you're guaranteed to have a clean-looking, evergreen outside space for a long time to come.
When Will You Not Need Artificial Grass Edging?
Normally, you'll need edging around an entire artificial lawn. The only times this won't be necessary is when the artificial lawn is installed up against a building or an already-installed concrete pathway. Of course, you can always choose to install edging for the latter anyway, as it helps to complete the clean, tidy look you've established for the rest of your outdoor play and learning space.
The Most Common Artificial Grass Edging Types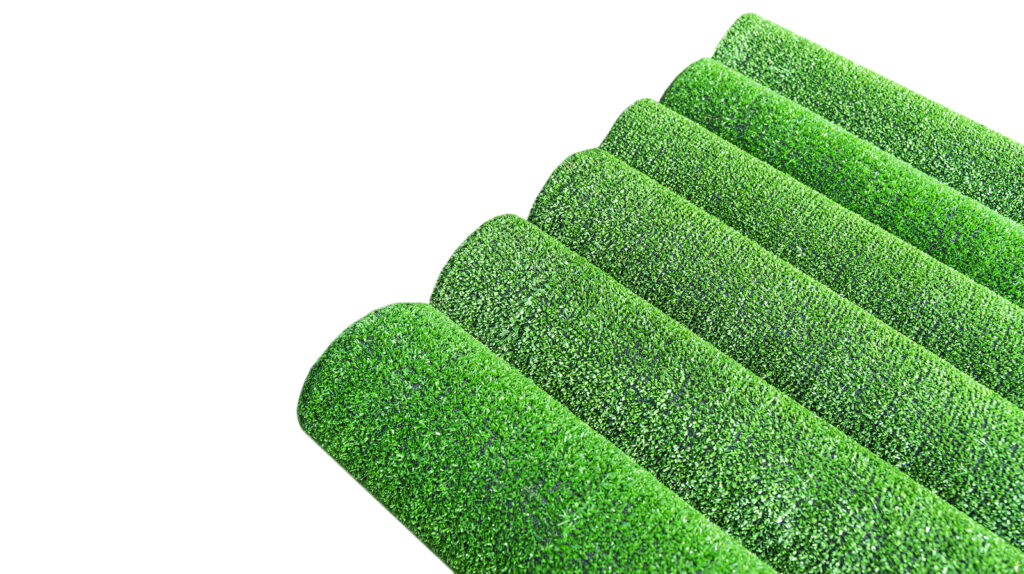 There are many different types of artificial grass edging available, but we've listed the most common ones for you to consider for your own outdoor areas:
Timber Edging
You'll be in luck if you've had ideas of a natural-looking garden for your outdoor area or play space, because timber edging is both cost-effective and easily trimmed to any size! The only downsides to this material are that it isn't flexible so it can't be used for curved edging, and it has a relatively short life expectancy when compared to other edging types.
Pressure-treating the wood can delay the decay, but the edging will still be exposed to moisture from the ground and will eventually rot. This means it may last around 10 years, but should not be expected to last longer than this.
Sleepers or Railroad Ties
Like timber, these edging types are made from wood and can be pressure-treated to increase durability and longevity. The main difference is that timber edging will tend to sit at the same level as your fake grass, while sleepers and railroad ties provide a raised edge around the perimeter of your soft play and learning space.
If you've had ideas for a contained garden space for an Infant or nursery class, this might just be the edging type for you! Sleepers are easily stacked if you'd like to create a border of raised flower beds around the edge of your artificial grass, and they'll make excellent steps and outdoor sitting areas for your smallest pupils when the weather is nice.
Railroad sleepers are also a fantastic platform for anchoring your lawn's perimeter and preventing lifting, while keeping all the sub-base materials firmly in place. The only issue lies in its installation process. If you're installing artificial grass on concrete that's already laid down and set, sleepers can be very difficult to put in place on top of this, so it's best to consider another option if the base already exists.
If the concrete surface is new, setting the sleepers in it will be a bit easier.
Bricks or Block Stones
If you want something a bit more permanent than timber, you may consider using brick or block stones for your edging. These can simply be set in their own concrete base to form a hard edge, and make a wonderful option if you're looking to separate artificial turf from a natural surface that needs to be soft, such as a flower bed, or even a communal garden that your students are learning from and tending to. They can also make a nice, decorative pond liner.
When you install brick or block stones, you will have to secure the perimeter into the ground to prevent lifting, instead of directly into the edging itself.
Paving
If you already have paving surrounding the space you'll fill with AstroTurf-like artificial grass, you can even use this as a ready-made and prepared edging. All you'll have to ensure is that it's elevated high enough to keep the sub-base in place to prevent subsidence, and that it provides a solid perimeter below the surface to keep in the base materials.
How you have your fake grass in relation to the paving is up to you and your ideas for the space that you have. Some people prefer to keep the grass completely level with the paving, but others like the grass blades to protrude above the surface.
Like with brick edging, it isn't possible to secure the perimeter of artificial turf directly onto the edging. You may be able to glue it, but this will prevent you from fixing any mistakes once the turf has been installed. Most contractors will prefer to use steel spikes, driven into the ground around the perimeter.
You will need to check what materials are underneath the surface before you decide to use paving as edging for your artificial grass. Sometimes, you'll find that the paving has been laid on sand, which means you will have to install additional edging to keep your base materials contained.
Concrete Gravel Boards
This is a great option for edging if you intend to install artificial grass up to the edge of a wooden fence. Because wood will rot over time when kept in contact with ground moisture, having it propped up on a concrete gravel board (or replacing the lowest slat in the fence with concrete) should keep your fence in its best condition for longer.
Concrete gravel boards are a unique solution to providing edging for your artificial grass, but they can make it difficult to have the fence replaced in the future. You will also have to make sure the grass is secured at the perimeter with spikes driven into the ground.
Aluminium or Steel
If you'd like an edging type that's cost-effective and offers a longer lifespan than timber, you may wish to take a look at metal varieties. They're also quick and easy to install, meaning that they can be set down as soon as the lawn is in place and made ready for your kids to come out at playtime. Certain brands may even come with spikes already in place, offering a faster and simpler installation than before.
You will have to make sure the metal edging you're using is weather resistant. Most steel edging will be made from galvanised steel which has been coated to ensure it won't rust over time, and edging made with aluminium will have an oxidised outer layer. This means it shouldn't show any signs of weathering.
Metal edging shouldn't be very visible if it has been installed properly, and can be designed to create curved edging. However, many people still prefer the aesthetics associated with timber, even if this means not having curved edging in place.
Bender Boards
These are the ideal edging type if you're looking for curved edging for your lawn! Bender boards are flexible enough to fit most curves in turf, and because they're generally made from plastics they're also affordable and long-lasting. Many varieties even come designed with a natural look in mind, offering the colours and grained textures associated with timber.
Generally, bender boards will feature slip joints at the ends to allow for thermal expansion between connecting boards, preventing damage.
Installing bender boards to use them as lawn edging around your outdoor play and learning spaces can be difficult if you're planning on doing it by yourself. This is why we'd always recommend getting in touch with a professional service to secure it for you, rather than taking time out of your maintenance team's day to get it done.
Rubber Edging
Rubber edging is commonly used for playgrounds because the beveled edge hides the cut edge of the grass and prevents your pupils from tripping over. But you'll have to bear in mind the fact that it's mostly a cosmetic finishing touch and doesn't fulfill either of the main purposes of artificial grass edging.
This means it will not retain the aggregates in your base layer, or provide a platform for your fake grass to be anchored into. It simply sits on the surface of your laying course, so there may be subsidence and lifting over quite a short amount of time.
Composite Plastic Edging
Plastic edging is often chosen over timber, as it offers many of the same benefits with the added bonus of never rotting. The majority of manufacturers and suppliers will offer a 25-year guarantee against rot on plastic edging, and the entire product is quick and easy to install. This means you can have it ready as soon as you need it, and the kids can come out to enjoy their play space in no time at all.
It is important to note, however, that composite plastic lumber will normally cost more than treated timber. You may also need to find specialist fixings for securing the perimeter.
Custom Edging Types
Certain websites also provide custom edging solutions in various materials and designs. These will all have their own features and applications, and some may be more suitable for a play and learning space than others. As such, you may wish to browse through the available options and find the one you know will work best for your students.
For example, you might select a style that has a sloped edge, which eliminates the risk of someone tripping over. It also prevents the edge from lifting further on in the future.
Gravel or Wood Chips Edging Compliments
These materials are not solid borders, but they can be added in as nice compliments to edging you've already got installed. They act as a great visual contrast while maintaining the natural appearance that many of us love for outdoor spaces, and can cover up the edging if the ideas you've had in mind mean the edges shouldn't be visible.
By backfilling the outside of your lawn's perimeter with gravel or wood chips, you can also provide certain types of edging with extra support. This is especially important if you are planning on using bender boards or metal edging, as these are more flimsy than other types and may easily be kicked over by someone rushing around or playing an enthusiastic game of football.
You must take care not to use too much of any kind of gravel or wood chipping, however, as it can spill over into fake grass and become difficult to pick out.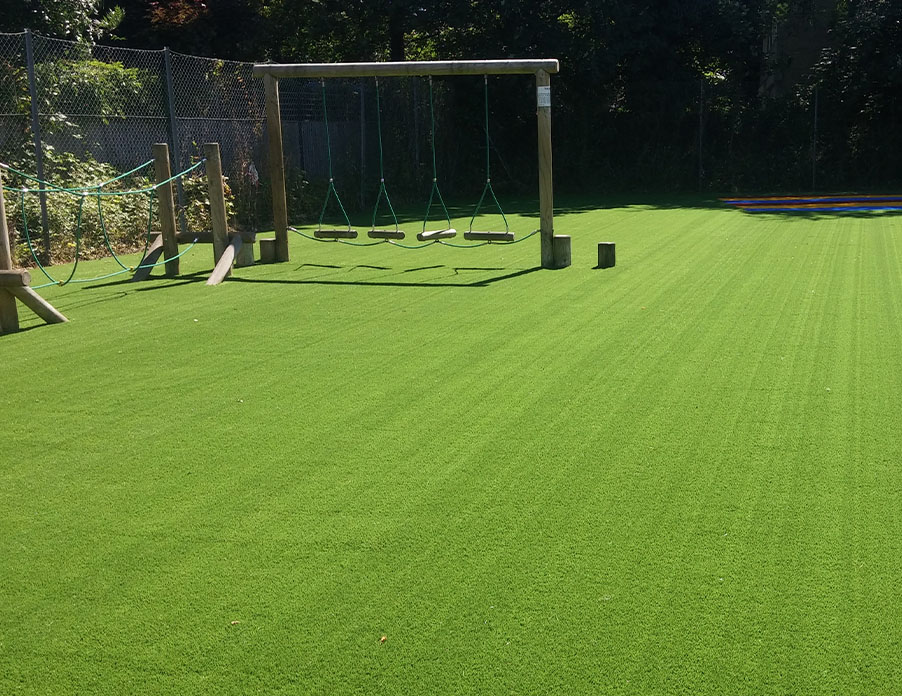 What's the Best Edging for Artificial Grass?
Technically speaking, there isn't a "best" type of edging for AstroTurf-like fake grass; there is only the type which meets all your needs and looks best in your outdoor space. When deciding on the right kind of edging for your artificial grass lawn, you'll want to take a few different factors into account, including:
The budget you'd like to spend
What the edging will be used for
The kind of foot traffic it will see every day
How safe raised or level edging will be for your pupils
The aesthetics you think suit your space best
How to Install Artificial Grass Edging
Installing edging is part of the process when you are having artificial grass fitted, and typically takes place early on in the work. This will normally be after the ground has been excavated and prepared, but before the sub-base is laid.
After this, the work can be separated into three individual steps:
Step 1: Setting the Edging into the Ground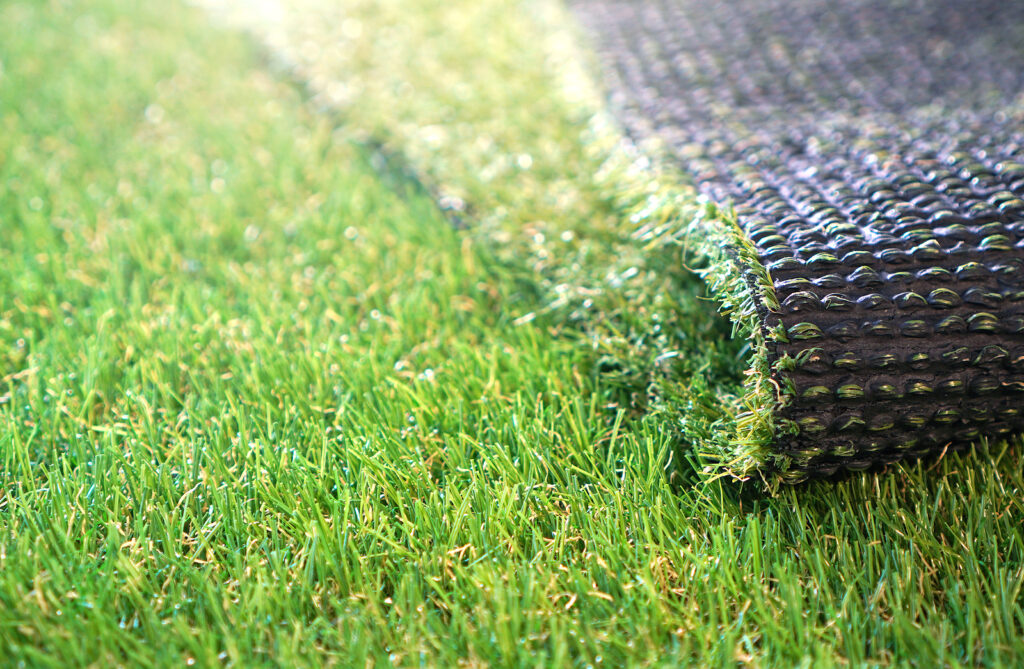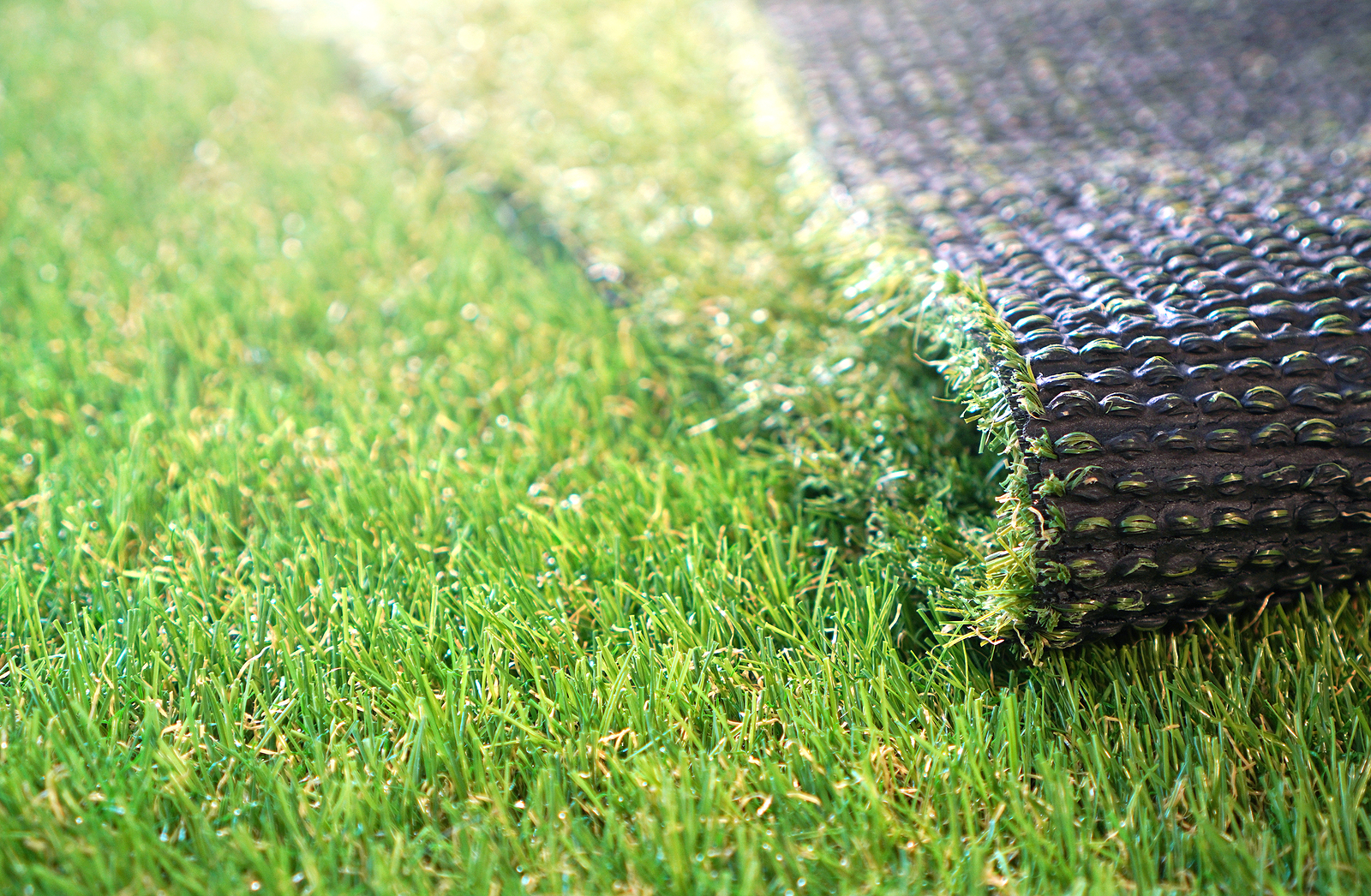 The method you choose for setting and securing your edging will all depend on the type chosen. That being said, the most popular method will be to secure it with stakes or spikes.
The process should start with you laying down the edging. If you are using curved edging, this may take more than one person to accomplish. If you're using bender boards for the edging, you will also need to leave a half-inch gap in between the connecting pieces to allow room for contraction and expansion with temperature changes.
After this, it will be time to begin driving stakes outside the perimeter of the edging. Hammer the stakes down so that they are slightly below the top edge, before driving galvanised screws through the stakes and into the edging so that the two are secured together. Repeat this process all the way around the lawn.
Experts normally recommend one stake every four or five feet (every 120 – 150cm). In the event that you are using bender boards, you may need to place the stakes closer to each other, depending on the curves in the edging. You may also wish to mount two stakes close to the joints, one on each board.
Once you have secured the edging, backfill and lightly compress the soil or materials that you've got outside of the perimeter. This gives additional support to the edging, and means you can continue with preparing the sub-base and laying course.
Step 2: Trim the Artificial Grass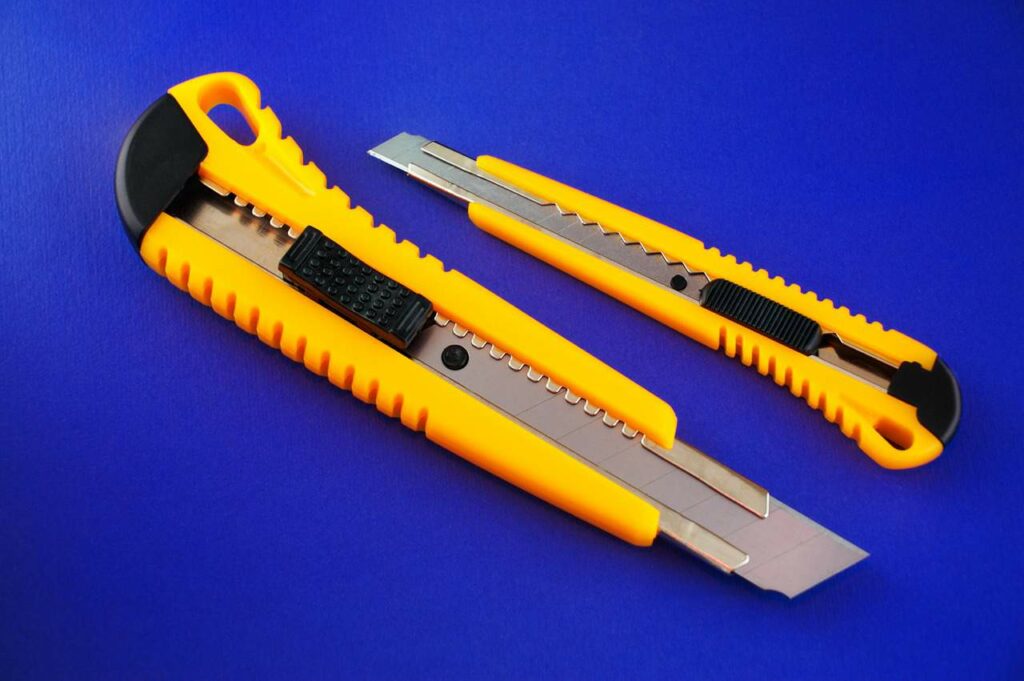 Once the fake grass has been laid and the joints have been taken care of, you will need to trim the edges of the lawn. This should be done using a box cutter or standard utility knife, and you should work your way around the edge of the perimeter, cutting downwards and using the edging as a guide against the protruding edge of the knife.
Step 3: Securing the Artificial Grass at the Perimeter
How you choose to secure your artificial grass will all depend on the edging you've used. There are three main ways of doing this: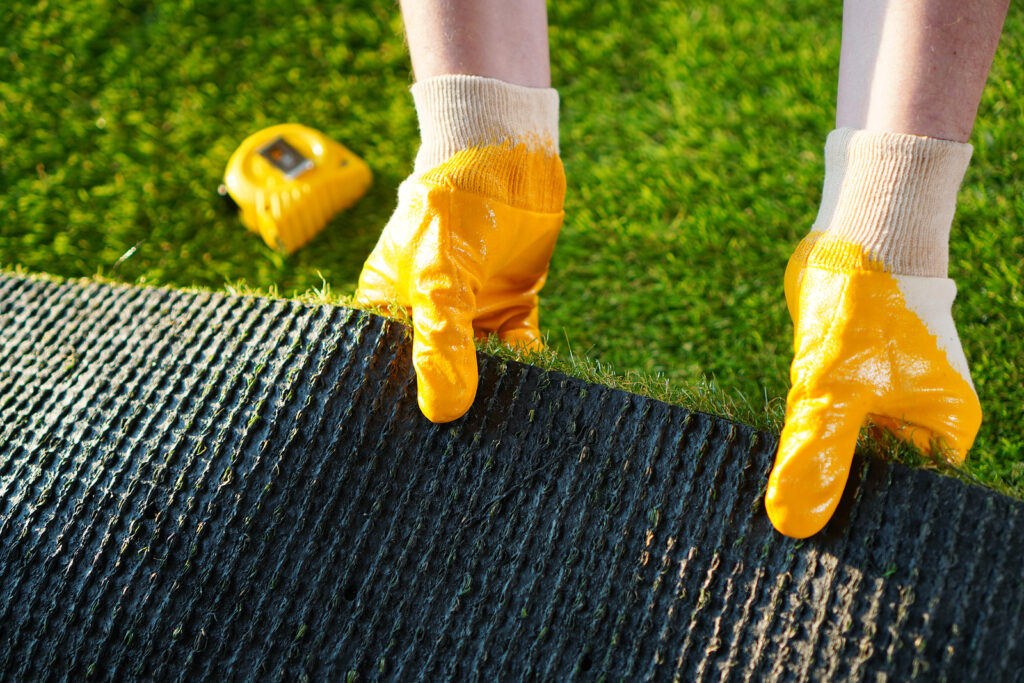 Gluing It
Gluing artificial grass to edgings like paving and gravel boards can be achieved by leaving a thin border when trimming, then rolling that against the vertical surface of the edging to create a "lip". This can then be glued in place.
For certain types and brands of metal edging, there may also be built-in tabs for you to glue the fake grass onto.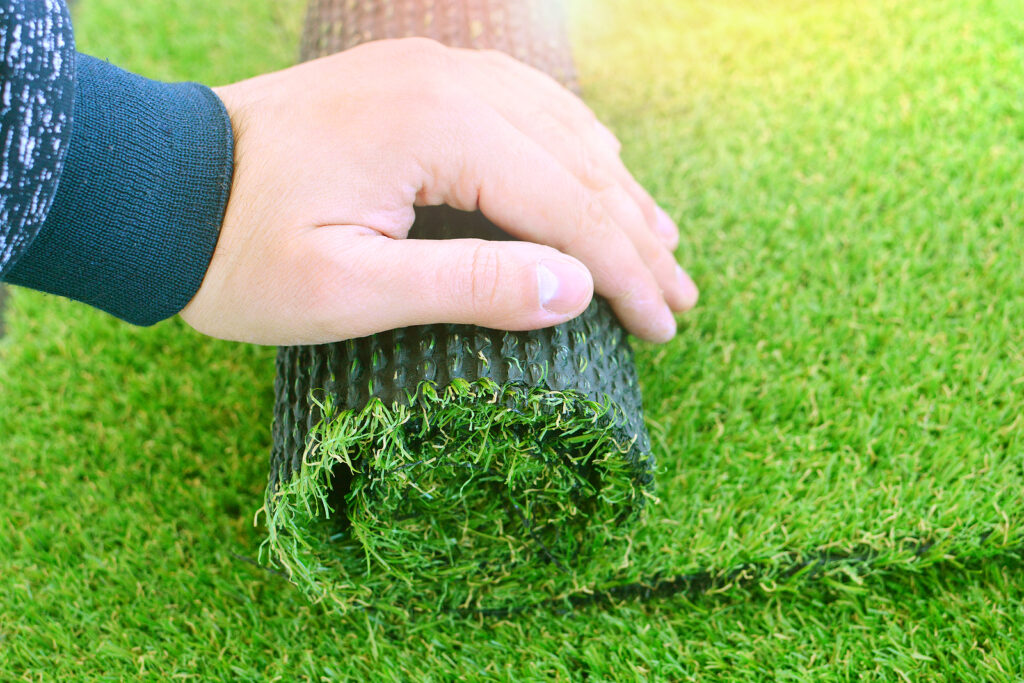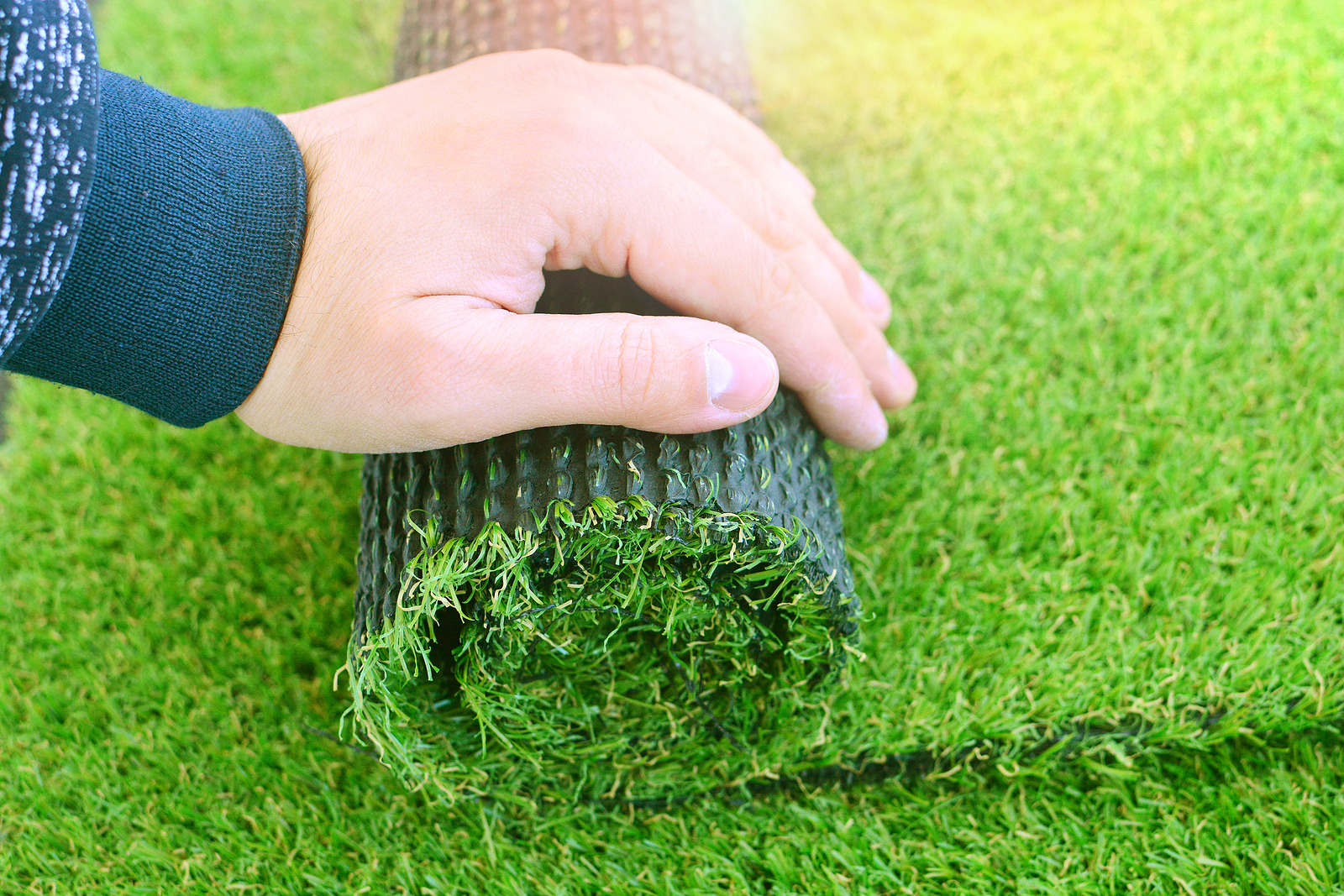 Securing it Onto the Edging
If you are using timber, sleepers, or composite plastic edging, you can attach the grass directly onto it by driving screws or nails at a 45° angle downwards into the edging.
This will not be an option for thinner types of edging, such as bender boards or metal, as well as harder materials like brick or paving.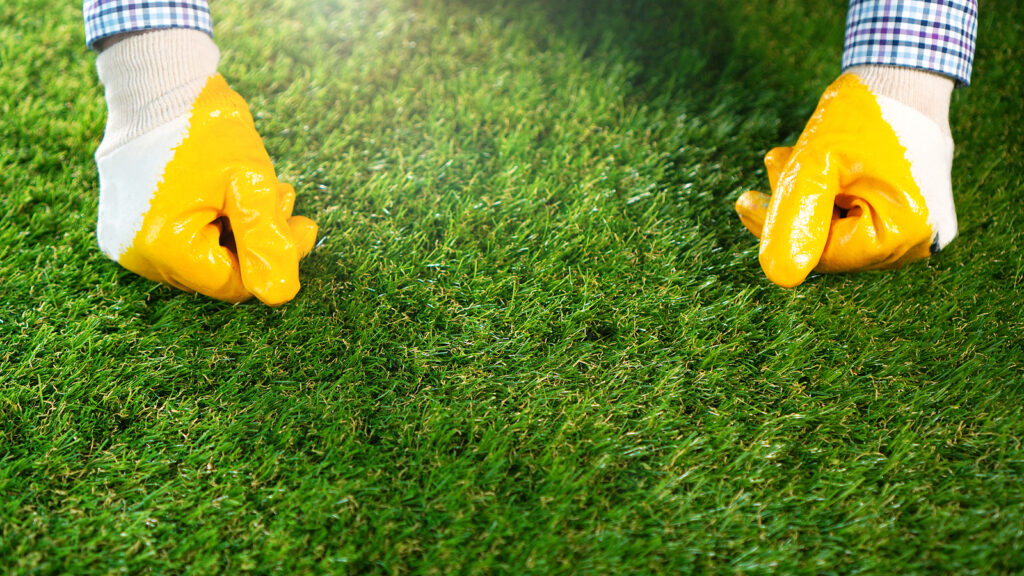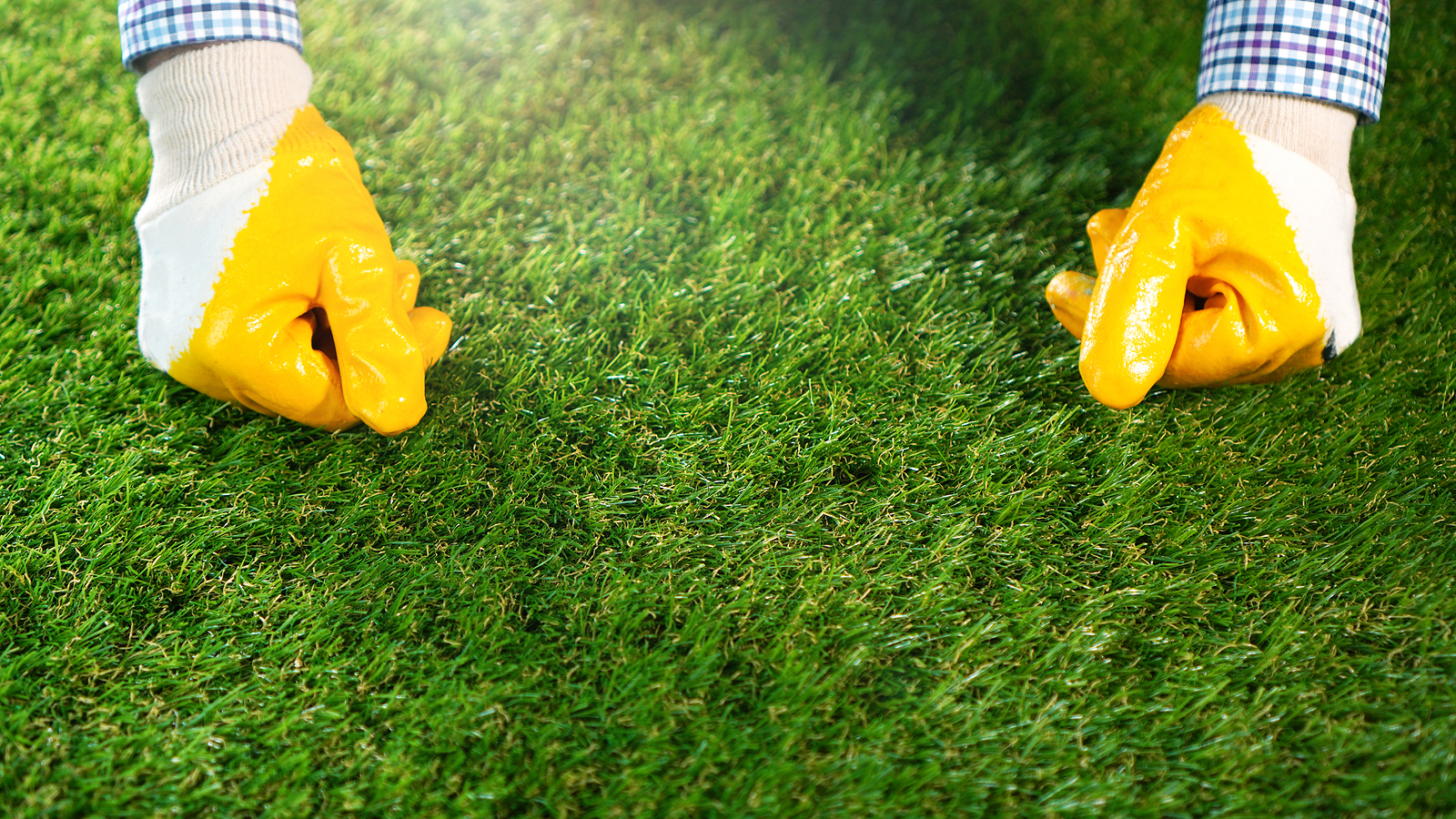 Securing it Into the Ground
Securing your grass directly into the ground using galvanised pins and landscaping spikes is the only method that works on all types of edging. Experts will normally recommend driving one pink or spike in at 1m intervals.
When carrying out this work, you should take care to make sure the pins or spikes you're using are seated flush with the backing of the AstroTurf-style grass you've chosen. This stops the metal from protruding, which could cause injury if anyone tripped over or fell on it.
The only case in which this may not work is if you've installed your artificial grass on top of concrete. When this is the case, you will most likely want to use glue instead.
---
For the Best Professional Artificial Grass Installation
If you know that your outside spaces and areas will only be ready for all your kids' learning, fun and games once they've been fitted with premium-grade artificial grass, contact Designs & Lines today. Our experienced team will be more than happy to deliver and install your ideal artificial grass delivery anywhere you need it in the UK, and we'll be glad to do it on a schedule that suits you.
We're even ready to work weekends, so you can rest assured that you'll have the ideal outdoor play area for your kids set up and ready in every way by the time Monday morning comes around. Please don't hesitate to get in touch if you want to find out more, either, or if you have any questions about our work processes or products. We'll do everything we can to get the answers you're looking for!