Primary School Playground Markings
Primary School Playground Markings for a Fun Learning and Play Experience
When primary school playground equipment and markings start to become run-down or worn out from years of use with no fresh repaints, pupils might not be interested enough to interact with them anymore. Similarly, if children aren't challenged by new games, or given activities that allow them to learn and broaden their minds while having fun, they may choose not to use them, leaving the playground looking rather quiet and dull during playtimes.
Does this sound familiar? If so, this is where Designs & Lines can step in for you. We have assisted over 10,000 schools and we know that we can provide new primary school playground markings in a diverse range of vibrant colours, exciting game styles and interesting shapes and patterns that are bound to bring your playtimes to life again.
Transform your playground and bring a whole new learning experience to your pupils today, by getting in touch with our specialist team to order the markings you know they'll adore. Our team is happy to work at any time you need, including weekends and around break times, in order to bring the fun back to your outdoor education.
Playground Markings for Reception (Early Level in Scotland)
We understand that in the early years of primary school, striking a fine balance between fun and learning is vitally important. This is why we have developed ranges specifically designed to encourage learning while your youngest pupils are busy having their outdoor playtime. Our Alphabet & Numbers range offers a series of creatures great and small, from Solid Caterpillars to Solid Dragons, which can offer a colourful, memorable method of counting or learning the alphabet (all while probably weaving the cute character into a fun imaginary game!).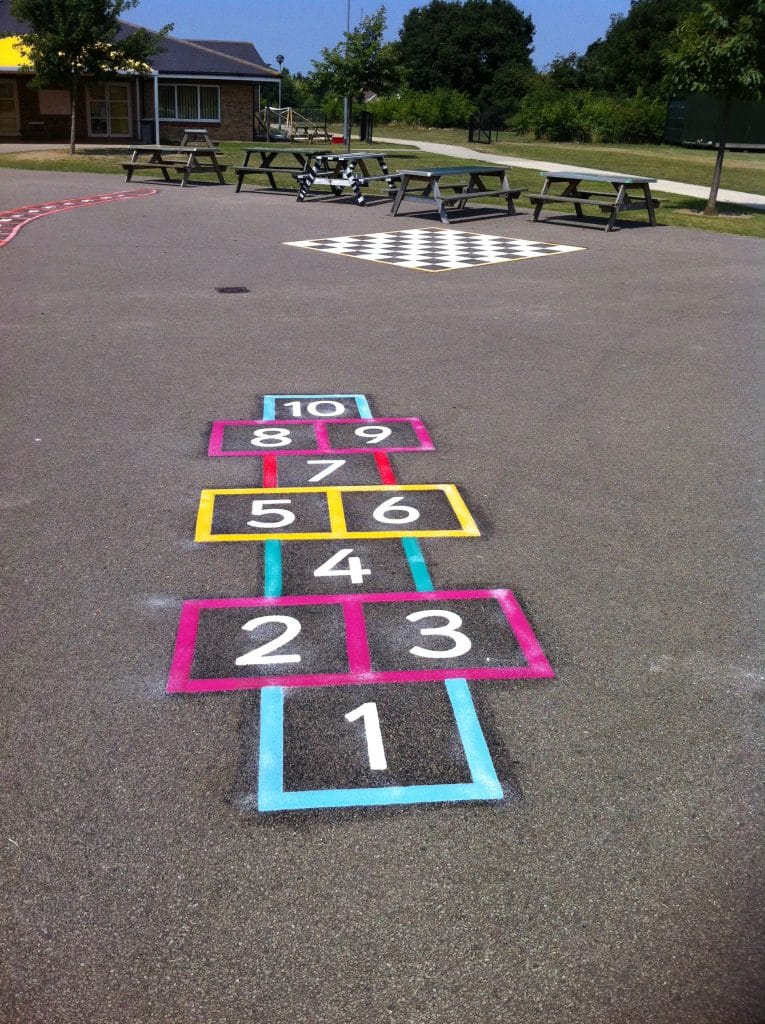 We can even offer the same if your students are learning to recognise sounds or symbols, through our collection of Phonics Playground Markings; our Phonics Shapes can easily be combined into a game of recognising their circles from their squares, all while learning how to spell out different sounds. Alternatively, if you'd like something to stir up the imagination and offer a greater range of games, you might consider our selection of Phonics Ponds to see if they make a splash.
Playground Markings for Ks1 (First Level in Scotland)
Balancing learning and fun will naturally be carried over from the early years of development, but once your pupils reach Ks1, it will be time to branch out into a greater array of games, shapes and other markings. These may reflect a new level of learning, assist in forming their problem-solving skills or offer them a chance to expand their imaginations and social skills. They may even take them on a new adventure when they're out in the fresh air, instead of sitting quietly in the classroom. For instance, our Animals & Prints selection or our Roadways might encourage them to dream up jungle explorations, days on the farm or shopping trips in a town they've invented.
Our collections of Games and Mazes, meanwhile, can be created to help your pupils develop their abilities with maths, or to help them begin learning to solve more complex tasks. Learning to count and tell the time will always instantly be made better with a game of What's the Time, Mr Wolf?, and one of the first games children will pay that requires strategy is Noughts & Crosses. You'll also be just as proud as they are the first time they make their way through a Circular Maze, or come out with the correct answer at the end goal if you decide on an Early Years Math Maze.
Playground Markings for Ks2 (Late First Level and Early Second Level in Scotland)
Once your pupils have reached Ks2, you will naturally start thinking of them as needing playground games and markings which reflect a greater level of development. For example, games that require improved hand-eye coordination, need a greater ability at maths, or markings which will help them to learn about a wider variety of subjects and broaden their knowledge. We are more than happy and equipped to help you provide this, too, as our Games selection also offers markings such as Dartboards and Target Throw games, both of which will help your pupils to practice adding up larger amounts while developing their coordination. If you'd like them to have a go at memorising their times tables, our Grids range can also give you the perfect set of tools, as we offer multiplication grids which can take them up to multiples of 12.
Searching for an alternative to books, videos or maps when teaching a subject such as science or geography? Our Weather & World playground markings may be just what you are looking for, whether you're teaching your children about the continents and feel as though a full World Map they can stand on will help to make a fun and interesting travel game, or even if you are pointing them towards the stars with a lesson or two on the Solar System and would like them to get a clear picture of the planets and their positions.
Fitness Markings for Fun and Sport
Children of all key stages in primary will take part in sports and PE lessons, and the playground is often the ideal place for this. A wide space where students can be as boisterous as they like in their free time more than suitably doubles up as a place for planned physical activity, and our range of Fitness Playground Markings is bound to have something for any year group you're planning on teaching. They may even find fun in the markings in their own playtime, increasing the amount of exercise they choose to do outside of lessons!
Our fitness playground markings offer a wide range of exercise and activity options for primary school children of any age, though some may provide more benefits for certain years than others. For instance, Year 5 and Year 6 pupils, who will soon be making the big move to their secondary schools, may take advantage of a Bleep Test, Circuit Training circle or some of our Fitness Spots in order to start practicing for PE lessons taken at a higher level. Meanwhile, Year 1 or Year 2 pupils can be encouraged into a regular fitness routine with something lighter, such as a 6 Piece Adventure Trail, or even a Dual Adventure Trail if you plan on setting up some races for a little competition.
Why Choose Us for Outdoor Learning and Play Equipment?
There are a number of reasons schools across the country come to us when looking for new markings that encourage outdoor play and learning, and we are happy to explain why we might just be the right company for your primary school playground markings as well:
We have worked independently as playground designers for over 20 years
Our experience has seen us work with a host of organisations, from schools to local councils, children's centres and others
We offer a wide range of products specifically designed to suit your space, and put in by professional installers
We will match or beat any price that you bring to us
We are more than happy to create bespoke shapes, patterns and games, either from the ideas of teachers, or even your own little playground designers in the classrooms
Our products are all high quality and made from durable Thermoplastic
Our products offer a form of safety surfacing and can be fitted to most surface materials by installers
Our materials are environmentally friendly, available in a variety of colours and specifically designed to last up to 10x longer than paint
Contact Us Today
If you've been searching for a set of bright, entertaining and educational playground markings for primary school-age children, then everything you need to create the perfect playground environment for your pupils can be found right here. We are passionate about providing markings that will help your children to grow and learn, developing skills with their maths, coordination and creativity, as well as improving social skills with team games.
Our expert team of designers and installers are ready and waiting to set out and create your ideal playground space, using non-toxic, fast-drying inks to ensure safe, happy playtimes on a product designed to last.
We have designed our service to be as hassle-free as possible. All you have to do today is choose the markings you know your students will love the most, contact us to say where you would like your markings, and we will help you to arrange a swift delivery and installation.