Football Training Kits Available in a Range of Colours & Sizes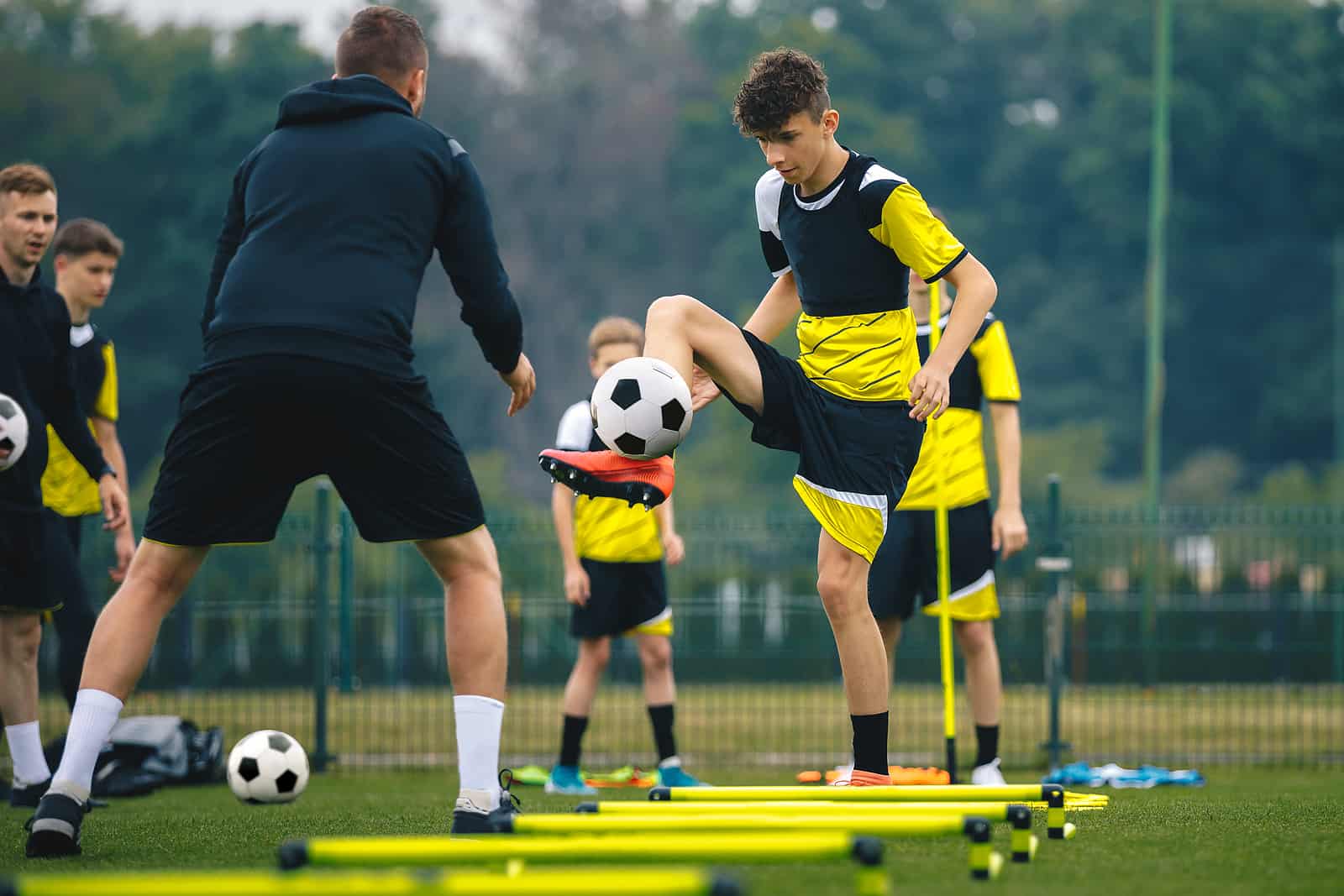 Our vibrant range of kids' football training kits is just one of the collections you should consider from our bundles of primary school football equipment. These brilliant bibs and kits can be delivered anywhere in the UK and they're just what you need for turning kids of all ages into class teams for games and PE lessons.
Browse through the kids' training kits we have for sale and get in touch when you're ready to begin placing an order. We'll be happy to talk over any specifications you have, and can provide you with all the information you need about the products you'd like to purchase for your school.
We also understand that the most important part of your job is teaching your students, so we'll take care of everything that needs to be done when the time comes for delivery and installation.
Football Training Tops for Kids of All Ages
We've got a huge range of kids' football training kits and bibs for sale, so you can get children of all ages assembled into teams and having fun playing the game.
We understand that younger years in primary schools might not be ready for full team games yet, but getting them ready with bright bibs in a range of colours can certainly help to get them interested in the lesson! You can then set them up for a fun lesson of practising small drills or taking "free kicks" at goals to practise their accuracy and coordination. You might also be able to let them get into small groups to pass a ball around, even if they aren't ready to form a full team for a game, and practise their teamwork and social skills while having fun.
If you've got a Junior class, they will be ready for longer and more "complete" team games, so getting in some bundles of kids' training kits for them could help to make your PE lessons the best that they can be. This lets you separate teams out more easily, and means that you can switch teams around so that everyone has a chance to play together and face different teams across a lesson. If you don't have team or house colours ready for a Sports Day, they can even double up as markers for this.
Training Kit Bundles for Secondary Schools
We don't just supply kits for kids of primary school ages; we'll also be happy to help out if you have a class or several in a secondary school and need high quality training equipment for PE and Games lessons. They may already know the rules of football at this stage, but you may still need different team colours and marking bibs to separate them into smaller groups for your games! Our kit packages might be the solution, as we can make sure they're made available in the sizes that you need.
Other Great Accessories for Football Games
Once you have all the bibs and kits you need for the boys and girls in your class, you may want to check if there are any other accessories you need to teach them everything they need to know about the game. We've got a great selection of kids' football training equipment for you to choose from, so you can decide what will be best to plan the ideal lesson for any Infant or Junior year group.
From corner flags to folding benches, we can help you bring together everything you need to plan drills and games in classes for your kids, or even to host tournaments across your school or your local area. You might even help some of your children to find a new appreciation for the sport if they hadn't played it very much before, or to find their favourite position on the field if they haven't already decided on one.
Kitting Out Your Field or Playground
If you've got everything you need in the way of kids' training kits and equipment, you might want to think about the space you've got available to kick off all your games. If you don't have a dedicated area for matches, or think that you might like to turn part of the playground or your school field into a pitch, why not take a look at our football markings for playgrounds or our artificial grass for football?
We've got a collection of fantastic thermoplastic football lines for sale, and they're all designed to be as hard-wearing as possible to withstand scrapes and scuffs for years to come. They also come in a variety of design options, so you can decide on the best set for all your PE lessons and games for the future.
If you'd prefer to have a permanent pitch that can be used all year round (as long as the weather is good), you should also consider our artificial grass turf. This great, ever-green grass is designed with an in-built silica layer, which means the grass is dirt-free and your children will stay clean! As a form of safety surfacing, having this turf installed should help to reduce accidents because it can prevent burns if someone slips over.
Why Choose Us for Football Kits and Training Equipment?
We're delighted to have worked with over 10,000 schools across the UK so far, supplying them with everything they need to make up the most memorable PE lessons for their pupils, and to stock their playgrounds with the best games to play at break and lunchtime.
We think we might just be the company you need to make all your planned football games as fun and educational as you need them to be. Below, we've set out just a few of the reasons why, so you can bear all of these points in mind when you're considering the kits you need for the boys and girls in your class:
We've had the pleasure of working as independent suppliers of sports equipment, and installers of high quality playground markings and artificial grass for over 20 years
We've worked with schools, nurseries, children's centres, organisations, and even local councils to provide them with everything they need to keep their kids learning and having fun
We've got a fully committed team who are ready and waiting to travel anywhere in the country, and they'll be happy to supply and professionally install everything you need delivered
We're ready to work weekends wherever needed to get your sports areas and equipment set up as you need for when the children come back to school
We're also happy to say that we're a price-competitive firm, so if you should happen to find training wear bundles or packages at a similar quality but a cheaper price, we'll be glad to match or beat it
---
Get Your Class Fitted with High Quality Kits Today
If you're ready to split an Infant or Junior class up into groups and take them through football drills and games, take a look at what we can offer here at Designs & Lines. We're confident that the kit packages we've got for sale can offer everything you need to mark out players and get all your children ready for the lesson you've got planned. With a range of sizes and colours available, you'll even have a great choice that both boys and girls of all ages should love and be happy to pick from when they're forming their teams.
When you get in touch with us to start placing your order, one of our staff will be ready to have a chat about everything you need for your school and all its football-related needs. We'll be glad to get it all ready for you, and you'll be one step closer to transforming any inside or outside space into the sports hub you have been imagining for your students.