How to Encourage Creative Play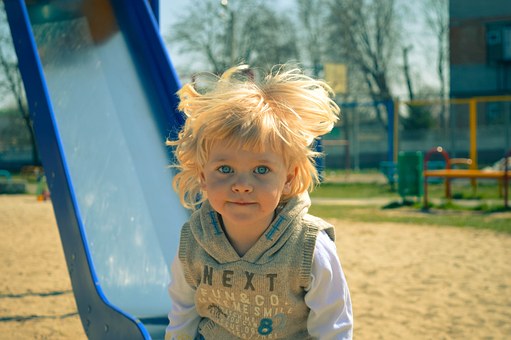 For many children, the most memorable outdoor playgrounds are ones that encourage and provide space for creative play. Playgrounds should be full of colour, activity areas, and exciting playground equipment. Is it possible that your playground could be brought to life with a splash of colour?
What is Creative Play?
Creative play is one of the key ways children learn about the world around them. It incorporates a whole range of indoor and outdoor activities that use imagination to develop a huge range of skills. The purpose of creative play is to let kids have fun while they develop their knowledge and learn new skills.
The Benefits of Creative Play
Nothing will engage children, their senses, and imaginations like being outdoors amongst nature does. All young children share a passion for playing and there are so many benefits:
Increased independence
Improved interaction with others
Better concentration and attentiveness
Healthier muscles and bones
Reduction of obesity and chronic diseases
Improved academic achievement
Reduced chances of being short-sighted
Exposure to the sun can boost vitamin D
Safe and creative play in the sun also encourages children to explore the natural environment they are in. It teaches them to express themselves, helping them grow in confidence. The numerous benefits of encouraging creative play should inspire you to provide a space that is engaging and colourful.
Designing Your Playground for Creative Play
If you've ever thought about creating a playground catered to the needs of children, discover our tips. Our experts share how you can encourage creative play so that you an create a playground everyone benefits from.
Create Open Spaces for Independent Development
To encourage creative play activities, it is important to provide a space children love to let their imaginations run wild. Creative play often involves children replaying situations or events they've seen before. Having an open space to do this in is extremely beneficial.
If the thought of an open space in your school playground isn't that appealing to you, don't worry. There are many ways our team can brighten up dull tarmac. If you want to bring some colour into your playground's open spaces, our team can provide the ideal solution. Our thermoplastic playground markings brighten up any playground space for the better.
Make Space for Outdoor Activities
Presenting a range of playground activities for children to choose from is a great way to encourage and increase creative and dramatic play. Sectioning off areas of the playground for different activities allows children to gravitate towards what interests them the most. Some of the most popular playground activities we supply our customers with the markings for are as follows:
Obstacle Course
Installing an obstacle course in a playground is a fantastic way to encourage children in friendly competition. A well-designed obstacle course by the Designs & Lines team allows children to learn about healthy risk-taking. It teaches them to develop basic independence and is a great way to increase fine motor skills.
Check Out Our Full Range of Fitness Obstacle Courses 
Sporting Areas
It is a well-known fact that physical activity is important for people throughout their lives. Instilling a healthy attitude towards physical fitness at a young age is significantly beneficial. There has always been a very strong link between outdoor activity in children and an increase in concentration. Outdoor play encourages learning and creativity in the classroom, which is why we encourage sporting areas in the playground.
Find Inspiration by Browsing Our Courts and Sports Markings 
Educational Section
Children are learning all the time. The playground is also a great place for children to learn. With different line and design markings, children can learn about different countries, animals, and mathematical equations to name just a few.
With a variety of long-lasting and vibrant playground markings, we can provide solutions that are perfect for education. Whether you want to encourage the combination of learning and creative play we have a wide variety to choose from!
Check Out Our Range of Education Game Markings!
How Creative Play Develops Children
There are also a number of ways creative play develops children during their formative years.
Emotional Development
One of the significant ways creative play develops children is emotionally. Emotional development is extremely important in children and can be significantly improved through regular creative play. Creative play allows children not able to express their feelings easily to learn effective communication.
Over time, children learn how to express their feelings safely and effectively. This helps them effectively integrate into new social situations and manage their behaviour more easily.
Social Development
Children can significantly increase their social interactions when they are given regular opportunities for creative play. Whether it's through games, group activities, or imaginative play, the playground provides the perfect space for social development. And creative play helps children learn how to interact well with others and develop these skills
Physical Development
It goes without saying that regular opportunities to play outside helps a child develop physically. Whether children are creating their own dance games or challenging their peers to sporting competitions, creative play increases physical development.
Intellectual Development
Creative play is a great way to encourage learning and development in young children. Through creative play, children can develop intellectually in important problem-solving skills, reading, mathematics, and so much more. Creative play also provides the opportunity of learning at their own level and pace.
Providing children with creative opportunities for play helps develop so many of the skills they will use throughout their lives. So, it's important to consider how you could encourage creative play in the playground space you have available to you.
Install Playground Markings with Designs & Lines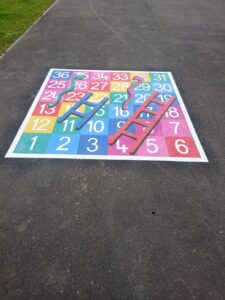 Ultimately, children use the playground as a space to express themselves, learn new skills, and develop their imaginations. And a well-designed playground should cater for this. Here at Designs & Lines, we are specialists in playground design. We install a huge selection of thermoplastic designs that provide some of the best play experiences on the market.
Driven by a passion for creative play, we install dynamic playground markings to customers all over the UK. Feel free to browse our website. Discover our full range of thermoplastic playground markings for yourself. Who knows, you may even be inspired to completely redesign your own playground!