Four Square Game Markings
4 Square Solid and King Square Grids for Group Game Markings and Activity
We understand that coming up with new, fresh games for children to play can often be difficult, especially if you know your pupils could quickly grow bored with the same old thing every playtime or PE lesson. So, why not consider a range of fun, tried and tested games that will only need a rubber playground ball and a set of our 4 Square Solid or King Square Grids?
These playground game markings from us can easily add a new favourite activity to your students' school day, and will brighten up any playground with their striking colours. Their square court design also makes them ideal for most playground dimensions, so you'll always have space for multiple fun games.
Bring a new lease of life to playtimes and your lessons alike with our games grids, and contact us today when you have decided on the markings that will suit your playground best. Our specialist team will even work on weekends to fit around your schedule, so your pupils can have an interesting new game challenge waiting for them in the playground on Monday.
Our 4 Square Solid Grids
Our 4 Square Solid grids come in 3 x 3m dimensions, in bright and energetic block colours to catch your students' eyes and to draw them into playing the game. Each square is numbered from 1 to 4, and you can rest assured that our hard-wearing materials mean these won't become easily scuffed, so you'll always be able to read which number is which!
Our King Square Grids
Unlike our 4 Square Solid grids, King Square Grids are set out as drawn lines, with three of the squares labelled from 1 to 3, and the fourth labelled K for "King" (it takes the place of the fourth square). This is the only difference between the two products, however, as we offer King Square Grids in a variety of colours that's just as wide and using the same long-lasting materials that will see your markings stay in place on your playground for a long time to come. Similarly, they also come in 3 x 3m dimensions.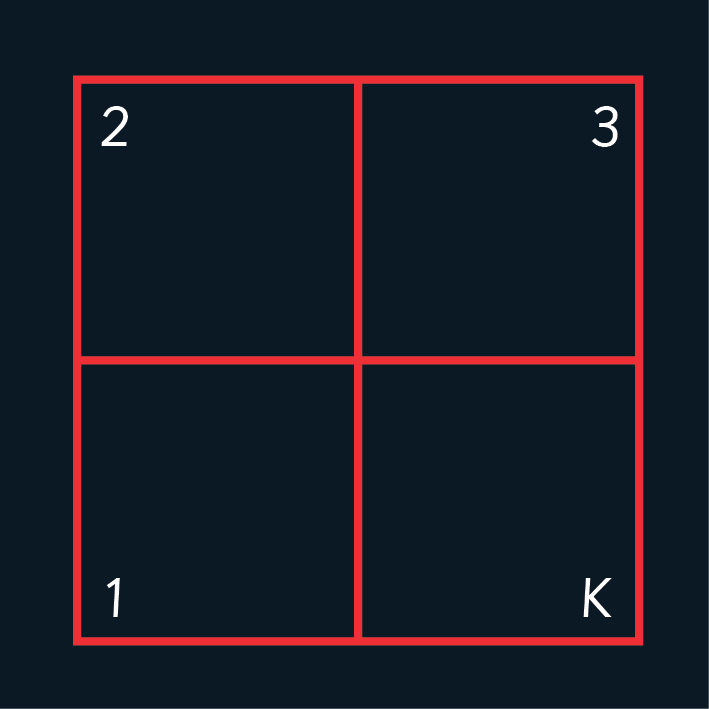 The Rules of Four Square and King Square
Once you have your chosen grid set up and ready for an outdoor PE lesson or for playtime, it will be time to teach your students the rules of Four Square or King Square. Both games are exactly the same, the only difference is the slight variation in the markings and the names of the squares.
The basic rules of Four Square and King Square are as follows:
Each player stands in one of the four available squares
The game starts when the player in square number 4 or the King square serves the ball. This should be done by bouncing the ball once in their own square, before hitting it towards one of the other squares
The receiving player hits the ball to any other player in one of the other squares
The ball must bounce in another player's square and they must hit it to another player before it bounces for a second time
A player may hit the ball before it bounces, if they wish to
If a player hits the ball so that it misses another player's square, or doesn't hit the ball before it bounces a second time after it has landed in their square, then they will be "out"
The ball can stay in play if it touches the outside lines, but mustn't touch the inside lines when it bounces. The player that serves it will be out if it does
When a player is out, the others will move up a numbered square to take their place and that player will move to the last square. Alternatively, they can also move to the end of the line if there are more than four players
The winner of the game is the player who holds the four square or King square the longest
There are also a few tricks that you can use to keep the game-changing and challenging for your pupils, so they are constantly engaging with the activity:
Have them pair up in teams of two, with a team for each square and one pupil in play while the other waits behind. Every time a player hits the ball to another square, their partner can jump in and trade places with them, jumping back out again when they have had a turn
When the players bounce the ball, you can ask them to also shout out the name of an animal, a country, or another memorable category. If a player repeats something that has already been said by another student, that player is out
Allow older pupils to use "cherry bombs" ‒ this is where the player hits the ball down hard, making it more difficult for the other player to hit it back and stay in the game
Encourage them to come up with their own tricks and creative gameplay styles, strengthening their problem-solving skills
Add a Showdown round of just two squares, with the higher number or King square serving to the lower square
These tricks are just some of the most recommended methods of keeping kids interested in the game, but you'll of course have free reign to come up with your own ideas as well!
Why Choose Us for Outdoor Games for Kids?
There are many reasons why over 10,000 schools across the UK have chosen us to help design and create their picture-perfect playground markings, and we are always happy to explain why we think we'll be the right fit for yours, too:
We are an independent company with over 20 years of experience in designing and installing playground markings
We have worked with a host of different organisations, ranging from schools and local councils to children's centres and more
We have a wide range of products available, each of which can be adapted to suit your space and playground dimensions
We're more than happy to create bespoke designs if there is something specific that you absolutely need for your playground
Everything we make will be fitted by a team of dedicated, professional installers
We'll match or beat any price that you bring to us, in order to offer you the best rates for your markings
We only offer the highest quality products, made from durable Thermoplastic
Our products are a form of safety surfacing and can be bonded to most playground materials
We use environmentally friendly materials to make our products, and our designs are available in a wide selection of colours to match any original equipment or features
Our materials can last up to 10x longer than paint
Get in Touch to Gain Games for Your School Grounds
If you have been on the lookout for a new game to liven up your pupils' playtimes, or to turn into an innovative, interesting PE lesson for younger students, then our 4 Square Solid Grids or King Square Grids may be just what you need. We love what we do and we want our designs to turn your playground into a fun hub, encouraging your children to learn social skills and to make friends through team games, while keeping them healthy and active through exercise.
Our specialist designers and installers are ready and waiting to chat with you about setting out the dimensions of your 4 Square Solid Grid or King Square Grid, so get in touch to start planning your newest playground feature. We'll help with everything you need, and our non-toxic, fast-drying inks will ensure that you have your product in no time at all.
You'll also be happy to learn that we've designed our service to make sure it remains hassle-free. All you have to do is choose the markings that your students are bound to love, get in touch to tell us where you would like them placed, and we will cover the rest with a timely delivery and swift installation.